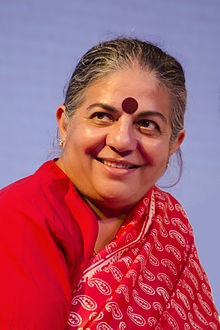 Dr. Vandana Shiva has been a hero of mine for years. If you do not know her, look her up, read her books. She is both scientist and saint.
DR. VANDANA SHIVA: Monsanto Merges with Bayer, "Their Expertise is War". Shady Historical Origins, IG Farben, Part of Hitler's Chemical Genetic Engineering Cartel
Crimes agains Nature and Humanity / Global Research, September 18, 2016 / Award Winning Author and Scientist Dr. Vandana Shiva
India is steeped in synthesized controversy, created by Monsanto on the first GM crop supposedly-approved for commercialization in India. Engaged in litigation on many fronts, Monsanto is trying to subvert our Patent Law, our Plant Variety and Farmers Rights Act, our Essential Commodities Act , our Anti Monopoly Act (Competition Act). It is behaving as if there is no Parliament, no Democracy, no Sovereign Laws in India to which it is subject. Or, it simply does not have any regard for them.
In another theatre, Monsanto and Bayer are merging. They were one as MOBAY (MonsantoBayer), part of the Poison Cartel of IG Farben. Controlling stakes of both Corporations lies with the same private equity firms.
The expertise of these companies are those of war. IG Farben – Hitler's economic power and pre-war Germany's highest foreign exchange earner – was also a foreign intelligence operation. Herman Shmitz was President of IG Farben, Shmitz's nephew Max Ilgner was a Director of IG Farben, while Max's brother Rudolph Ilgner handled the New York arm of the 'VOWI' network as vice president of CHEMNYCO.
Paul Warburg – brother of Max Warburg (Board of Directors, Farben Aufsichsrat) – was one of the founding members of the Federal Reserve System in the United States. He was also a member of the Council on Foreign Relations. Max Warburg and Hermann Schmitz played a central role in the Farben empire.  Other "guiding hands" of Farben Vorstand included Carl Bosch, Fritz ter Meer, Kurt Oppenheim and George von Schnitzler. Every one of them were adjudged 'War Criminals' after World War II, except Paul Warburg.
Monsanto and Bayer have a long history. They made explosives and lethally poisonous gases using shared technologies and sold them to both sides in both World Wars. The same war chemicals were bought by the Allied Powers and the Axis Powers, from the same manufacturers, with money borrowed from the same federated reserve bank.
[full article here]:
http://www.globalresearch.ca/monsanto-merges-with-bayer-their-expertise-is-war-shady-historical-origins-ig-farben-part-of-hitlers-chemical-genetic-engineering-cartel/5546121