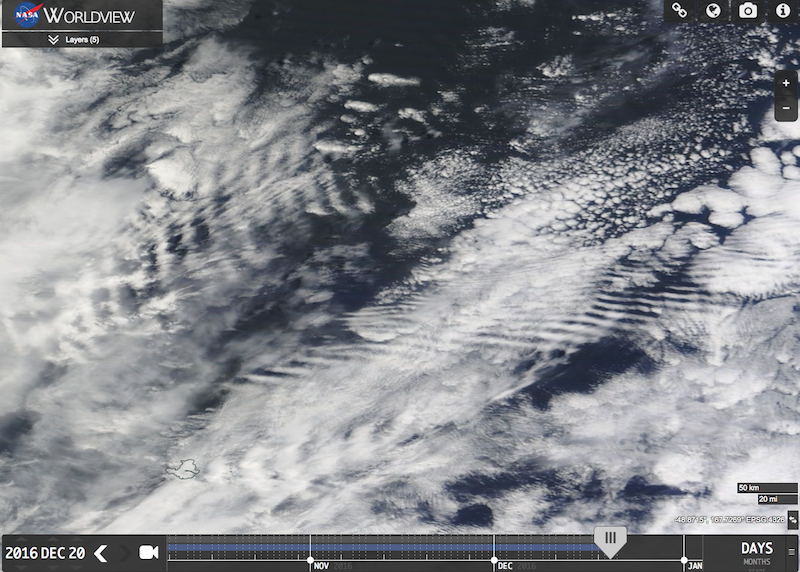 New Zealand south of the South Island, Dec.20, 2016 (above) and Dec.18, 2016 (below)

CHRIS HEDGES: 'Fake News': Homegrown, and Far From New
Dec 18, 2016
The media landscape in America is dominated by "fake news." It has been for decades. This fake news does not emanate from the Kremlin. It is a multibillion-dollar-a-year industry that is skillfully designed and managed by public relations agencies, publicists and communications departments on behalf of individuals, government and corporations to manipulate public opinion. This propaganda industry stages pseudo-events to shape our perception of reality. The public is so awash in these lies, delivered 24 hours a day through electronic devices and print, that viewers and readers can no longer distinguish between truth and fiction.
Donald Trump and the racist-conspiracy theorists, generals and billionaires around him inherited and exploited this condition, just as they have inherited and will exploit the destruction of civil liberties and collapse of democratic institutions. Trump did not create this political, moral and intellectual vacuum. It created him. It created a world where fact is interchangeable with opinion, where celebrities have huge megaphones simply because they are celebrities, where information must be entertaining and where we can all believe what we want to believe regardless of truth. A demagogue like Trump is what you get when you turn culture and the press into burlesque.
Journalists long ago gave up trying to describe an objective world or give a voice to ordinary men and women. They became conditioned to cater to corporate demands. News personalities, who often make millions of dollars a year, became courtiers. They peddle gossip. They promote consumerism and imperialism. They chatter endlessly about polls, strategies, presentation and tactics or play guessing games about upcoming presidential appointments. They fill news holes with trivial, emotionally driven stories that make us feel good about ourselves. They are incapable of genuine reporting. They rely on professional propagandists to frame all discussion and debate.
There are established journalists who have spent their entire careers repackaging press releases or attending official briefings or press conferences—I knew several when I was with The New York Times. They work as stenographers to the powerful. Many such reporters are highly esteemed in the profession.
The corporations that own media outlets, unlike the old newspaper empires, view news as simply another revenue stream. Revenue streams compete inside a corporation. When the news division does not make what is seen as enough profit, the ax comes down. Content is irrelevant. The courtiers in the press, beholden to their corporate overlords, cling ferociously to their privileged and well-compensated perches. Because they slavishly serve the interests of corporate power, they are hated by America's workers, whom they have rendered invisible. They deserve the hate they get.
… As a foreign correspondent, I was routinely given leaked, sometimes classified, information by various groups or governments seeking to damage certain targets. … Governments do not leak because they care about democracy or a free press; they leak because it is in their interest to bring down someone or something. …
Fake news is now being used in an attempt to paint independent news sites, including Truthdig, and independent journalists as witting or unwitting agents of Russia. …
Images, which are how most people now ingest information, are especially prone to being made into fake news. Language, as the cultural critic Neil Postman wrote, "makes sense only when it is presented as a sequence of propositions. Meaning is distorted when a word or sentence is, as we say, taken out of context; when a reader or a listener is deprived of what was said before and after." Images do not have a context. They are "visible in a different way." Images, especially when they are delivered in long, rapid-fire segments, dismember and distort reality. The condition "recreates the world in a series of idiosyncratic events." … A populace divorced from print and bombarded by discordant and random images is robbed of the vocabulary as well as the historical and cultural context to articulate reality. Context is obliterated. Illusion is truth. A whirlwind of emotionally driven cant feeds our historical amnesia.
The internet has accelerated this process. It, along with cable news shows, has divided the country into antagonistic clans. Members of a clan watch the same images and listen to the same narratives, creating a collective "reality." Fake news abounds in these virtual slums. Dialogue is shut down. Hatred of opposing clans fosters a herd mentality. Those who express empathy for "the enemy" are denounced by their fellow travelers for their supposed impurity. This is as true on the left as it is on the right. These clans and herds, fed a steady diet of emotionally driven fake news, gave rise to Trump.
Trump is adept at communicating through image, sound bites and spectacle. Fake news, which already dominates print and television reporting, will define the media under his administration. Those who call out the mendacity of fake news will be vilified and banished. The corporate state created this monstrous propaganda machine and bequeathed it to Trump. He will use it.
http://www.truthdig.com/report/item/fake_news_homegrown_and_far_from_new_20161218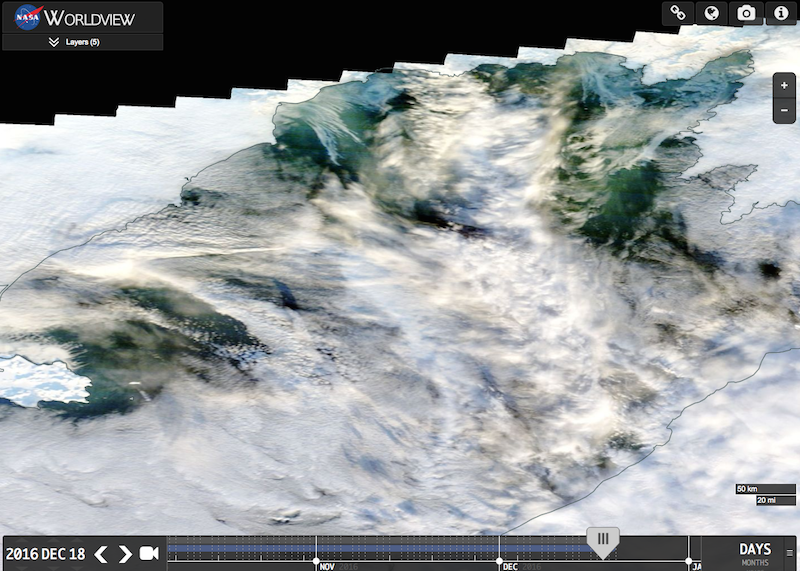 http://go.nasa.gov/2gQx4GY
saliva Shelekhova / Sea of Okhotsk (two ab0ve)       http://go.nasa.gov/2hXHGcp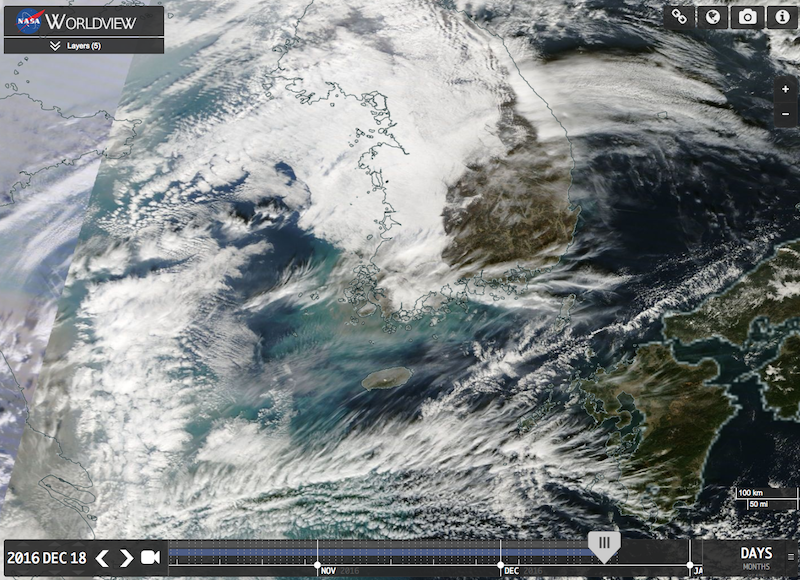 http://go.nasa.gov/2gQsVD0
Korea (two above)    http://go.nasa.gov/2gQswjV
Above Antarctica & west of Africa (six below)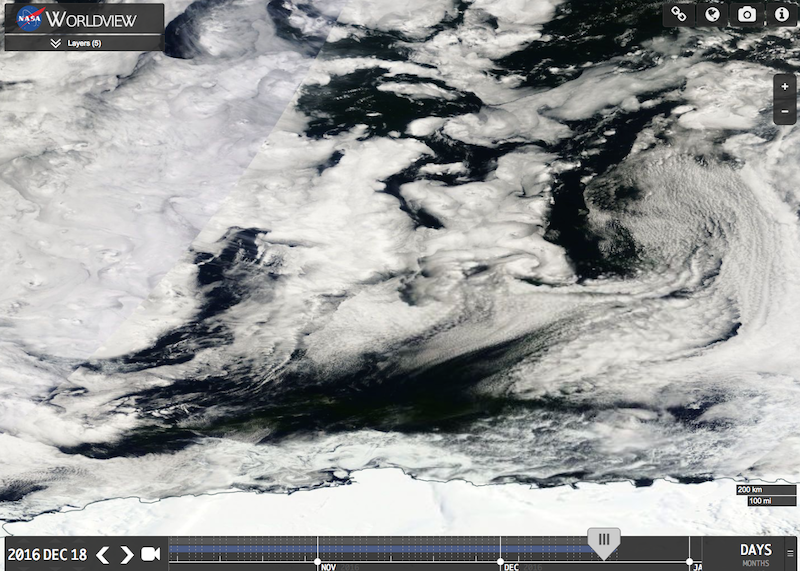 http://go.nasa.gov/2hXI0HQ        http://go.nasa.gov/2gQljR5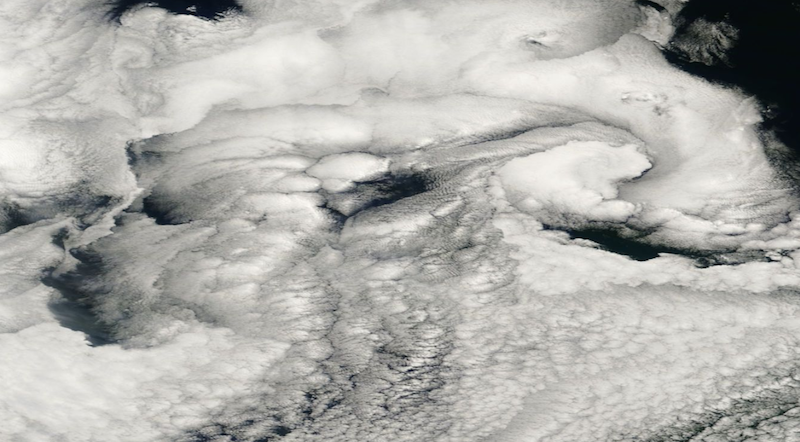 http://go.nasa.gov/2hXEH3y
http://go.nasa.gov/2hXFcLb
http://go.nasa.gov/2hXNS48
Above Antarctica & west of Africa (six above) http://go.nasa.gov/2hXLDhd