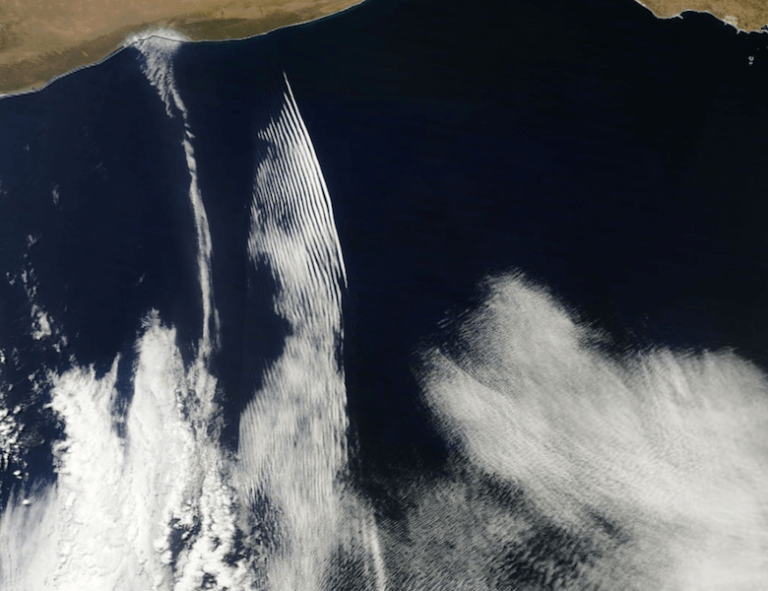 VSF: I have been watching the Space Weather Prediction with Cosmic Rays website for many years, and every now and again their graphs are exceedingly anomalous! It may be that Earth is receiving and being inundated with extraordinary amounts of Cosmic Rays. I do not know.
Space Weather Prediction with Cosmic Rays
Clicking any plot below will produce an enlargement. 
Scroll down for information about this site, and links to additional online plots.
Spaceship Earth (neutron monitors): left panels (above)
http://neutronm.bartol.udel.edu//spaceweather/welcome.html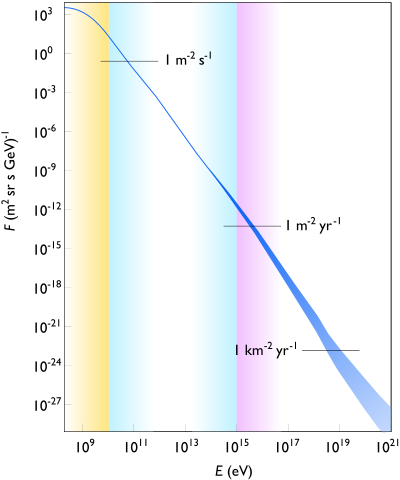 Cosmic rays are high-energy radiation, mainly originating outside the Solar System. Upon impact with the Earth's atmosphere, cosmic rays can produce showers of secondary particles that sometimes reach the surface. Composed primarily of high-energy protons and atomic nuclei, they are of mysterious origin. Data from the Fermi space telescope (2013) have been interpreted as evidence that a significant fraction of primary cosmic rays originate from the supernovae explosions of stars. Active galactic nuclei probably also produce cosmic rays.
Changes in atmospheric chemistry
Cosmic rays ionize the nitrogen and oxygen molecules in the atmosphere, which leads to a number of chemical reactions. One of the reactions results in ozone depletion. Cosmic rays are also responsible for the continuous production of a number of unstable isotopes in the Earth's atmosphere, such as carbon-14, via the reaction:
n + 14N → p + 14C
Postulated role in climate change
… It has also been postulated that cosmic rays may have been responsible for major climatic change and mass-extinction in the past.  According to Adrian Mellott and Mikhail Medvedev, 62 million year cycles in biological marine populations correlate with the motion of the earth relative to the galactic plane and increases in exposure to cosmic rays. The researchers suggest that this and gamma ray bombardments deriving from local supernovae could have affected cancer and mutation rates, and might be linked to decisive alterations in the Earth's climate, and to the mass-extinctions of the Ordovician.
https://en.wikipedia.org/wiki/Cosmic_ray
https://www.youtube.com/watch?v=6NTrwYsJ_lM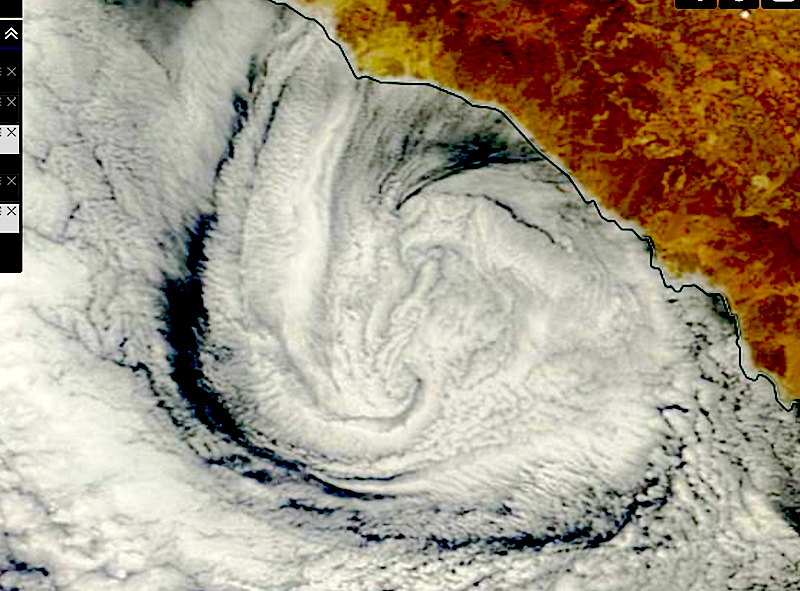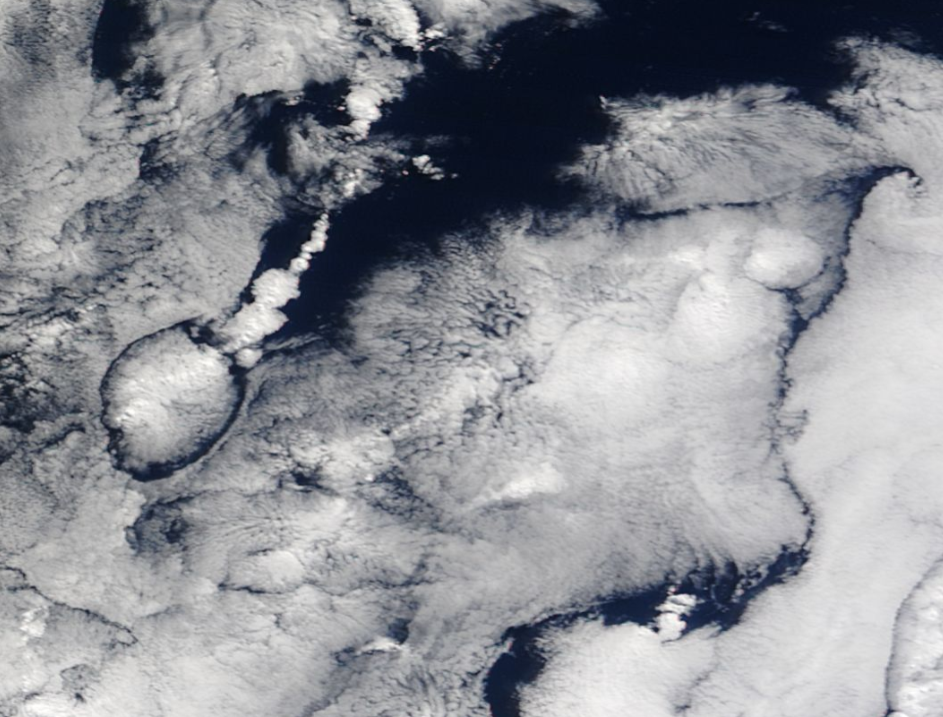 I have "rocket science" friend who is astonishing, brilliant when it comes to analyzing any system, including the universe. I asked him to look at a few of the very ugly weird formations that I have been posting. I picked the ones that look like ugly blobs (a collection of five above), because they seem the most bizarre to me.
Here is what he said…
These are not algorithms out of control gone wild at all, but rather show very precise intent.  The patterns we see depend on the signal that they are exciting it with, they use the RF and microwave transmissions to heat, excite, and squeeze the plasma clouds. The metals facilitate this.
Water moisture is a conductor, a spherical device, that reacts and conforms to the signal being emitted. Spherical coordinates are much more efficient, less residuals. The patterns in the cloud formations reflect different frequencies of the exciting voltage, signals intelligently created. The separations are "boundary conditions" of the RF changes.
This man was also into fighting fires, and he said that some of these patterns made him think of the flame patterns on the roof of a building before it goes critical. Wood will ignite from super heated gases, two thousand degrees or more, at the ceiling, and these super heated gases take on a form similar to some of these Worldview clouds. He would not speculate if this implied that they were heating these clouds to the same degree. Only emphasized the fact that water is sensitive to these frequencies because of its electrical  nature, hydrogen is a conductor that can be influenced by electrical charge.
My friend and mentor always goes back to the basics, the most simple explanation and understanding of electromagnetics is always the key for him, thus it takes him time to get me to grok! He has been very patient with me. Thank you!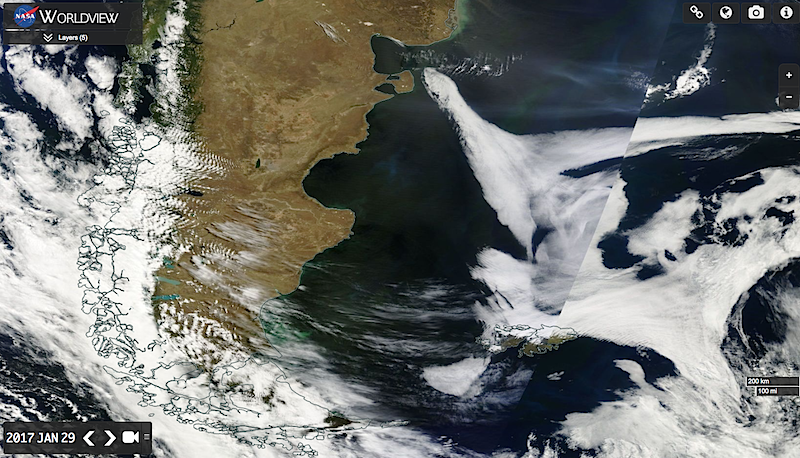 http://go.nasa.gov/2ki3NdV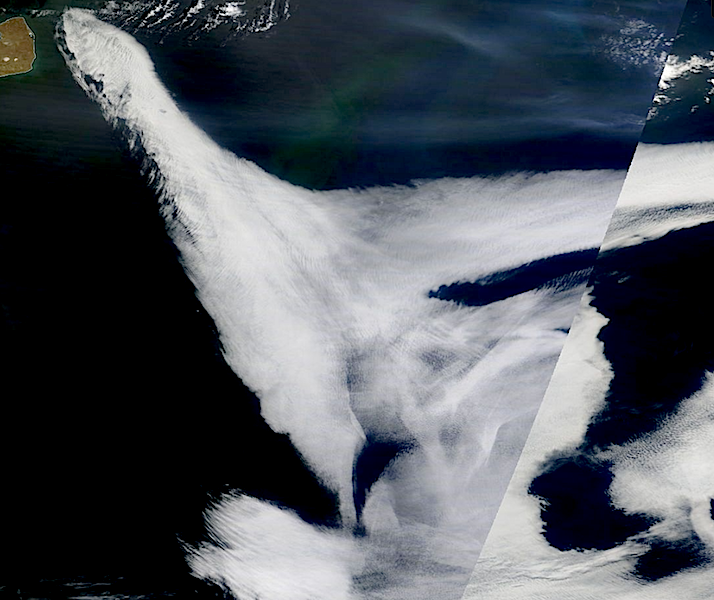 http://go.nasa.gov/2kEeQf6
Argentina (three above)   http://go.nasa.gov/2kEffya
http://go.nasa.gov/2ki3pvU
Chile (two above) / Jan.29, 2017       http://go.nasa.gov/2kibpgl