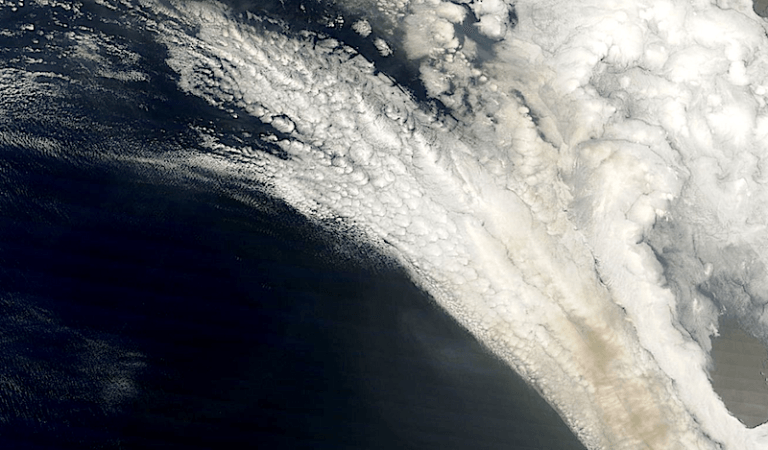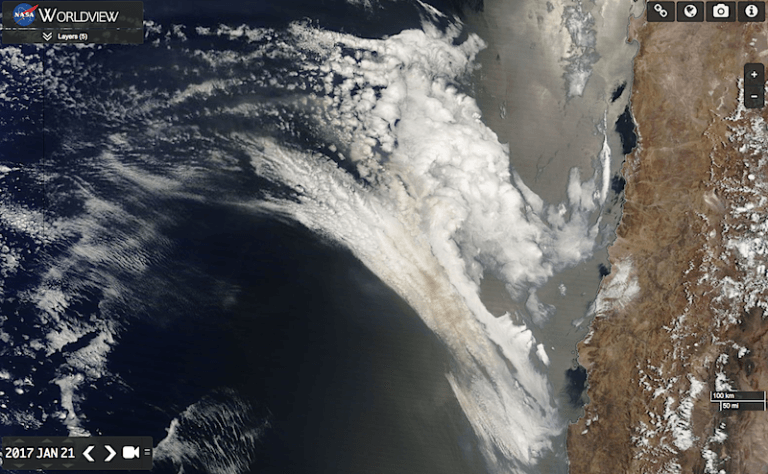 Coast of Chile (two above) / Jan. 21, 2017
Chilean Wildfires are Worst to Ever Strike the Country
Drought in Chile has now lasted for more than a ten years.
Yearly precipitation deficits have ranged from 30-70% for most of central Chile for the last decade. But the ongoing drought's intensity has increased since 2011. The result has been "an unprecedented drought in terms of intensity, spatial and temporal extent."
Over recent days, the forests of Central Chile appear to have finally succumbed to the unprecedented and unrelenting punishment. One by one, massive wildfires ignited through Chile's bone-dry woods — scorching hillsides, decimating more than 100 vineyards, and resulting in the tragic loss of four firefighters. As of today, more than 85 wildfires have burned approximately 190,000 hectares of land — or about 733 square miles.
This charred chunk of Chile more than half the size of Rhode Island represents the worst fire disaster in the state's history. Now, nations are scrambling to help Chile respond to the crippling disaster as more than 35 large fires continue to rage out of control.
President Michelle Bachelet, visiting the hard-hit Maule region, stated to Reuters:
"We have never seen something of this size, never in Chile's history. And the truth is the (firefighting) forces are doing everything that is humanly possible and will continue to do so until the fires are contained and controlled."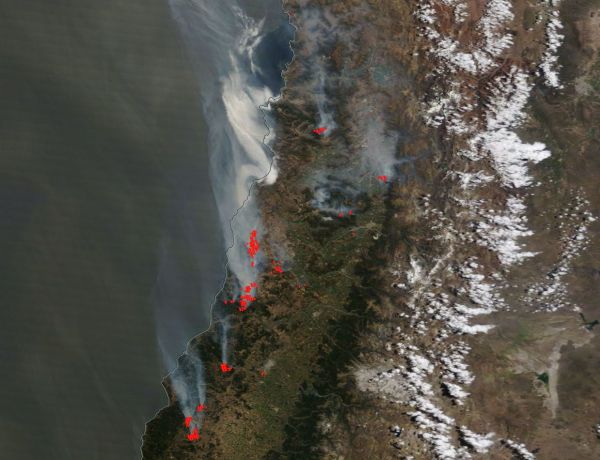 (NASA satellite shot of massive wildfires burning in Central Chile on January 21 of 2017. Image source: LANCE MODIS.)
These massive fires serve as the most recent book-end to a crippling climate change related situation that has been impacting Chile and larger South America for years. The fire situation has obviously been set in place by current 'Mega Drought' conditions. A drought period that "stands out not only in the historical record but also in precipitation and stream flow reconstructions for the last 1000 years."
Chilean Wildfires are Worst to Ever Strike the Country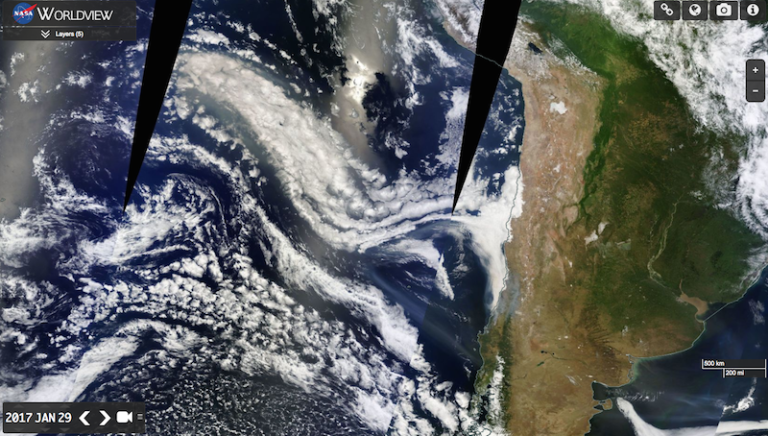 The coast of Chile (above) / Jan. 29, 2017
Coast of Chile  –  http://go.nasa.gov/2ijvy2x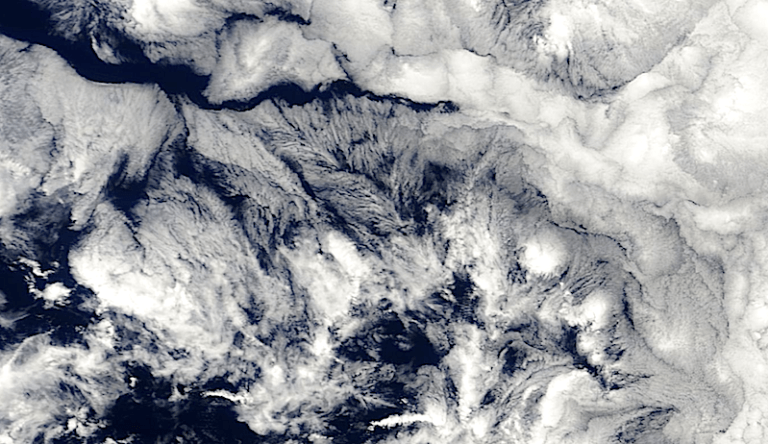 detail from above image – http://go.nasa.gov/2ie2POS
Climate engineering, commonly referred to as geoengineering, also known as climate intervention, is the deliberate and large-scale intervention in the Earth's climatic system with the aim of limiting adverse climate change. Climate engineering is an umbrella term for two types of measures: carbon dioxide removal and solar radiation management. Carbon dioxide removal addresses the cause of climate change by removing one of the greenhouse gases (carbon dioxide) from the atmosphere. Solar radiation management attempts to offset effects of greenhouse gases by causing the Earth to absorb less solar radiation. …
Most experts and major reports advise against relying on climate engineering techniques as a simple solution to climate change, in part due to the large uncertainties over effectiveness and side effects. However, most experts also argue that the risks of such interventions must be seen in the context of risks of dangerous climate change. Interventions at large scale may run a greater risk of disrupting natural systems resulting in a dilemma that those approaches that could prove highly (cost-) effective in addressing extreme climate risk, might themselves cause substantial risk. Some have suggested that the concept of engineering the climate presents a so-called "moral hazard" because it could reduce political and public pressure for emissions reduction, which could exacerbate overall climate risks; others assert that the threat of climate engineering could spur emissions cuts.
https://en.wikipedia.org/wiki/Climate_engineering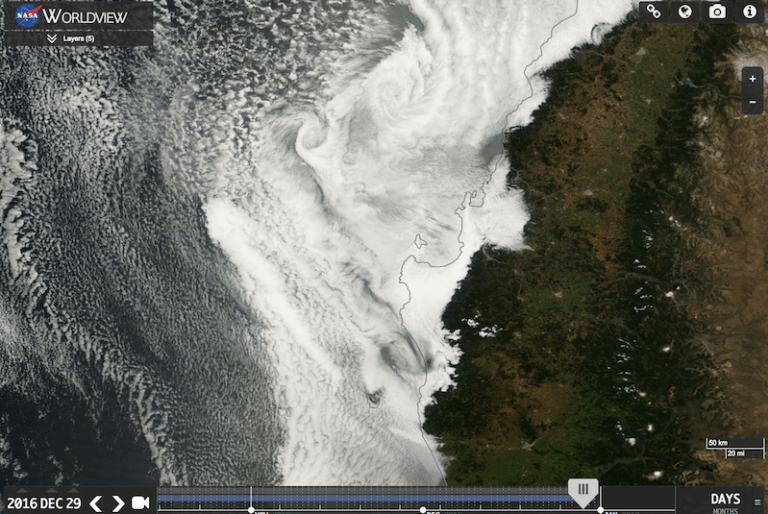 Chile coastal   –    http://go.nasa.gov/2ijxtUT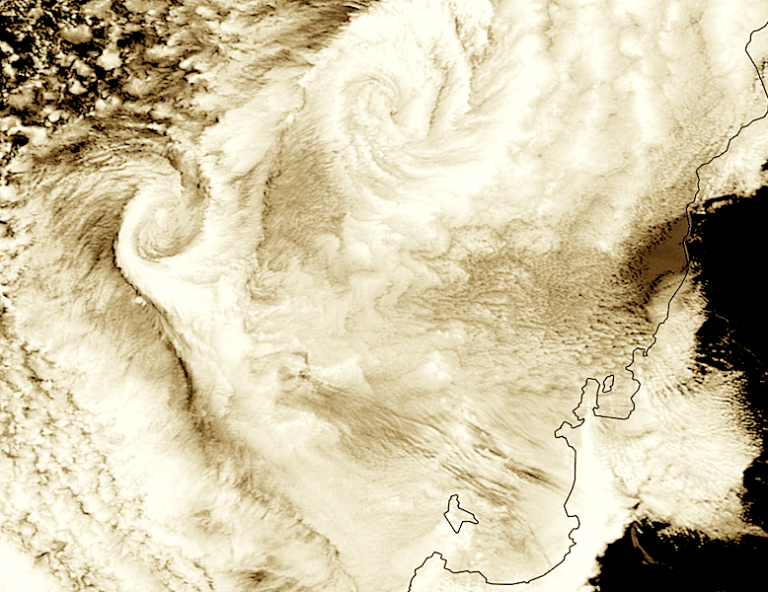 Chile – slightly enhanced for structure & sepia (above)   http://go.nasa.gov/2ijxOa2
Chile – http://go.nasa.gov/2gXe4ar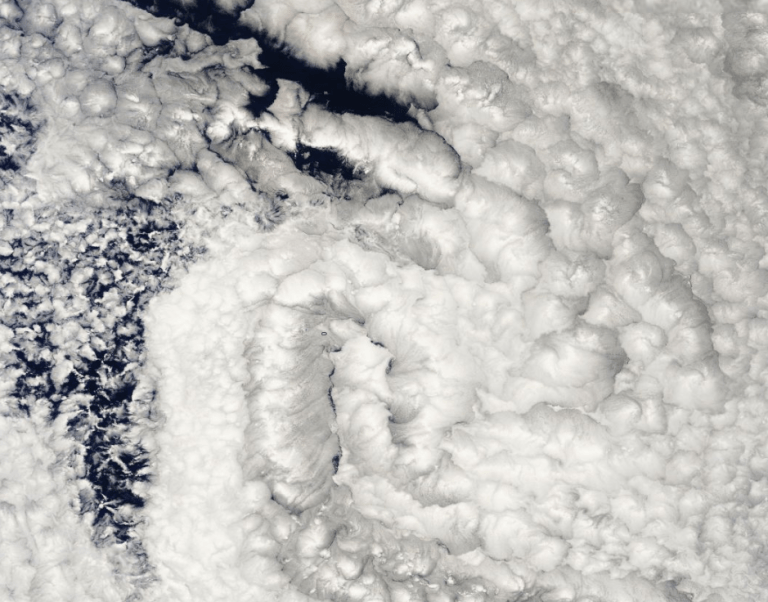 detail from above – http://go.nasa.gov/2gXhfyR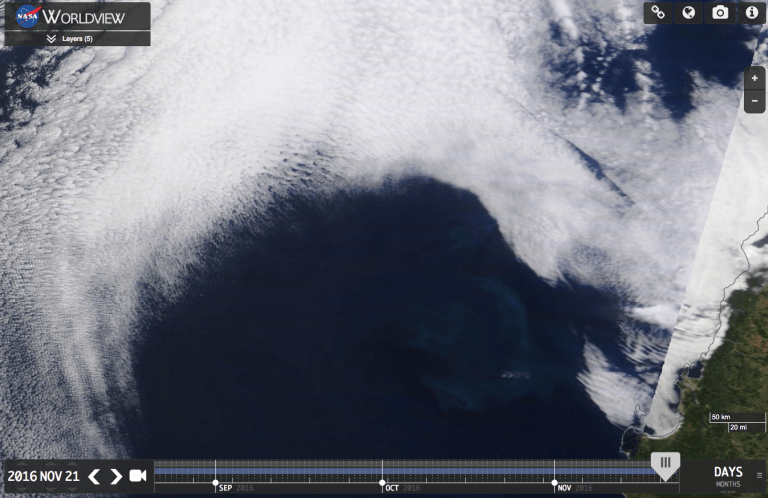 Chile coast (two above)
Lithium: Chile's buried treasure / "white petroleum"
FINANCIAL TIMES / Excerpts: "white petroleum"
A 600-mile-long strip of land between the Pacific Ocean and the snow-capped Andes, northern Chile's Atacama is the world's driest non-polar desert. Much of it is hostile to human life, and rainfall has yet to be recorded in some areas. Yet these conditions also make it one of the best places in the world to extract lithium, a soft, volatile metal that is found in the Earth's crust.
Twenty-four hours a day, every day of the year, a salty solution rich in lithium is pumped from deep beneath the desert into evaporation pools.
Much of it travels across the Pacific to China, where it is used to create rechargeable ­batteries that power hundreds of millions of smartphones, digital cameras and laptops. Increasingly, it is being used in electric cars, too.
… Chile has enough lithium to supply the world for decades, but government quotas have meant production has barely increased even as demand has risen. The country's slowness in exploiting its natural bounty is the result of corruption, rivalry and an unresolved debate around its natural resources that stretches back to the 1970s and the rule of former dictator Augusto Pinochet.
For Chile … contains half of the world's most "economically extractable" reserves of the metal, according to the US Geographical Survey (USGS), and is the world's lowest-cost producer, thanks to an efficient process that makes the most of the country's climate. For lithium production, "Chile is like the gold standard", says Brian Jaskula, a commodity specialist at the USGS.
In Australia and parts of China, lithium is extracted from rock using traditional mining techniques, but in the so-called "lithium triangle" that extends through Chile, Argentina and Bolivia, the process relies mainly on the region's relentless sunshine: brine is pumped out of wells beneath the desert and evaporated in large man-made pools.
SQM, or Soquimich as it's known in Chile, has built over 44 sq km of evaporation ponds.
… Chile has long wrestled with how best to control its abundant natural resources. In the early 1970s, under President Salvador Allende, the country's copper mines were nationalised, with US companies such as Kennecott, Anaconda and Cerro denounced for seeking quick profits.
The illicit payments scandal, and the involvement of major Chilean companies including SQM, has damaged the credibility of the country's political system and set back its 20-year transition to democracy.
In 2014, Chile's leftwing President Michelle Bachelet signed a decree ordering the establishment of a National Lithium Commission, raising hopes among investors that the country would open up its lithium business or perhaps relax the quota. But the commission said lithium's status as a strategic mineral should be maintained, and recommended that the state develop the resource together with private companies.
… This year the agency signed a memorandum of understanding with the US producer Albemarle, the largest lithium producer in the world, to increase its right to extract lithium from a neighbouring but much smaller area of the salar. The memorandum also proposes an option for a separate quota to produce the form of lithium that Tesla uses, lithium hydroxide, directly from the desert's brine.
The Atacama, and the precious resources below it, are understandably politically sensitive. The historic role of Ponce and the recent scandals around SQM have cast a shadow over negotiations about the salar, even as the market for lithium products has boomed. As the world's lowest-cost producer of lithium carbonate, Chile could play a role akin to Saudi Arabia in the oil market…
https://www.ft.com/content/cde8f984-43c7-11e6-b22f-79eb4891c97d