The Caspian Sea (above) March 16, 2017  /  http://go.nasa.gov/2mALPS1
March 17, 2017
The Hardening of Society and the Rise of Cultures of Cruelty in Neo-Fascist America
by Henry Giroux / Counter Punch
What does the culture of cruelty look like under a neo-fascist regime?
First, language is emptied of any sense of ethics and compassion.
Second, a survival of the fittest discourse provides a breeding ground for racial and social sorting.
Third, references to justice are viewed as treasonous or, as at the present moment, labelled dismissively as "fake news."
Fourth, the discourse of disposability extends to an increasing number of groups.
Fifth, ignorance becomes militarized, enforced not through an appeal to reason but through the use of the language of humiliation and eventually through the machinery of force.
Sixth, any form of dependency is viewed as a form of weakness, and becomes a referent and eventually a basis for social cleansing. That is, any form of solidarity not based on  market-driven values is subject to derision and potential punishment.
Seventh, the language of borders and walls replaces the discourse of bridges and compassion.
Eighth, violence becomes the most important method for addressing social problems and mediating all relationships, hence, the increasing criminalization of a wide range of behaviours in the United States.
Ninth, the word democracy disappears from officially mandated state language.
Tenth, the critical media is gradually defamed and eventually outlawed.
Eleventh, all forms of critical education present in theory, method, and institutionally are destroyed.
Twelfth, shared fears replace shared responsibilities and everyone is reduced to the status of a potential terrorist, watched constantly and humiliated through body searches at border crossings.
Thirteenth, all vestiges of the welfare state disappear and millions are subject to fending for themselves.
Fourteenth, massive inequalities in power, wealth, and income will generate a host of Reality TV shows celebrating the financial elite.
France & Spain coast (above) / March 16, 2017     http://go.nasa.gov/2n4RUsZ
March 17, 2017
Useless Eaters and Ethnic Purity: the Trump/Bannon War for Biological Nationhood
by Chris Floyd / CounterPunch
The Trump regime has defended its plan to cut the "Meals on Wheels" program by saying it "doesn't show any results."  What kind of "results" are they talking about? The program delivers meals to shut-ins; the shut-ins eat the meal; they don't starve to death. That is the result, and it happens all day every day. It is one of the most "resultful" programs in existence. But notice that the Trumpists aren't saying we can't afford the program; they are clearly saying it's not delivering the results they want to see. And what are the only "results" produced by not delivering meals to the sick and shut-in who can't provide for themselves? THEY WILL DIE.
Therefore, we can only conclude that the "result" Donald Trump and his ideological Svengali, Stephen Banon, are looking for is a higher death count for the sick and elderly. We know that throughout his public life, Trump has often expressed his belief in genetic superiority, that the right genes, the right blood are responsible for success in life. (Particularly his succes!) The flipside, of course, is that those who haven't "succeeded" according to his lights, the people who are "weak" and "losers" (to quote two of his favorite epithets), are therefore genetically inferior. We know this is his belief from his own statements.
Bannon too pushes the idea of "nationhood" as a kind of ethnic purity, something beyond political, legal or economic factors. As Mother Jones pointed out this week, Bannon is a fan of French philosopher Charles Maurras, a rabid anti-Semite and Nazi collaborator. The story notes: "Bannon approvingly cited Maurras' distinction between what the French philosopher called the 'real country' of the people and the 'legal country' led by government officials." (MJ also notes that Maurras referred to the Third Republic as "the Jew State, the Masonic State, the immigrant State." Anyone who has taken even a cursory look at the fever-swamps of the alt-right – of which Bannon claims proud godfathership – will instantly recognize this language.)
Maurras's distinction of the "real county" and the "legal country" is precisely what Bannon was referring to in his recent CPAC appearance, where he declared that the goal of the Trump regime is the "deconstruction of the administrative state." It is clear that he and Trump aim to destroy the "legal country"– the country of laws, institutions, constitutional citizenship, etc. – and replace it with the "real country" of a more ethnically pure state: a land of blood and soil, under the hand of authoritarian leaders who act according to mystical dictates of "race wisdom," not the "alien" system of democracy and laws which apply to all citizens equally.
… I don't think it can be denied any longer that this attitude — this aim – is an intrinsic element in the policies of the Trump regime and the Congressional extremists. The weak, the sick, the different, the "impure" and the "inferior" are to be made to disappear: by deportation, by bans, by walls – and by dying. For the moment, it doesn't look like actual systematic mass extermination is on the cards…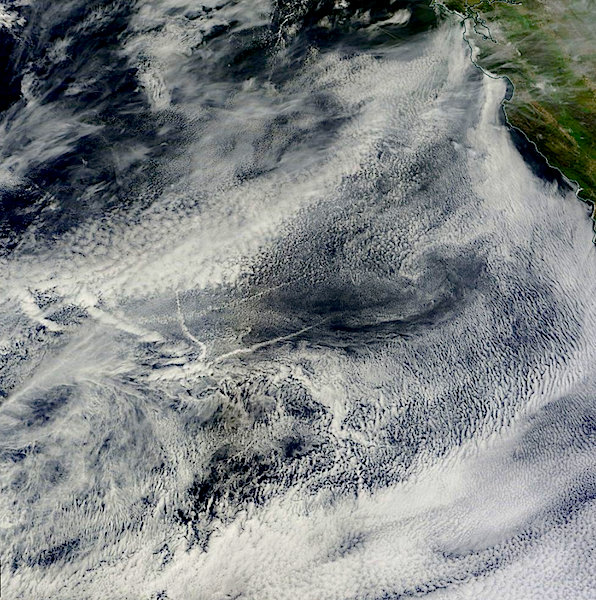 California & Baja CA coast (above) / March 16, 2017 http://go.nasa.gov/2n4QI8Z
Massive die-offs reported in Pacific Ocean — Officials: "No fish out there, anywhere, over a very large area"… "What's happening? Where's their food?" — "Alarming… Frightening… Total failure in reproduction… Like nothing we've ever observed before" (VIDEO)
Published: March 16th, 2017 at 2:35 pm ET
By ENENews
KTUU, Feb 14, 2017 (emphasis added): Following last year's massive die-off of Alaskan seabirds, scientists still looking for answers… "Geographically and that it lasted a year, that's unprecedented, [Kathy Kuletz, a biologist with US Fish & Wildlife Service]… "it's certainly well over a hundred thousand and it could go many times that."… "I would say possibly hundreds of thousands were killed… Almost always it's been starvation… Sea birds are top predators," [Heather Renner, biologist with Alaska Maritime National Wildlife Refuge] said. "They're sort of sentinels for our environment. They have definitely let us know that there's change going on in the ocean ecosystem"… Renner says [the birds had an] exceptionally low birthing season… This reproductive die-off meant a "total failure" of murre reproduction that year… "The reproductive die off is something we've never seen in murres before, widespread. The refuge (AMNWR) has been monitoring these colonies for 4 decades and it's like nothing we've ever observed before," Renner said…
AP, Feb 10, 2017: [T]ens of thousands of common murres… starved and washed ashore on beaches from California to Alaska… "it's because there's no fish out there, anywhere, over a very large area," [John Piatt, biologist for the U.S. Geological Survey] said. To see such effect over two sizeable marine ecosystems is extraordinary, he said… Common murres eat small forage fish [which] were largely absent when the National Marine Fisheries Service conducted surveys in summer 2015… A conservative extrapolation indicates 500,000 or more common murres died, Piatt said. Nearly all were emaciated… "In 2016, we had widespread breeding failure at all of the colonies in the Gulf of Alaska, as well as the Bering Sea," Renner said. "It was a highly unusual event. Murres don't fail regularly."… "They died of starvation because there was no food," Piatt said. "There was no food because there was no fish."…
KYUK, Jan 25, 2017: "The birds were underweight to the point of starvation," [Shannon Atkinson of the University of Alaska Fairbanks] said. The number of starved murres, and the length of their die-off, was something no one had seen before, but murres in the Gulf of Alaska were not the only seabirds to die in large numbers last year. Tufted puffins in the Bering Sea also showed up on beaches in large numbers… Scientists struggled to understand why a bird that spends most of the winter offshore eating fish would fly to the coast to die of starvation on the beach… research showed a link between the starving birds and trawl surveys that came up empty, or with only a few of the forage fish normally eaten by murres… "The main result to take away from this is the catch per unit effort for all of these species was very close to zero, meaning that the forage fish was simply not there," Atkinson said.
KUCB, Dec 7, 2016: In the past two months, 300 dead puffins have washed up on St. Paul Island, alarming residents who had only seen six carcasses over the last decade… scientists say it could be the sign of a much larger ecosystem problem… [The co-director of St. Paul's Ecosystem Conservation Office said] 'There are dead puffins everywhere.'… The carcasses came ashore in waves… [Lauren Divine, co-director of St. Paul's Ecosystem Conservation Office] said the extent of the die-off was frightening… "After we opened up the first five, it was very apparent that all of them were emaciated," she said. "Their muscles were completely atrophied. They had empty stomachs. They had gastrointestinal bleeding, which indicates severe long-term starvation. They were in very, very poor shape… So we started digging into this more," said Divine. "What is happening? Where is their food?"… [T]he ECO office is also seeing signs of stress in other species. [Divine] said the island's seabirds laid barely any eggs this season, hunters had a hard time finding sea lions, and crab quotas were cut sharply after a survey showed low numbers.
http://enenews.com/massive-die-offs-reported-in-pacific-ocean-officials-theres-no-fish-out-there-anywhere-over-a-very-large-area-what-is-happening-where-is-their-food-alarming-frightening
Arctic north of Norway & the UK (above) / March 16, 2017     http://go.nasa.gov/2mATaku
Nuclear Engineer: My biggest concern is Fukushima plant will collapse… Concrete under reactors is being "eaten away"… "There's ongoing chemical attacks" — Containment structures are tilting, in jeopardy of falling over (AUDIO)
Published: March 17th, 2017 at 6:19 am ET
By ENENews
KGO 810 AM, Feb 9, 2017 (at 9:15 in):
Pat Thurston, host (emphasis added): "There's a story that's going around the internet, Snopes says there's nothing to verify that this is true — I guess Tepco is denying it — but there's a story going around that the containment structure is in jeopardy — its tilting — it's in jeopardy of falling over, so we'll talk about that too — if that is even a possibility. Were that happen, what would that mean?… First, to the issue of the potential for a collapse of the building — for the building to topple over — for it to somehow to collapse. Is that a thing? Can that happen?"
Arnie Gundersen, nuclear engineer: "Yeah, it can happen — and that's my biggest concern. Tepco is building a wall along the ocean… it's trapping all this groundwater onsite, and essentially making the ground mushy… There's already significant damage [to the reactor buildings] — the entire coast of Japan dropped three feet during that earthquake and never rebounded… But the Fukushima site didn't fall straight, it fell at an angle, it's about a two inch incline across the site now. So the buildings are in mushy ground and they're not quite straight. The other part is that there's a toxic brew of radioactive chemicals inside there, but there's also just chemicals – they're eating away at the concrete and they're eating away at the steel. It's a nasty chemical broth inside these plants. My fear is that if there's a Richter 7 quake, not the Richter 9 that happened 6 years ago, if there's a Richter 7 quake on that site it could breach those containments… The horse is out of the barn at that point… (discussion continues at 32:00 in) On toppling over… probably half the concrete inside the containment that was originally there has been eaten away by the hot radioactive fuel — and there's ongoing chemical attacks — so I really think the concrete under the containment is pretty darn punky ["resembling punk in being soft or rotted"] right now, and is getting punkier as time goes on."
http://enenews.com/nuclear-engineer-my-biggest-concern-is-fukushima-plant-will-collapse-concrete-under-reactors-is-being-eaten-away-theres-ongoing-chemical-attacks-containment-structures-are-t
Chris Hedges: The Enemy Is Not Donald Trump or Steve Bannon—It Is Corporate Power (Video)
Posted on Mar 15, 2017
In a recent speech titled "After Trump and Pussy Hats" delivered in Vancouver, British Columbia, Truthdig columnist Chris Hedges tells the audience that "resistance must also be accompanied by an alternative vision of a socialist, anti-capitalist society."
After a fierce indictment of what he calls the kleptocracy that rules the United States, Hedges urges organizing "with lightning speed" because this is our "last chance" to do so.
"This resistance must also be accompanied by an alternative vision of a socialist, anti-capitalist society. Because the enemy in the end is not Trump or Bannon—it is corporate power," Hedges says. "And if we do not stop corporate power, we will never dismantle fascism's seduction of the white working class and unemployed."
"Hope comes from the numerous protests that have been mounted in the streets, in town halls," he continues. "We must engage in these battles on a local and on a national level … we will have to build new radical movements and most importantly, new parallel institutions that challenge the hegemony of corporate power. It will not be easy; it will take time."
Watch the entire rousing speech… (above)
Antarctica west of Australia (above) / March 16, 2017    http://go.nasa.gov/2mAOTgY