CHRIS HEDGES: The Feuding Kleptocrats / Mar 26, 2017
The Trump kleptocrats are political arsonists. They are carting cans of gasoline into government agencies and Congress to burn down any structure or program that promotes the common good and impedes corporate profit. …Donald Trump's appointees are busy diminishing or dismantling the agencies they were named to lead and the programs they are supposed to administer. That is why they were selected. Rex Tillerson at the State Department, Steven Mnuchin at the Treasury Department, Scott Pruitt at the Environmental Protection Agency, Rick Perry at the Department of Energy, Tom Price at Health and Human Services, Ben Carson at the Department of Housing and Urban Development and Betsy DeVos at the Department of Education are eating away the foundations of democratic institutions like gigantic termites. And there is no force inside government that can stop them. …
Trump, who views reality and himself through the degraded lens of television and the sickness of celebrity culture. He, like much of the public, lives in the fantasy world of electronic hallucinations.  …
The kleptocrats, whatever their differences, are united by one overriding fear. They fear large numbers of people will become wise to their kleptocracy and revolt. They fear the mob. They fear revolution, the only mechanism left that can rid us of these parasites.
They are perverting the legal system and building mechanisms and paramilitary groups that will protect the kleptocrats and oligarchs when the last bits of the country and the citizens are being "harvested" for corporate profit. They don't want anything to impede the pillage, even when climate change forces people to confront the reality that they and their children may soon become extinct.
They will steal despite the fact that the ecosystem is collapsing, heat waves and droughts are destroying crop yields, the air and water are becoming toxic and the oceans are being transformed into dead zones.
There will be hundreds of millions of desperate climate refugees. Civil society will break down. They won't stop until their own generators have run out of fuel in their gated compounds and their private security forces have deserted them. When the end comes they will greet it with their characteristic blank expression of idiocy and greed. But most of us won't be around to see their epiphany. …
This omnipresent surveillance state and militarization of the forces of internal security are designed to thwart popular revolt. … The most innocuous information will be twisted and used by the kleptocrats to condemn anyone considered a threat. The kleptocrats, in the end, have only one real enemy: us. Their goal is to make sure we are mesmerized by their carnival act or, if we wake up, shackled while they do their dirty work. Our goal must be to get rid of them.
http://www.truthdig.com/report/item/the_warring_kleptocrats_20170326
Part 2: Solar Radiation Management, Aerosol Spraying, Climate Engineering the California coast & the San Joaquin Valley from NASA Worldview in March 2017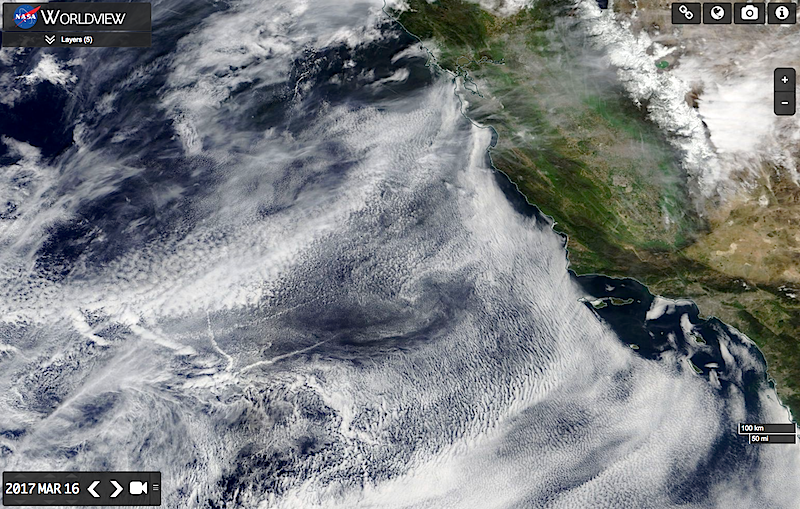 https://go.nasa.gov/2okKcvN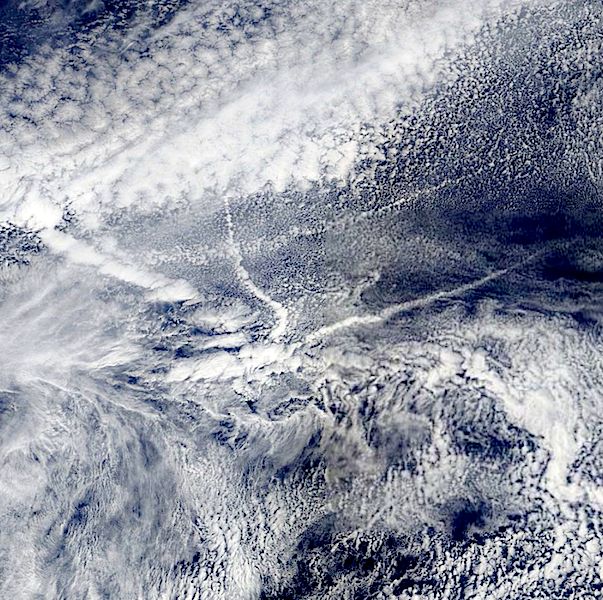 San Joaquin Valley CA / March 16, 2017 detail
https://go.nasa.gov/2pfDRyR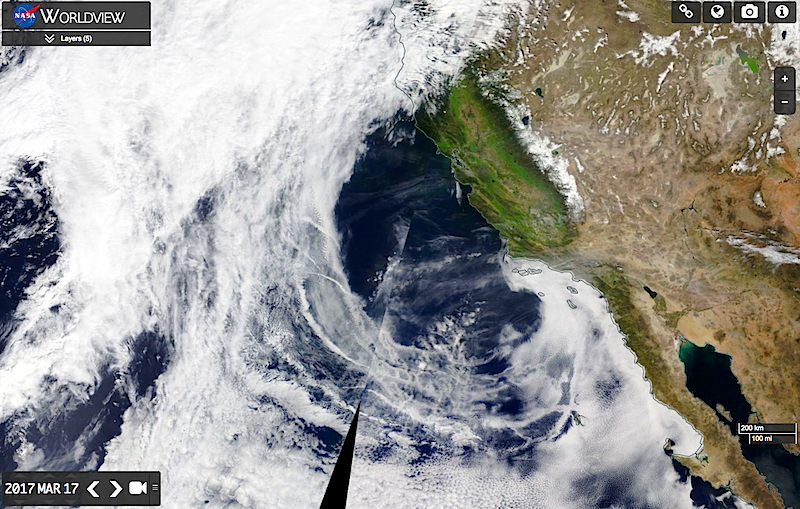 https://go.nasa.gov/2pfBiNe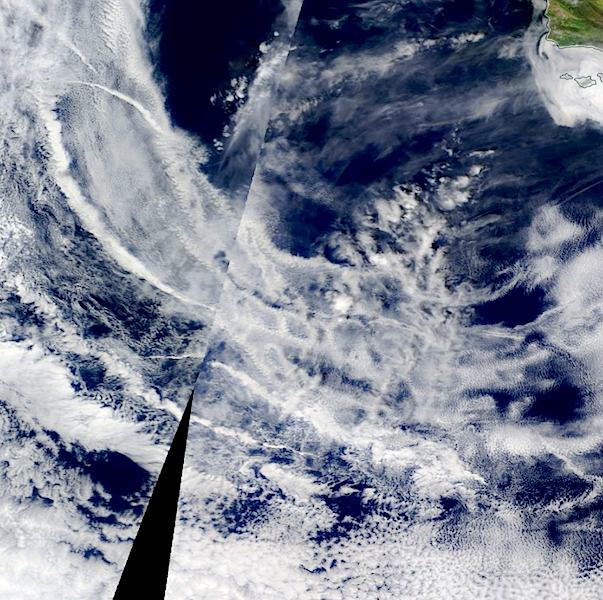 detail San Joaquin Valley CA / March 17, 2017
https://go.nasa.gov/2pfCX5x
https://go.nasa.gov/2pfyz6c
https://go.nasa.gov/2pfNUUD
detail San Joaquin Valley CA / March 18, 2017
https://go.nasa.gov/2okCYYx
https://go.nasa.gov/2pfHx3u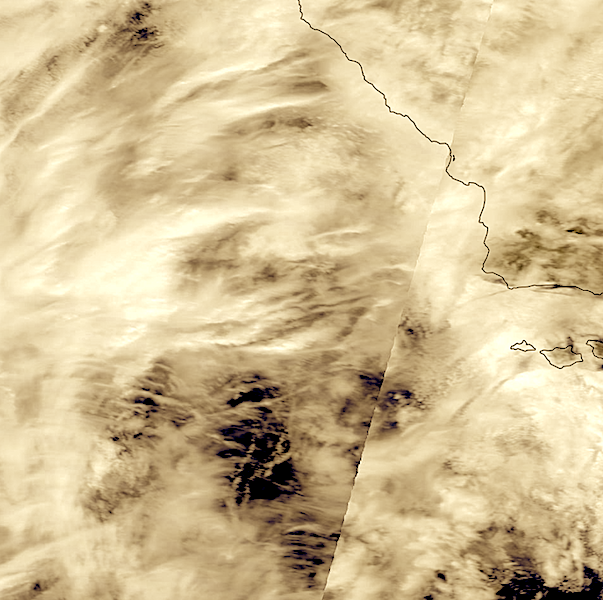 Sepia enhanced detail of San Joaquin Valley CA / March 19, 2017
https://go.nasa.gov/2pfHXa4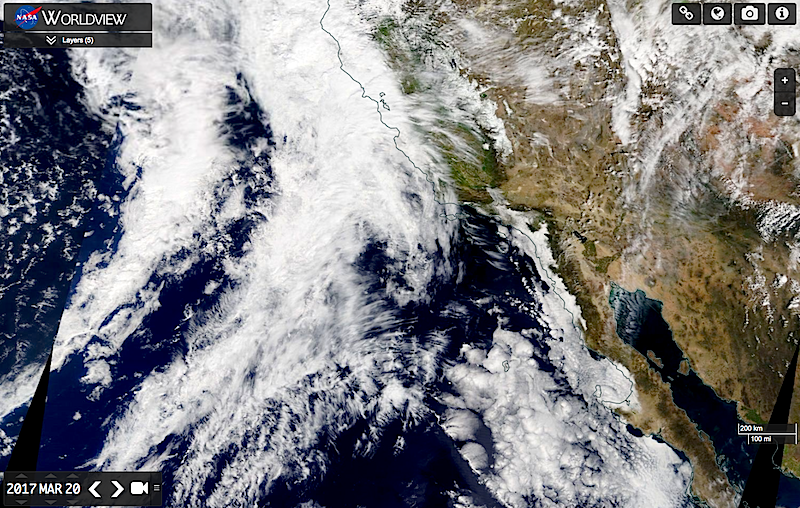 https://go.nasa.gov/2okN1wK
detail San Joaquin Valley CA / March 20, 2017
https://go.nasa.gov/2pfX4Al