SAN ONOFRE: California Nuclear Power Radioactive Waste
LA TIMES:  The massive, 150-ton turbines have stopped spinning. The mile-long cooling pipes that extend into the Pacific will likely become undersea relics. High voltage that once energized the homes of more than a million Californians is down to zero.
But the San Onofre nuclear power plant will loom for a long time as a landmark, its 1,800 tons of lethal radioactive waste stored on the edge of the Pacific and within sight of the busy 5 Freeway.
Across the site, deep pools of water and massive concrete casks confine high-power gamma radiation and other forms of radioactivity emitted by 890,000 spent fuel rods that nobody wants there.
And like the other 79,000 tons of spent fuel spread across the nation, San Onofre's nuclear waste has nowhere to go.
… The sites are located on the scenic shores of northern Lake Michigan, along a bucolic river in Maine, on the high plateau of Colorado and along the densely populated Eastern Seaboard — each environmentally sensitive for different reasons.
No one wants that waste near them — including officials in the sleepy beach town of San Clemente, just north of San Onofre. Even Southern California Edison Co. officials, while insisting the waste is safe, agree it should be moved as soon as possible.
The waste "is right down by the water, just inches from the high-tide line," said Ray Lutz, the group's founder. "It is the most ridiculous place they could find."
In an effort to assuage local concerns, Edison participates in a "community engagement panel" that meets at least quarterly, led by UC San Diego professor David Victor.
"Early on, I was surprised by how many people did not understand there was no place for the fuel to go," he said. Over the last year, the possibility of a temporary storage site has raised people's hopes for a quicker solution, he said.
http://www.latimes.com/local/california/la-me-stranded-nuclear-waste-20170702-htmlstory.html
It could have been different…
Imagine what will happen to these nuclear waste sites by the sea when the ocean begins to rise…
Greenland melting…  (above) / July 1, 2017     https://go.nasa.gov/2tz4yny
Greenland melting…  (above) / July 1, 2017      https://go.nasa.gov/2tz4yny
Greenland melting…  (above) Labrador Sea / July 1, 2017       https://go.nasa.gov/2tzfhOV
Greenland melting…  (above) Labrador Sea / July 1, 2017      https://go.nasa.gov/2uxeqeA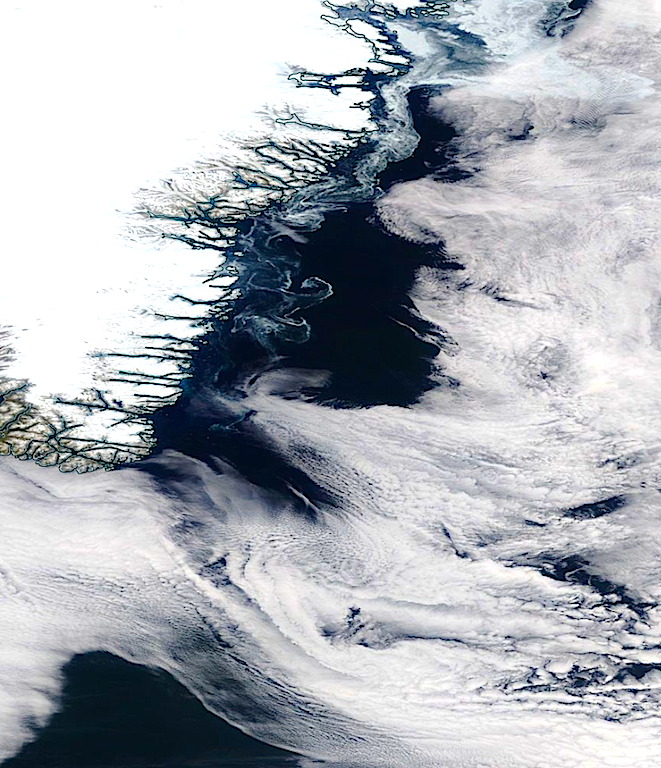 Greenland melting…  (above) / July 1, 2017 https://go.nasa.gov/2uwWyRc
***
AFTER THE ICE GOES
http://robinwestenra.blogspot.com/2017/07/after-ice-goes.html