Antarctica west of South America / March 25, 2017     https://go.nasa.gov/2n5JsXW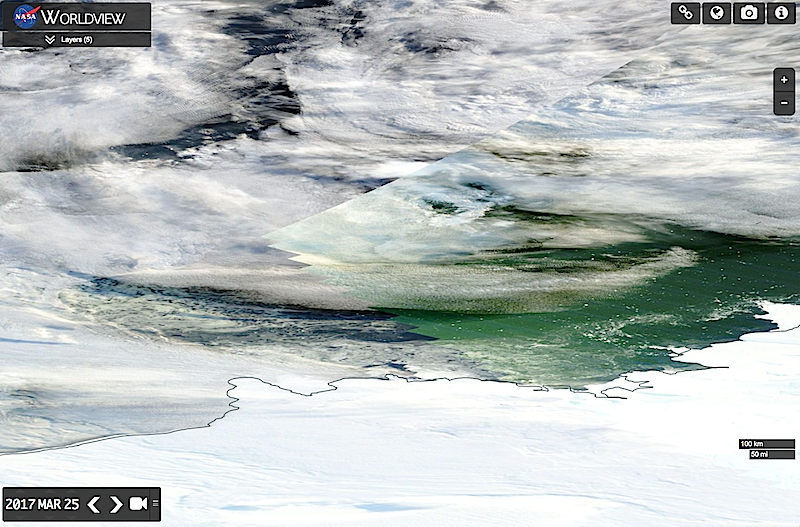 Antarctica west of South America / March 25, 2017      https://go.nasa.gov/2n63YYn
An Empirical Parameterization of Heterogeneous Ice Nucleation for Multiple Chemical Species of Aerosol
Vaughan T. J. PhillipsDepartment of Meteorology, University of Hawaii at Manoa, Honolulu, Hawaii
Paul J. DeMottDepartment of Atmospheric Science, Colorado State University, Fort Collins, Colorado
Constantin AndronacheBoston College, Chestnut Hill, Massachusetts
2007
Abstract
A novel, flexible framework is proposed for parameterizing the heterogeneous nucleation of ice within clouds. It has empirically derived dependencies on the chemistry and surface area of multiple species of ice nucleus (IN) aerosols. Effects from variability in mean size, spectral width, and mass loading of aerosols are represented via their influences on surface area. The parameterization is intended for application in large-scale atmospheric and cloud models that can predict 1) the supersaturation of water vapor, which requires a representation of vertical velocity on the cloud scale, and 2) concentrations of a variety of insoluble aerosol species.
Observational data constraining the parameterization are principally from coincident field studies of IN activity and insoluble aerosol in the troposphere. The continuous flow diffusion chamber (CFDC) was deployed. Aerosol species are grouped by the parameterization into three basic types: dust and metallic compounds, inorganic black carbon, and insoluble organic aerosols.
Further field observations inform the partitioning of measured IN concentrations among these basic groups of aerosol. The scarcity of heterogeneous nucleation, observed at humidities well below water saturation for warm subzero temperatures, is represented. Conventional and inside-out contact nucleation by IN is treated with a constant shift of their freezing temperatures.
The empirical parameterization is described and compared with available field and laboratory observations and other schemes. Alternative schemes differ by up to five orders of magnitude in their freezing fractions (−30°C). New knowledge from future observational advances may be easily assimilated into the scheme's framework. The essence of this versatile framework is the use of data concerning atmospheric IN sampled directly from the troposphere.
http://journals.ametsoc.org/doi/abs/10.1175/2007JAS2546.1
Antarctica below South America (above) / April 1, 2017    https://go.nasa.gov/2ooDwgL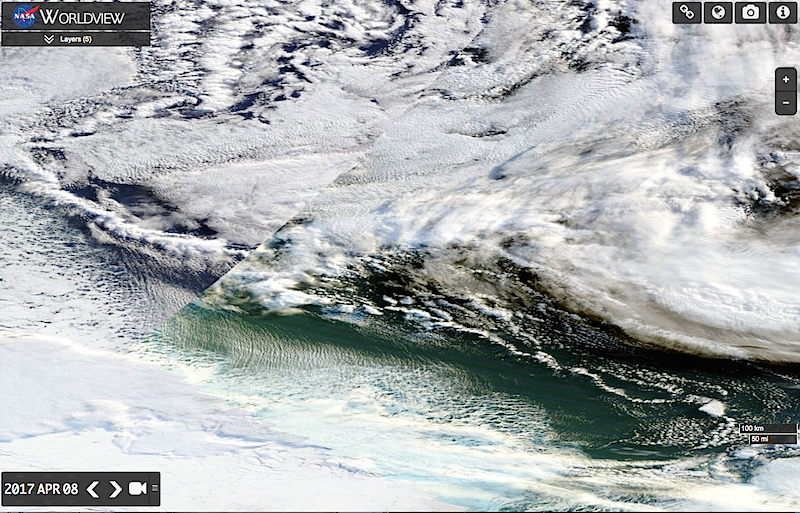 Antarctica between Africa & South America / April 8, 2017   https://go.nasa.gov/2pg34Jx
Antarctica below New Zealand (above) / April 12, 2017         https://go.nasa.gov/2ou6bQg
Geoengineering The Polar Regions: The Chemical Ice Nucleation Factor
July 12, 2017
Dane Wigington
   GeoengineeringWatch.org
It's official, one of the largest icebergs ever recorded just broke off from Antarctica. This extraordinary ice calving event happened in spite of it being the middle of winter at the South Pole. It happened in spite of the all out climate engineering chemical ice nucleation assault being carried out on both polar regions.
http://www.geoengineeringwatch.org/geoengineering-the-polar-regions-the-chemical-ice-nucleation-factor/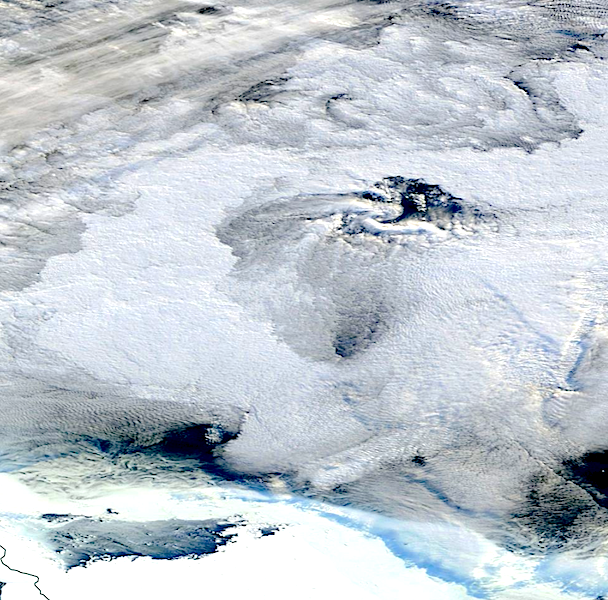 Antarctica south of Australia (above) / April 18, 2017            https://go.nasa.gov/2pQjjxg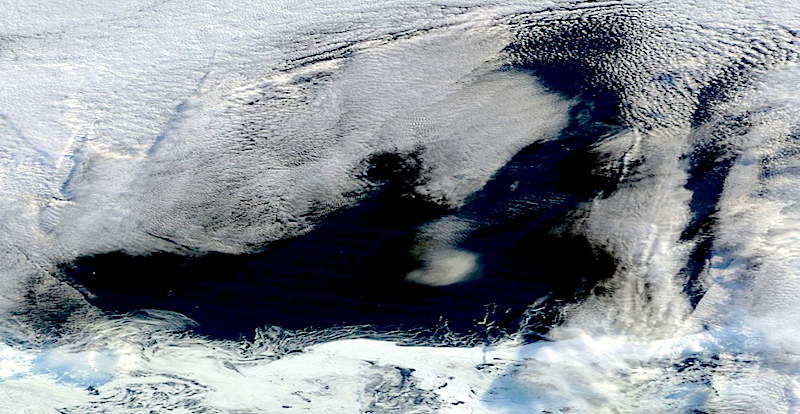 Antarctica south of Australia / April 18, 2017              https://go.nasa.gov/2oTShrs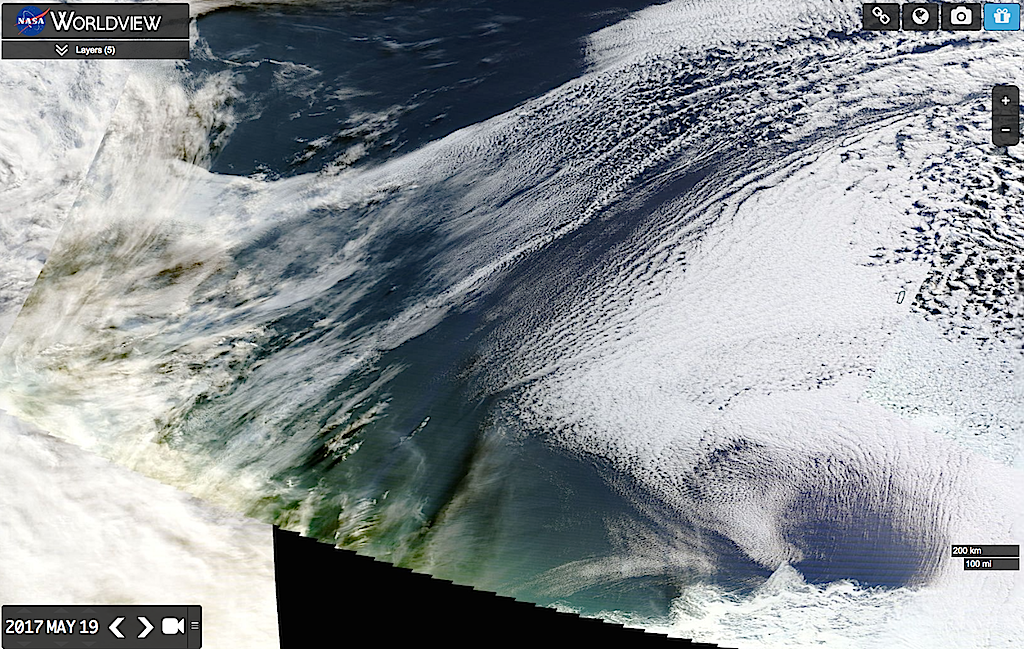 Antarctica beneath New Zealand (above) / May 19, 2017        https://go.nasa.gov/2rBv6jV
Antarctica south of Australia (above) / February 10, 2017          http://go.nasa.gov/2kSss78
Antarctica south of Australia (sepia enhanced detail) / February 10, 2017      http://go.nasa.gov/2kCAYbQ