This is how the Navy began to cover our skies today….perhaps delivered by a railgun?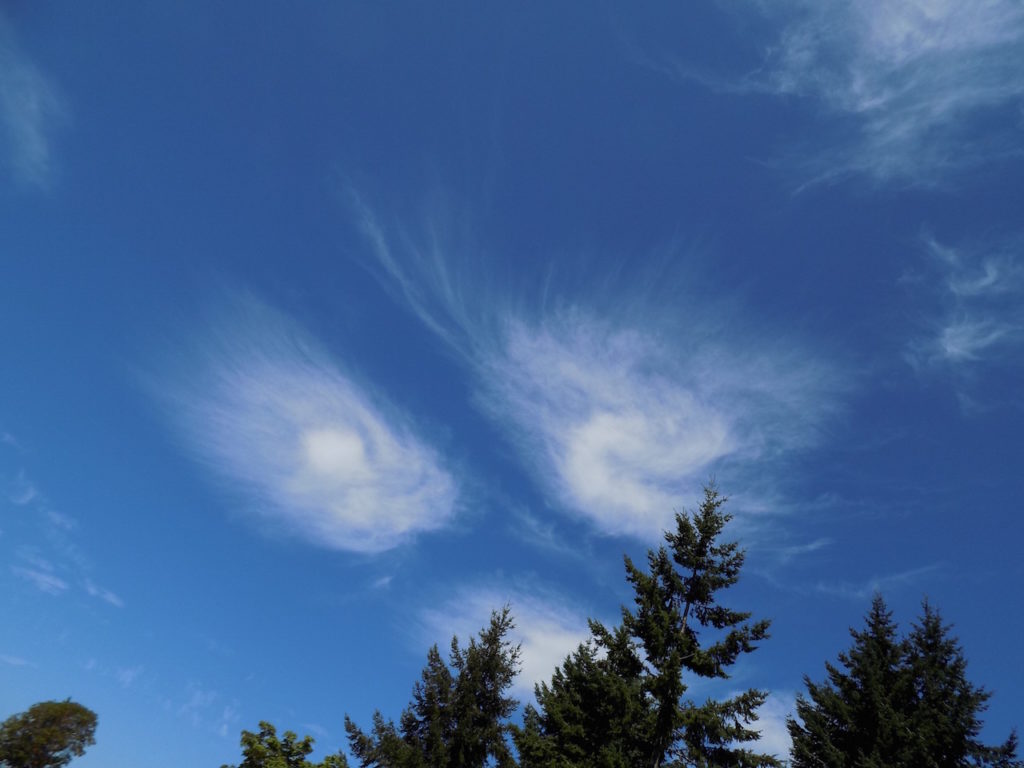 Phase two… CHEM-BLOBS…?

Phase three… dispersing chem-blobs…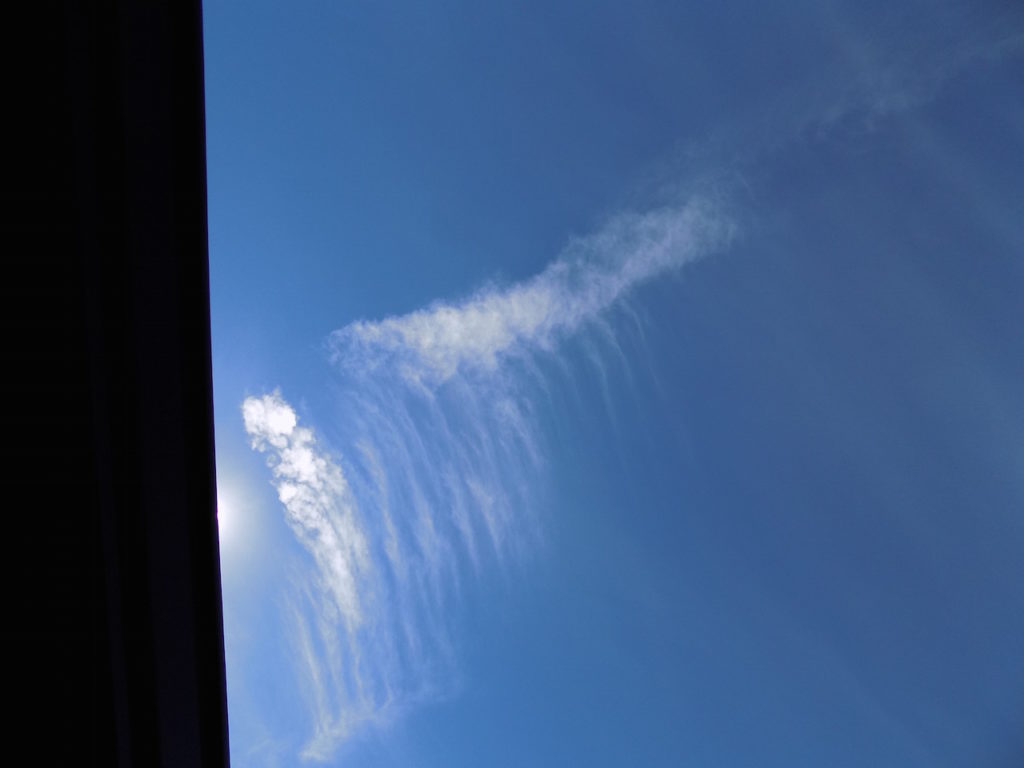 War Games Planned for East Coast and Local Waters
July 05, 2017
By TIM FAULKNER/ecoRI News staff
The Navy intends to fire missiles, rockets, lasers, grenades and torpedoes, detonate mines and explosive buoys, and use all types of sonar in a series of live war exercises in inland and offshore waters along the East Coast.
In New England, the areas where the weapons and sonar may be deployed encompass the entire coastline, as well as Navy pier-side locations, port transit channels, civilian ports, bays, harbors, airports and inland waterways.
"The Navy must train the way we fight," according to a promotional video for what is called "Atlantic Fleet Training and Testing Phase III."
An environmental impact study of the war games was released June 30. Public comment is open until Aug. 29. A public hearing is scheduled for July 19 from 4-8 p.m. at Hotel Providence. Comments can be submitted online and in writing, or through a voice recorder at the hearing.
The dates and exact locations of the live weapon and sonar exercises haven't yet been released. In all, 2.6 million square miles of land and sea along the Atlantic Coast and Gulf of Mexico will be part of the aerial and underwater weapons firing.
The Navy describes the weapons exercise as a "major action." The live ammunition training includes the use of long-range gunnery, mine training, air warfare, amphibious warfare, and anti-submarine warfare. The Navy says weapons use near civilian locations is consistent with training that has been done for decades.
The Navy, in conjunction with the National Marine Fisheries Service, will announce one of three options for the battle exercises by fall 2018. One of the options is a "no-action alternative."
The Office of the Secretary of the Navy has full authority to approve or deny the live war games. President Trump, however, has had difficulties finding a new Navy secretary. Venture capitalist Richard V. Spencer is expected to face a Senate confirmation hearing this month. Previous nominee Philip Bilden withdrew from consideration in February over financial disclosure requirements.
The Navy says an environmental review for the excises was conducted between 2009 and 2011. The National Oceanic and Atmospheric Administration (NOAA) also prepared an Environmental Impact Statement/Overseas Environmental Impact Statement to analyze the potential environmental effects associated with the use of active sonar technology and the improved extended echo ranging system during Atlantic Fleet training exercises.
The live war games would deploy passive and active sonar systems. The Navy said it will use mid-frequency active acoustic sonar systems to track mines and torpedoes. Air guns, pile driving, transducers, explosive boxes and towed explosive devises may be used offshore and inland.
Risks to sea life include entanglements, vessel strikes, ingesting of harmful materials, hearing loss, physiological stress, and changes in behavior.
The Navy says it is using acoustic modeling done by NOAA to minimize impacts to marine mammals such as whales and porpoises. NOAA, however, isn't involved with efforts to mitigate environmental impacts during the war games. Spotters on naval vessels will search for mammals during the exercises. The Navy said it will partner with the scientific community to lessen impacts on birds, whales, turtles, fish and reefs.
While some sea life is expected to be harmed by the explosives and sonar, the Navy says it doesn't expect to threaten an entire population of a species.
https://www.ecori.org/narragansett-bay/2017/7/5/war-games-planned-for-east-coast-and-local-waters
Note the weird unnatural blobs on the horizon…
Progressed ….
Further …
PAUL CRAIG ROBERTS:
"It is the function of the CIA to keep the world unstable, and to propagandize and teach the American people to hate, so we will let the Establishment spend any amount of money on arms."   [John Stockwell, former CIA]

Paul Craig Roberts: June 12, 2016
There is no sign that American leadership in any area is actually capable of thought. …
Neither Wall Street nor corporate boards and CEOs were smart enough to understand that moving jobs offshore also moved US consumer incomes and purchasing power offshore. … the financial and business leadership were too stupid to comprehend that without the incomes from high value-added, high productivity US jobs, the American consumer would not have the discretionary income to continue in his role as the economy's driver. …
A country whose financial and business leadership is too stupid to understand that a population increasingly employed in part-time minimum wage jobs is not a big spending population, is a country whose leadership has failed. …
… capitalism has reached the point in its descent that it cannot exist without public subsidies for the people dispossessed by capitalism. … cost shifting has now reached the level of inducing Armageddon.
There is an effort to impeach Trump and put the warmonger VP Pence in the presidency. As Trump campaigned on restoring normal relations with Russia, a defeat of the attempt to reduce tensions would reinforce the recent conclusion of the Russian military high command that Washington is planning a first strike nuclear attack on Russia.
This is the risk that the entire world faces due to the dependence of the power and profit of the US military/security complex on war and enemies.
 In other words, there is only one remaining rationale for the existence of the United States of America — the interests of the military/security complex — and these interests require a powerful enemy whether real or orchestrated. …
Globalism, that is, labor arbitrage across national boundaries, and financialization, the diversion of consumers' incomes into interest and fees to banks, have wrecked the US economy. … The high concentration of income and wealth has negated democracy. The government is only accountable to the rich.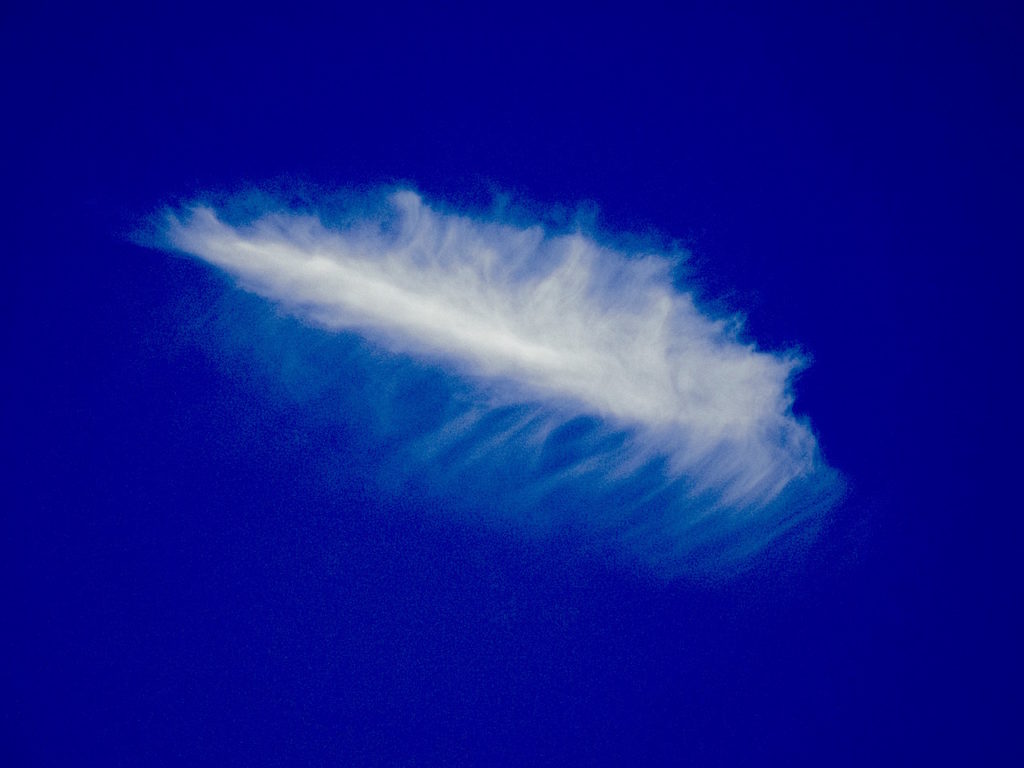 Close up of dispersion…
Dispersion….
More ….
Charles Hugh Smith: Humanity appears to default to magical thinking when faced with untenable situations that demand systemic change.
How would extraterrestrial anthropologists characterize Earth's dominant socio-economic system? It's not difficult to imagine their dismaying report:
"Earth's economy glorifies waste. Its economists rejoice when a product is disposed as waste and replaced with a new product. This waste is perversely labeled 'growth.'
Aimless wandering that consumes fossil fuels is likewise rejoiced as 'growth.'
The stripping of the planet's oceans for a few favored species of edible fish is also considered 'growth' as the process of destroying the ocean ecosystem generates sales of the desired seafood.
Even more perversely, the resulting shortages are also causes of rejoicing by the planet's elites, as their ability to purchase the now-scarce resources boosts their social status and grandiose sense of self-worth.
This glorification of waste is the same dynamic that destroyed the civilization on Zork.
Earth's economy also glorifies exploitation, as this maximizes profits, which appears to be the planetary equivalent of a secular religion that everyone believes as a Natural Law.
Thus slavery and monopoly are highly valued as the most reliable sources of profits. If ethical concerns limit the actual ownership of humans, Earth's economy incentivizes feudal arrangements that share characteristics of servitude and bondage. In the current era, the favored mechanisms are over-indebtedness (debt-serfdom) and taxation by the state, which extracts approximately 40% of all labor via threat of imprisonment.
Earth's elites exhibit a pathological preference for micro-managing the commoners via criminalizing much of everyday life and imposing extremely harsh punishments for any dissent or resistance to elite domination.
This is the same dynamic that doomed planetary civilizations in the Blug system.
Earth's economy is currently dependent on depleting fossil fuels and borrowing from the future to fund consumption in the present, i.e. debt. Rather than face the reality that this is not sustainable and pursue other arrangements, Earth's elites have chosen expediency, responding to the inevitable crises caused by depletion and dependence on debt with expedient but ultimately destructive policies that paper over the crises but at the cost of generating greater crises in the next iteration.
http://charleshughsmith.blogspot.com/2017/07/earths-economy-glorifies-waste.html
The Olympic Peninsula & the Strait of Juan of Fuca