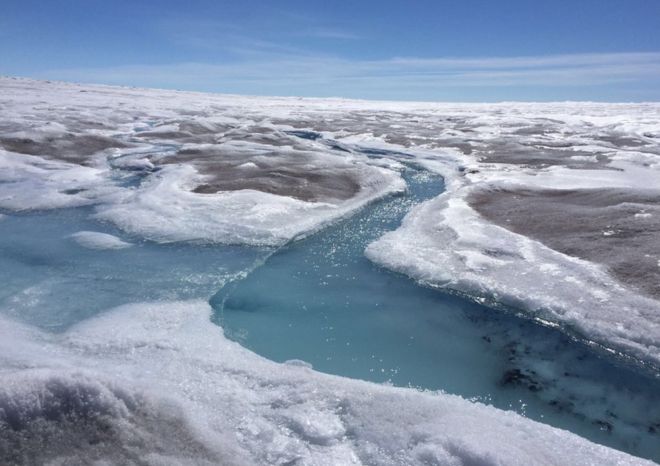 Sea level fears as Greenland darkens / BBC photo (above)
Scientists are "very worried" that the melting of the Greenland ice sheet could accelerate and raise sea levels more than expected. They say warmer conditions are encouraging algae to grow and darken the surface. Dark ice absorbs more solar radiation than clean white ice so warms up and melts more rapidly.
Currently the Greenland ice sheet is adding up to 1mm a year to the rise in the global average level of the oceans. It is the largest mass of ice in the northern hemisphere covering an area about seven times the size of the United Kingdom and reaching up to 3km (2 miles) in thickness.
This means that the average sea level would rise around the world by about seven metres, more than 20ft, if it all melted. That is why Greenland, though remote, is a focus of research which has direct relevance to major coastal cities as far apart as Miami, London and Shanghai and low-lying areas in Bangladesh and parts of Britain.
Algae were first observed on the Greenland ice sheet more than a century ago but until recently its potential impact was ignored. Only in the last few years have researchers started to explore how the microscopically small plants could affect future melting. A five-year UK research project known as Black and Bloom is under way to investigate the different species of algae and how they might spread, and then to use this knowledge to improve computer projections of future sea level rise.
The possibility of biologically inspired melting was not included in the estimates for sea level rise published by the UN's climate panel, the IPCC, in its latest report in 2013.
http://www.bbc.com/news/science-environment-40686984
Greenland, the Davis Strait (above) / July 24, 2017            https://go.nasa.gov/2tFqX3C
Davis Strait
Davis Strait (French: Détroit de Davis) is a northern arm of the Labrador Sea. It lies between mid-western Greenland and Nunavut, Canada's Baffin Island. To the north is Baffin Bay. The strait was named for the English explorer John Davis (1550–1605), who explored the area while seeking a Northwest Passage. By the 1650s it was used for whale hunting.
Oil and gas
WIKI: Petroleum exploration in the Arctic
US Geological Survey has estimated that at least 13% of the worlds undiscovered oil deposits and 30% of the worlds undiscovered gas pockets are located in the Arctic, with the seas around Greenland potentially holding large amounts of natural gas and lesser amounts of crude oil and natural gas liquids. This has led the Greenland's minister and provincial council to offer a large number of off-shore concessions to potential hydrocarbon (oil and gas) extraction. The largest concessions areas are located in seas west of Greenland; primarily the Davis Strait and Baffin Bay, but with several smaller concessions in the Greenland Sea in the east also.
Greenland, the Davis Strait (above) / July 24, 2017              https://go.nasa.gov/2vUL4rc
Greenland, the Davis Strait (above) / July 24, 2017                https://go.nasa.gov/2tFfRvr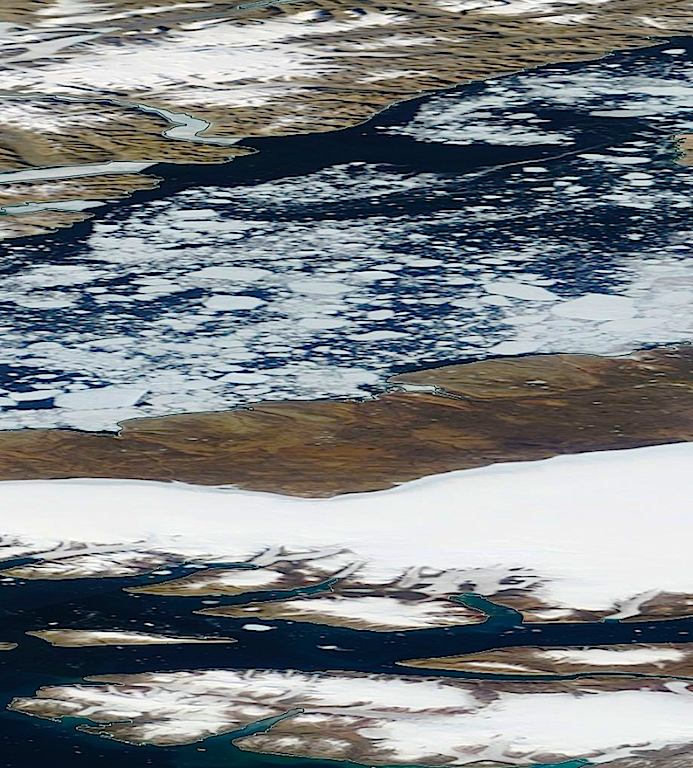 North of Greenland  (above) / July 24, 2017           https://go.nasa.gov/2tFDGDx
East coast of Greenland (above) / July 24, 2017            https://go.nasa.gov/2tFDGDx
East coast of Greenland (above) / July 24, 2017            https://go.nasa.gov/2vUBJzD
North of Scandinavia & Russia (above) / July 24, 2017    https://go.nasa.gov/2vUs8sL
Arctic & the Barents Sea (above) / July 24, 2017            https://go.nasa.gov/2vUKpGh
Arctic, Barents Sea & the KARA SEA Russia (above) / July 24, 2017                    https://go.nasa.gov/2tFuCi6
Arctic, Barents Sea & the KARA SEA Russia (above) / July 24, 2017                      https://go.nasa.gov/2tFq2Ab