VSF: I wonder how the transmitter interferometers make these oval shapes, like a cookie-cutter…  Greenland / August 1, 2017 (above)         https://go.nasa.gov/2wkbJ14
THE ARCTIC (above) / Aug.2, 2017            https://go.nasa.gov/2wns0lN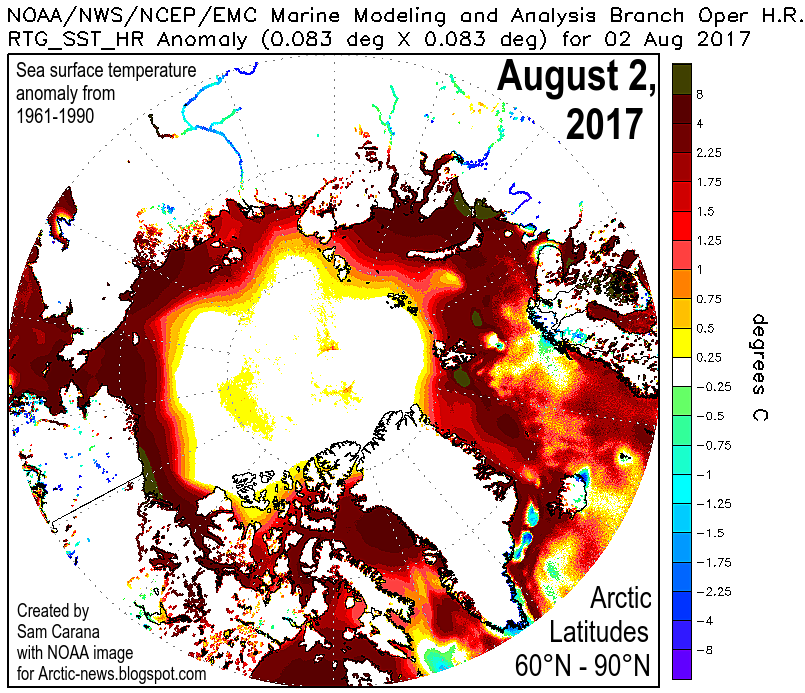 Arctic sea ice may well be gone by September 2017
Wednesday, August 2, 2017 – [excerpt]
The Arctic Ocean is warming up fast and this is melting the sea ice from below.
Sea surface temperature anomalies are well above 8°C (14.4°F) in several parts of the Arctic Ocean. The image on the right shows sea surface temperature anomalies from 1961-1990 for the Arctic (60°N – 90°N) on August 2, 2017.
Global sea ice extent is at a record low for the time of the year, as illustrated by the graph below, by Wipneus. Lower sea ice extent means that less sunlight is reflected back into space.
… The danger is that much of the extra heat will instead reach sediments at the seafloor of the Arctic Ocean that contain huge amounts of methane in currently still frozen hydrates.
http://arctic-news.blogspot.com/2017/08/arctic-sea-ice-may-well-be-gone-by-september-2017.html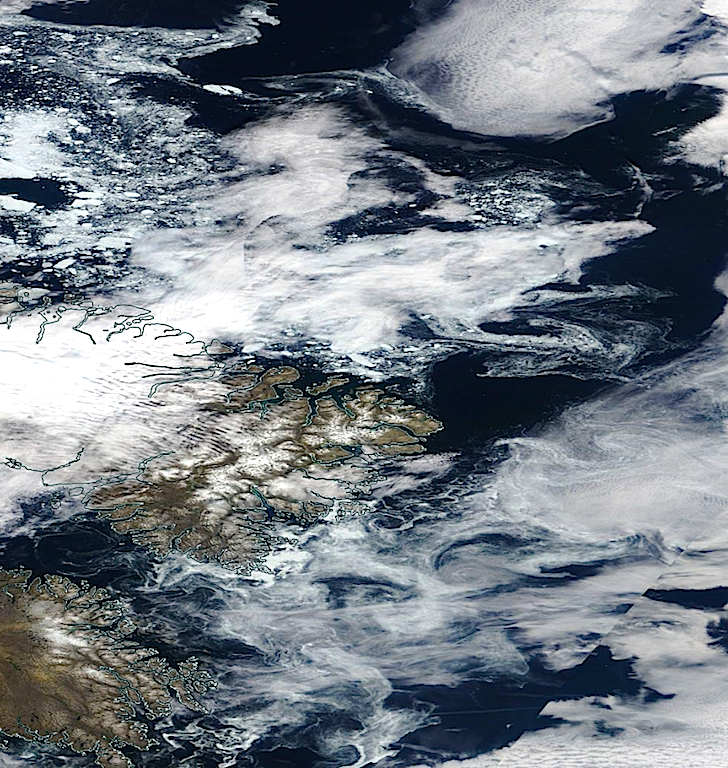 Davis Strait – Greenland (above) / Aug.1, 2017        https://go.nasa.gov/2wkbl2F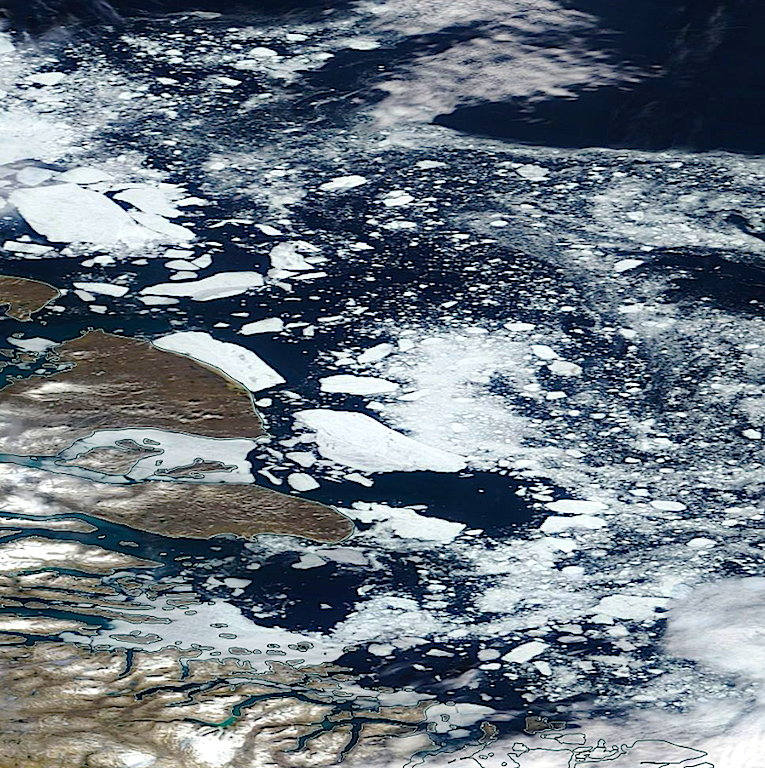 Davis Strait – Greenland (above) / Aug.1, 2017          https://go.nasa.gov/2vrx248
Greenland east coast (above) / Aug.1, 2017                 https://go.nasa.gov/2wkdj2X
Greenland (above) / Aug.2, 2017          https://go.nasa.gov/2wnA2v5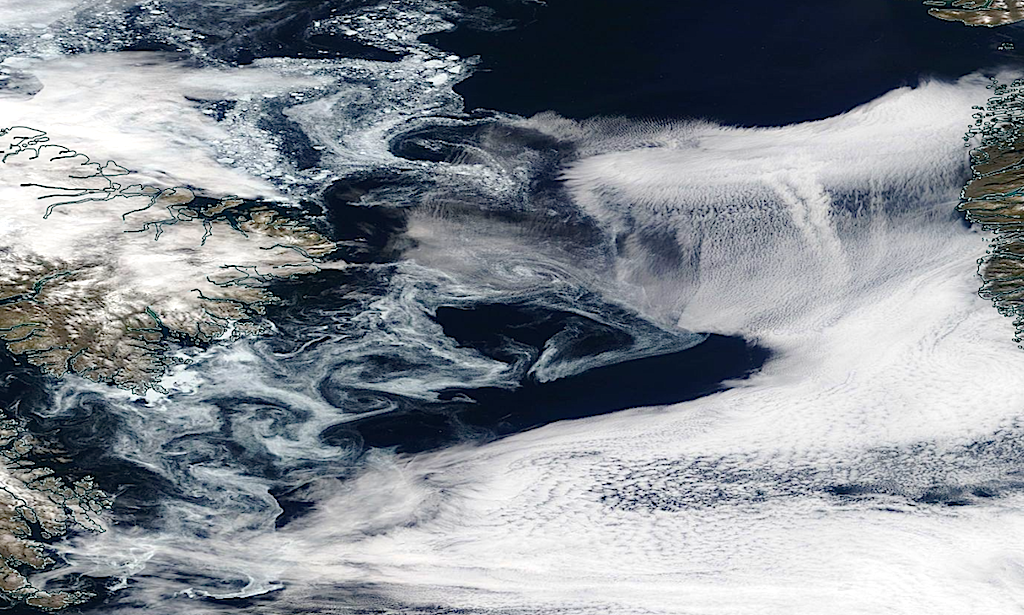 Greenland (above) / Aug.2, 2017         https://go.nasa.gov/2vv2EG4
Greenland (new weirdness? above) / Aug.2, 2017        https://go.nasa.gov/2vuPRDU
Greenland (new weirdness? above) / Aug.2, 2017            https://go.nasa.gov/2wnIs5k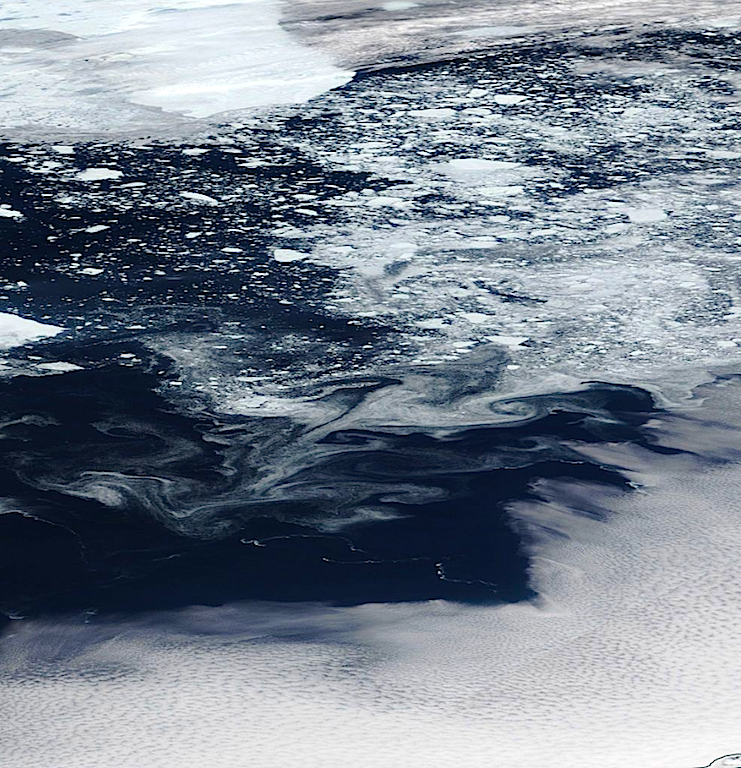 East coast Greenland (above) / Aug.2, 2017                https://go.nasa.gov/2wnymkZ