VSF: I am just beginning to read E.M. Nicolay and find him very much in resonance with my own thinking. He writes about geoengineering as part of the tyrannical ET races plan to invade and take over our planet Earth.  He is very detailed in his understanding and I will write more as I get deeper into him.
Nicolay also is well versed in traditional metaphysical truth, and this makes his work stand on an excellent foundation. He comprehends that "ascension" is about the movement of interlocking dimensional realms. This eternal on-going never-ending process is assisted by the Enlightened ones who dwell in the highest dimensions.
Thus we understand again, even from the view point of teachings regarding "ascension" that our own Enlightenment is the key to Liberation. Yes, challenging times are ahead. These experiences will encourage many to wake up. Our only Refuge is a higher consciousness, God Consciousness.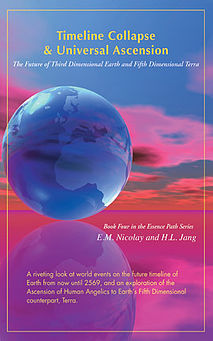 The Question of Relationships
E.M. Nicolay
January 20, 2016
Many times the question of  "relationship," one you have with another individual or one you have with a group, comes into play.  We would like to explore with you the basis for many of those relationships. …
It is unfortunate that Soul Mate in your vernacular has come to mean a love object or a person you desire, or even a person who is closely related to you or associated with you in terms of liking what you like and being your friend.  While this can be true, usually nothing could be further from the truth.  You should be aware that the basis of a Soul Mate relationship from the perspective of your Soul is NOT the individual who likes the same things you like or wants to do the same things you want to do.
On the contrary, more often than not your Soul Mate is that relationship that provides you with the maximum opportunities for growth, and as such can sometimes push your predispositions in extraordinary ways. …
In many cases, in fact in the majority, that growth and the relationship are charged with important dynamics that originate through the volatile situations and difficult challenges coming out of the relationship.   Again, although this is not always the case and it must be remembered that a Soul Mate is most likely an entity known to you at a Soul level who supports your growth unconditionally, generally Soul Mates are those individuals in the lifetime who provide you with extraordinary challenges.
In important ways they participate with you, unconsciously, in difficult and often extreme situations intended to provide you with either the development of certain aspects of your character or for long term growth from inside the lifetime. 
https://www.essencepath.com/single-post/2016/1/20/The-Question-of-Relationships
"Our task to wake up those of us who have forgotten what they went for…"