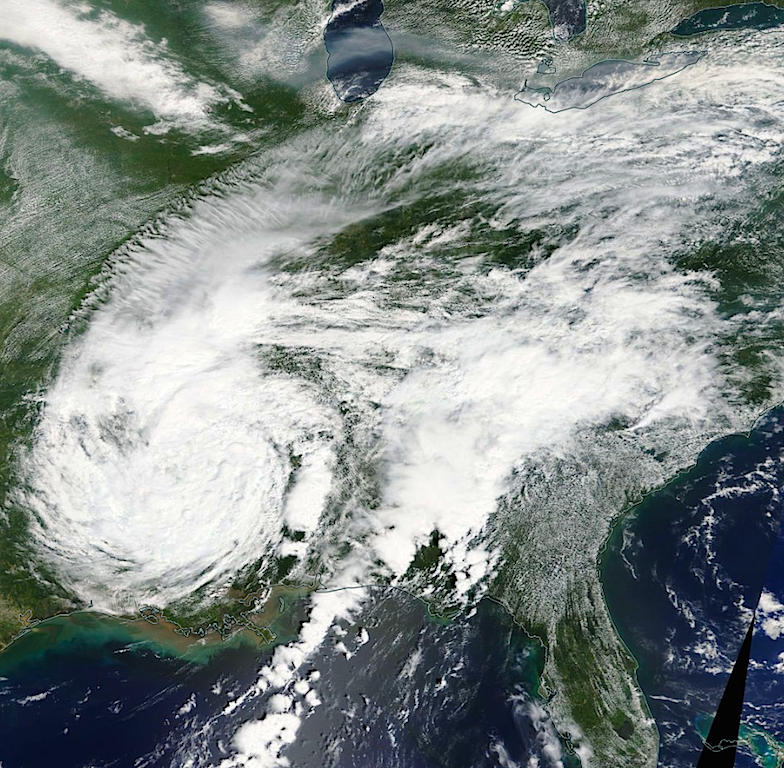 The remnants of Hurricane Harvey (above & below) / August 31, 2017   https://go.nasa.gov/2eIYP6p

"When Third Dimensional Earth has reached a point where Human Angelic Souls are unable to incarnate in the hybrid physical vehicle being created, Earth itself will bring the matter to a close. Out of such calamity, reemergence is possible and a great renaissance for the Human Angelic Soul species on Earth will begin."
Timeline Collapse & Universal Ascension
E.M. Nicolay & H.L. Jang
VSF: What is being said here, is that even though the alien hybrid agenda is now in full thrust, and they will be doing everything possible to take our planet, however in the long run they do not belong here and the Earth knows this. Thus this planet will be returned to us. Change will come and many will move on.
Message to the Emissaries: INVASION! / E.M. Nicolay: The System Lords and the Twelve Dimensions / Timelines Collapse & Universal Ascension / "there are more of them and their cloned progeny present on Earth today than at any time prior." / We may perceive the entire universe as the result of electromagnetics, the magnetic forces that create and dissolve the appearance of matter or form in the layers that are often termed as dimensional realms.
The image (above) is a photograph taken by me from my house on the Olympic Peninsula WA State. I have used contrast enhancement to show the structural details.
"…your focus…in the current lifetime…as you gain consciousness and enlightenment, you will find more and more that you have lost interest. What you see transpiring around you and happening on the 'News' on a Third Dimensional Earth in turmoil will seem like an absurd and distant dream. …until at some point the myriad of events happening in your world hold no further interest for you."
Timeline Collapse & Universal Ascension
E.M. Nicolay & H.L. Jang
A glimpse at the vastness of Time in the sacred Sanskrit metaphysical tradition.

God shall send them strong delusion, that they should believe a lie…
VSF: Many have been bewildered and shocked by the level of denial regarding the blatantly deformed clouds and massive aerosol spraying going on in-plain-sight above us. Why don't they see what we see? Perhaps a simple explanation is found the the Bible, Thessalonians 2.2:11 as a prophecy of "delusion" [my excerpts]:
"For the mystery of iniquity doth already work: … power and signs and lying wonders … because they received not the love of the truth… And for this cause God shall send them strong delusion, that they should believe a lie … who believed not the truth, but had pleasure in unrighteousness."

A similar understanding is found in the sacred Sanskrit metaphysics as the idea that mankind is partially "Veiled" in Delusion ('moha' in the Sanskrit).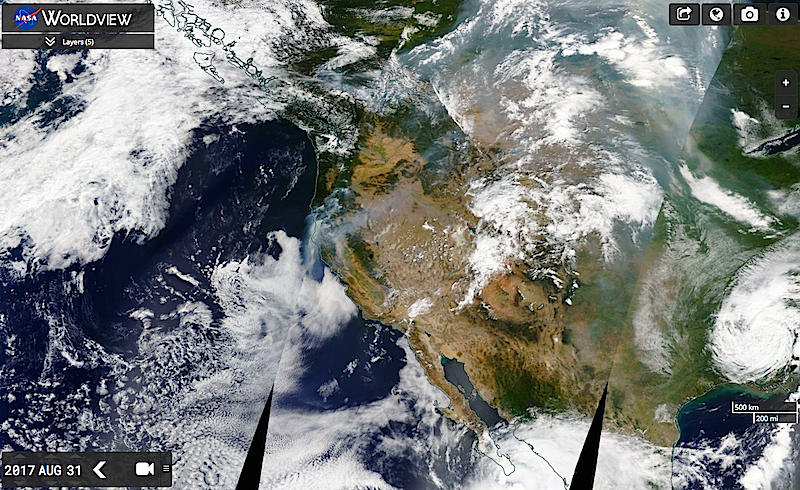 North America the west coast (above) / Aug.31, 2017        https://go.nasa.gov/2gswDIo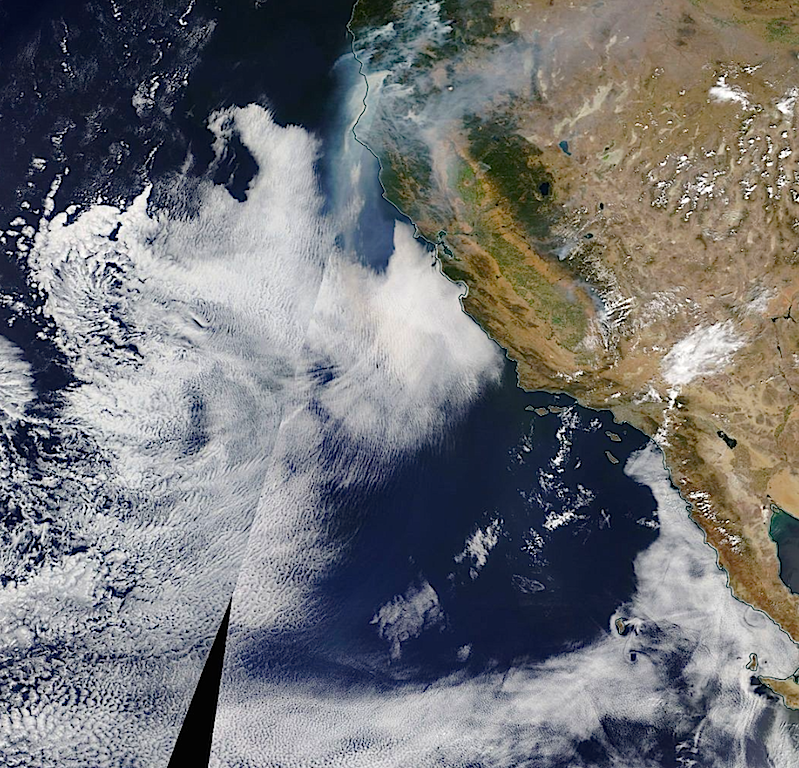 California & Baja CA coast (above)  / Aug.31, 2017    https://go.nasa.gov/2eIT48z
California fire smoke (above) / Aug.31, 2017                         https://go.nasa.gov/2gtorHT
Fires in California (above) / Aug.31, 2017       https://go.nasa.gov/2gtorHT
Guadalupe Island spirals & Baja CA/Aug.31, 2017                https://go.nasa.gov/2eIJMcK
detail Isla Cedros & Baja CA/Aug.31, 2017            https://go.nasa.gov/2gtpozX