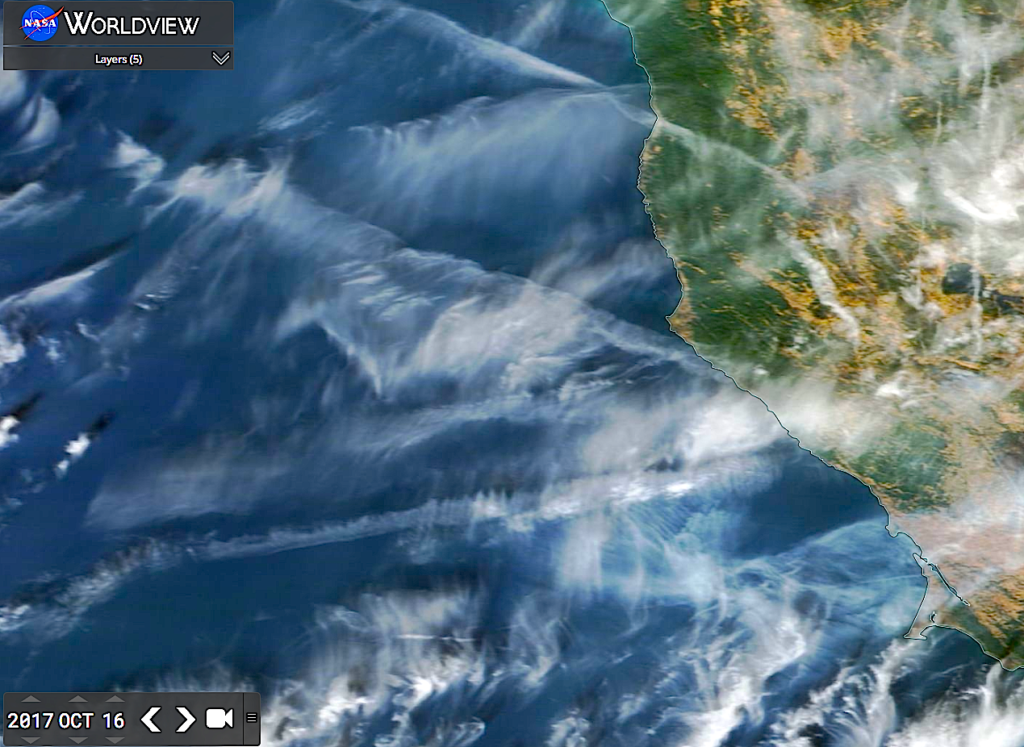 USA west coast (above) / Oct.16, 2017. Aerosol spray detail over California.    https://go.nasa.gov/2ymsv4f
WIKI: Atmospheric aerosol particles, also known as atmospheric particulate matter, particulate matter (PM), particulates, or suspended particulate matter (SPM) are microscopic solid or liquid matter suspended in Earth's atmosphere. The term aerosol commonly refers to the particulate/air mixture, as opposed to the particulate matter alone.[3] Sources of particulate matter can be natural or anthropogenic. They have impacts on climate and precipitation that adversely affect human health.
Subtypes of atmospheric particles include suspended particulate matter (SPM), thoracic and respirable particles,[4] inhalable coarse particles, which are [coarse] particles with a diameter between 2.5 and 10 micrometers (μm) (PM10),[5] fine particles with a diameter of 2.5 μm or less[5] (PM2.5),[6] ultrafine particles, and soot
The IARC and WHO designate airborne particulates a Group 1 carcinogen.[7] Particulates are the deadliest form of air pollution[citation needed] due to their ability to penetrate deep into the lungs and blood streams unfiltered, causing permanent DNA mutations, heart attacks, and premature death.[8] In 2013, a study involving 312,944 people in nine European countries revealed that there was no safe level of particulates and that for every increase of 10 μg/m3 in PM10, the lung cancer rate rose 22%. The smaller PM2.5 were particularly deadly, with a 36% increase in lung cancer per 10 μg/m3 as it can penetrate deeper into the lungs.[9]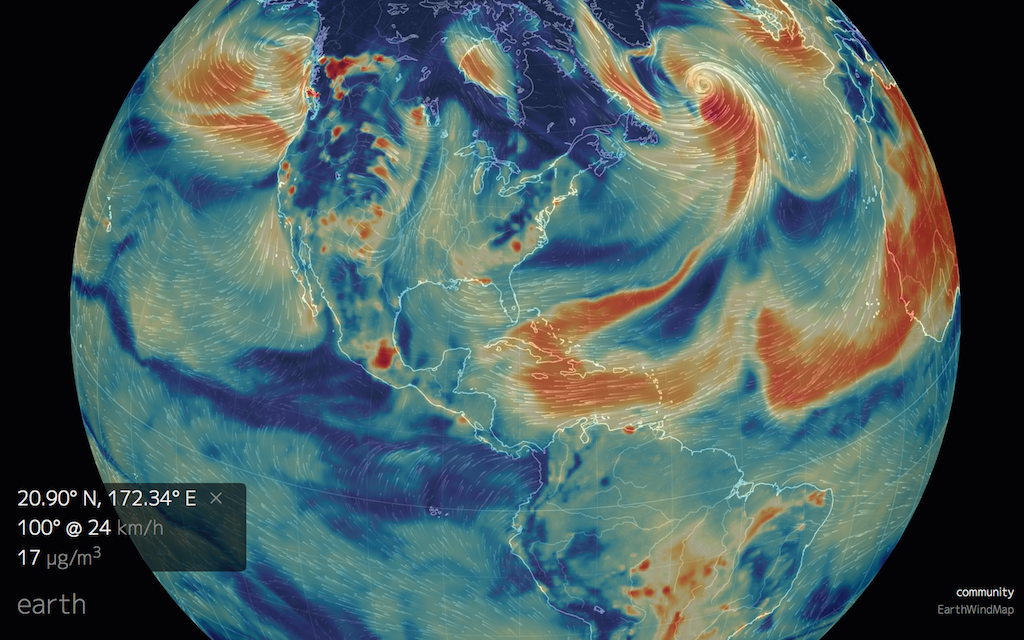 https://earth.nullschool.net/#current/particulates/surface/level/overlay=pm10/orthographic=-146.29,79.98,640/loc=172.338,20.897
https://earth.nullschool.net/about.html
Sources of atmospheric particulate matter
Some particulates occur naturally, originating from volcanoes, dust storms, forest and grassland fires, living vegetation, and sea spray. Human activities, such as the burning of fossil fuels in vehicles,[10] power plants and various industrial processes, also generate significant amounts of particulates. Coal combustion in developing countries is the primary method for heating homes and supplying energy. Because salt spray over the oceans is the overwhelmingly most common form of particulate in the atmosphere, anthropogenic aerosols—those made by human activities—currently account for about 10 percent of the total mass of aerosols in our atmosphere.[11]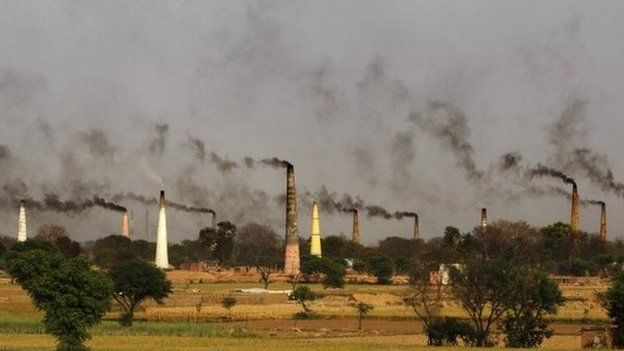 Composition
The composition of aerosols and particles depends on their source. Wind-blown mineral dust[12] tends to be made of mineral oxides and other material blown from the Earth's crust; this particulate is light-absorbing.[13] Sea salt[14] is considered the second-largest contributor in the global aerosol budget, and consists mainly of sodium chloride originated from sea spray; other constituents of atmospheric sea salt reflect the composition of sea water, and thus include magnesium, sulfate, calcium, potassium, etc. In addition, sea spray aerosols may contain organic compounds, which influence their chemistry.
Secondary particles derive from the oxidation of primary gases such as sulfur and nitrogen oxides into sulfuric acid (liquid) and nitric acid (gaseous). The precursors for these aerosols—i.e. the gases from which they originate—may have an anthropogenic origin (from fossil fuel or coal combustion) and a natural biogenic origin. In the presence of ammonia, secondary aerosols often take the form of ammonium salts; i.e. ammonium sulfate and ammonium nitrate (both can be dry or in aqueous solution); in the absence of ammonia, secondary compounds take an acidic form as sulfuric acid (liquid aerosol droplets) and nitric acid (atmospheric gas), all of which may contribute to the health effects of particulates.[15]
Secondary sulfate and nitrate aerosols are strong light-scatterers.[16] This is mainly because the presence of sulfate and nitrate causes the aerosols to increase to a size that scatters light effectively.
Organic matter (OM) can be either primary or secondary, the latter part deriving from the oxidation of VOCs; organic material in the atmosphere may either be biogenic or anthropogenic. Organic matter influences the atmospheric radiation field by both scattering and absorption. Another important aerosol type is elemental carbon (EC, also known as black carbon, BC): this aerosol type includes strongly light-absorbing material and is thought to yield large positive radiative forcing. Organic matter and elemental carbon together constitute the carbonaceous fraction of aerosols.[17] Secondary organic aerosols (SOAs), tiny "tar balls" resulting from combustion products of internal combustion engines, have been identified as a danger to health.[18]
The chemical composition of the aerosol directly affects how it interacts with solar radiation. The chemical constituents within the aerosol change the overall refractive index. The refractive index will determine how much light is scattered and absorbed.
The composition of particulate matter that generally causes visual effects such as smog consists of sulfur dioxide, nitrogen oxides, carbon monoxide, mineral dust, organic matter, and elemental carbon also known as black carbon or soot. The particles are hygroscopic due to the presence of sulfur, and SO2 is converted to sulfate when high humidity and low temperatures are present. This causes the reduced visibility and yellow color.[19]
https://earth.nullschool.net/#current/particulates/surface/level/overlay=pm10/orthographic=-146.29,79.98,640/loc=172.338,20.897
Aerosol Radiative Effects
Direct effect                                                                                                                           
The direct aerosol effect consists of any direct interaction of radiation with atmospheric aerosol, such as absorption or scattering. It affects both short and longwave radiation to produce a net negative radiative forcing.[30] The magnitude of the resultant radiative forcing due to the direct effect of an aerosol is dependent on the albedo of the underlying surface, as this affects the net amount of radiation absorbed or scattered to space. e.g. if a highly scattering aerosol is above a surface of low albedo it has a greater radiative forcing than if it was above a surface of high albedo. The converse is true of absorbing aerosol, with the greatest radiative forcing arising from a highly absorbing aerosol over a surface of high albedo.[26] The direct aerosol effect is a first order effect and is therefore classified as a radiative forcing by the IPCC.[28] The interaction of an aerosol with radiation is quantified by the single-scattering albedo (SSA), the ratio of scattering alone to scattering plus absorption (extinction) of radiation by a particle. The SSA tends to unity if scattering dominates, with relatively little absorption, and decreases as absorption increases, becoming zero for infinite absorption. For example, sea-salt aerosol has an SSA of 1, as a sea-salt particle only scatters, whereas soot has an SSA of 0.23, showing that it is a major atmospheric aerosol absorber.
Indirect effect
The Indirect aerosol effect consists of any change to the earth's radiative budget due to the modification of clouds by atmospheric aerosols, and consists of several distinct effects. Cloud droplets form onto pre-existing aerosol particles, known as cloud condensation nuclei (CCN).
For any given meteorological conditions, an increase in CCN leads to an increase in the number of cloud droplets. This leads to more scattering of shortwave radiation i.e. an increase in the albedo of the cloud, known as the Cloud albedo effect, First indirect effect or Twomey effect.[27] Evidence supporting the cloud albedo effect has been observed from the effects of ship exhaust plumes[31] and biomass burning[32] on cloud albedo compared to ambient clouds. The Cloud albedo aerosol effect is a first order effect and therefore classified as a radiative forcing by the IPCC.[28]
An increase in cloud droplet number due to the introduction of aerosol acts to reduce the cloud droplet size, as the same amount of water is divided between more droplets. This has the effect of suppressing precipitation, increasing the cloud lifetime, known as the cloud lifetime aerosol effect, second indirect effect or Albrecht effect.[28] This has been observed as the suppression of drizzle in ship exhaust plume compared to ambient clouds,[33] and inhibited precipitation in biomass burning plumes.[34] This cloud lifetime effect is classified as a climate feedback (rather than a radiative forcing) by the IPCC due to the interdependence between it and the hydrological cycle.[28] However, it has previously been classified as a negative radiative forcing.[35]
https://earth.nullschool.net/#current/particulates/surface/level/overlay=pm10/orthographic=-146.29,79.98,640/loc=172.338,20.897
HEALTH EFFECTS
Size, shape and solubility matter
The size of the particle is a main determinant of where in the respiratory tract the particle will come to rest when inhaled. Larger particles are generally filtered in the nose and throat via cilia and mucus, but particulate matter smaller than about 10 micrometers, can settle in the bronchi and lungs and cause health problems. The 10 micrometer size does not represent a strict boundary between respirable and non-respirable particles, but has been agreed upon for monitoring of airborne particulate matter by most regulatory agencies. Because of their small size, particles on the order of 10 micrometers or less (PM10) can penetrate the deepest part of the lungs such as the bronchioles or alveoli.[51]
Similarly, so called fine PM, (often referred to as PM2.5), tend to penetrate into the gas exchange regions of the lung (alveolus), and very small particles (< 100 nanometers) may pass through the lungs to affect other organs. Penetration of particles is not wholly dependent on their size; shape and chemical composition also play a part. To avoid this complication, simple nomenclature is used to indicate the different degrees of relative penetration of a PM particle into the cardiovascular system. Inhalable particles penetrate no further than the bronchi as they are filtered out by the cilia. Thoracic particles can penetrate right into terminal bronchioles whereas PM which can penetrate to alveoli, the gas exchange area, and hence the circulatory system are termed respirable particles. In analogy, the inhalable dust fraction is the fraction of dust entering nose and mouth which may be deposited anywhere in the respiratory tract. The thoracic fraction is the fraction that enters the thorax and is deposited within the lung's airways. The respirable fraction is what is deposited in the gas exchange regions (alveoli).[52]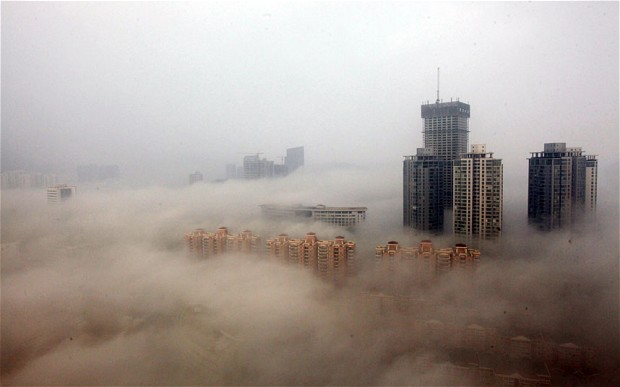 The smallest particles, less than 100 nanometers (nanoparticles), may be even more damaging to the cardiovascular system.[53] Nanoparticles can pass through cell membranes and migrate into other organs, including the brain. Particles emitted from modern diesel engines (commonly referred to as Diesel Particulate Matter, or DPM) are typically in the size range of 100 nanometers (0.1 micrometer). These soot particles also carry carcinogens like benzopyrenes adsorbed on their surface. Particulate mass is not a proper measure of the health hazard, because one particle of 10 µm diameter has approximately the same mass as 1 million particles of 100 nm diameter, but is much less hazardous, as it unlikely to enter the alveoli. Legislative limits for engine emissions based on mass are therefore not protective. Proposals for new regulations exist in some countries,[which?] with suggestions to limit the particle surface area or the particle count (numerical quantity) instead.[citation needed]
The site and extent of absorption of inhaled gases and vapors are determined by their solubility in water. Absorption is also dependent upon air flow rates and the partial pressure of the gases in the inspired air. The fate of a specific contaminant is dependent upon the form in which it exists (aerosol or particulate). Inhalation also depends upon the breathing rate of the subject.[54]
Another complexity not entirely documented is how the shape of PM can affect health, except for the needle-like shape of asbestos which can lodge itself in the lungs. Geometrically angular shapes have more surface area than rounder shapes, which in turn affects the binding capacity of the particle to other, possibly more dangerous substances.
The Mediterranean Sea (above) / Oct.13, 2017. Aerosol spraying of toxic metals. https://go.nasa.gov/2zmqqTF
Health Problems
The effects of inhaling particulate matter that have been widely studied in humans and animals include asthma, lung cancer, respiratory diseases, cardiovascular disease, premature delivery, birth defects, low birth weight, and premature death.
Inhalation of PM2.5 – PM10 is associated with elevated risk of adverse pregnancy outcomes, such as low birth weight.[55] Exposure to PM2.5 has been associated with greater reductions in birth weight than exposure to PM10.[56] PM exposure can cause inflammation, oxidative stress, endocrine disruption, and impaired oxygen transport access to the placenta,[57] all of which are mechanisms for heightening the risk of low birth weight.[58] Overall epidemiologic and toxicological evidence suggests that a causal relationship exists between long-term exposures to PM2.5 and developmental outcomes (i.e. low birth weight).[56] However, studies investigating the significance of trimester-specific exposure have proven to be inconclusive,[59] and results of international studies have been inconsistent in drawing associations of prenatal particulate matter exposure and low birth weight.[56]  As perinatal outcomes have been associated with lifelong health[60][61] and exposure to particulate matter is widespread, this issue is of critical public health importance and additional research will be essential to inform public policy on the matter.
Increased levels of fine particles in the air as a result of anthropogenic particulate air pollution "is consistently and independently related to the most serious effects, including lung cancer[9] and other cardiopulmonary mortality."[62] The large number of deaths[63] and other health problems associated with particulate pollution was first demonstrated in the early 1970s[64] and has been reproduced many times since. PM pollution is estimated to cause 22,000–52,000 deaths per year in the United States (from 2000)[65] contributed to ~370,000 premature deaths in Europe during 2005.[66] and 3.22 million deaths globally in 2010 per the global burden of disease collaboration.[67]
A 2002 study indicated that PM2.5 leads to high plaque deposits in arteries, causing vascular inflammation and atherosclerosis – a hardening of the arteries that reduces elasticity, which can lead to heart attacks and other cardiovascular problems.[68] A 2014 meta analysis reported that long term exposure to particulate matter is linked to coronary events. The study included 11 cohorts participating in the European Study of Cohorts for Air Pollution Effects (ESCAPE) with 100,166 participants, followed for an average of 11.5 years. An increase in estimated annual exposure to PM 2.5 of just 5 µg/m3 was linked with a 13% increased risk of heart attacks.[69] In 2017 a study revealed that PM not only affects human cells and tissues, but also impacts bacteria which cause disease in humans.[70] This study concluded that biofilm formation, antibiotic tolerance, and colonisation of both Staphylococcus aureus and Streptococcus pneumoniae was altered by Black Carbon exposure.
The World Health Organization (WHO) estimated in 2005 that "… fine particulate air pollution (PM(2.5)), causes about 3% of mortality from cardiopulmonary disease, about 5% of mortality from cancer of the trachea, bronchus, and lung, and about 1% of mortality from acute respiratory infections in children under 5 years, worldwide.".[71] A 2011 study concluded that traffic exhaust is the single most serious preventable cause of heart attack in the general public, the cause of 7.4% of all attacks.[72]
FR Eastern Pacific Ocean (above) Feb.24, 2017. Aerosol spraying of toxic metals.                 http://go.nasa.gov/2lWA7UZ
The largest US study on acute health effects of coarse particle pollution between 2.5 and 10 micrometers in diameter – was published 2008 and found an association with hospital admissions for cardiovascular diseases but no evidence of an association with the number of hospital admissions for respiratory diseases.[73] After taking into account fine particle levels (PM 2.5 and less), the association with coarse particles remained but was no longer statistically significant, which means the effect is due to the subsection of fine particles.
Particulate matter studies in Bangkok Thailand from 2008 indicated a 1.9% increased risk of dying from cardiovascular disease, and 1.0% risk of all disease for every 10 micrograms per cubic meter. Levels averaged 65 in 1996, 68 in 2002, and 52 in 2004. Decreasing levels may be attributed to conversions of diesel to natural gas combustion as well as improved regulations.[74]
The Mongolian government agency recorded a 45% increase in the rate of respiratory illness in the past five years (reported in September 2014). Bronchial asthma, chronic obstructive pulmonary disease and interstitial pneumonia were the most common ailments treated by area hospitals. Levels of premature death, chronic bronchitis, and cardiovascular disease are increasing at a rapid rate.[19]
Effects on vegetation
Particulate matter can clog stomatal openings of plants and interfere with photosynthesis functions.[75] In this manner high particulate matter concentrations in the atmosphere can lead to growth stunting or mortality in some plant species.
https://en.wikipedia.org/wiki/Particulates