Franz Josef Land (ab0ve) / May 31, 2017. To see what would show up, I maxed out the contrast & saturation. I went through many dates, not all, but certainly the radio-frequency/microwave 'ripples' do not appear on every date.                                                     https://go.nasa.gov/2zNjazA
WIKI:  Franz Josef Land, Franz Joseph Land or Francis Joseph's Land (Russian: Земля́ Фра́нца-Ио́сифа, tr. Zemlya Frantsa-Iosifa) is an archipelago, inhabited only by Russian military base personnel, located in the Arctic Ocean, Barents Sea and Kara Sea, constituting the northernmost part of Arkhangelsk Oblast in Russia. It consists of 191 islands, which cover an area of 16,134 square kilometers (6,229 sq mi), stretching 375 kilometers (233 mi) from east to west and 234 kilometers (145 mi) from north to south.
The islands are categorized in three groups, a western, central and eastern, separated by the British Channel and the Austrian Strait. The central group is further divided into a northern and southern section by the Markham Strait. The largest island is George Land, which measures 2,741 square kilometers (1,058 sq mi), followed by Wilczek Land, Graham Bell Island and Alexandra Land.
Eighty-five percent of the archipelago is glaciated, with large unglaciated areas being located on the largest islands and many of the smallest islands.
VSF:  The Arctic is melting and Putin is in full-speed-ahead for extracting the oil. It appears that not only is Putin going full blast after the oil in the Arctic, he is establishing massive military bases to protect his claims!
Putin: "Russian President Vladimir Putin on Thursday said climate change was unstoppable and not caused by human activity and urged countries to adapt to global warming. One day after he visited the Franz Josef Land archipelago in the Arctic, Putin claimed that icebergs had been melting for decades and suggested that global warming was not mankind's fault. … The warming, it had already started by the 1930s," Putin said in comments broadcast from an Arctic forum held in the northern Russian city of Arkhangelsk.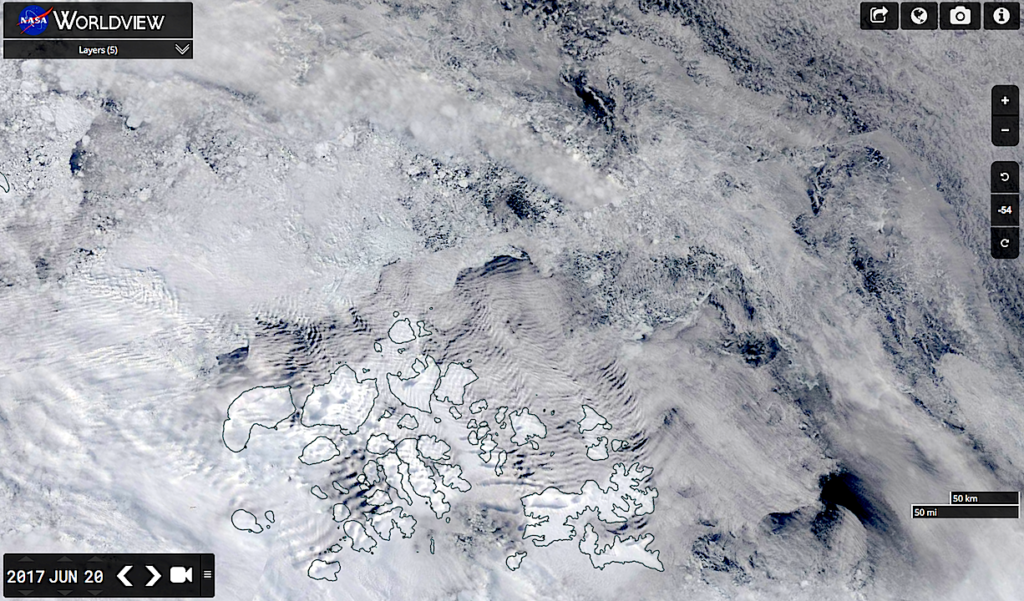 Franz Josef Land (ab0ve) / June 20, 2017                                                      https://go.nasa.gov/2zND9OD
Putin cont.: "That's when there were no such anthropological factors, such emissions, and the warming had already started. … The issue is not stopping it… because that's impossible, since it could be tied to some global cycles on Earth or even of planetary significance. The issue is to somehow adapt to it."
https://phys.org/news/2017-03-putin-climate-emissions.html
Franz Josef Land (ab0ve) / June 22, 2017. Slight sepia & contrast enhanced.   https://go.nasa.gov/2zMZ6xj
A few years ago Norway and Russia agreed on the division of oil in the Barents Sea. Putin has already built two Arctic military bases with nuke-dropping jets ready for war:  "Vladimir Putin's army was keen to show off its new red, white and blue base which will be home to 150 troops. Built in the desolate Franz Josef Land, where winter temperatures plummet to -40C, the huge base covers 14,000 square metres. It's the second unit built in the Arctic, where Russia plans to cash in on the region's oil and gas reserves which are said to be worth as much as £23 trillion. The base will hold 150 troops capable of surviving the -40 temperatures."
https://www.dailystar.co.uk/news/latest-news/606850/russia-war-putin-army-military-base-arctic-ww3-oil-fuel-reserve-north-pole
Franz Josef Land (ab0ve) / July 4, 2017. Note the broken ice chunks.     https://go.nasa.gov/2zM3koP
In a related story regarding the company Rosneft – an integrated oil company majority owned by the Government of Russia: "During summer 2016, two ice-class ships loaded with more than 8,000 tons of equipment and technology, including the drilling rig, made it from Arkhangelsk to the remote Khatanga Bay. The drilling of the well comes as Putin puts the Arctic on top of his agenda. … The Russian Arctic zone includes energy resources worth up to $20 trillion … by year 2030 will amount to 2,2 million barrels per day.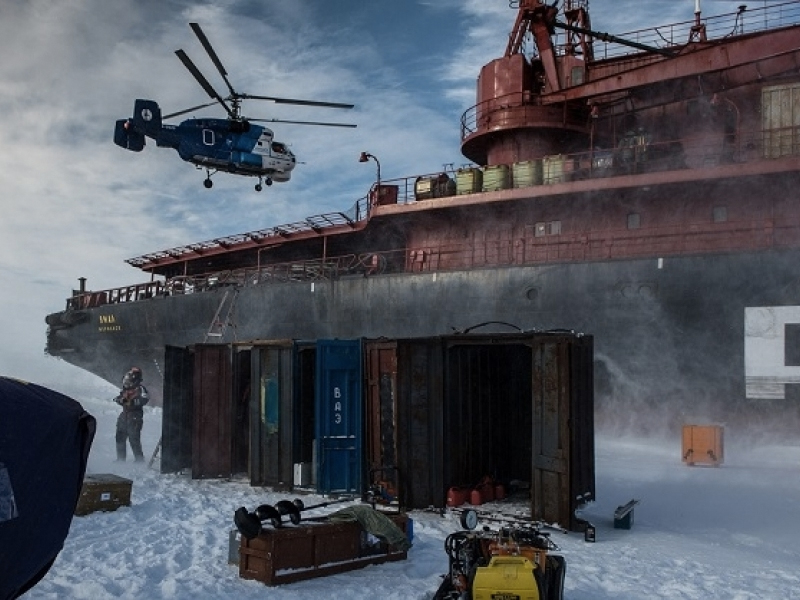 "The Laptev Sea is one of several regions of attention. In 2014, Rosneft together with ExxonMobil made a major discovery in the Pobeda well in the Kara Sea. In 2018, the turn will  come for the Barents Sea, Rosneft says. Then, in 2019, the company will return to the Kara Sea and also the Russian East Arctic."
photos & related articles

https://thebarentsobserver.com/en/industry-and-energy/2017/04/rosneft-spuds-northernmost-arctic-well
Franz Josef Land (ab0ve) / July 15, 2017.  My intuitive feeling is that this r/f-microwave energy is to assist the melting. So Russia can get to the oil sooner. Novaya Zemlya (bomb test site) on bottom left.                                                                                           https://go.nasa.gov/2zdO3AJ
Russian State oil company Rosneft has over the last years acquired several major exploration licenses in the east Arctic waters. Only in the waters surrounding the Wrangel Island, Rosneft has three license areas; the Severo-Vrangelsky 1 and Severo-Vrangelsky 2, as well as the Yuzhno-Chukotsky. The company has lately engaged in wide-ranging seismic mapping of its Arctic licenses.
In 2016, the company conducted as much as 35,000 km of 2D seismic mapping in ten of its Arctic license areas. In addition, another 5,100 square km of 3D mapping was conducted in four licenses, the company informed.
The Wrangel Island is also object for enhanced military activities.
The Northern Fleet is building a string of new and upgraded bases all across the Arctic coast, including in east Arctic sites such as New Siberian Islands, Cape Shmidt and Wrangel Island.
In the course of 2017, the Russian Armed Forces intend to build a total of 68 buildings and facilities on Wrangel Island and Cape Shmidt. The construction work is considered highly complicated as none of the two places have an airfield.
https://thebarentsobserver.com/en/arctic/2017/08/amid-fears-local-environment-unesco-makes-first-ever-mission-russias-remote-arctic
Franz Josef Land (ab0ve) / July 22, 2017. Fibonacci "spirals" upper right. https://go.nasa.gov/2zNY3gq
Franz Josef Land (above) / July 23, 2017. Radio-frequency/microwave ripples and on the right, surfactants?                                                                                                            https://go.nasa.gov/2zgmiI2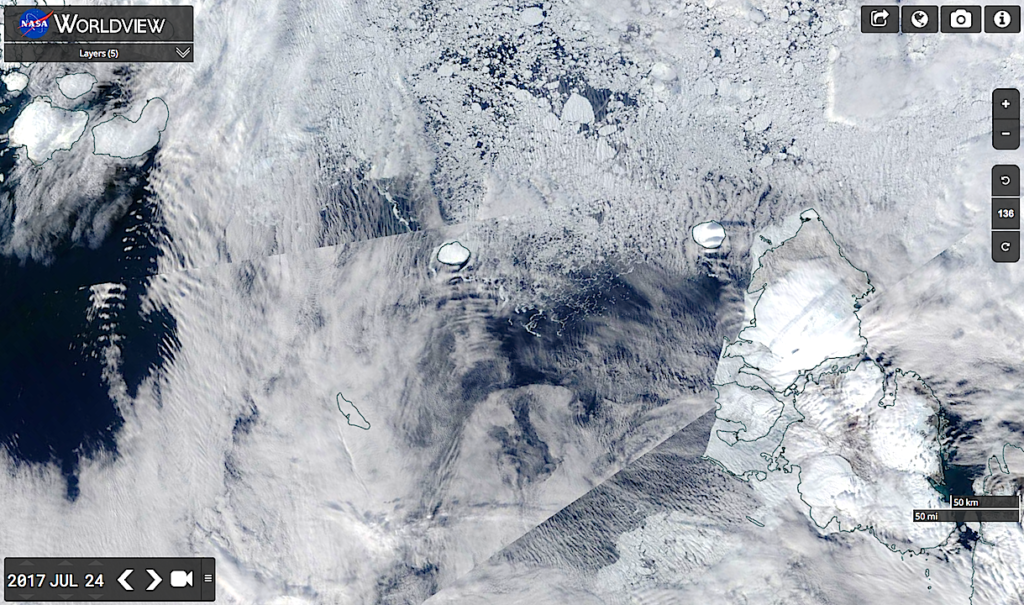 East of Franz Josef Lands / July 24, 2017. Transmitter generated R/F and ice breaking up…                                                                                                                              https://go.nasa.gov/2zNBLLG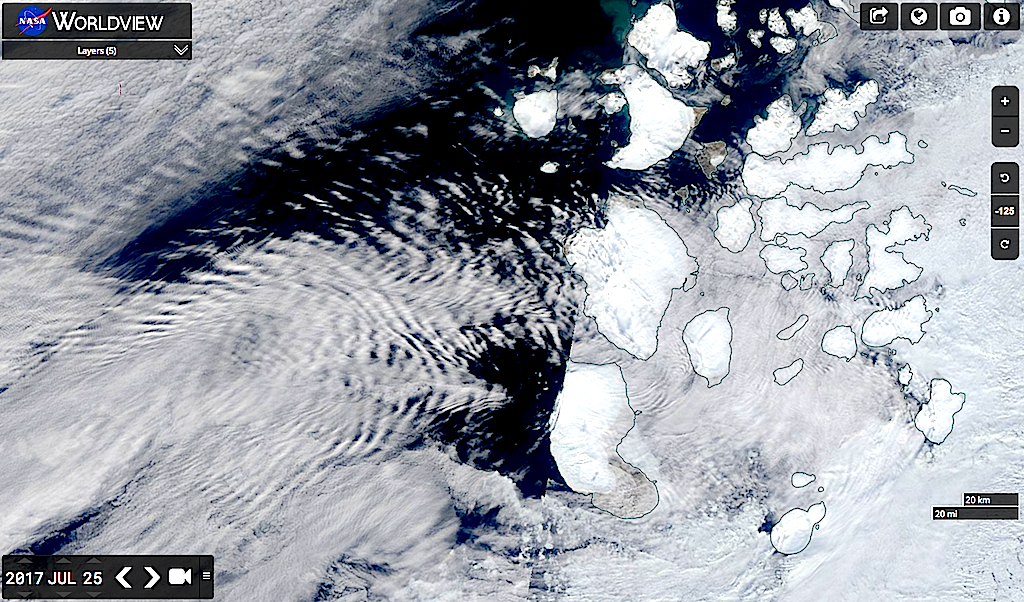 Franz Josef Land (above) / July 24, 2017                                                          https://go.nasa.gov/2zfGGbZ