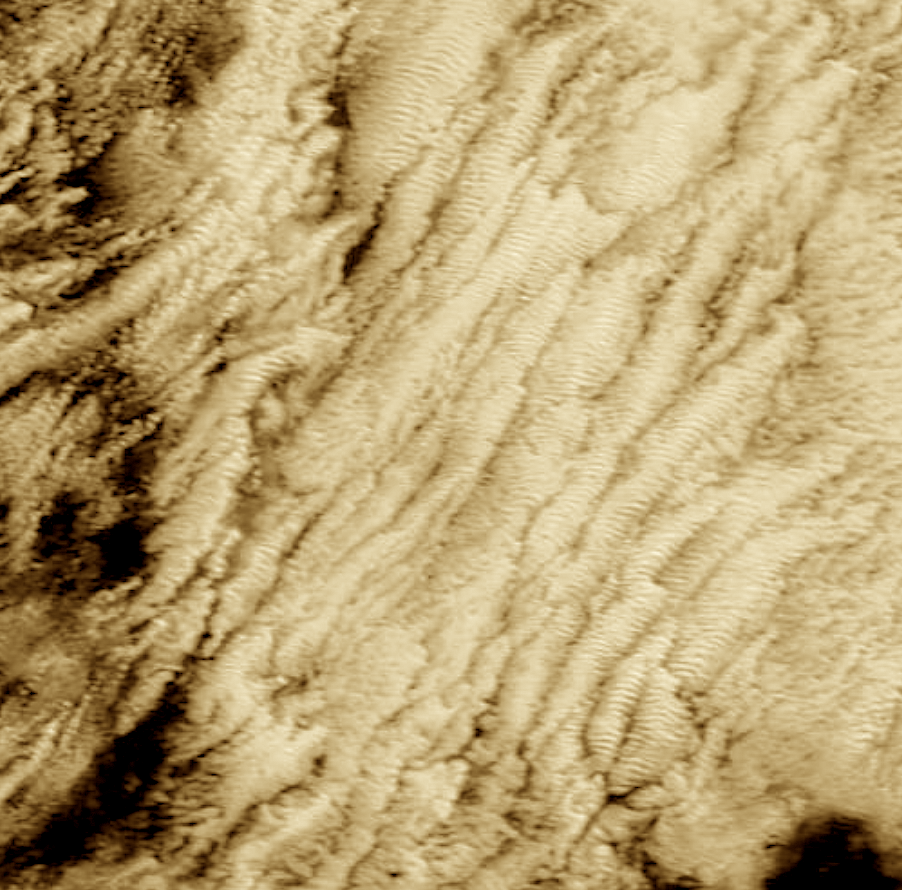 Detail of west & south of the South Island NZ / Sept.20, 2017. Charged spiral-coils of larva-like cloud forms.                                                                                                https://go.nasa.gov/2w7w0a9
Mr. Electromagnetics says it this way: "Think atmosphere. They are trying to make the atmosphere an electronic integrated circuit using electrostatic, electromagnetic and electrodynamic means. The aluminum, barium, strontium, coal ash carbon, virus, the RNA, proteins, enzymes all mimic the elements of a solid state electronic device. This is like having a computer in the sky permitting complete control by the proper programming."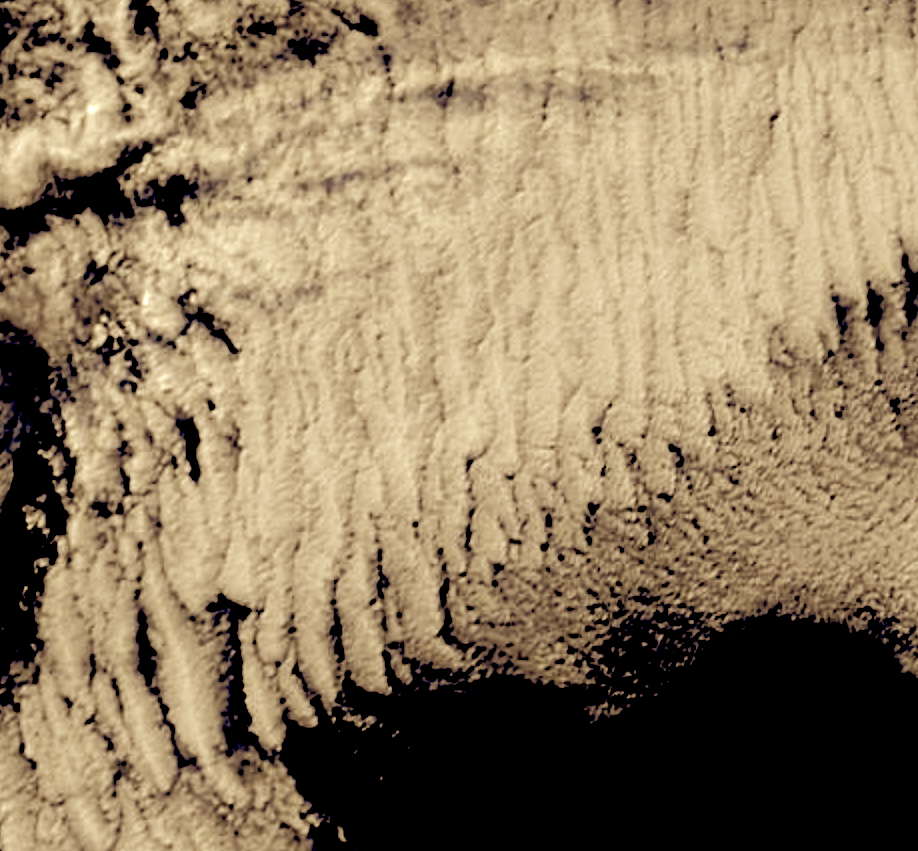 Antarctica (above) / Sept.25, 2017. Sepia & contrast enhanced to show 'spiral-coil' structure in the tufts and 'hive' cloud formations                                                                   https://go.nasa.gov/2whbjZr
Antarctica (above) / Sept.25, 2017. This was the first time I have noticed these "coiled tuft" things! in the Antarctic. These forms are showing up more frequently around the planet. https://go.nasa.gov/2yDfAYU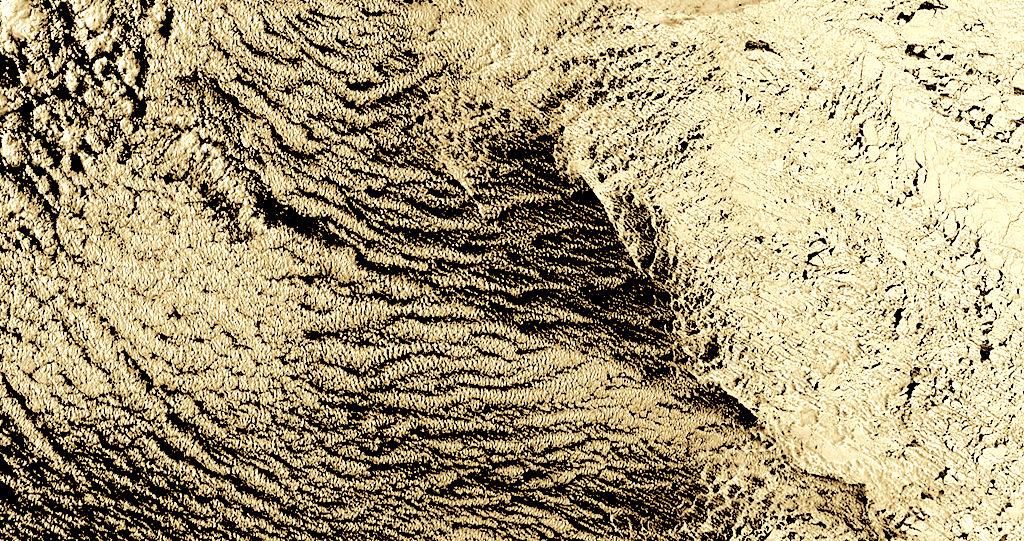 Antarctica (above) / Sept.25, 2017. Electrified 'spiral-coil' clouds in the left, surfactants on the right, and ice breaking up. What kind of world are they making?                                          https://go.nasa.gov/2whSpBX

VSF: Consider how both of these reports (below) figure into the 'foothold' Invasion agenda of the Zeta Reticuli Greys, who are essentially a hive mind consciousness. They have no concept of individuality and no ability to feel anything. They genetically modified their 'feeling' nature out of their bodies – a result of the misuse of technology. In the late 1990s, I personally heard Courtney Brown give a lecture in which he said exactly this – as E.M. Nicolay has said recently.
The Zeta Reticuli Greys don't feel anything. This is why there are so many stories of the female abductees having to "hold and nurture" their hybrid children, who seem to be unable to respond. The hybrids have to be taught to behave like humans, to react as we would naturally. This indoctrination towards a total Orwellian Dystopia is part of the 'foothold' Invasion. Please understand their intention is to take our planet. They are facing complete extinction as a soul group due to their abuse and misuse of various very advanced technologies.
I never trusted Facebook and always disliked Zucker… I suggest you get out of it.

Facebook Founder Warns: "God only knows what it's doing to our children's brains."
"When Facebook was getting going, I had these people who would come up to me and they would say, 'I'm not on social media.' And I would say, 'OK. You know, you will be.' And then they would say, 'No, no, no. I value my real-life interactions. I value the moment. I value presence. I value intimacy.' And I would say, … 'We'll get you eventually.'"
"I don't know if I really understood the consequences of what I was saying, because [of] the unintended consequences of a network when it grows to a billion or 2 billion people and … it literally changes your relationship with society, with each other … It probably interferes with productivity in weird ways. God only knows what it's doing to our children's brains."
"The thought process that went into building these applications, Facebook being the first of them, … was all about: 'How do we consume as much of your time and conscious attention as possible?'"
"And that means that we need to sort of give you a little dopamine hit every once in a while, because someone liked or commented on a photo or a post or whatever. And that's going to get you to contribute more content, and that's going to get you … more likes and comments."
"It's a social-validation feedback loop … exactly the kind of thing that a hacker like myself would come up with, because you're exploiting a vulnerability in human psychology."
"The inventors, creators — it's me, it's Mark [Zuckerberg], it's Kevin Systrom on Instagram, it's all of these people — understood this consciously. And we did it anyway."
http://www.zerohedge.com/news/2017-11-09/facebook-founder-warns-god-only-knows-what-its-doing-kids-brains