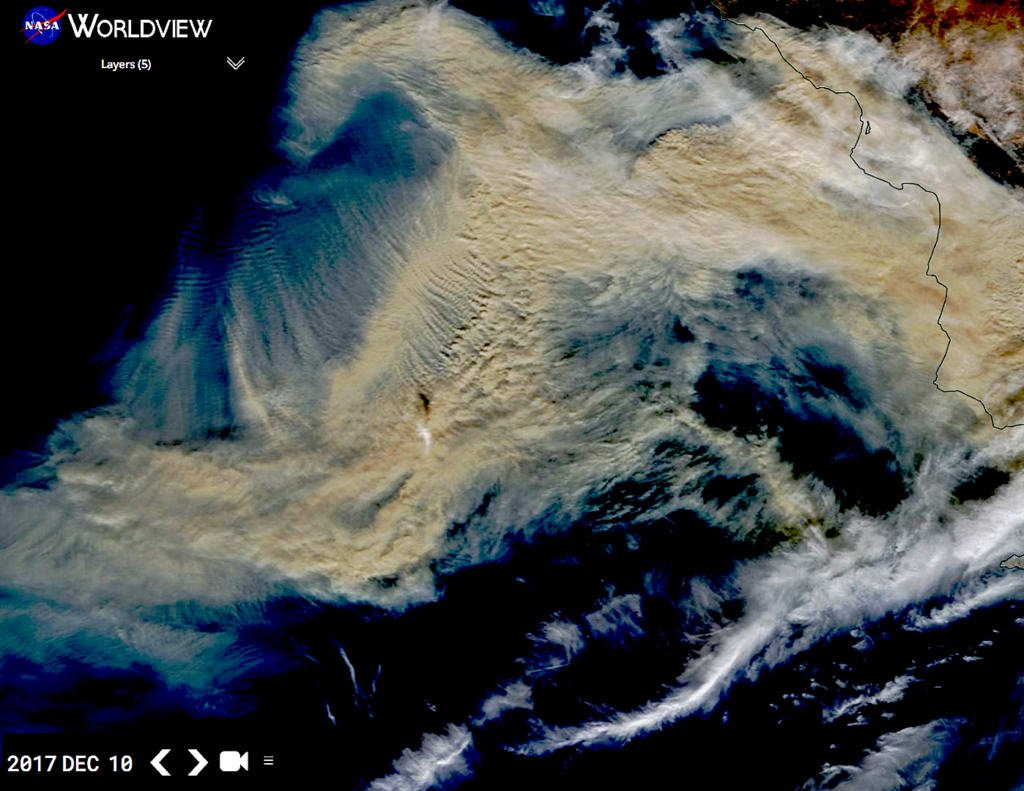 Look closely at this NASA Worldview screenshot (above) and you will see that they are electri-frying, zapping the smoke itself with their transmitters (like HAARP) generated radiation. You can detect radio-frequency/microwave ripples in the smoke. Endless manipulation of the now 'metalized' atmosphere. The sky is a weapon. Unholy.
https://go.nasa.gov/2kSsKPe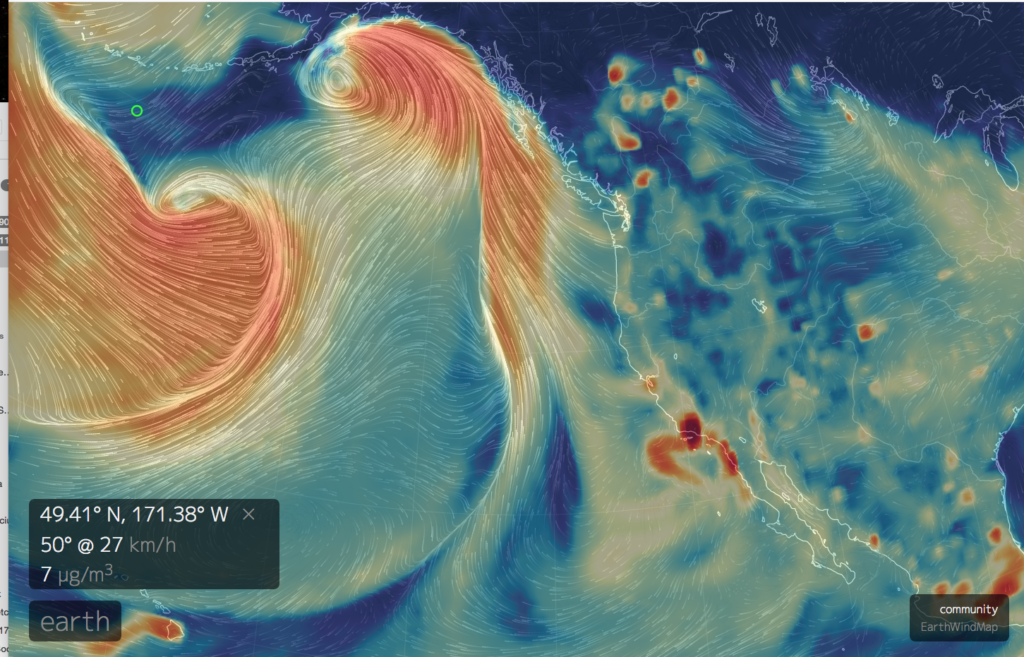 Gov. Jerry Brown has a sobering message for Southern Californians after a week of raging wildfires: This is your new normal.
Carpinteria, California (CNN)
Gov. Jerry Brown has a sobering message for Southern Californians after a week of raging wildfires: This is your new normal.
  A half dozen fires have collectively scorched nearly 200,000 acres since last week and destroyed 792 structures, according to officials. As 4,000 firefighters battled the largest one, the Thomas Fire, the governor surveyed the damage in Ventura County on Saturday.
"This is kind of the new normal," he said, adding that extreme fire activity will happen on a regular basis for decades. With climate change, some scientists are saying that Southern California is literally burning up," he said. "So we have to have the resources to combat the fires and we also have to invest in managing the vegetation and forests … in a place that's getting hotter."
http://www.cnn.com/2017/12/10/us/california-wildfires/index.html
VSF: You can imagine the consequences of the majority of now confused people actually waking up and finding out that this "new normal" has been created by artificially manipulating the jet stream with the transmitters/ionospheric heaters like HAARP — and why the monsters controlling geoengineering are willing to do anything to keep this secret. Some fire victims are already suing over Smart Meters.
North America west coast (above) / Dec.10, 2017.  The smoke pouring out onto the Pacific Ocean is from the Southern California fires.                                                                 https://go.nasa.gov/2jIwBv0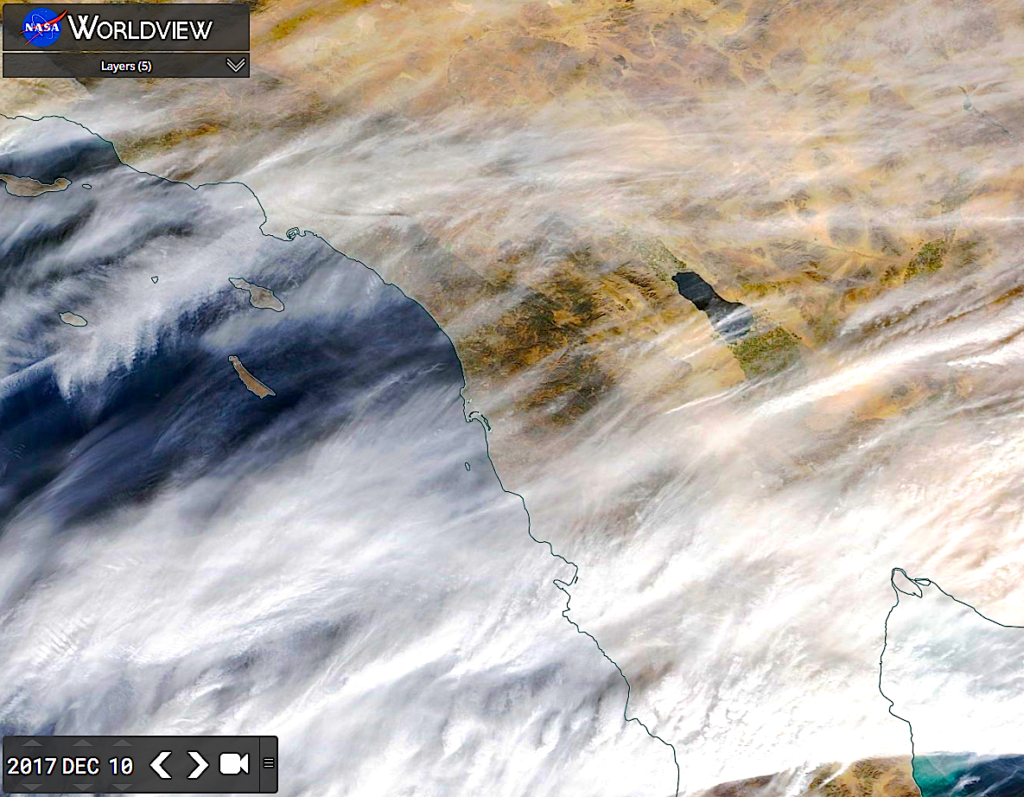 Off Baja California, North America west coast (above) / Dec.10, 2017.  Massive spraying of chemical aerosols.                                                                                                         https://go.nasa.gov/2kSTWgK
VSF: See who is controlling 'data system supporting' the National Weather Service.
Raytheon wins $269M Weather Service data system support recompete
By Ross Wilkers / Sep 15, 2017
Raytheon has won a potential 10-year, $269.4 million contract to help operate and maintain a National Weather Service system that sends data to forecasters. NWS awarded the recompeted contract on Sept. 1 and received eight offers, according to Deltek data. The contract has a six-year base period followed by a pair of two-year options and extends a 12-year-long partnership between Raytheon and NWS for the Advanced Weather Interactive Processing System program, the company said.
Raytheon and NWS completed the rollout of AWIPS' second version in late 2015.AAWIPS works to collect and analyze weather data for visualizations to forecasters in efforts to distribute weather watches and warnings throughout the U.S. The system is a suite of data processing equipment that supports at least 130 NWS forecasting offices. Solicitation documents say AWIPS' primary components include a satellite broadcast network that supports communications and distributions of weather models and other imagery between sites. There is also a wide area network, local area network, software and Linux-based hardware.
https://washingtontechnology.com/articles/2017/09/15/raytheon-nws-data-contract.aspx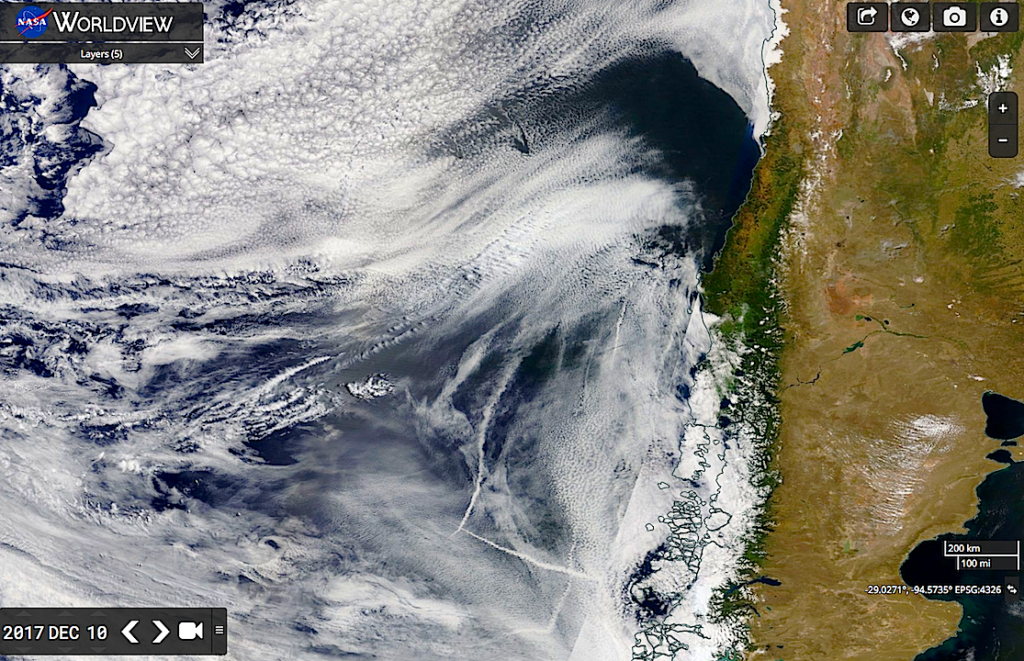 South America (above) / Dec.10, 2017. Note the massive 'chemtrails' making a geometric form.                                                                                                                              https://go.nasa.gov/2kT1qAm
South America (above) / Dec.10, 2017. Note the massive 'chemtrails' making a geometric form.  Detail with a slight sepia enhancement.                                                     https://go.nasa.gov/2jHSc6U
VSF: I do understand that all our food is compromised and not organic due to the tons of toxic metals falling on our fields and gardens. I haven't eaten fish is many years because the oceans, lakes, and streams are so polluted. However, at least we can choose foods that are not systematically injected with antibiotics and hormones.
Big Ag + Big Pharma = Big Problems
Maryn McKenna's Big Chicken goes deep on feeding antibiotics to farm animals.
Diana Gitig – 12/3/2017
Farm animals in the US, such as pigs, cows, and chickens, receive more than 80 percent of the antibiotics sold in the States. These animals do not get antibiotics to cure bacterial infections that they harbor, as people do. They get antibiotics because, in 1949, a researcher at Lederle Labs discovered that adding antibiotics to chicken feed made the birds gain weight faster.
(Antibiotics have the same effect on people, btw.)
By lacing animal feed with these drugs, farmers and ranchers could get their animals up to an ever-increasing slaughter weight more quickly and with the same amount of food. … As of January 2017, the FDA made giving antibiotics to farm animals for growth promoting purposes illegal, although farmers can still use them for disease prevention under a vet's advice.
So even the companies that had not yet voluntarily done away with antibiotics will now have to fall in line. But the change is no great loss for them; the growth-promoting properties of antibiotics have gone as far as they could go. Thanks to other changes in diet and living conditions, the drugs simply don't work anymore.
https://arstechnica.com/science/2017/12/big-ag-big-pharma-big-problems/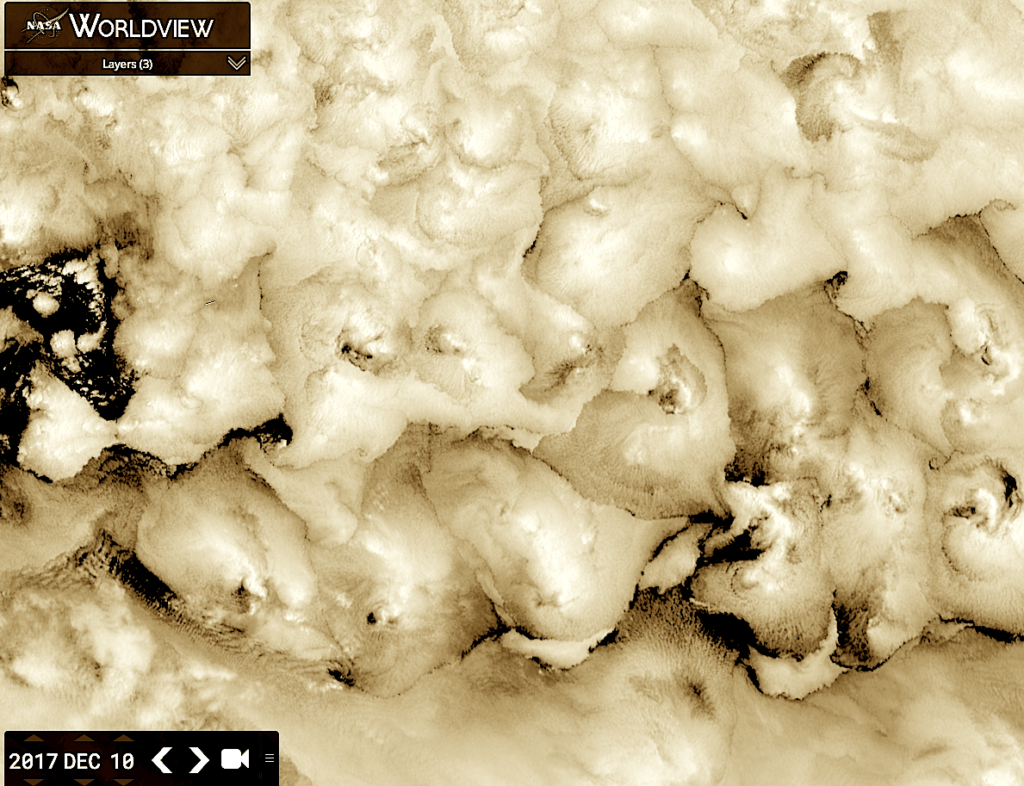 ANTARCTICA (above) / Dec.10, 2017.  What are these things? Note the scalar ripples.    https://go.nasa.gov/2kTB5lV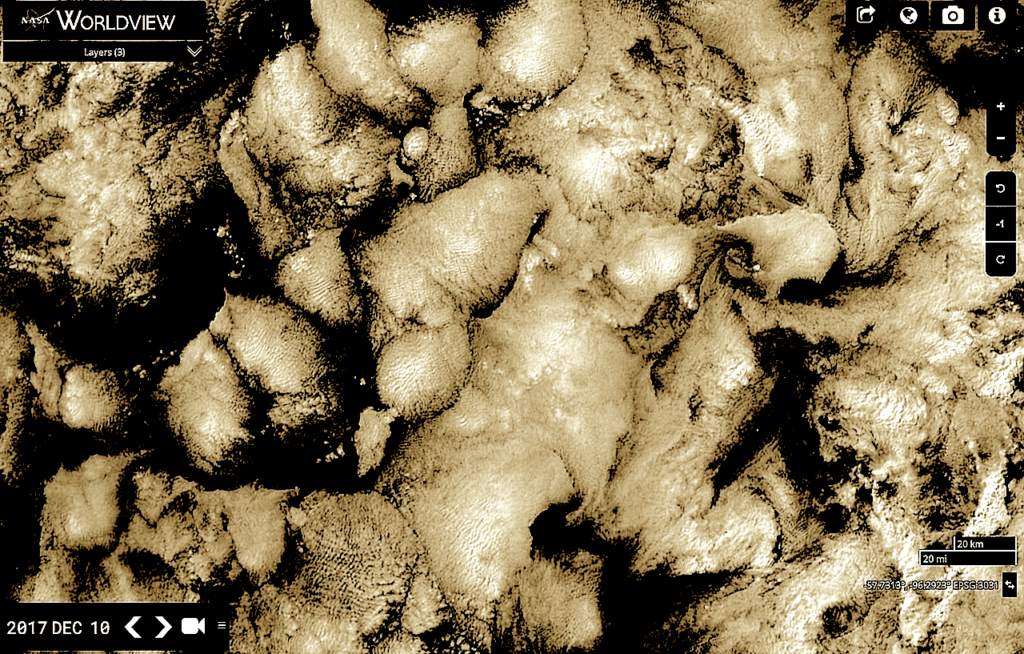 ANTARCTICA (above) / Dec.10, 2017. I have contrast & saturation enhanced this one to reveal the abundant scalar ripples. If you can, take these and put them on your own computer to get them larger, so you can see the insanely un-natural linear patterns in these highly 'metalized' cloud forms. Antarctica is particularly active these days. https://go.nasa.gov/2jKnF8x
VSF: This is a excerpt of Trump's orders, which I have placed in categories – not by the month initiated. I am neither a supporter of Trump or the Liberal NeoConservatives. The Empire is a cesspool of thieves. Trump has done some good however: Trans Pacific Partnership: Trump signed an executive order in January removing the U.S. from the international pact, which critics charged was a monumental compromise to American sovereignty and would take millions of jobs away from American workers.
154 Trump accomplishments
Most comprehensive compilation of 1st-year achievements / 11/17/2017
Oil drilling on federal lands: In July, Trump signed an order boosting oil and gas development on federal lands.
Oil pipelines: Trump approved the Dakota Access Pipeline project and the construction of the Keystone XL oil pipeline from Canada, which are expected to create more than 42,000 jobs and $2 billion in earnings. The Dakota Access Pipeline, which is transporting 500,000 barrels of oil a day, has reinvigorated the North Dakota economy. In June, Trump approved production of the New Burgos Pipeline to Mexico.
Coal power: In July, President Trump kept his campaign promise to coal miners and rolled back the previous administration's "Stream Protection Rule," which targeted the industry with estimated costs of at least $81 million a year.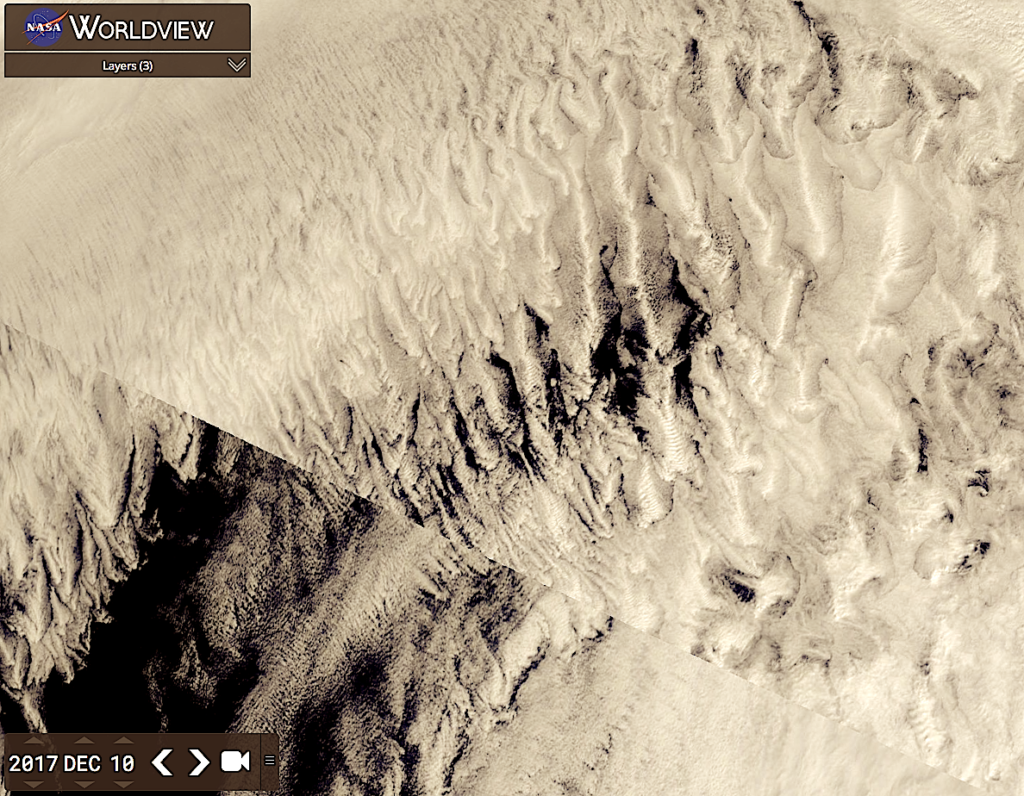 ANTARCTICA (above) / Dec.10, 2017. Between Chile and the Larsen area, with a slight sepia enhancement.                                                                                                    https://go.nasa.gov/2kUpJhs
ANTARCTICA (above) / Dec.10, 2017.  With contrast & saturation maxed. Note how some of these appear to "fit" into each other – like joints spiral-coils or worms.  I have to create my own identifying terms.                                                                                         https://go.nasa.gov/2jKw0Jd
Offshore oil drilling: In April, Trump signed an executive order to extend offshore oil and gas drilling and reissue a leasing program to develop offshore resources. The order reversed Obama's December ban on drilling in the Arctic and parts of the Atlantic Ocean.
Savings for oil companies: Trump signed a bill in February that eliminated a Dodd-Frank rule requiring oil companies such as Exxon Mobile to publicly disclose the taxes and fees they pay to foreign governments, which would have cost the industry as much as $385 million annually.
EPA reform: Environmental Protection Agency Administrator Scott Pruitt announced Oct. 9 a new set of rules that will override the Clean Power Plan, the centerpiece of President Barack Obama's drive to curb global climate change. The agency is moving to undo, delay or block more than 30 environmental rules, the largest regulatory rollback in the agency's 47-year history.
Government reform: EPA Director Scott Pruitt placed 66 new experts on three different EPA scientific committees who espouse more conservative views than their predecessors. To prevent conflicts of interest, Pruitt signed a directive Oct. 31 banning scientists who receive EPA grants from serving on the agency's independent advisory boards.
Climate: In September, Trump shut down a climate-change advisory panel under the direction of NOAA, the National Oceanic and Atmospheric Administration, that critics have contended was formed largely to promote President Obama's climate policies, arguing it lacked representation from "those who think the empirical evidence points to human actions contributing little to global warming and that attempting to reduce it would slow the conquest of poverty around the world." The EPA also has decided not to renew the appointments of dozens of scientists on various scientific advisory panels.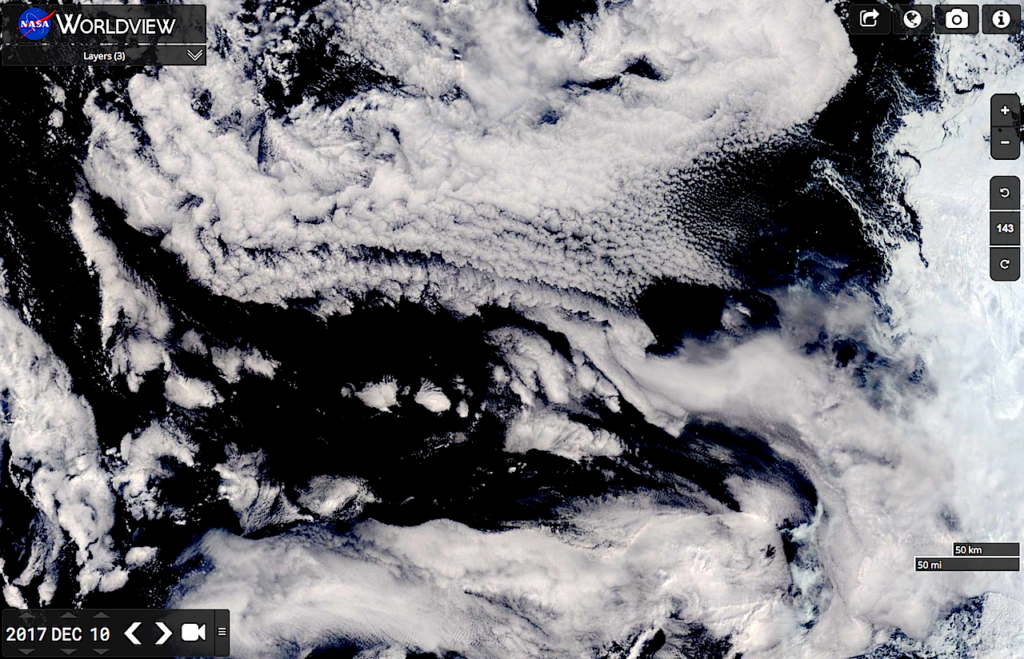 ANTARCTICA (above) / Dec.10, 2017.                                                                      https://go.nasa.gov/2kTeYfo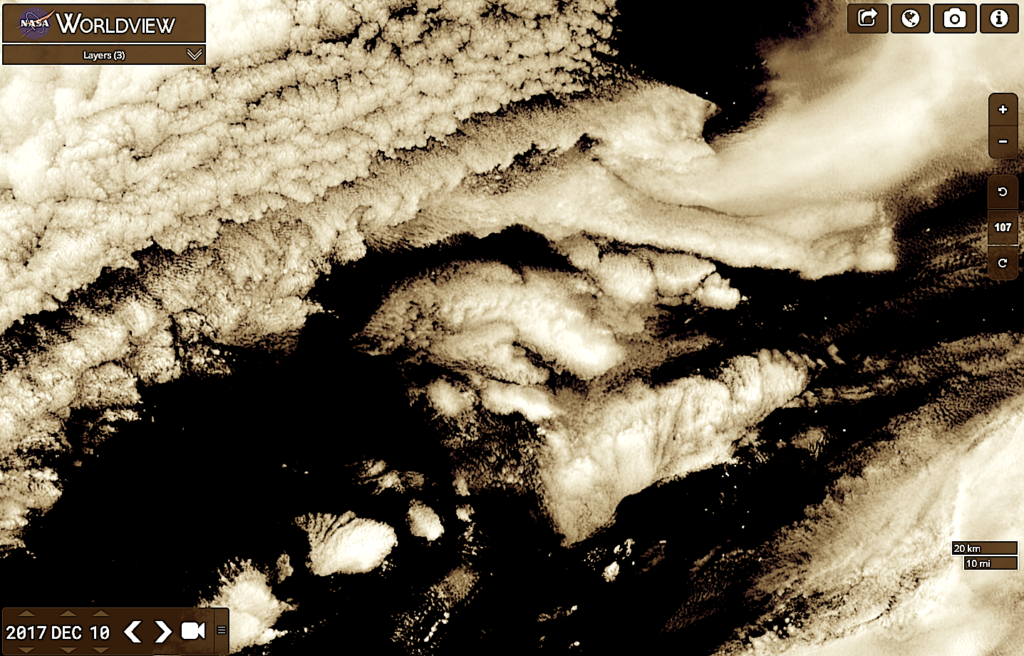 ANTARCTICA (above) / Dec.10, 2017.  Sepia enhanced.                                   https://go.nasa.gov/2kVVo1V
Missile defense: The Department of Defense reprogrammed approximately $400 million for U.S. missile defense systems.
Military: Trump elevated the Department of Defense's Cyber Command to the status of Unified Combatant Command in August, demonstrating an increased focus on cyber security.
Military: In June, the Trump administration authorized the Defense Department to set troop levels in Afghanistan. The expanded authority given to the military could also be seen in U.S. operations in Somalia.
Military: In April, Trump gave Defense Secretary James Mattis authority to set troop levels in Iraq and Syria for the fight against ISIS. And military commanders were granted authority to perform military actions without approval from Washington. As a direct result, this newly autonomous U.S. military made large advances against ISIS.
Military: In February the administration reached a tentative deal with Lockheed Martin to purchase 90 F-35 jets at the lowest price in the program's history. The first 90 planes were about $725 million below budget, with billions of dollars in additional savings expected. The deal saved at least one U.S. ally, Japan, $100 million.
Law enforcement: In what Attorney General Jeff Sessions described as the "largest health-care fraud takedown operation in American history," the DOJ in July charged more than 400 people, including doctors and medical facilities, who it said were prescribing unnecessary opioids to addicts and fueling the current drug crisis.
Law enforcement: Sessions and the DOJ cracked down on illegal leaks of classified information from within the government, pursuing three times more investigations in the first six months of the Trump administration than had been open at the end of the Obama administration. The administration created a counterintelligence unit within the FBI for the investigations.
Space exploration: President Trump revived the National Space Council for the first time in 25 years to assist him in developing and implementing long-range strategic goals for the nation's space policy. The pace program will refocus on human exploration and discovery. Vice President Mike Pence, who chaired the National Space Council's Oct. 5 meeting, said the administration aims to establish a renewed American presence on the moon and from that foundation become the first nation to bring mankind to Mars. The administration also will renew America's commitment to creating the space technology needed to protect national security.
http://www.wnd.com/2017/11/4621979/