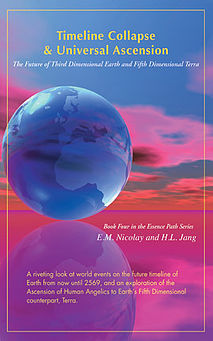 E.M. Nicolay has expanded primordial traditional Wisdom-Knowledge metaphysics beyond the Earth plane out into the universe.  A vast expansion of understanding our place and purpose in the various dimensional realms and our destiny is crucial and necessary for us as we stand on the precipice of transition to higher consciousness.
Nicolay: "Presently and until approximately the year 2025 within your time continuum, critical mass must be achieved to anchor the energy in this realm [our third dimensional Earth] in order for it to graduate under the mechanics of Ascension to a higher dimensional level. …"
Many have come here at this time just for this purpose, meaning to assist in elevating our planetary consciousness using their individual Will to evolve and to "outweigh the entities that, consciously or unconsciously, wish to retain the third dimensional reality." The beings whose conscious intent is to assist in the elevation of our beloved planet are those I term "the Emissaries." I feel that each of you knows exactly who you are on a soul level. Nicolay says that you are "those light warriors and light carriers who are present in the realm at this time and have incarnated in order to assist with the energetic mass needed to help Ascension."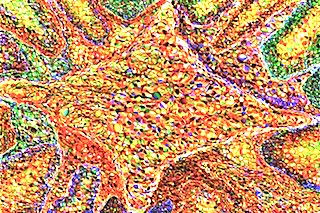 Keep in mind that Ascension and Enlightenment are not the same, even though one weaves into the other. Enlightenment in the Return to the One, and thus a total mastery of all the dimensional realms, every frequency waveform by Becoming that which you always are — the God-within you. This state is God Consciousness and in the Sanskrit tradition is termed MOKSHA, Liberation and JIVANMUKTI, which means Liberated while alive and in human bodily form.
Ascension is the metaphysical process by which the dimensional realms within the universe itself evolve. All the dimensional realms are interconnected and in fact nested one within one another, unique in frequency waveform. During Ascension periods the various realms are infused with intense energies coming from the Galactic Core that instigate massive changes in consciousness and form. We are in such a time period now as the Kali Yuga is coming to a close — and our planet and the other planets in our solar system are feeling the Cosmic Energies coming from the Galactic Core into and through our Sun.

As Light Warriors, the Emissaries have now around eight years until 2025 to provide the critical mass, which as Nicolay says "must be achieved to anchor the energy in this realm [our third dimensional Earth] in order for it to graduate under the mechanics of Ascension to a higher dimensional level. …"
As most of you I am certain have observed, life on our planet is getting crazier, more intensely unbalanced, and beyond reason. I have tried to report some of these phenomena to shed some light on its existence and possible purpose. For example the insane spraying of toxic metals that is occurring all around the planet, which I have shown in the [now over 7000] NASA Worldview screenshots that I have taken.
I suspect that the ongoing geoengineering of our once pristine planet is only getting started, and we will see much worse to come. Along with altering 'metalizing' our atmosphere to turn it into a weapon, we have the fact that most of the legal environmental protections have been removed and the petroleum industry has been given free reign to drill and pollute anywhere along the US coast, even in all the ocean waters that we know are becoming more toxic.
The politicians, those in power and the corporatocracy appear to be moving to greater insanity as they war with each other for the last scraps of a dying empire on a dying planet.

Understanding the dynamics of circumstances of our current era, I urge you to focus on your own Enlightenment. Lifting our individual consciousness will do more for the planet and for the others who are ready the receive Wisdom-Knowledge Truth [SATYA] than any other effort.
Un-Plug from the Temporal lower frequency EM waveforms …
Un-plug from the endless devices, TV, cellphones, etc. that hook you into the lower frequency waveforms. The mainstream media now is little more than propaganda and astounding blatant lies. Even the scientific articles that are coming out are often ridiculous lies designed to keep us from realizing how far technology has advanced in the secret space programs.
YouTube often appears to be creating a virtual reality of its own with perhaps well-meaning 'truthers' espousing endless hearsay most of which, if not all, has no basis in reality at all. How can we be sure what is coming from the Heart — and which of these videos are produced by Fear Inc. trolls, the Tavistock Institute type of indoctrinating mind-numbing rubbish?
Stop reading or looking at anything that generates Fear in you!  These temporal occurrences are phenomena intentionally created & designed to keep us distracted and truly will not enhance our goal, our movement to our own Enlightenment — God Consciousness.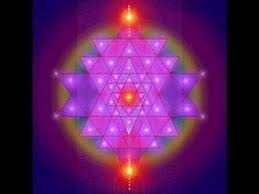 What matters is your own consciousness. These distractions only exist, as Nicolay says, to "draw you into its clutch." Your objective should be to distance yourself from "attempts to block your connection to higher inner guidance … with episodes of societal mass-hysteria." Such episodes will get increasingly worse as the energy from the Galactic Core intensifies. I am expecting nuclear war. So is E.M. Nicolay. Although you may find yourself more alone than ever, disconnecting from the circus of the ensuing collapse will be a "clear indication that you have consciously chosen to turn your thoughts away from fear and towards … Faith."
In the Sanskrit the word for Faith [SHRADDHA] implies experiential knowledge – and is not a blind faith, but one based on and grounded in your own individual experience of Re-Connection to the God-within you. Nicolay says that when we disconnect from these lower vibrational frequency waveforms, we will find that "such beings and challenging situations tend to begin to disappear from your world."
In truth we are never alone. God is always with us, waiting patiently in the Heart for us to turn within and Remember that we are That which created all of this amazing universe, including Third Dimensional planet Earth to 'play' in and to enjoy. God is always with you — in Life and Beyond. I promise!
For the Emissaries / Nicolay & Jang: "It is unfortunate to understand that there are those beings, both from inner-dimensional levels and distant time periods, as well as from within your own dimension and time, who would intercede and attempt to prevent you own natural access to these portals, just as there are those who would choose to use Earth's portals for their own purposes manipulating the Earth structure, its energetic grids, and YOU in the process."
V. Susan Ferguson