ANTARCTICA (above) / Jan.9, 2018. Contrast & saturation maxed to show bizarre prism-like colors and structural layers beneath the white clouds.                                                     https://go.nasa.gov/2FnArTA
VSF: Seemorerocks is a web-blog I visit every day, often more than twice. Robin lives in New Zealand (my home for seven years) and he has a keen hand on the pulse of truth. I rely on him. He says he is quite ill, but courageously he continues to ferret to our insane times. Here he has found that Dane Wigington stands on high ground in regards to his dedicated assessment of geoengineering. It was the Lionel Nation video that steered Robin to rethink Dane.
SEEMOREROCKS: Reflections of Geoengineering
Going back a few years to when I first started this blog I explored the whole area of geoengineering and chemtrails. I pulled right back when I realised that the people pushing this with the intensity of religious zealots were in the main climate change deniers who were telling me (mostly on social media) "don't look there; look over here".
The aggression and vocifereousness of these folks was more than a minor irritant when I was trying to tell people about abrupt and catastrophic climate change.  In this context I refused (and still refuse) to talk about Agenda 21 and a conspiracy to depopulate the planet. I started to purge my timeline of these people aggressively pushing this message.
As it becomes more and more obvious that time's up for this species and we are on the way out and "faster than previously expected" it matters less to me what was the cause of this.  When we have dozens of positive feedbacks and nature itself has become a source of greenhouse gasses (as in massive wildfires in the tropical rain forest and boreal foirests, not to mention the release of methane into the atmosphere, something more potent than all the pollutants that historically gave rise to the accumulation of greenhouse gasses in the atmosphere).
It falls to me now to chronicle the accelerating process rather than follow every article with "faster (and greater) than previously expected". The important thing to me is that is where we are, and despite the disinformation and lies from the likes of the IPCC and 'bought and paid for scientists" like Michael Mann the truth is unassailable.
Yesterday I felt so sick that, purely as a distraction I listened to an interview of Dane Wigington of Geoengineering Watch by Lionel.  With that combination I was expecting an insane denial of anthropogenic global warming of the type I had become used to.
I have to say that I was surprised. I found Mr.Wigington to be not at all unhinged but quite sober, and he did have an argument to make.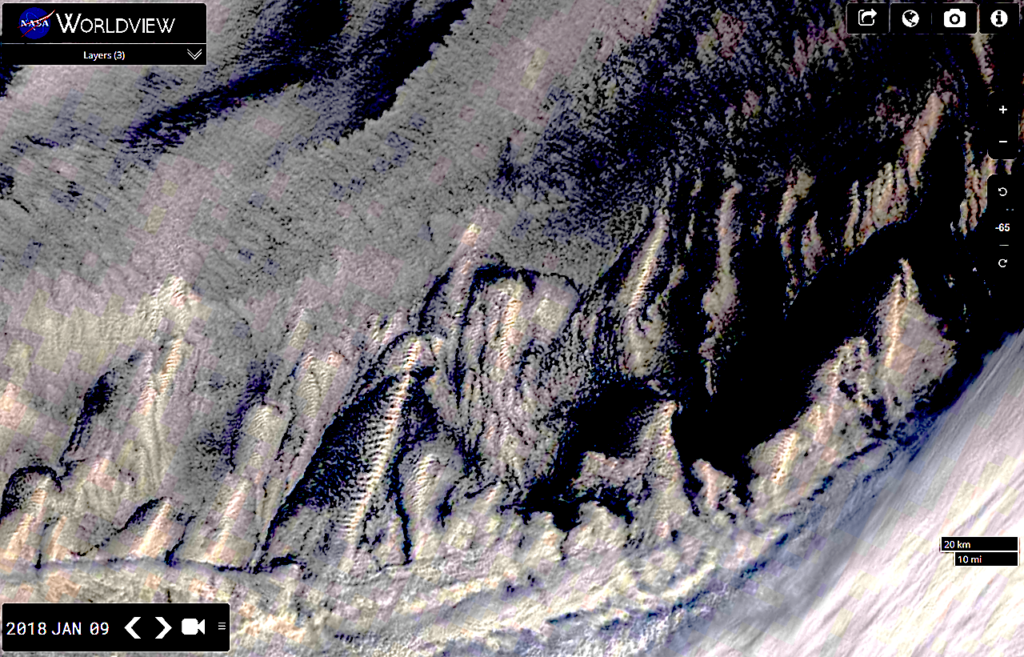 ANTARCTICA (above) / Jan.9, 2018. Contrast & saturation etc. maxed to reveal the colors and spiral-coil radiation beneath.                                                                           https://go.nasa.gov/2qPI8Pb
First and foremost he was not denying the greenhouse effect, but rather saying that human beings are on the way out and that essentially it was too late.  Far from the Agenda 21 argument of lizards out to destroy us he was saying something far more devastating. Boiled down to its essentials he was saying that we have been subject to a multi-decade experiment in using weather modification in an effort to reverse the greenhouse effect and that that has been an abject failure and has made things much worse.
Mr. Wigington says that chemtrails are that way because of the presence of particulates such as aluminium, barium etc.
As someone who has become seriouslly-ill because of previous exposure to dangerous pesticide toxins I am very concerned with the health aspects of this.
Thus far no one has come up,with a serious explanation of why, for example, we are seeing such an astronomical increase in the levels of aluminium (which directly contributes to Alzheimers which in itself has seen an astronomical rise) in the environment.
http://robinwestenra.blogspot.com/2018/01/reflections-on-geoengineering.html
ANTARCTICA (above) / Jan.9, 2018. Contrast & saturation etc. maxed to reveal the colors and spiral-coil radiation beneath.  When you take this and put it on a bigger screen, the clouds appear radiant like with some kind of inner energy? They "glow"! Scalar stuff? Thermonuclear? But very weird, not natural. Creepy.                                       https://go.nasa.gov/2qXO74j

VSF: The article below talks about El Nino etc. However 1PacificRedwood has said that El Nino etc. are all fake, meaning transmitter manipulating the jetstream generated weather.
It's Raining In Antarctica And Scientific Experts Are Officially Worried
thewildchild,
8 January, 2018
Since 2016, much debate has raged on regarding the rain in Antarctica. Once something that has almost never happened, this weather event led scientists to extensive research.
This paper was titled "January 2016 extensive summer melt in West Antarctica favored by strong El Nino." It was published in the journal Nature Communications. For those who do not know an El Nino is a weather event that works to bring warm water to a region and scientists say this was to blame for the melting of West Antarctic ice sheets and the rainfall in the area. That being said, if you look at the paper you will notice how clear they make it that they do not know what the normal weather in Antarctica really is.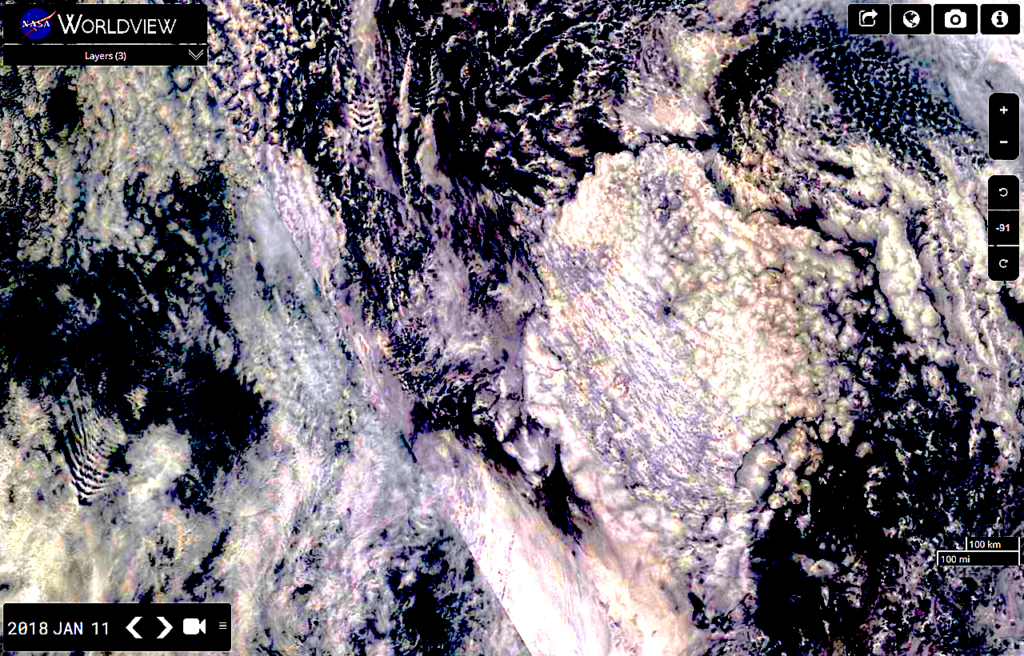 ANTARCTICA (above) / Jan.9, 2018. Contrast & saturation etc. maxed to reveal the colors and spiral-coil radiation beneath.  I am very curious about these colors.
https://go.nasa.gov/2FuQCyy
The paper goes as follows:
"Here we report on an episode of extensive and prolonged surface melting observed in the Ross Sea sector of the WAIS [Western Antarctica Ice Shelves] in January 2016. A comprehensive cloud and radiation experiment at the WAIS ice divide, downwind of the melt region, provided detailed insight into the physical processes at play during the event. The unusual extent and duration of the melting are linked to strong and sustained advection of warm marine air toward the area, likely favored by the concurrent strong El Niño event. The increase in the number of extreme El Niño events projected for the twenty-first century could expose the WAIS to more frequent major melt events."
"Passive microwave satellite observations (Fig. 1a) indicate that surface melt occurred during one or more days over a broad sector of West Antarctica (termed Ross sector hereafter) in January 2016, with up to 15 melt days over parts of the eastern Ross Ice Shelf and Siple Coast."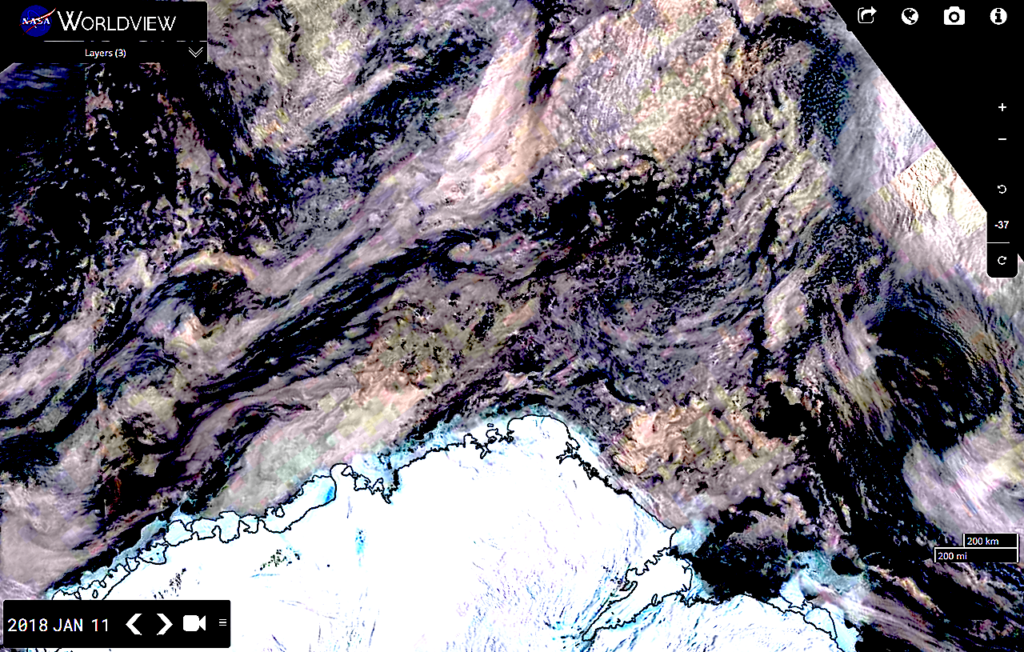 ANTARCTICA (above) / Jan.9, 2018. Contrast & saturation etc. maxed to reveal the colors and spiral-coil radiation beneath. AMERY ICE SHELF                             https://go.nasa.gov/2qYAGRM
Nature Communications
One of the paper's authors, Julien Nicolas from the Ohio State University Byrd Polar and Climate Research Center has said melts of this magnitude were quite rare for Antarctica. He says that there have only been about three or four events of this stature in the past 40 years. The passive microwave satellite-observed surface ice melt at least two times the size of California.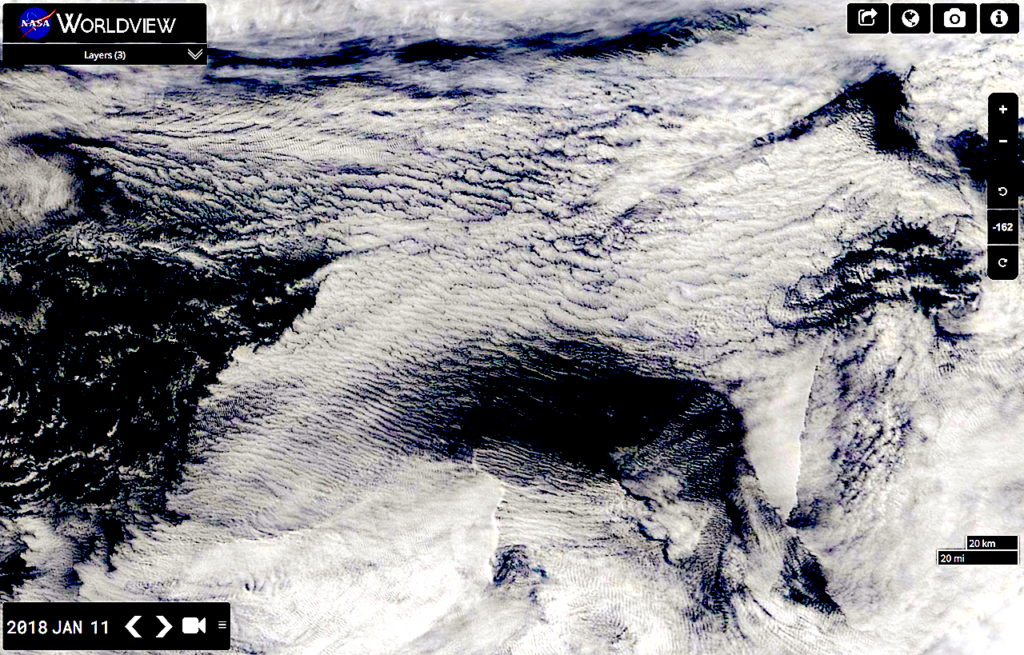 ANTARCTICA (above) / Jan.9, 2018. There was very little prism colors in this group, so I used the slight sepia & contrast technique to show the spiral coils & radiation ripples. This lack of color is confirming my "theory" that the prism colors are a result of the metals/chemicals sprayed. I feel that ALL the current reports on Antarctica now are fake, totally. Designed to deceive and keep the truth from us. It rained in 2016? What since then?                                                                                                                             https://go.nasa.gov/2FshsqX
While this pattern only occurred over a mere 2 week period it raises a lot of questions, to say the least. Whether you believe El Nino was behind this or it was the result of the effects of climate change is not necessarily the point of this article. The point is if it happens once it can happen again. If more extremes of this stature occur ice shelves will melt and the ice sheet itself will become weak. Something really bad could happen in the future and we all need to be aware.
Please feel free to check out the video below to learn more about what may happen if this happens again/continues to happen. What do you think about all of this? I for one am a bit concerned.
http://robinwestenra.blogspot.com/2018/01/rain-in-antarctica.html
ANTARCTICA (above) / Jan.11, 2018. Again there were very little prism colors in this group, so I used the slight sepia & contrast technique to show the spiral coils & radiation ripples.                                                                                                                           https://go.nasa.gov/2qV7cV1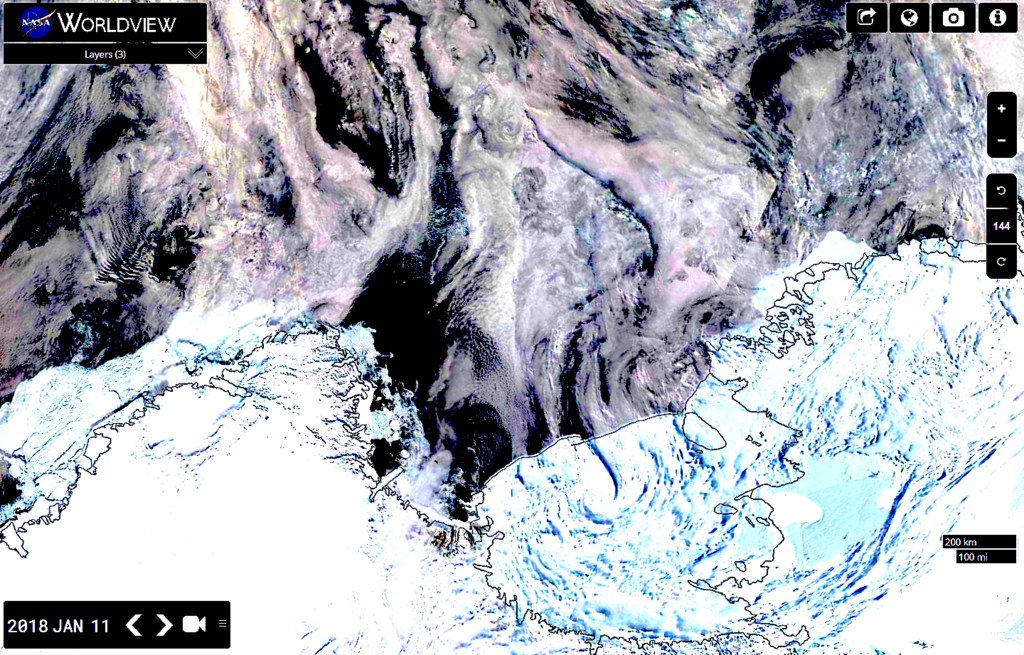 ANTARCTICA (above) / Jan.9, 2018. Ross Ice Shelf Area. The layers & colors are revealed when I max out the contrast etc.                                                                               https://go.nasa.gov/2FteH8N
ANTARCTICA (above) / Jan.11, 2018. The Balleny Islands. Lots of radiation, surfactants on left, and a vortex on lower right.                                                                       https://go.nasa.gov/2qRUqGC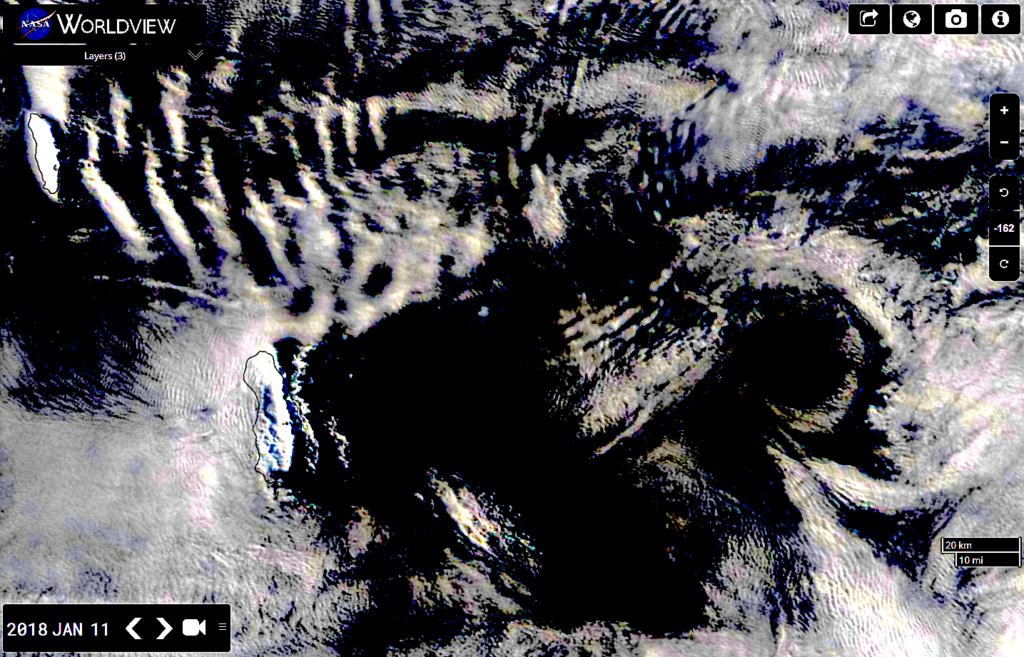 ANTARCTICA (above) / Jan.11, 2018. The Balleny Islands. Lots of radiation, surfactants on left, and a vortex on lower right.  With contrast etc. maxed to show prism colors and ripples.                                                                                                                          https://go.nasa.gov/2qRV32W