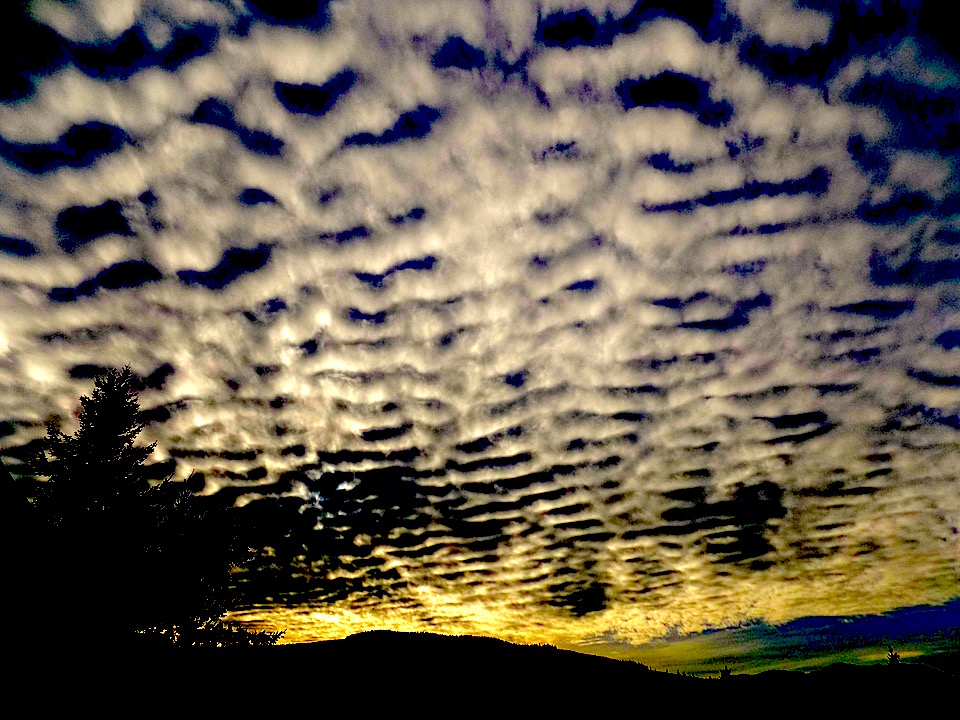 The above photo was taken by me from my home on the Olympic Peninsula Washington State. It shows the massive 'electri-fried' radiation covering the sky transmitted by the NAVY here to execute their EW Electronic War Zone practices. Contrast enhanced to reveal structure.
VSF: This report on the crisis industry comes through Seemorerocks in NZ. The original research was done by Debbie Lusignon, Sane Progressive's video. We knew this was going on, but the professional level and the obvious big business aspect is beyond appalling. Thanks to Seemorerocks for the images and report.

The CRISIS INDUSTRY spawned by the 2012 NDAA  / Feb.24, 2018
Seemorerocks in New Zealand: The NDAA, National Defense Authorization Act of 2012 legalised the use of propaganda and psyops against the public of the United States nullify the Smith-Mundt Act of 1948, which explicitly forbids information and psychological operations aimed at influencing U.S. public opinion. This was passed by both Republicans and Democrats.  Congress went out of their way to make it legal to carry out psychological operations.
The question needs to be asked why would they introduce provisions that would be unpopular with the public (if they knew about it) if they are not intending to use them. In the wake of passing this law a whole crisis industry sprang up. Debbie goes through various examples of such companies. This is NOT conspiracy theory. You can go onto the Net and see these companies for yourselves and check the services they offer.
In summary: There are numerous companies , providing services such as actors for protests and rallies — people to stage chemical, terrorist actions — and you can even hire cadavers. … a look at some of the material Debbie found:
CROWDS ON DEMAND: Crowds on Demand is an American publicity firm that provides clients with hired actors to pose as fans, paparazzi, security guards, and professional paid protesters.[1] The company operates in Los Angeles; San Francisco; Las Vegas;[2] New York City;[1] Washington, D.C.;[3] Iowa; and New Hampshire [4] The firm was founded in October 2012 by Adam Swart.
CrisisCast
Award winning role play actors and film makers specially trained in disaster and crisis management.
We dramatise events for emerging security needs in the UK, Middle East and worldwide. Our specialist role play actors – many with security clearance – are trained by behavioural psychologists and rigorously rehearsed in criminal and victim behaviour to help police, the army and the emergency services, hospitals, schools, local authorities, government, private security firms, shopping centres, airports, big business, criminal justice departments, media and the military to simulate incident environments for life saving procedures.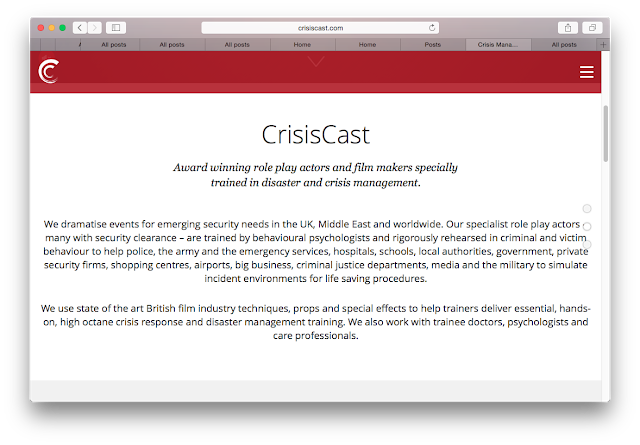 ADS  GROUP UK: The crisis actor company is associated with an aerospace and space contractor company that is holding the Security and Policing Conference 2018 to take part in a closed-security facility and is holding meetings with all the senior government policy makers.
***
Solutions
Strategy
Our crisis management exercises can test monitoring and communications systems, safety plans including lockdown and evacuation procedures, the ability of emergency services to co-operate and respond effectively and – of increasing importance – their joint ability to respond to the press, media and information posted on social platforms and the internet.
All strategy is developed in partnership with our clients.
PROTESTS, RALLIES AND ADVOCACY
Whether your organization is lobbying to gain approval of a project, move forward a legislative initiative, bring additional pressure within complex litigation or trying to see swift and effective action in another way, we can set-up protests, coordinate phone-banking initiatives and create non-profit organizations to advance your agenda.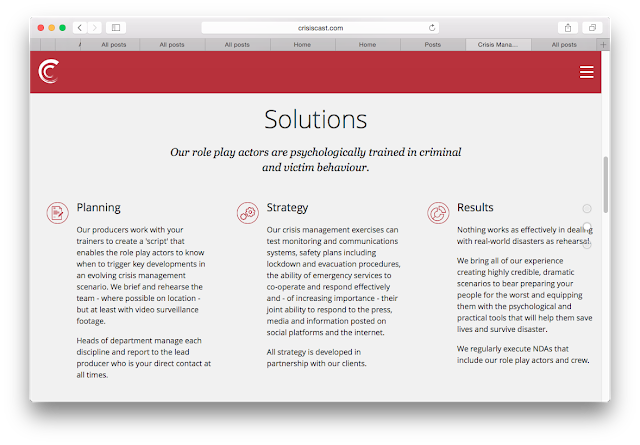 Magnum Service UK: Our capabilities of Casualty Simulation (Cas Sim) effects range from the unobvious and not visible to the physical and traumatic injuries such as: Primary health care simulation – rashes, blisters, bites and shock — Closed/healing wounds including lacerations, bruising and scarring — Infected and necrotic wounds — Head and facial injuries, including avulsions and abrasions — Fractures, both open and closed — Amputations, partial and full. We add realism to Casualty Simulation (CAS SIM) training.
Magnum Services provide professional amputee actors and makeup specialists.  Our actors have many years of experience including being featured in film and television. Utilizing the unique combination of our realistic prosthetics and expert CAS SIM effects, our role players will expertly and appropriately use their skills, experiences and simulated injuries to mimic the emotions and actions of a casualty, resulting in realistic and very definitive clinical training delivery.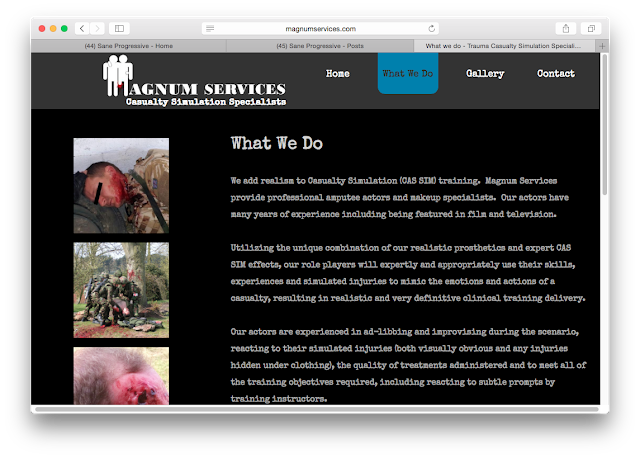 CRISIS CLOUD
Crisis Cloud is cutting edge web technology that simulates real world communications during a crisis simulation or crisis exercise. It's been designed in conjunction with our IT specialists to enhance the player experience and the learning of the teams.
http://robinwestenra.blogspot.com/2018/02/sane-progressive-on-industry-prividing.html
Entire CRISIS INDUSTRY Arose After Legalization of Psych-Ops in 2012 NDAA
The original research by Debbie Lusignon, Sane Progressive's video.
https://www.youtube.com/watch?v=aKffDI0SrdY
VSF:  NDAA is National Defense Authorization Act.

U.S. Repeals Propaganda Ban, Spreads Government-Made News to Americans
For decades, a so-called anti-propaganda law prevented the U.S. government's mammoth broadcasting arm from delivering programming to American audiences. But on July 2, 2013 that came silently to an end with the implementation of a new reform passed in January. The result: an unleashing of thousands of hours per week of government-funded radio and TV programs for domestic U.S. consumption in a reform initially criticized as a green light for U.S. domestic propaganda efforts.  … The restriction of these broadcasts was due to the Smith-Mundt Act …
U.S. Repeals Propaganda Ban, Spreads Government-Made News to Americans
WIKI: The U.S. Information and Educational Exchange Act of 1948 (Public Law 80-402), popularly called the Smith–Mundt Act, is the basic legislative authorization for some of the activities conducted by the U.S. Department of State commonly known as public diplomacy. The act was first introduced by Congressman Karl E. Mundt (R-SD) in January 1945 in the 79th Congress. It was subsequently passed by the 80th Congress and signed into law by President Harry S. Truman on January 27, 1948.

The Smith-Mundt Modernization Act of 2012, which was contained within the National Defense Authorization Act for Fiscal Year 2013 (section 1078 (a)) amended the United States Information and Educational Exchange Act of 1948 and the Foreign Relations Authorization Act of 1987, allowing for materials produced by the State Department and the Broadcasting Board of Governors (BBG) to be available within the United States.[1][2]
VSF: More on the heinous Crisis Industry. Seemorerocks in NZ with an extensive photographic proof of Drills, Anomalies and Child Actors Involved With Parkland School Shooting in Florida. Our Orwellian world is beyond sick. It has truly become insane.

Sunday, 25 February 2018
Drills, Anomalies and Child Actors Involved With Parkland School Shooting in Florida revealed

Extensive Post Reveals Drills, Anomalies and Child Actors Involved With Parkland School Shooting in Florida on February 14, 2018 (N.S.F.W.)
21 February, 2018
Seemorerocks: Click on the Show button at the foot of the post to reveal all images.
This particular event stands out due to all the laughing and smiling by the main students being promoted as angry anti-gun advocates by the media. It is notable that the mainstream media has quickly embraced a few specific personalities in regards to the Parkland school shooting event.
Keep in mind that this is the same media that openly promotes wars overseas and even support for cloaked terrorist groups such as the White Helmets in Syria. Thus, they should always be watched with a skeptical eye as they often misreport the truth and rely on triggering an emotional response from their audience.

Information posted online by the students at Parkland and by other individuals reveals some of these children to be involved with the crafts of acting, reporting and directing movies.  This post predominantly deals with material related to Cameron Kasky and David Hogg, although there is a substantial amount of material also related to other individuals who seem to be 'acting' out of character for a tragic event, plus there are links to various articles explaining censorship and conspiracy theories related to such.
http://robinwestenra.blogspot.com/2018/02/drills-anomalies-and-child-actors.html
North America, the Pacific Ocean off Baja CA (above) / Feb.24, 2018. Note the 'coiled-bundle' form of highly 'metalized' water vapor clouds.  Contrast & saturation are enhanced for structural clarity.                                                                                                   https://go.nasa.gov/2omBRXx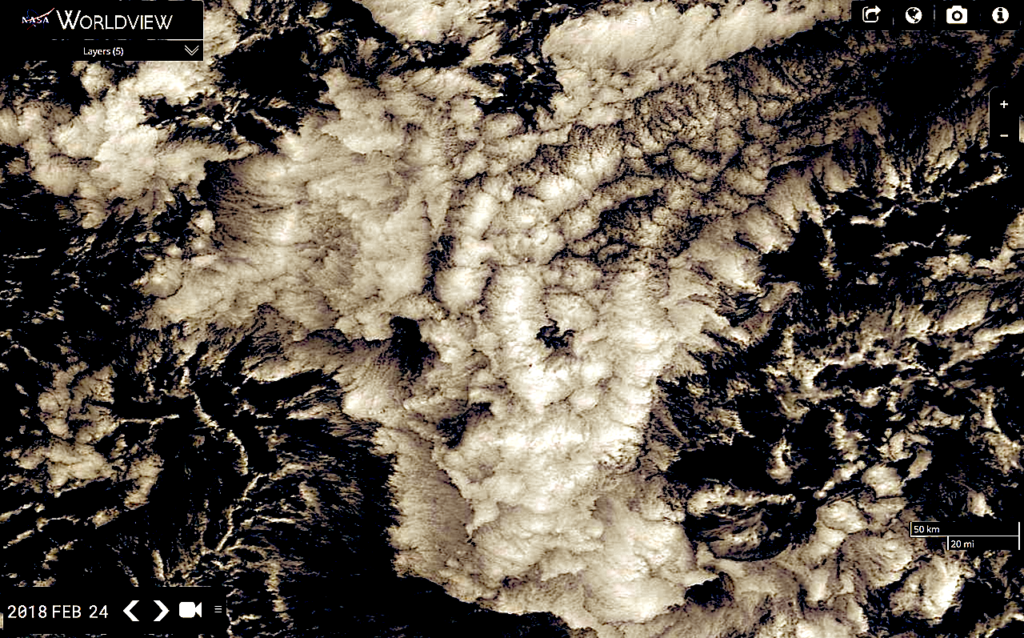 North America, the Pacific Ocean (above) / Feb.24, 2018.  The contrast etc. is maxed – plus sepia enhanced so that you can see the bizarre unnatural forms.                           https://go.nasa.gov/2op6Jq7