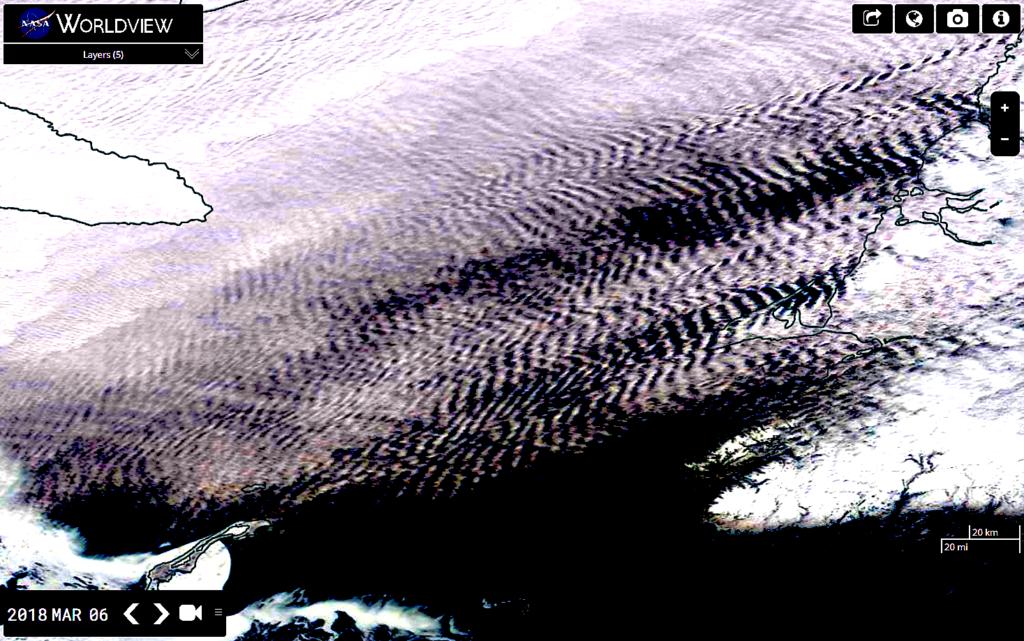 The Gulf of St. Lawrence, the Island of Newfoundland, Nova Scotia (above) / Mar.6, 2018. Note the herringbone patterns which indicate multiple transmitters. The contrast etc. has been enhanced to reveal the structure of the scalar radiation. https://go.nasa.gov/2G0nFuR
The Gulf of St. Lawrence, the Island of Newfoundland, Nova Scotia (detail – above) / Mar.6, 2018. Massive scalar radiation from multiple transmitters doing what? Heating the water to influence the ocean currents?  The contrast etc. has been enhanced to more clearly reveal the structure of the scalar radiation.                                                               https://go.nasa.gov/2G0rekP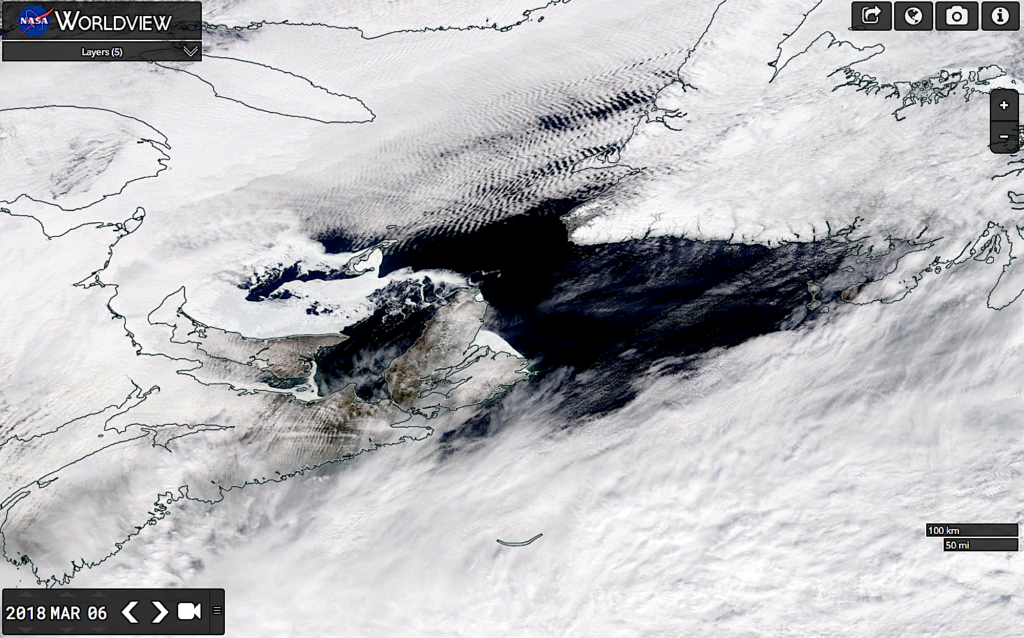 The Gulf of St. Lawrence, the Island of Newfoundland, Nova Scotia (detail – above) / Mar.6, 2018. Massive scalar radiation from multiple transmitters doing what? Heating the water to influence the ocean currents?   This image was not enhanced.                        https://go.nasa.gov/2G0mWd7
The North Atlantic Current halted on earth.nullschool.                                     https://earth.nullschool.net/#current/ocean/surface/currents/orthographic=-57.23,30.01,640/loc=172.338,20.897

VSF: Are we headed for a food supply as depicted in the 1973 film "Soylent Green".  Maybe many of you are too young to remember this prophetic film. I was living in England at the time and came out of the theater in shock. Yet, we appear to be headed in exactly this direction as our ability to choose food that has not been GMO genetically modified vanishes with every passing year.
Surely the droughts in California and inundation of the San Joachin Valley in toxic metal chemical sprays do not bode well for our future. The earth's soils are being drenched in water and air that contains tons of nano-particulate aluminum, barium, lithium, strontium, and lord knows what else. Even when we can still buy heirloom seeds and grow our own food, the soil itself will be contaminated.
This is part of the Draco Reptilian and Zeta Reticuli Grey race agenda to alter our DNA by saturating the food we eat and consequently our human bodies in unending chemicals, that will make them more adaptable to their soul incarnates. The Invasion continues on every level of our lives.
The Oligopolization of Food Supply Hits a Snag
Posted on March 4, 2018 by Lambert Strether
Lambert here: No doubt one day, like GM or GE, Monsanto will make most of its money through its finance arm, once it's locked in enough farmers to bleed them really dry. We'll see how that goes.
By Don Quijones, Spain, UK, & Mexico, editor at WOLF STREET. Originally published at Wolf Street.
German drug and agrichemicals giant Bayer has suffered a setback in its efforts to acquire the world's biggest seed company, Monsanto. Bayer had reckoned on winning regulatory approval for its $63.5 billion takeover bid at the beginning of this year, but this week the company cautioned that it could take longer than expected to receive final clearance from EU regulators.
The corporate marriage between Bayer and Monsanto has already received the blessing of more than half the 30 antitrust authorities that need to sign off on the acquisition, including those in the US and Brazil. If given the go-ahead by the European Commission, this mega-merger would create the world's largest supplier of seeds and farm chemicals.
Bayer's interest in Monsanto is reflective of a trend that began decades ago but picked up speed in 2015: the increasing concentration of power and control over the global food chain. US giants Dow and DuPont were the first to tie the knot. Their merger, completed in 2017, resulted in a combined seed-and-pesticide unit that, in terms of annual sales, is roughly the size of its biggest current rival, Monsanto.
In the last two years, Chinese chemical giant ChemChina has bought up Swiss pesticide-and-seed player Syngenta; and fertilizer giants Agrium and Potash Corp of Saskatchewan have merged into a new mega-player called Nutrien.
This gathering process of oligopolization is happening at virtually all levels of the global food industry, including on the buy side — companies that purchase farmers' crops and process them into livestock feed, food ingredients, and biofuel, as well as serve as the intermediary in grain export markets. But it's the concentration of power and ownership in the global seed industry that should be the biggest cause of concern, since seeds are the primary link of the global food chain.
In 2016, just six American and European companies – Monsanto, Dupont, Syngenta, Dow, Bayer, and BASF – controlled 100% of the genetically modified seeds planted around the world. Those six are now five. If Bayer's bid for Monsanto is successful, they will become four.
This trend has massive implications for both the choice and price of the food people consume. Seeds, which for millennia have been a common good to be shared out and improved among small communities of farmers, are increasingly becoming the preserve of a tiny handful of companies. As Mother Jones reports, by reducing the number of players in these markets, the mergers dilute the competition for farmers' business, handing price leverage to the remaining players:
If Bayer-Monsanto goes through,… three companies will control around 60 percent of the globe's seed and pesticide markets.  A 2016 study by Texas A&M researchers found that a successful Monsanto-Bayer merger would increase seed prices for US farmers by around 2 percent for corn and soybean seeds and by 20 percent for cotton seeds.
https://www.nakedcapitalism.com/2018/03/don-quijones-oligopolization-food-supply-hits-snag.html
***
Sources say the German drugs and crop chemicals maker Bayer is on course to win conditional EU anti-trust approval for its its $62.5 billion bid for world No.1 seed company, Monsanto.  The takeover would create a company with a share of more than a quarter of the world's seed and pesticides market. The drive for consolidation, Shifting weather patterns, competition in grain exports, and a souring global farm economy have spurred consolidation among the major players.
This has triggered protests from environmental and farming groups worried about the market power of big congomerates. EU regulatory concerns Bayer has already pledged to sell certain seed and herbicide assets for 5.9 bilion euros to BASF to address these. The company will also give BASF a license to its digital farm data. Bayer also says it plans to sell its vegetable seeds business.
The company says it is continuing a constructive dialogue with the EU competition watchdog. It has also said the regulatory process in Europe is further advanced than in the US, where the deal also must be cleared.
What has the EU said?  Nothing yet. The Commission, which is expected to issue a decision on the deal ahead of its deadline on April the 5th, declined to comment.
Protests
The Bayer-Monsanto tie-up has sparked criticism from environmentalists and some farming groups. EU Competition Commissioner Margrethe Vestager has received more than 50,000 petition emails and more than 5,000 letters opposed to the deal.
"Approving this merger would create the world's biggest agribusiness company, potentially crushing competitiors and establishing an unprecedented monopoly on lucrative farming data," said Adrian Bebb at environmental lobbying group Friends of the Earth Europe. "Public opinion is against the merger, and farmers and consumers would have every right to be outraged by the Commission giving it the green light." / Euronews
https://www.stamfordadvocate.com/news/media/Bayer-Monsanto-merger-plan-protests-1206133.php
Antarctica, The Ross Sea area (above) / March 5, 2018. The melting of the polar regions, both the Arctic, Greenland, and Antarctic continues unabated. This detail shows the 'larva-like' shapes of completely unnatural cloud forms that are charged with scalar wave radiation. What in our Earth Nature would make these freaky forms? I have adjusted the contrast & saturation to sharpen the forms, but I could not create these if they were not there beneath an obscured surface.                                                                       https://go.nasa.gov/2FiZq9U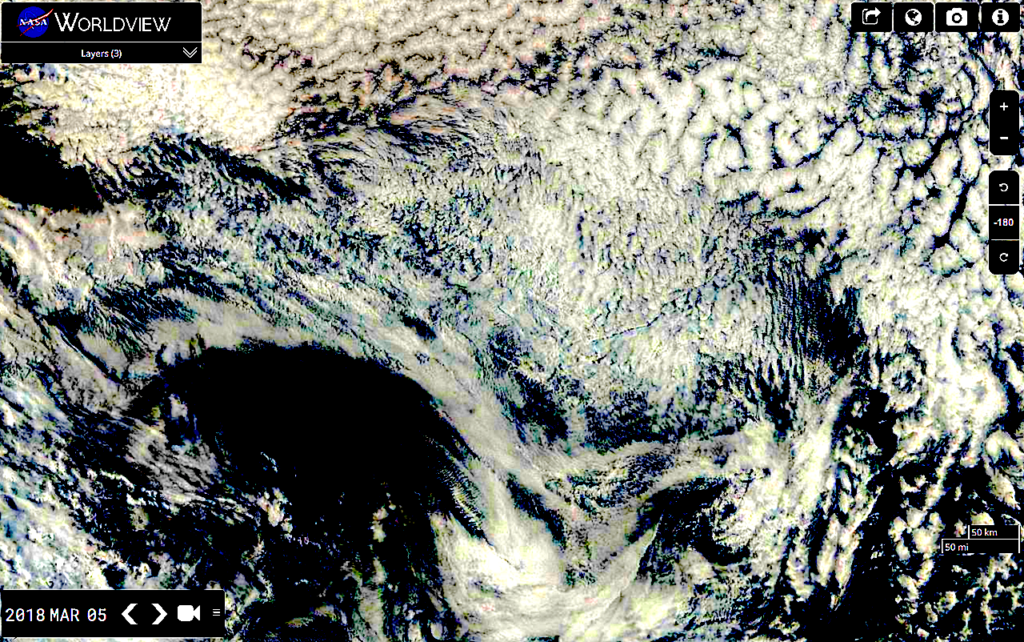 Antarctica, The Ross Sea area (above) / March 5, 2018.  This is a larger overview of the above detail. The melting of the polar regions, both the Arctic, Greenland, and Antarctic continues unabated. This detail shows the 'larva-like' shapes of completely unnatural cloud forms that are charged with scalar wave radiation. What in our Earth Nature would make these freaky forms? I have adjusted the contrast & saturation to sharpen the forms, but I could not create these if they were not there beneath an obscured surface.  https://go.nasa.gov/2D1JM0Z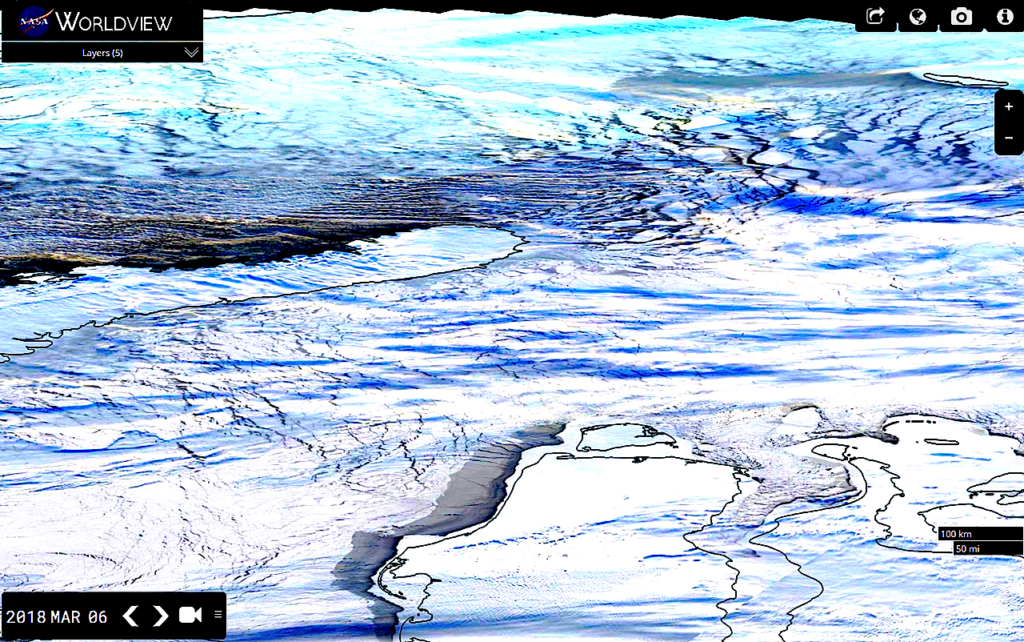 Novaya Zemlya & the Kara Sea, Russia (above) / March 6, 2018. The ice breaking up becomes very clear with these enhancements. The contrast, saturation, etc. are maxed. Melting the Arctic.                                                                                                     https://go.nasa.gov/2FZK8bh
***
Half of All Children Will Be Autistic by 2025, Warns Senior Research Scientist at MIT
By anh-usa on December 23, 2014 GMO News
Why? Evidence points to glyphosate toxicity from the overuse of Monsanto's Roundup herbicide on our food.
For over three decades, Stephanie Seneff, PhD, has researched biology and technology, over the years publishing over 170 scholarly peer-reviewed articles. In recent years she has concentrated on the relationship between nutrition and health, tackling such topics as Alzheimer's, autism, and cardiovascular diseases, as well as the impact of nutritional deficiencies and environmental toxins on human health.
At a conference last Thursday, in a special panel discussion about GMOs, she took the audience by surprise when she declared, "At today's rate, by 2025, one in two children will be autistic." She noted that the side effects of autism closely mimic those of glyphosate toxicity, and presented data showing a remarkably consistent correlation between the use of Roundup on crops (and the creation of Roundup-ready GMO crop seeds) with rising rates of autism. Children with autism have biomarkers indicative of excessive glyphosate, including zinc and iron deficiency, low serum sulfate, seizures, and mitochondrial disorder.
A fellow panelist reported that after Dr. Seneff's presentation, "All of the 70 or so people in attendance were squirming, likely because they now had serious misgivings about serving their kids, or themselves, anything with corn or soy, which are nearly all genetically modified and thus tainted with Roundup and its glyphosate."
Dr. Seneff noted the ubiquity of glyphosate's use. Because it is used on corn and soy, all soft drinks and candies sweetened with corn syrup and all chips and cereals that contain soy fillers have small amounts of glyphosate in them, as do our beef and poultry since cattle and chicken are fed GMO corn or soy. Wheat is often sprayed with Roundup just prior to being harvested, which means that all non-organic bread and wheat products would also be sources of glyphosate toxicity. The amount of glyphosate in each product may not be large, but the cumulative effect (especially with as much processed food as Americans eat) could be devastating. A recent study shows that pregnant women living near farms where pesticides are applied have a 60% increased risk of children having an autism spectrum disorder.
Other toxic substances may also be autism-inducing.  You may recall our story on the CDC whistleblower who revealed the government's deliberate concealment of the link between the MMR vaccine (for measles, mumps, and rubella) and a sharply increased risk of autism, particularly in African American boys. Other studies now show a link between children's exposure to pesticides and autism. Children who live in homes with vinyl floors, which can emit phthalate chemicals, are more likely to have autism. Children whose mothers smoked were also twice as likely to have autism. Research now acknowledges that environmental contaminants such as PCBs, PBDEs, and mercury can alter brain neuron functioning even before a child is born.
This month, the USDA released a study finding that although there were detectable levels of pesticide residue in more than half of food tested by the agency, 99% of samples taken were found to be within levels the government deems safe, and 40% were found to have no detectable trace of pesticides at all. The USDA added, however, that due to "cost concerns," it did not test for residues of glyphosate. Let's repeat that: they never tested for the active ingredient in the most widely used herbicide in the world. "Cost concerns"? How absurd—unless they mean it will cost them too much in terms of the special relationship between the USDA and Monsanto. You may recall the revolving door between Monsanto and the federal government, with agency officials becoming high-paying executives—and vice versa! Money, power, prestige: it's all there.
Monsanto and the USDA love to scratch each others' backs. Clearly this omission was purposeful.
In addition, as we have previously reported, the number of adverse reactions from vaccines can be correlated as well with autism, though Seneff says it doesn't correlate quite as closely as with Roundup. The same correlations between applications of glyphosate and autism show up in deaths from senility.
Half of All Children Will Be Autistic by 2025, Warns Senior Research Scientist at MIT
Massive spray OP off the coast of SoCAL
https://go.nasa.gov/2G2VNGg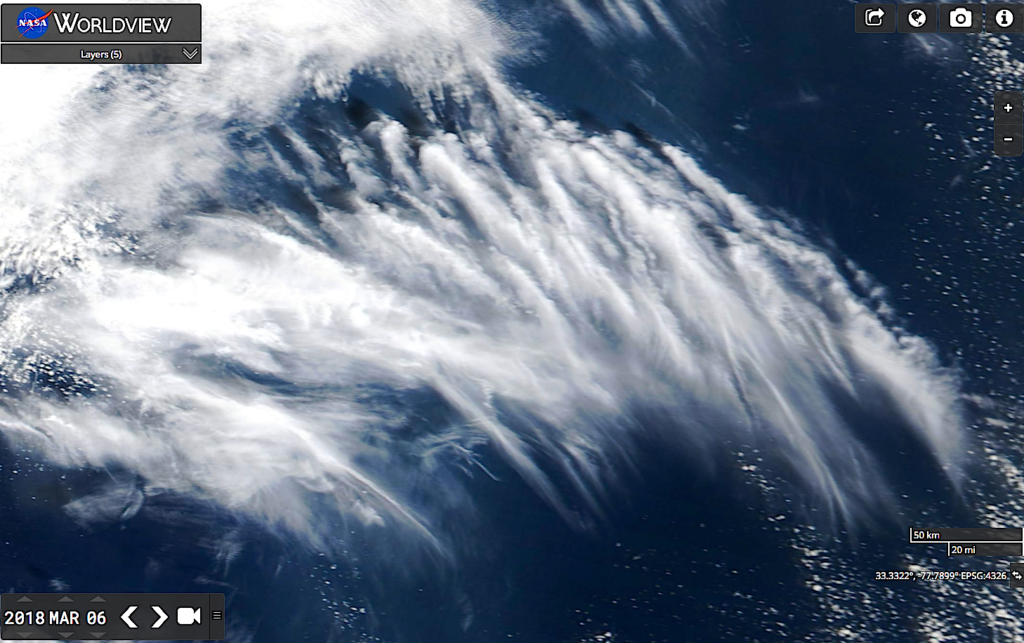 The Atlantic Ocean off the coast of the mid-Atlantic States (above) / March 6, 2018. https://go.nasa.gov/2FmzXMO
For the Emissaries: The Silent 'Foothold' Invasion of Planet Earth / I sincerely believe that there are now more hybrids walking among us than we can imagine.