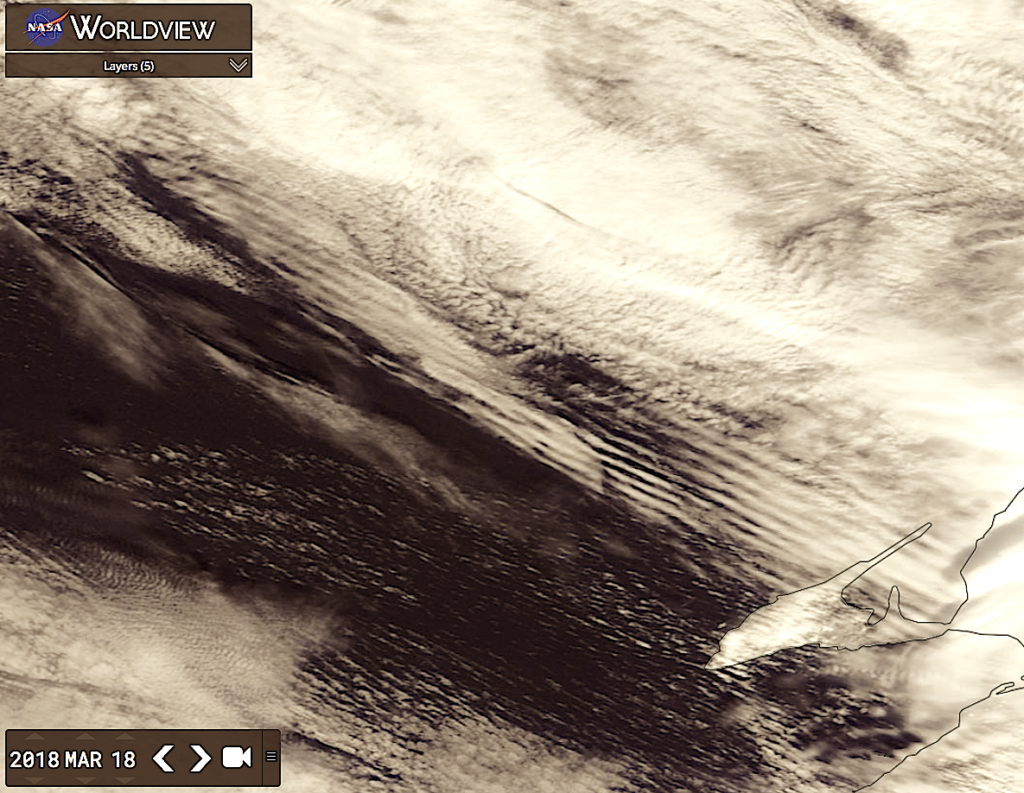 Gulf of St. Lawrence / Island of Newfoundland – on the right (above) / March 18, 2018. These are scalar waves generated by a HAARP type transmitter. Sepia enhanced. https://go.nasa.gov/2GGCsLt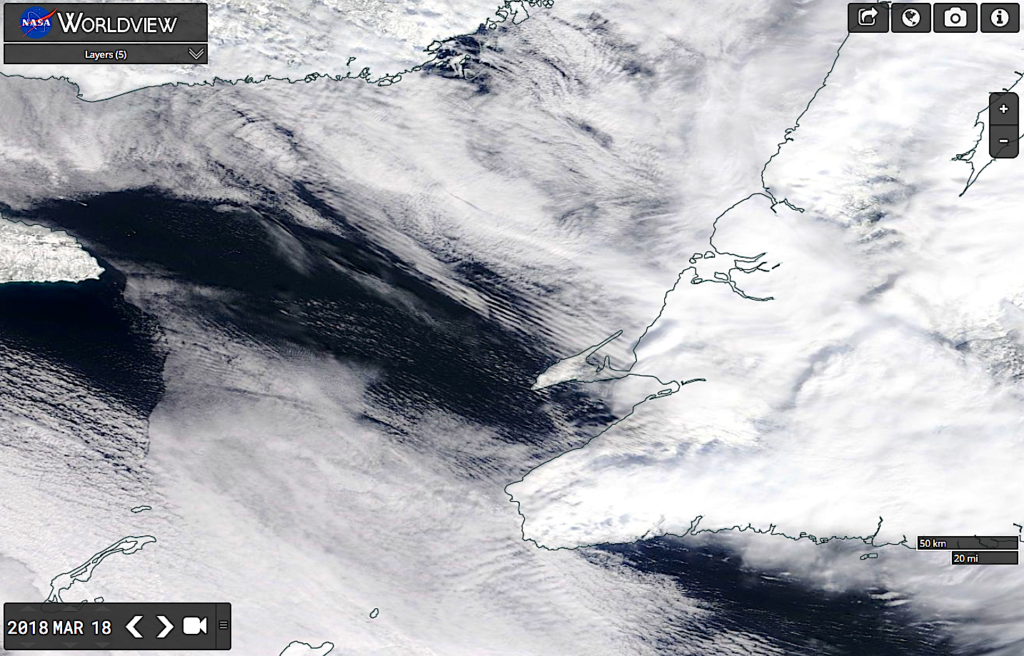 Gulf of St. Lawrence / Island of Newfoundland – on the right (above) / March 18, 2018. These are scalar waves generated by a HAARP type transmitter. Sepia enhanced. https://go.nasa.gov/2GH3Dpx
VSF:  As I am reading current news stories and reports, I cannot help but notice how so much of what is going on is a direct consequence of the Zeta Reticui Grey Agenda, that is supported by the Draco Reptilians. When you read articles with this understanding and knowledge, events that seem incomprehensible to a normal human begin to make perfect sense.
We are all breathing ever increasingly smaller nano-sized particles of various toxic metals and other invasive materials that can easily penetrate the brain-blood barrier and go directly into our vital organs and the brain.  I had not considered nanoparticles in the urine or blood of children. When I did a google search, I found 24.600 results under the words "nanoparticles in children urine" and this article among others:
Knocking at the door of the unborn child: engineered nanoparticles at the human placental barrier
Tina Buerki-Thurnherr, Ursula von Mandach, Peter Wick
DOI: https://doi.org/10.4414/smw.2012.13559 
Publication Date: 05.04.2012 / Swiss Med Wkly. 2012;142:w13559
Exposure of pregnant women and their unborn children to engineered nanoparticles (NPs) is not yet of major public concern. However, this may soon change in light of the ever-increasing production of NPs and the continuous appearance of novel NP-containing consumer products. However, NPs may not only pose risks to exposed individuals; they offer major potential for the development of novel therapeutic strategies to treat specifically either the mother or the developing foetus. Hence there is every reason to explore the transplacental transfer of engineered NPs in more detail, and to find answers to the vast number of open questions in this fascinating field of research.
… these days there is a new visitor knocking at the placental door. With the growing use of nanotechnology, the placenta is likely to come into contact with novel nanoparticles, either accidentally through exposure to these materials, or intentionally in the case of potential nanomedical applications. Should we worry about the new guest, considering that the placenta is already regularly dealing with a vast amount of exogenous toxins, particles and chemicals? Concerns arise from the exceptional properties associated with these novel materials. Due to their small size and high surface area, NPs acquire new physicochemical characteristics not displayed by the corresponding bulk materials such as catalytic activity, conductivity or mechanical properties. Although these novel characteristics drive the development of numerous promising applications in many fields of technology and medicine, they may also have unforeseen effects if particles come into contact with cells and tissues of the human body.
In fact, nanoparticles have a relatively marked propensity to cross cell membranes. Biological barriers such as the blood-brain barrier that are hardly amenable to larger particles or drugs can be penetrated by certain nanomaterials.
Therefore it is of major importance to understand whether nanoparticles interfere with cellular functions and have adverse effects in biological tissues. Apparently these tiny particles comprise a very mixed crowd of good guys, bad guys and everything in between. … it is only marginally understood why some particles are more toxic than others, as current knowledge of the mechanisms underlying their adverse effects is very limited. … it is evident now that the growing foetus is particularly vulnerable to foreign particles even at doses that do not have adverse effects in other tissues. … nanoparticles can be tailored to allow efficient drug loading, specific targeting and controlled drug release …
https://smw.ch/article/doi/smw.2012.13559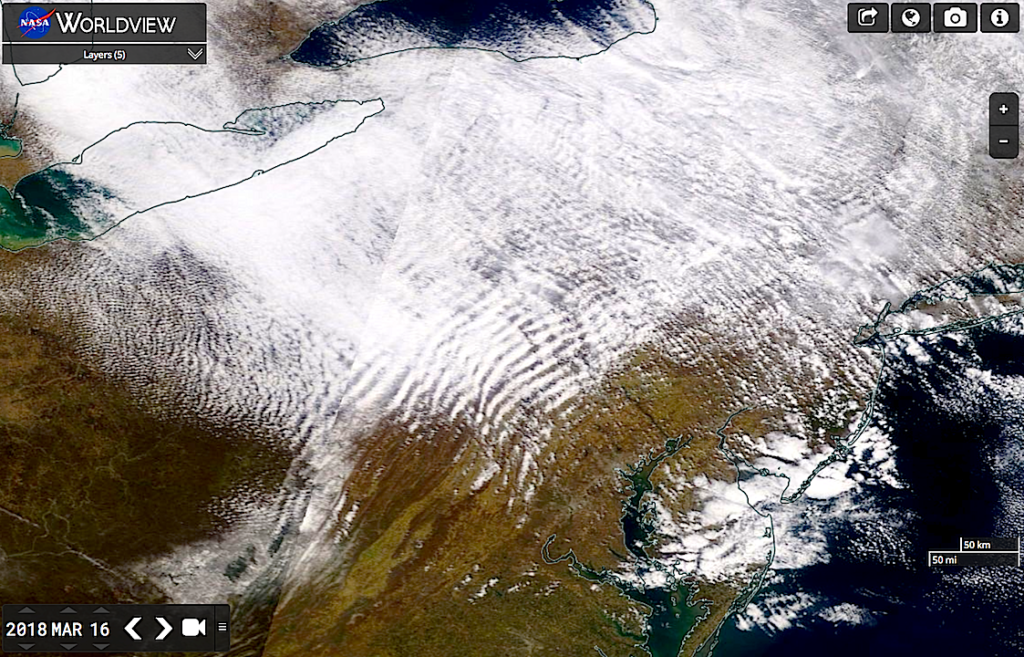 NORTH AMERICA: Lake Erie, Lake Ontario, Ohio, Pennsylvania, & New York State (above) / March 16, 2018. Note the massive scalar wave radiation patterns in the clouds. No enhancements except for 'sharpness' which I always do for better clarity.                                                                                                                           https://go.nasa.gov/2Gz6Ual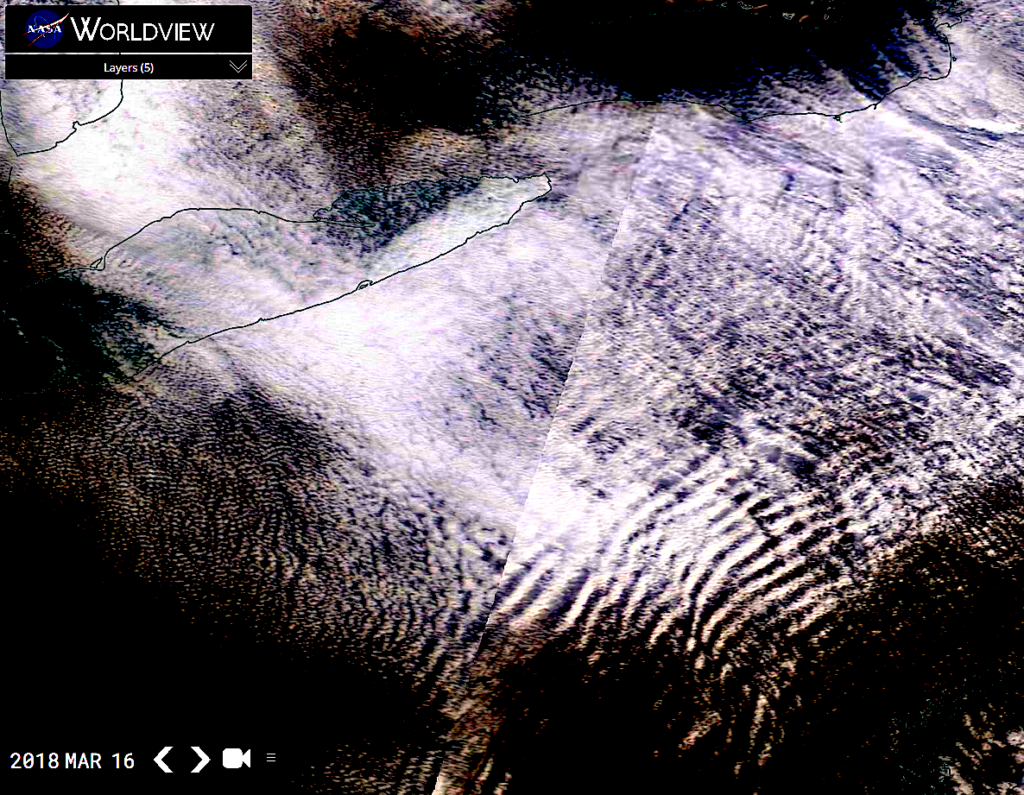 NORTH AMERICA: Ohio, Pennsylvania, & New York State (above) Mar.16, 2018. Note the massive scalar wave radiation patterns in the clouds. This is a detail of the 'above' previous screenshot. I have maxed the contrast, saturation, etc. to reveal the parallel lines more clearly.                                                                                                                            https://go.nasa.gov/2DyMb3p
Human study reveals nanoparticles cross from lungs into blood
Gold nanoparticles accumulate in arterial plaques
11 May 2017
Gold nanoparticles can cross from the lungs into the blood, where they accumulate in fatty plaques inside arteries, according to a human study by UK and Dutch researchers. The work provides further evidence of a link between environmental nanoparticles and cardiovascular disease, and has "major implications" for risk management of engineered nanoparticles, they say. For the study, 14 healthy volunteers inhaled gold nanoparticles.
Fifteen minutes to 24 hours after exposure, the nanoparticles showed up in blood and urine samples and could still be detected three months later. Inhaling smaller particles (5nm diameter compared with 30nm) resulted in higher numbers reaching the blood.
Separately, the team recruited 12 patients due to undergo surgery on their carotid arteries. Three inhaled gold nanoparticles before surgery and these showed up in arterial plaques. The team approached the study from an air pollution perspective but the results apply to other exposures, especially those in the workplace, says corresponding author Mark Miller from the University of Edinburgh.
"We always suspected that nanoparticles get into the blood," said Dr Miller. "This had been shown before in animal studies but not convincingly in man. Furthermore, understanding how these particles then interact with blood vessels had not been explored." Importantly, he says, the human results match those from rodent studies. As newer nanomaterials cannot be tested directly in humans, rodent studies are still relied on for toxicity studies.
https://chemicalwatch.com/55749/human-study-reveals-nanoparticles-cross-from-lungs-into-blood
ANTARCTICA, The Ross Ice Shelf & Ross Sea (above) / March 18, 2018. Note the light green algae growing in the melting ice slush.                                                                            https://go.nasa.gov/2GFH190
Ultrafine pollution particles create air of menace
March 5, 2018
An air quality study has for the first time detected nano-sized particles of air pollution in children's urine. With a diameter of just 100 nanometers – a thousandth of the width of a human hair – these ultrafine particles are the smallest particles found in air pollution and have been linked to heart disease and respiratory conditions in previous studies. The research provides the first direct evidence that some of the particulate matter known as black carbon that we inhale in soot and fumes is making it across the lung barrier and into the body's circulatory system.
The discovery, and the development of the first urine test for UFP, means that researchers can now tell how much internal exposure an individual has had to one of the most worrying pollutants, black-carbon nanoparticles. It is difficult to measure how much exposure an individual has received, so most studies of its prevalence and effects are done by mapping pollution levels in an area onto rates of population ill health. …
The lungs are lined with a membrane that allows oxygen to diffuse through them and into the blood, but which has historically been thought to prevent the passage of other substances and small particles, so that air pollution is filtered out. However, this is now in question. 'It shows that the smallest particles really pass the lung barrier and if you find them in urine it means that they come into the blood circulation and go into every organ system,' said Prof. Nawrot.
Although previous lab research has found radioactively labelled carbon nanoparticles in the blood, it did not demonstrate they could pass into the body in real-life settings when people have long-term exposure to low concentrations.
https://horizon-magazine.eu/article/ultrafine-pollution-particles-create-air-menace_en.html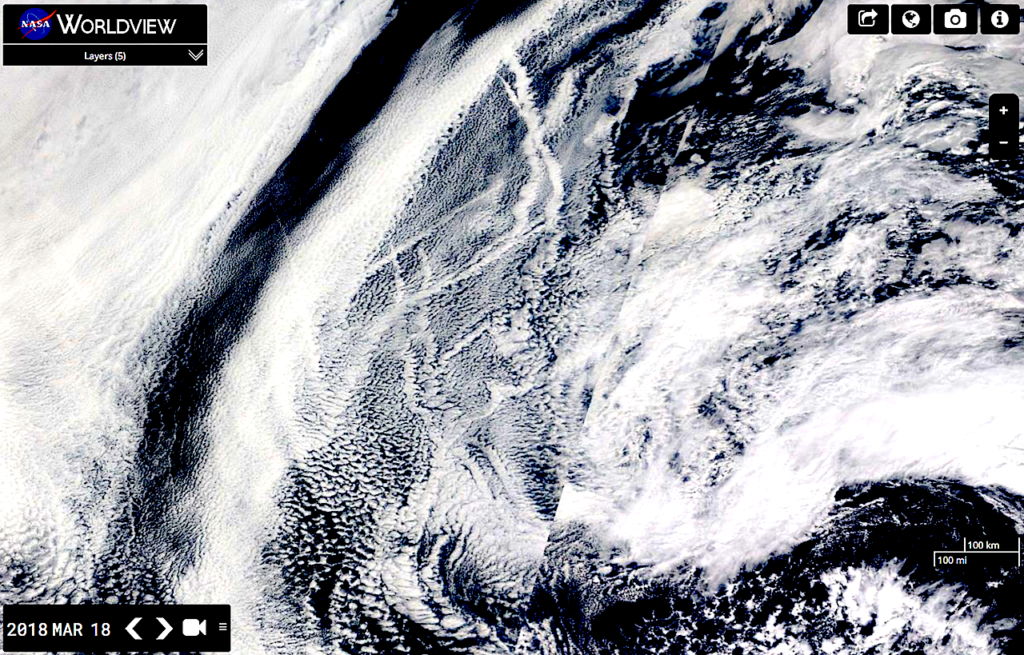 The Pacific Ocean, south of the Gulf of Alaska (above) / March 18, 2018. https://go.nasa.gov/2GELqcd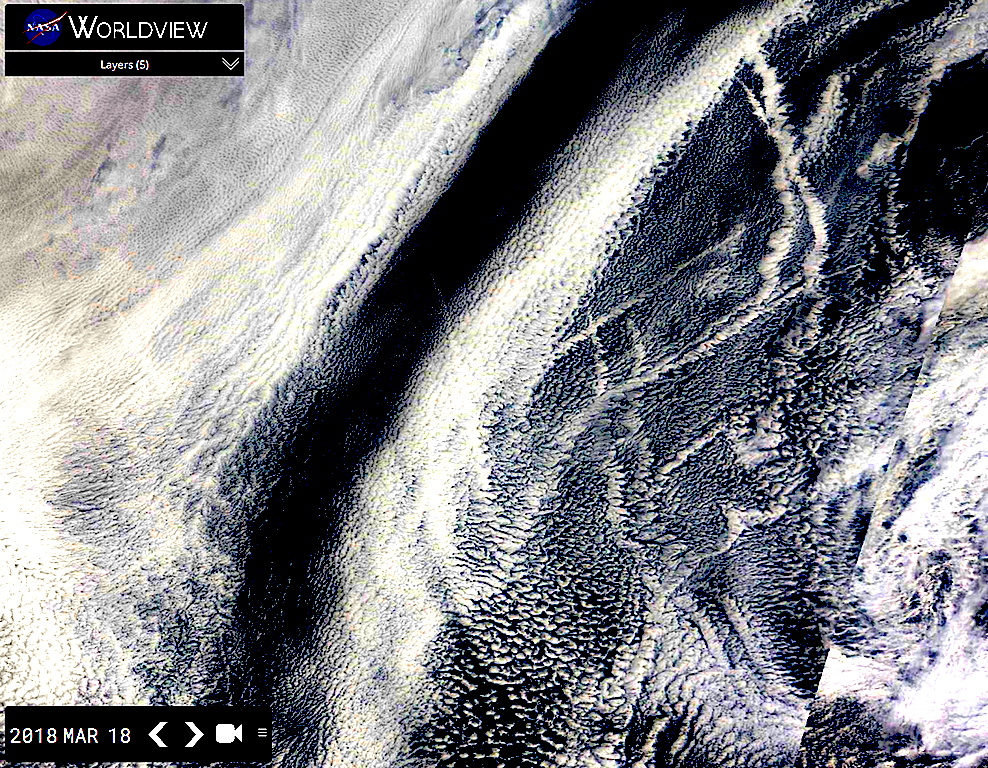 The Pacific Ocean, south of the Gulf of Alaska (above) / March 18, 2018. I have altered the contrast & used various enhancements to reveal the bizarre patterns in these clouds. https://go.nasa.gov/2GFz9Eu
The Pacific Ocean, south of the Gulf of Alaska (above) / March 18, 2018. I have altered the contrast & used various enhancements to reveal the bizarre patterns in these clouds, which include spiral-coil tufts that indicate scalar energy.                                                  https://go.nasa.gov/2GHwv15
VSF:  Please understand that I am not political, not taking one side over another — in my view the collapsing Empire has no sides and all those who crave power only succeed to the degree they serve the Empire.
I am posting the article below because it reveals how closely the military and social media have become one monstrous invasive demon into our everyday lives. We all should understand who and what we are supporting when we use social media.
Were you aware that Jeff Bezos' grandfather and mentor — Lawrence Preston 'Pop' Gise worked on "space technology and missile defense systems at Darpa in the late 1950s; in 1964, Congress appointed him manager of the Atomic Energy Commission's Albuquerque operations office, where he supervised 26,000 employees in the AEC's western region, including the Sandia, Los Alamos, and Lawrence Livermore laboratories."   [quoted from WIRED].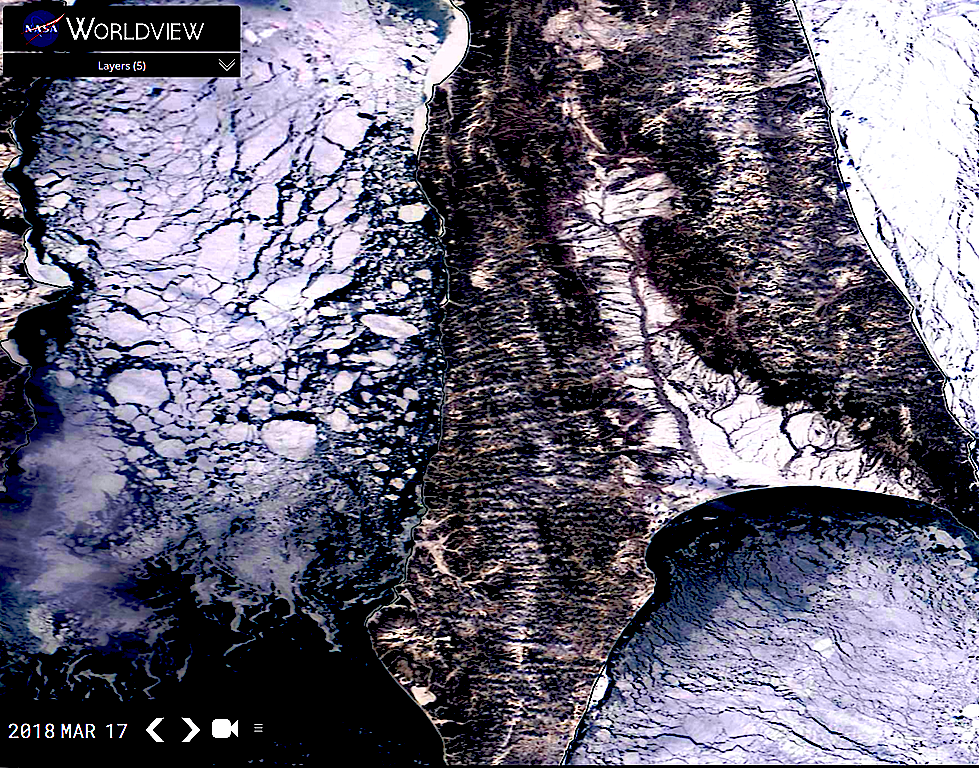 Sakhalin Island, Russia (above) / March 17, 2018. The contrast etc. is maxed to show the cracking fractured ice better.                                                                                   https://go.nasa.gov/2FRENSB
Social Media – Cambridge Analytica – PSYOPS – Military Methodology "Information Operations"
THE UK GUARDIAN:  For more than a year we've been investigating Cambridge Analytica and its links to the Brexit Leave campaign in the UK and Team Trump in the US presidential election. Now, 28-year-old Christopher Wylie goes on the record to discuss his role in hijacking the profiles of millions of Facebook users in order to target the US electorate … as Wylie describes it, he was the gay Canadian vegan who somehow ended up creating "Steve Bannon's psychological warfare mindfuck tool".
In 2014, Steve Bannon – then executive chairman of the "alt-right" news network Breitbart – was Wylie's boss. And Robert Mercer, the secretive US hedge-fund billionaire and Republican donor, was Cambridge Analytica's investor.  And the idea they bought into was to bring big data and social media to an established military methodology – "information operations" – then turn it on the US electorate.
… Cambridge Analytica's parent company, SCL, had won contracts with the US State Department and was pitching to the Pentagon, and Wylie was genuinely freaked out. "It's insane," he told me one night. "The company has created psychological profiles of 230 million Americans. And now they want to work with the Pentagon?"
[Wylie] came up with a plan to harvest the Facebook profiles of millions of people in the US, and to use their private and personal information to create sophisticated psychological and political profiles. And then target them with political ads designed to work on their particular psychological makeup.
"We 'broke' Facebook," he says. … there was a way of measuring personality traits across the population and correlating scores against Facebook "likes" across millions of people….
"There are agencies that fund research on behalf of the intelligence services. And they were all over this research." The defense and military establishment were the first to see the potential of the research. Boeing, a major US defense contractor, funded Kosinski's PhD and Darpa, the US government's secretive Defense Advanced Research Projects Agency, is cited …Its defense arm was a contractor to the UK's Ministry of Defence and the US's Department of Defense, among others. Its expertise was in "psychological operations" – or psyops – changing people's minds not through persuasion but through "informational dominance", a set of techniques that includes rumour, disinformation and fake news. … a new discipline: "information operations", which ranks alongside land, sea, air and space in the US military's doctrine of the "five-dimensional battle space".
His brief ranged across the SCL Group – the British government has paid SCL to conduct counter-extremism operations in the Middle East, and the US Department of Defense has contracted it to work in Afghanistan. … receipts showing that Cambridge Analytica spent $7m to amass this data, about $1m of it with GSR. He has the bank records and wire transfers. … app, called thisismydigitallife, gave him permission to access their Facebook profiles. And not just theirs, but their friends' too.
On average, each "seeder" – the people who had taken the personality test, around 320,000 in total – unwittingly gave access to at least 160 other people's profiles, none of whom would have known or had reason to suspect. … Millions of people's personal information was stolen and used to target them in ways they wouldn't have seen, and couldn't have known about, by a mercenary outfit, Cambridge Analytica, who, Wylie says, "would work for anyone".
https://www.theguardian.com/news/2018/mar/17/data-war-whistleblower-christopher-wylie-faceook-nix-bannon-trump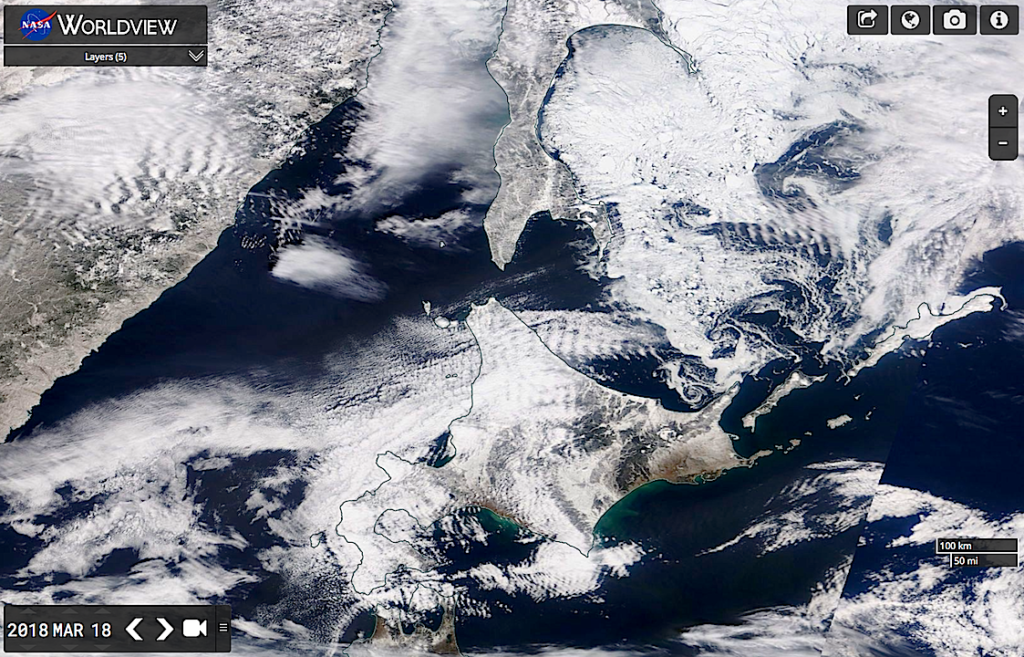 Hokkaido Japan & Sakhalin Island Russia (above) March 18, 2018. Note the scalar radiation patterns.                                                                                                     https://go.nasa.gov/2GFaxf1
Hokkaido Japan & Sakhalin Island Russia (above) March 18, 2018.  Note the scalar radiation patterns.                   
https://go.nasa.gov/2GFaxf1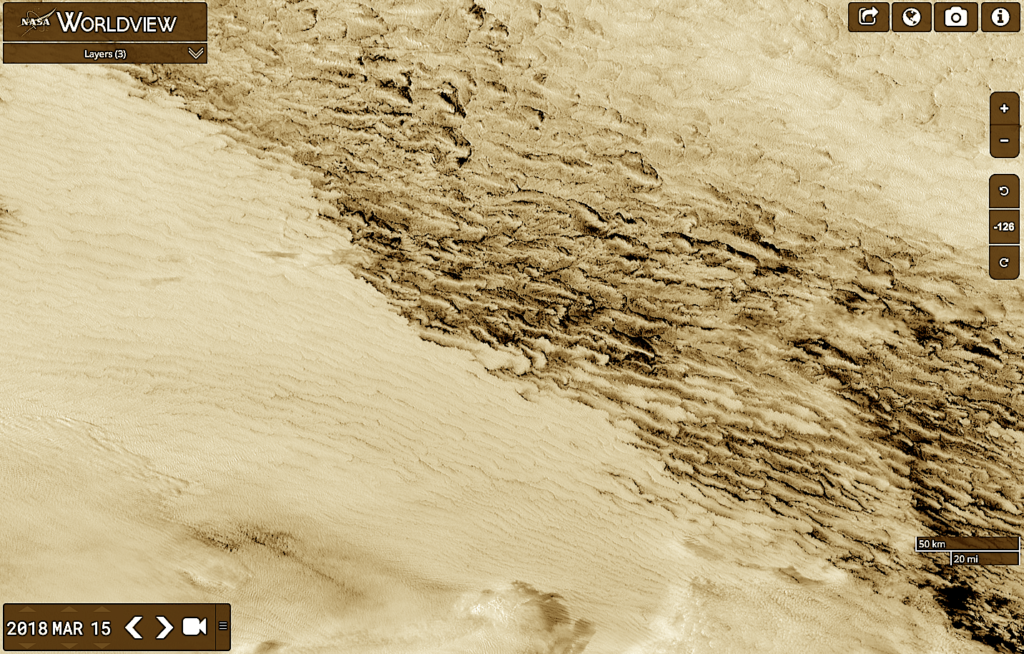 Antarctica (above) / March 15, 2018. These are typical 'worm-like' tufts that I find all around the planet. They are filled with coiled-spirals, evidence of scalar radiation. Sepia enhanced.

INVASION EARTH: What the Draco Reptilian, Greys, & the Zeta Greys ETs Want / NASA Worldview: Greenland Melting