VSF:  It just hit me that… There's plastic in the fish stomachs. The fish are inundated with these plastic chemicals. Which are endocrine disruptors.  People who think they are eating healthy by eating fish are exposing themselves to these EDCs. They are increasing estrogen, feminizing the males. Destroying female hormonal balance and thus human reproduction.
WIKI: EDCs / Endocrine disruptors are chemicals that can interfere with endocrine (or hormone) systems at certain doses. These disruptions can cause cancerous tumors, birth defects, and other developmental disorders.[1] Any system in the body controlled by hormones can be derailed by hormone disruptors. Specifically, endocrine disruptors may be associated with the development of learning disabilities, severe attention deficit disorder, cognitive and brain development problems; deformations of the body (including limbs); breast cancer, prostate cancer, thyroid and other cancers; sexual development problems such as feminizing of males or masculinizing effects on females, etc.[2]
Recently the Endocrine Society released a statement on endocrine-disrupting chemicals (EDCs) specifically listing obesity, diabetes, female reproduction, male reproduction, hormone-sensitive cancers in females, prostate cancer in males, thyroid, and neurodevelopment and neuroendocrine systems as being affected biological aspects of being exposed to EDCs.[3]
The critical period of development for most organisms is between the transition from a fertilized egg into a fully formed infant. As the cells begin to grow and differentiate, there are critical balances of hormones and protein changes that must occur. Therefore, a dose of disrupting chemicals may do substantial damage to a developing fetus. The same dose may not significantly affect adult mothers.
There has been controversy over endocrine disruptors, with some groups calling for swift action by regulators to remove them from the market, and regulators and other scientists calling for further study. Some endocrine disruptors have been identified and removed from the market (for example, a drug called diethylstilbestrol), but it is uncertain whether some endocrine disruptors on the market actually harm humans and wildlife at the doses to which wildlife and humans are exposed. Additionally, a key scientific paper, published in the journal Science, which helped launch the movement of those opposed to endocrine disruptors, was retracted and its author found to have committed scientific misconduct.[4]
Found in many household and industrial products, endocrine disruptors are substances that "interfere with the synthesis, secretion, transport, binding, action, or elimination of natural hormones in the body that are responsible for development, behavior, fertility, and maintenance of homeostasis (normal cell metabolism)."[5] They are sometimes also referred to as hormonally active agents,[6] endocrine disrupting chemicals,[7] or endocrine disrupting compounds.[8] The variety of terms used to describe these substances reflects not only a range of meanings but a range of connotations, with endocrine disruptor emphasizing harmful effects, while hormonally active agent or xenohormone are more neutral, in keeping with the pharmacological principle the dose makes the poison.
Studies in cells and laboratory animals have shown that EDCs can cause adverse biological effects in animals, and low-level exposures may also cause similar effects in human beings.[9] EDCs in the environment may also be related to reproductive and infertility problems in wildlife and bans and restrictions on their use has been associated with a reduction in health problems and the recovery of some wildlife populations.
Meanwhile …
Trump Lavishes Our Tax Dollars On Military Industrial Complex
Watch
March 23, 2018 "Information Clearing House" –  The $1.3 trillion omnibus offers the most significant increase in defense funding in the past 15 years, including a pay hike for personnel.
The Department of Defense is set to gain $61 billion more than last year's enacted funding for a top line of $700 billion.
The omnibus allocates $144.3 billion for military equipment procurement, including big-ticket items such as:
• $23.8 billion for 14 Navy ships
• $10.2 billion for 90 F-35 fighter jets
• $1.8 billion for 24 F/A-18 fighter jets
• $9.5 billion for the Missile Defense Agency
The defense-friendly bill also provides $238 billion for operations and maintenance, $89.2 billion for research and development, and $137.7 billion for personnel pay – a 2.4 percent increase from fiscal year 2017.
President Trump signed a memorandum that imposes up to $60 billion in new tariffs on China. At a White House signing ceremony, he cited unfair trade practices with the nation, but said there are ongoing negotiations with China that involve his request to reduce the U.S. trade deficit by $100 billion.
http://www.informationclearinghouse.info/49065.htm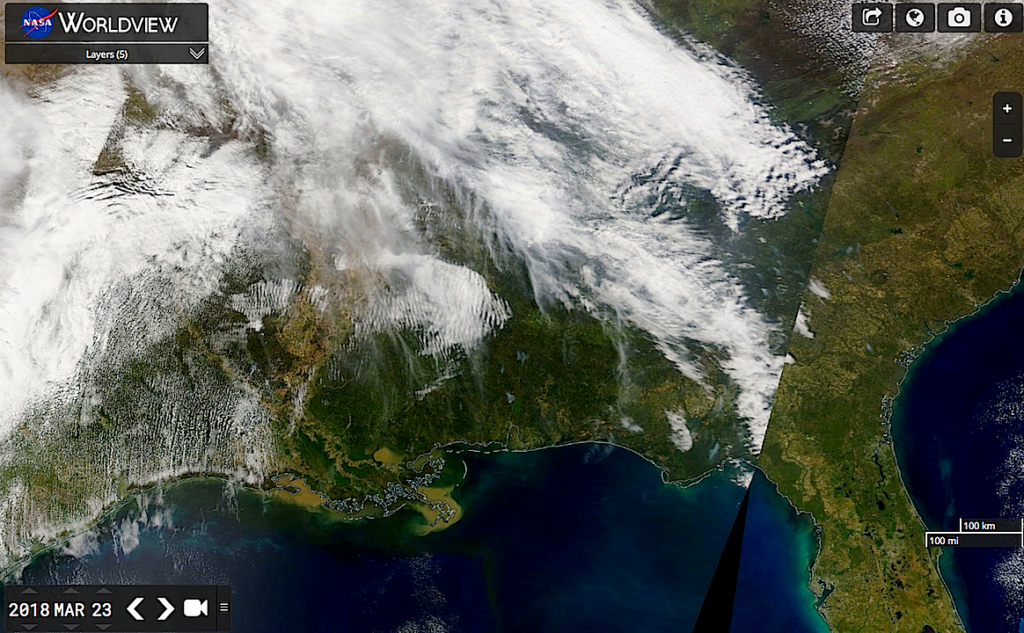 North America (above) / March 23, 2018. Note the miles of scalar generated radiation over the southeastern United States.                                                                                               https://go.nasa.gov/2pAttEh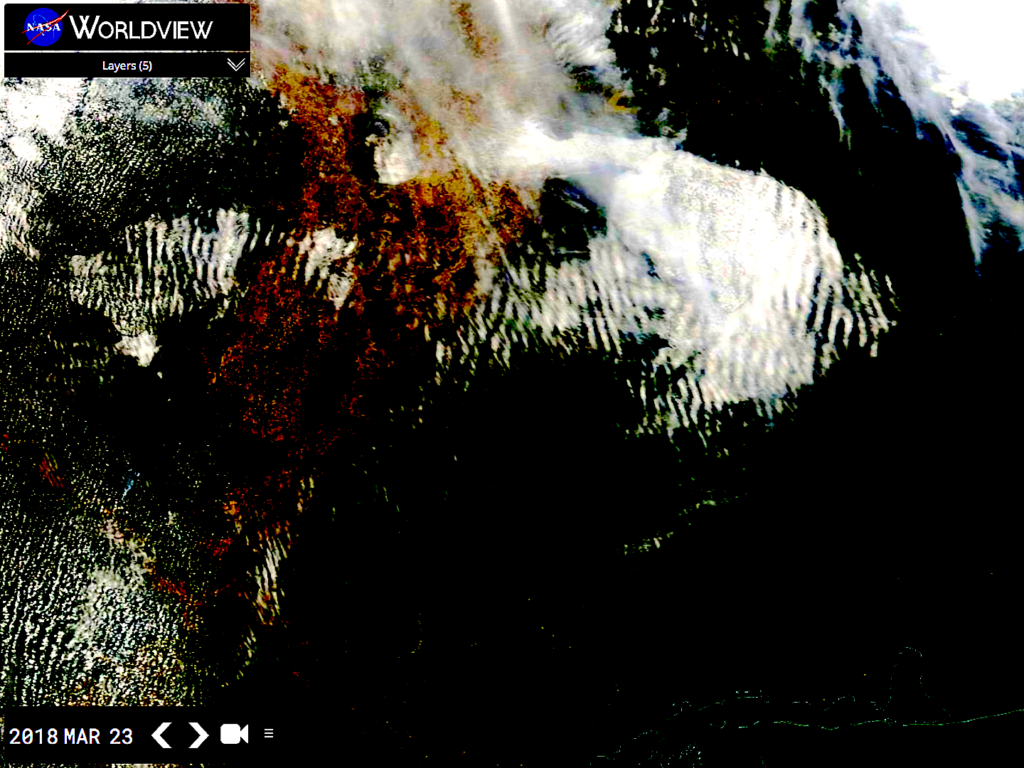 North America (above) / March 23, 2018. Note the miles of scalar generated radiation over the southeastern states – Louisiana, Mississippi, Alabama, etc. Contrast & saturation etc. maxed to reveal the parallel lines.                                                                          https://go.nasa.gov/2uibZl3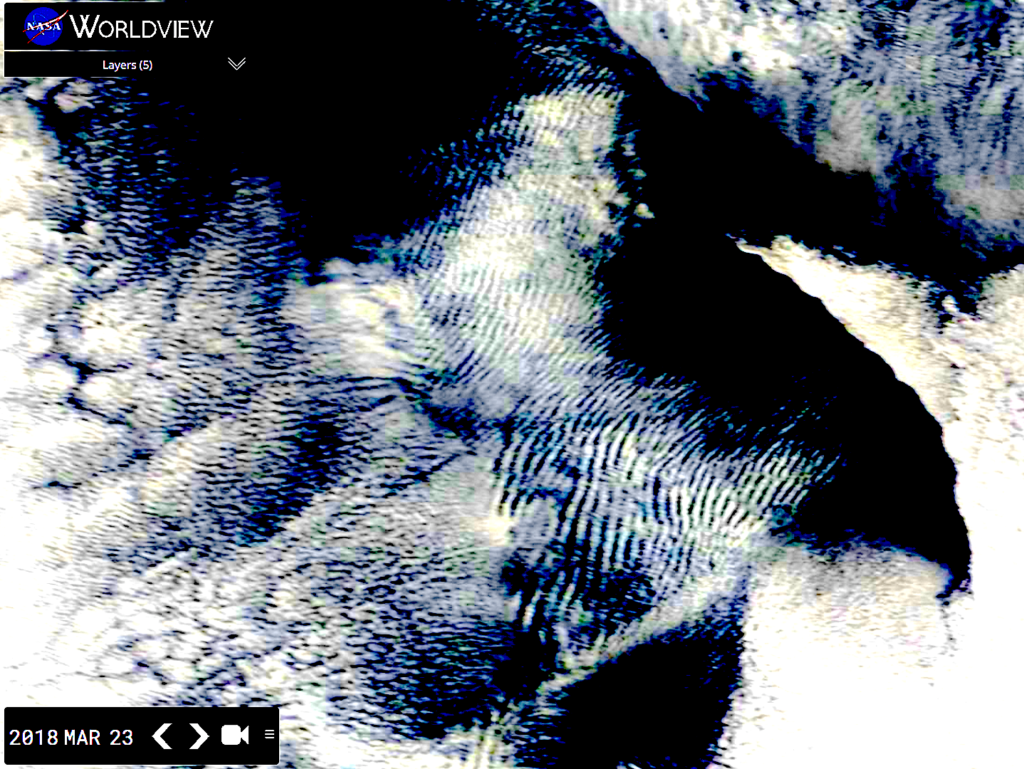 The Tasman Sea (above) / March 23, 2018. Note the scalar wave radiation patterns. Contrast & saturation maxed to reveal the parallel lines.                                https://go.nasa.gov/2pAp7ND
The Tasman Sea (above) / March 23, 2018. Note the scalar wave radiation patterns. Contrast & saturation maxed to reveal the parallel lines.  A larger view of the previous image.                                                                                                                          https://go.nasa.gov/2G37L1V
The Tasman Sea (above) / March 23, 2018. Note the scalar wave radiation patterns. Contrast & saturation maxed to reveal the parallel lines.  A larger view of the previous image.  A slight sepia enhancement. Bismuth? Very 'metalized'.                    https://go.nasa.gov/2ufe2WX
The Pacific Ocean off Baja CA (above) / March 23, 2018. The 'metalizing' of the cloud forms really shows when I max out the contrast etc.                                            https://go.nasa.gov/2GiyFpT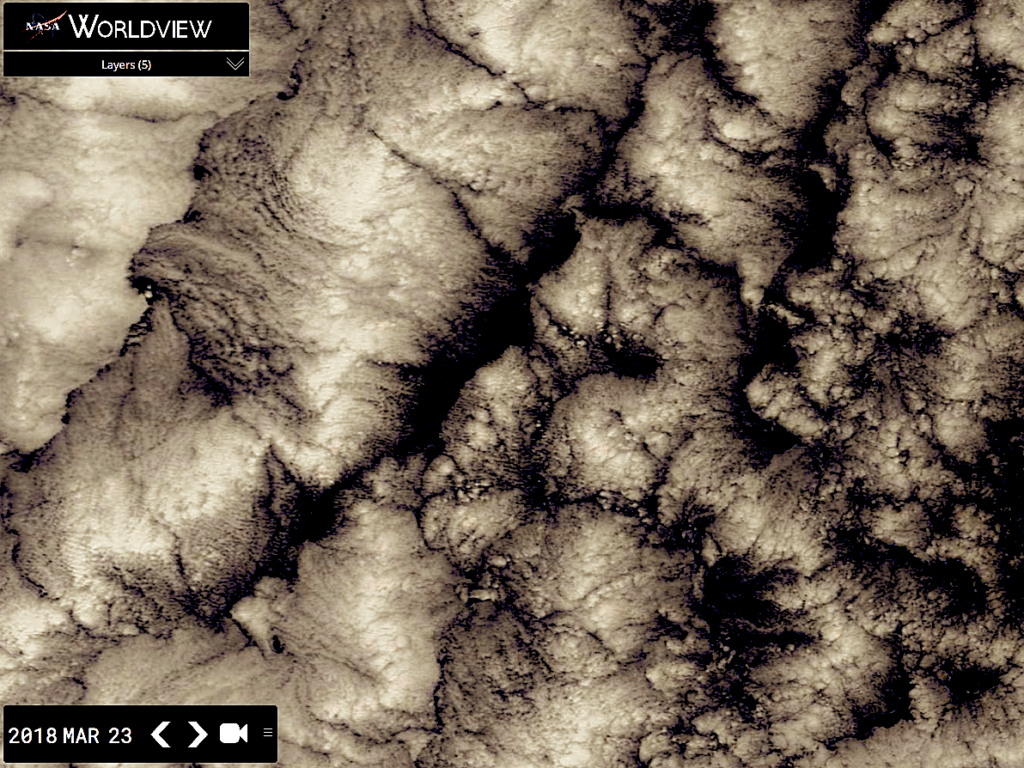 The Pacific Ocean off Baja CA (above) / March 23, 2018. The 'metalizing' of the cloud forms really shows when I max out the contrast etc.  A slight sepia enhancement. If you look closely, you can actually see the parallel lines at the edges of some of these forms. https://go.nasa.gov/2pAbLAH
"…roughly 20 veterans a day nationwide commit suicide." / Aerosol Spraying and Radio-Frequency/Microwave cloud patterns over the Olympic Peninsula / September 2017