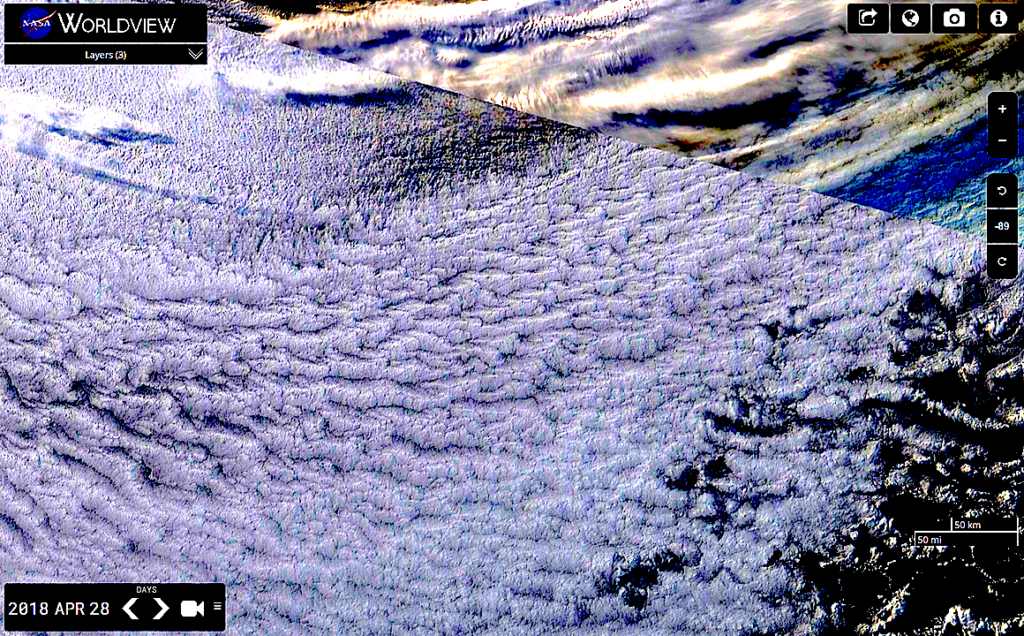 ANTARCTICA, above the area of the Russian Station, Queen Maud Land area (above) / April 28, 2018.  Are the Russians intentionally melting the polar regions to get access to the resources?  The contrast & saturation etc. in this image are enhanced to reveal the worm-like 'spiral coil' cloud forms, which are completely unnatural.  Note that there is a progression from larger forms moving into smaller.  My friend says that this is a result of a range of frequency transmission.  They are changing the transmitter dials to create various sizes. This is similar to a control board in a recording studio that alters sound, highs/lows, volume, etc.                                                                                                                         https://go.nasa.gov/2Fq4rNl
Lokasamgraha: The Well-Being of the World
Our current world is desperate for men and women of integrity who understand sacrifice as the concern for others, and because they have realized that the Self within them is the very same Self that dwells within all beings (sarvabhutatma-bhutatma; V.7), they would find their greatest happiness in working for the well-being of the world (lokasamgraha). Such men and women would rejoice in the welfare of all creatures (sarvabhutathite ratah; XII.4), and the world would begin to heal and flourish once again.
What brings us happiness …
Krishna Chaitanya/KK Nair carries this ideal of sacrifice as altruism further by translating Krishna's words (III.11-12) to mean that altruistic behavior to both deity and our fellow human beings will bring us the highest welfare  (sreyas; also means bliss and happiness).  We do however have the freedom to deny this ideal way of living, which Krishna plainly states will bring us the greatest happiness, and we may choose to behave selfishly.  But if we make the choice to act altruistically in partnership with God, not only will we benefit, but the entire world will also share in the higher consciousness we Become.
My experience is that God loves surprise and when we work in an altruistic way, the God-within works with us in those, often quoted, mysterious ways.
'Deity fulfills himself only when creation is helped to evolve to perfection, and this needs partnership and reciprocal support of both man and deity.' (Krishna Chaitanya/KK Nair)
The hologram generated by such altruistic sacrificial acts is free from the sin of attachment.  However your freedom to reject the tender offer of 'partnership' and live only for your own selfish needs, out of fear and greed, will lead you on the path of the adventure of delusion.  In the illusion of separation, you slip further into unconsciousness, ignorance of your true nature, and bondage to your desires (III.13).  That's simply the way this universe, the mechanistic yantra-rudhana, and Prakriti's gunas are programmed.
Those are the rules.
http://metaphysicalmusing.com/gita/krishna4.htm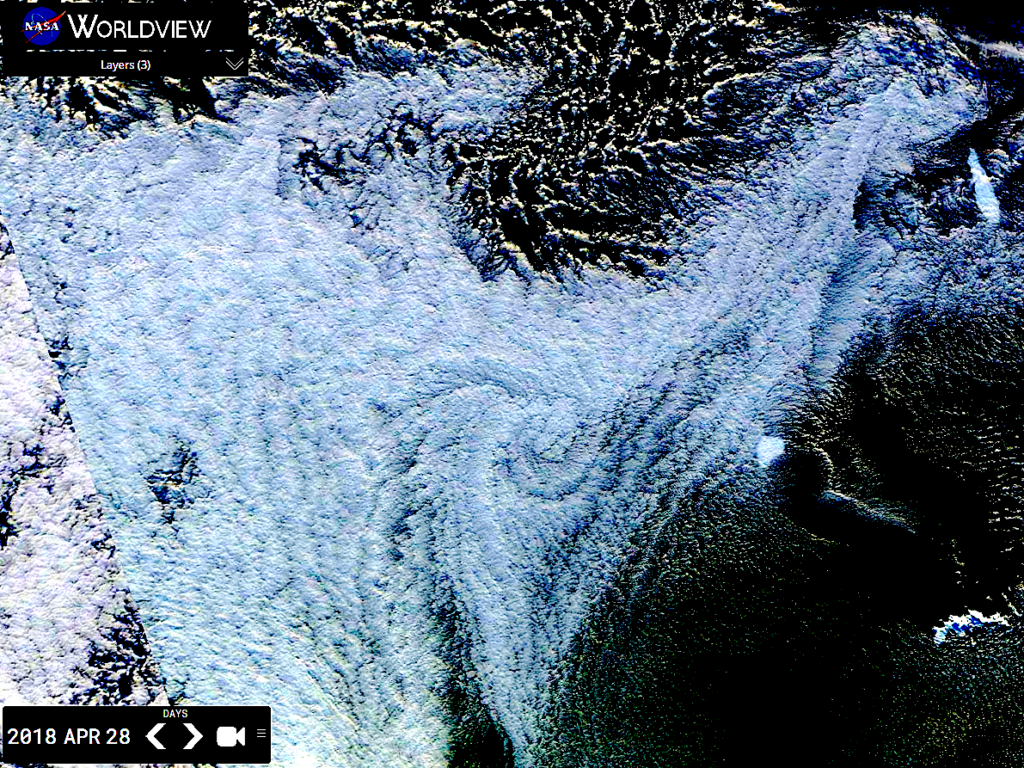 ANTARCTICA, the WEDDELL SEA area (above) / April 28, 2018.  I have made various adjustments in the contrast etc. to improve the clarity.  Note the vortex and again a progression in size.  The color is not accurate.                                                      https://go.nasa.gov/2HzegOT
Enlightenment is not escapism
As enlightened beings we do not abandon the world in some blissed-out state of meditative escape from our responsibilities. This has been perpetuated by gurus and those who misinterpreted Krishna's words, and was a terrible legacy for my own generation who thought that 'turn on and drop out' was their highest purpose. Many of them perished in that confusion; some were ones I loved dearly.
In The Betrayal of Krishna, the Indian scholar Krishna Chaitanya/KK Nair makes a clear case that Lord Krishna's message in the Bhagavad Gita has been misunderstood. His book is a very precise and exact detailed study of those who followed in Krishna's footsteps, from the court poets to Sankara and others.
 
We are not intended to abandon this world. Yes the universe is a temporal illusory hologram, but that does not mean that we abandon it or that it is our religious duty to escape back into that same Bliss consciousness from which we emerged to dive into multiplicity.
http://metaphysicalmusing.com/gita/krishna5.htm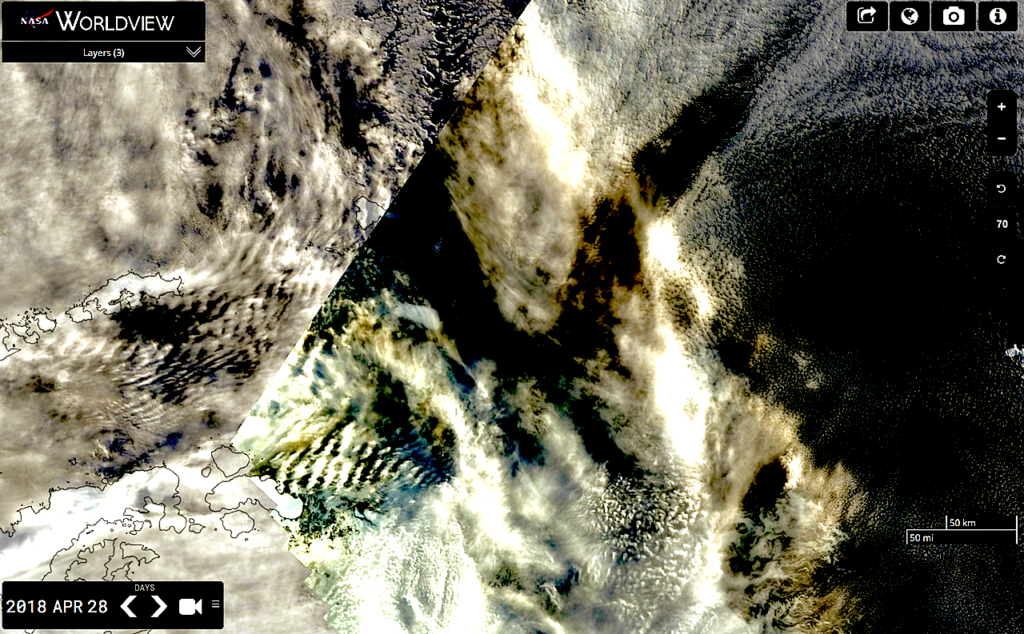 ANTARCTICA (above) / April 28, 2018.  This is a detail of the 'tip' of Antarctic Peninsula which has various islands.  I have made considerable contrast etc. adjustments to reveal more clearly the scalar wave radiation parallel line patterns in the cloud forms. https://go.nasa.gov/2FpAdtX
See God in Every Eye
Once you realize that the God that dwells within your heart is the very same God that is in every man, woman, and child on this planet – you will understand that whatever you do for them, you do for your Self.
Your greatest happiness will lie in acts that serve the God within you and therefore the God within All.
Enlightenment is an ongoing movement, an always deepening and ever increasing state that never ends.  God has no end.  What you do as you Become more and more enlightened is totally up to you, and between you and the God within you. 
You will Know what your path is.  It will feel right.
South America, the West Coast (above) / April 28, 2018.                                   https://go.nasa.gov/2HzYFPf
Be Clark Kent
As enlightened men and women, we do not need to wear arcane and mysterious robes that set us apart from others. We need not display ourselves conspicuously in a public place, covered in crystals and feathers, our hair unkempt and matted, while we repetitiously chant inscrutable words. Nor do we engage in any other kind of behavior that isolates us in a kind of superior priestly pride, intrusively declaring – I know and you do not!
This path is more comparable to say Superman disguised as Clark Kent and we are the secret agent of the God within, working unobtrusively and selflessly for the well being of the world (lokasamgraha).
http://metaphysicalmusing.com/gita/krishna5.htm
Surrender all actions to God
Krishna gives Arjuna a method to achieve this state of acting in the hologram without attachment. He tells his dear friend, 'Surrender all actions to me.' In other words, to the God-within (III.30).
If you are worried that it might be impossibly arduous to think of God in every act you do, in every moment of your life, simply remember that God is Everything.  There is nothing that is not God, therefore every action you take in each moment of time is in fact God. The distinction here is that you maintain conscious awareness of what is already true in any case, by surrendering whatever you do to the God-within you, the Self (Atma).
Maintaining your consciousness in this state requires the courage of a warrior.  The Kashmir Shaivite, Abhinavagupta's commentary suggests that our dedication to selfless acts without attachment may be compared to one who is fighting a war.
Only when our consciousness is firmly established in the knowledge that we are not the 'doer' will be we free from the bondage that action performed with attachment creates, and we will no longer lose Remembrance of who we are in the temporal illusory hologram. Then we are Home!
http://metaphysicalmusing.com/gita/krishna5.htm
The TASMAN SEA & New Zealand, the North Island (above) April 28, 2018.  Note the right angle on the vortex off the west coast of the Far North. Why? Where is the transmitter?                                                                                                                https://go.nasa.gov/2HygGxj
Priestcraft
The brilliant scholar KK Nair, whose pen name is Krishna Chaitanya, has this to say about Ramanuja and worshipping deities in 'The Betrayal of Krishna' — he quotes the Bhagavata Purana, III.29.22:
 "Stupid and foolish is the life of the man who worships idols forgetting deity who indwells all things."
KK Nair prefers Ramanuja to Sankara. Ramanuja has 'human warmth in this thinking and ardor in his faith,' as opposed to Sankara's bookish and cold approach; and Ramanuja sees the world as real and does not indulge in the romantic sexual fantasy of the 6th century Alvar poets or the Bhagavata Purana. But in KK Nair's view, Ramanuja does not understand Krishna's message of self-reliance to Arjuna.
This freedom to accept God as partner is misread by Ramanuja, according to KK Nair, and Ramanuja confuses 'the concept of dowered [our God-given share] freedom' with the deity's permission.
Ramanuja from Sri Bhashya II.3.40-41: "… action is not possible without permission on the part of the highest Self. … The Lord, recognizing him who performs good actions as one who obeys his commands, blesses him with piety, riches, worldly pleasures, and final release …"
As Nair says, 'Ramanuja's thought has already begun to adjust to conventional religiosity which expects rewards for virtue and abstains from transgression only due to fear of punishment.'  Of course the argument has always been made that this is the only kind of religion that the so-called common man can understand.  But this is not what Krishna says and it is his subtle and elusive thinking that has made the Bhagavad Gita endure and remain a monument to the dignity and inherent potential greatness of all men – and of course, women! 
http://metaphysicalmusing.com/articles/2015/priestcraft.htm
The Pacific Ocean  (above) / April 28, 2018.  Note the worm-like caterpillar cloud forms. The screenshot image is sepia enhanced.                                                                                 https://go.nasa.gov/2HD8njF
The Bhagavad Gita:  Even the worst can cross over… 
But Ramanuja not only makes deity the direct administrator of 'rewards and punishments' but shows him as 'influencing, really interfering with, the very springs of man's motivation.'
If God only rewards the good, how will those who have missed the boat and committed evil deeds find redemption?  The Krishna of Vyasa, the author of the Bhagavad Gita within the Mahabharata, sees these men as 'self-betrayers' and promises that even that worst criminal of them all can and will eventually cross over all villainy with just the lifeboat of knowledge. (BhG 4.36)
"Vyasa believes in man's ability to defy deity and also gain the insight to align with him."
According to KK Nair, we do have free will.  Perhaps God wants to be recognized and loved in the same way that so many of us dream of finding the perfect love. Is it not logical that our deepest dreams would in some way reflect our Creator?  God cloaks and veils Itself in Forgetfulness, the miasma of amnesia and delusion, as us — for the adventure of finding Itself once again.
But Ramanuja has left us to the whims of a deity who rewards and punishes and worse, needs ritual sacrifices.  Here come the priests! "… ritualism returns in a flood. Sacrifices are claimed to be the means for a steady remembrance and ultimate knowledge of deity; sacrifices performed day after day…" — while Krishna in the Gita is happy with the smallest offering, a leaf or a flower, and is critical of those who sacrifice for reward.
Krishna sees knowledge as the greatest sacrifice and through such knowledge asks Arjuna (BhG 4.36) to "see all creatures without exception within yourself and then within him, as the Creator that dwells in the Heart."
KK Nair: "A great text…is being changed into a primer for pious, conventional religiosity…"
Our rejection of a partnership with the God-within us, has allowed the world to become unbalanced.
The Pacific Ocean (above) / April 28, 2018. The contrast etc. are maxed for clarity. https://go.nasa.gov/2FriYbt
KK Nair also finds fault with Ramanuja's acceptance of the idea that the world is 'sport' and as he says, "No merciful divinity would create a world so full, as our is, of evils of all kind…"
Vyasa's Krishna would say that it is we who have created or allowed the world to become unbalanced. It is our rejection of partnership with the God within our Heart that fills us with fear and greed until we are beginning to reach the limits of earth's capacity and we are consuming the world's resources to the point of our own extinction.
Even Ramanuja himself questions the concept of the world as sport and writes:
"What need is there of sport for a being of infinite bliss?"
Ramanuja also accepted the idea of grace as a kind of 'divine absolutism' and 'even the love for God does not emerge spontaneously in man…deity will decide on granting or withholding grace…and deity seems to demand abject surrender.'  This is not consensual partnership and forgets Krishna's saying that man redeems himself by himself, man is his own sole redeemer, for oneself alone is one's friend or enemy.
South of the Sea of Okhotsk, the Kamchatka Peninsula Russia & east of the Kuril Islands (above) / April 27.  The contrast etc. maxed to reveal the scalar wave parallel line patterns. Who cannot see the skull shape in these cloud forms?                                       https://go.nasa.gov/2FnKW8c
South of the Sea of Okhotsk, the Kamchatka Peninsula Russia & east of the Kuril Islands (above) / April 27.  A detail and close-up of the previous shot. The contrast etc. maxed to reveal the scalar wave parallel line patterns. Who cannot see the skull shape in these cloud forms?                                      
https://go.nasa.gov/2JyqKCR
 The freedom to chose to align our consciousness with God or not
This is our freedom, the freedom to chose to align our consciousness with God or not, and in this context we create our own reality but only to the extent that if effects us, and certainly not the rest of the world. If our reality interfered with and altered the world without its consent, then we would be tyrants and no man would have the possibility of freedom.
"Ramanuja transfers the entire work to deity" by interpreting the verse where Krishna tells Arjuna to abandon all works and come to him (Bh.G. XVIII.66) as meaning the abandonment of all action.  But KC/KK Nair explains that there is a difference between the abandonment of action, and Tyaga which is 'the surrender of personal advantages from action, and even the expectation of the sure fruition of action as basis of motivation.'  In fact Krishna tells Arjuna that to renounce any action that should be done because it is painful or difficult is not right and is Tamasic delusional (Bh.G.XVIII 7-9).
KC/KK Nair sums up his idea of the true meaning of the Gita thus: "…the best way…is for us to identify with and serve the many who are being crucified in myriad ways in today's world that has gone homicidally, omnicidally mad.  Only prayer that is work too, only surrender that involves, not transfer of burden, but the acceptance of even greater burdens, can redeem us."
ANTARCTICA, the AMUNDSEN SEA (above) / April 27, 2018.  The contrast etc. is maxed. Note the progression in size.                                                                                   https://go.nasa.gov/2JxKlmD
ANTARCTICA, the AMUNDSEN SEA (above) / April 27, 2018.  The contrast etc. is maxed. Note the progression in size and worm-like 'spiral-coils' helical resonator forms. https://go.nasa.gov/2Fne53e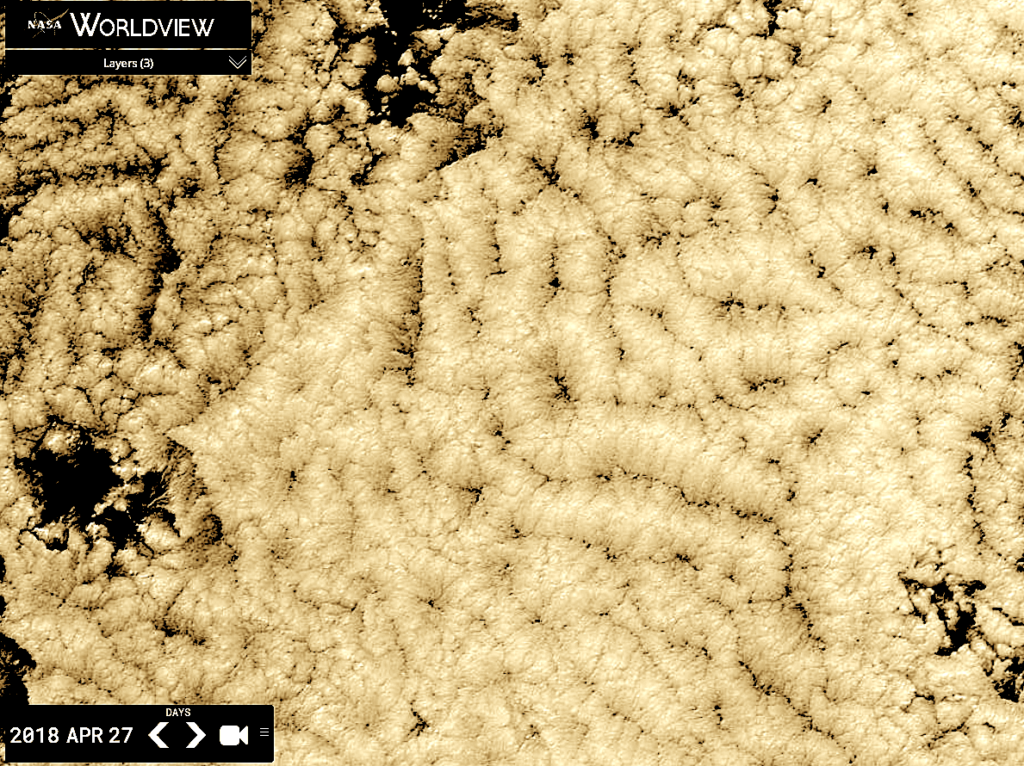 ANTARCTICA, the AMUNDSEN SEA (above) / April 27, 2018.  The contrast etc. is maxed.  Note the progression in size and worm-like 'spiral-coils' helical resonator forms. Sepia enhanced. Detail of previous above image.
https://go.nasa.gov/2Hxhmmx