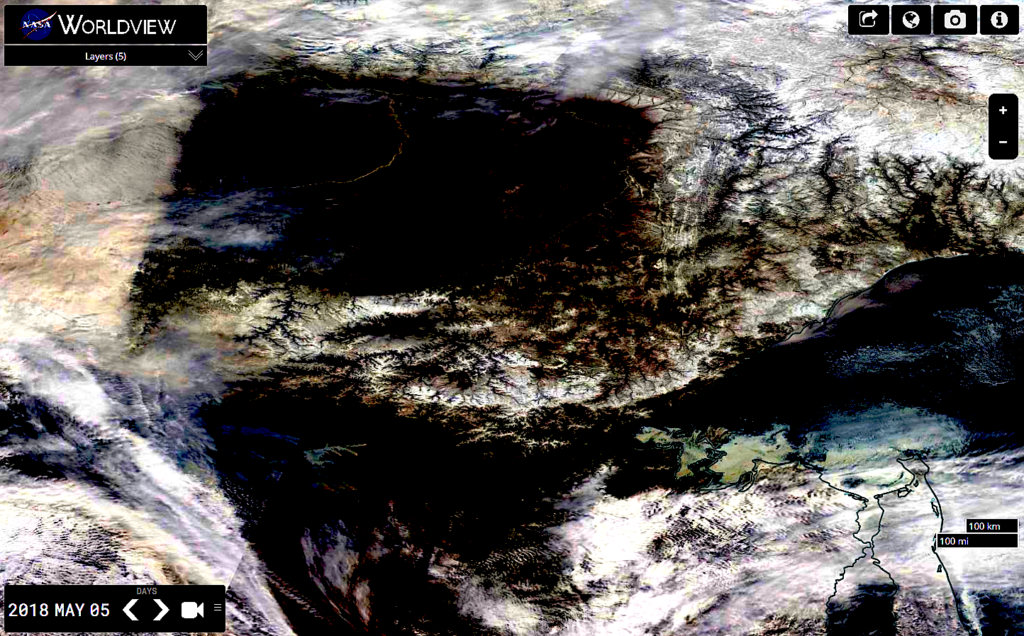 A "right-angle" intentional meltdown pattern over north-eastern Russia (above) / May 5, 2018. The contrast etc. are maxed to reveal the unnatural geometry more clearly.    https://go.nasa.gov/2JYqy0b
A "right-angle" meltdown pattern over north-eastern Russia (above) / May 5, 2018. https://go.nasa.gov/2JWKwbu
Bhagavad Gita VIII.14
He who constantly thinks of Me [the One God that pervades & permeates All],
Whose mind does not go elsewhere, ever —
For that yogin [who is in Union with God Consciousness], constantly devoted,
I am easy to reach, Arjuna.
VIII.15
Those approaching Me, coming near [who are devoted and in Union with God Consciousness],
Who have gone to the Supreme accomplishment, the Supreme Perfection [samsiddhim paramam],
Those great souls do not incur rebirth again,
That impermanent abode [death & birth] of misfortune, misery, and unhappiness.
ET Invasion, Geoengineering planet Earth & the sacred Sanskrit Wisdom

VSF:  I am well aware that my readers are at different stages of their own evolving ever-expanding Wisdom-Knowledge that is bringing each one Home to their own innate God-Consciousness.  Certainly the spectrum of insight – from the ET Invasion to Geoengineering planet Earth to the sacred Sanskrit texts – I offer here is not for everyone.  How well I know!   I realize that I am speaking to a group that I term the Emissaries.  I continue to follow this wider view for even one of my friends who is still in the process of their awakening and just requires a little more in the frequency waveform of Remembrance.
I do not encourage any of you to wallow in the 'darkside' of these matters.  I feel that the dark mechanics of occultism can easily contaminate our purity.  This does not mean that you should remain unaware of what is occurring — awareness is part of our job here, and to bring it to others. 
However, I know there are many who claim to be 'targeted' by the demonic, the CIA, MK-Ultra, whatever you want to call these secret sources of evil technologies that can all be traced back to the Draco Reptilians and the Zeta Reticuli Grey races as they continue to implement their Invasion Agenda.
When we indulge in and immerse our consciousness in these demonic frequencies, we become an attracting antenna for them, which of course makes it easier for them to 'target' individuals.  When your consciousness is vibrating and resonating in the same frequency as these demonic frequencies, they can easily enter into your auric field. The simple way to understand this is: "Lie down with dogs, get up with fleas."
The cure for this is to reimmerse your consciousness in the sacred Sanskrit texts, The Bhagavad Gita and Shiva Sutras.  Both are available for free on my primary website.
This being said, I will continue to inform you — hopefully without dragging you down into lower frequencies — to the best of my ability, what I am learning.  I will continue to post the NASA Worldview images that clearly show some kind of technology is being implemented around the entire planet to change Earth's atmosphere, to ionize, metalize, and weaponize the atmosphere.
This is a criminal act that is inundating saturating our bodies, the soil our food grows in, and the waters, rivers and oceans — with toxic metals, aluminum, barium, lithium, strontium, and others.  These metals are damaging our immune system, making us ill with respiratory diseases, autism and dementia, destroying the natural food supply and killing trees, birds & bees worldwide.
North Atlantic Ocean, off Portugal & Spain (above) / May 4, 2018. Note the worm-like shapes indicating massive scalar wave transmissions. Sepia enhanced.         https://go.nasa.gov/2HQ28sP
VSF:  The Draco Reptilian and Zeta Reticuli Agenda is being carried out by the Draco incarnates and the Zeta Hybrids who appear to be human, but are not in fact part of the Human Angelic Soul Group.  I have explained this previously in many posts based on the work of E.M. Nicolay.  Please, I encourage you to read his books. Nicolay is grounded in traditional primordial metaphysics — unlike so many 'channels' and remote viewers who have a confused and confusing limited knowledge.
"The natural order is about Life, the [demonic] Archon system is about destroying life, the Natural world. Their world is one of Death.  A death cult.  It wants pollution and environmental destruction. They are psychopaths who have no empathy and feel no consequence for what they are doing. They are parasites — like banking.
"Our world leaders are pathological liars and will do anything for power.  The demonic Archons induce virtual reality and control our perceptions by creating illusions.  They are programming an inversion of our natural perceptions. Their intention is to separate us from the Ocean [of the One, God Consciousness, our Source] and lock us within this tiny set of frequencies which we then perceive as all there is to see — and then they have us imprisoned.    [David Icke]

The Draco Reptilian and Zeta Reticuli Agenda is being implemented by incarnates and hybrids that are secretly or openly a part of the Zionist NeoConservative globalist agenda. This is real and has been a plan in the making for centuries.  They are the source of the worldwide geoengineering that is making our planet toxic to humans.
They intend to destroy the sovereign United States of America and make Jerusalem the new center of the world. What follows is partial evidence.

VSF:  In America as you may know, we have the Sicilian/Italian Mafia and the Jewish Mafia — and all the various factions that have developed from the wars for territory (Chicago/New Jersey/New York/Vegas, etc.) between them, the power-crazed ruthless blood-stained hands that are 'family'.  I lived in NYC for over 25 years and watched bodies being pulled out of the Hudson River.  Trump's family connection with the New Jersey Mafia was street knowledge in NYC.  Everyone knew 'the Donald' got his money from the Mafia through his father.  In the 1990s, Trump was bailed out of his massive real estate bankruptcy by Rothschild Inc.
https://www.youtube.com/watch?v=d47oH8PS_QY
If this is true, that Trump is "indebted" to the tentacles of Rothschild Zionist banking, then Trump is owned and their pawn forevermore.  This got me wondering about Trump's daughter's husband, Jared Kushner's alleged connection with Zionism.  Here's a compilation (without links) of what I found.
HAARETZ:  Reports Uncover Jared Kushner's Business Ties With One of Israel's Richest Families
The ties between the Kushners and Raz Steinmetz reportedly include high-stake real estate deals in Manhattan worth more than $150 million / Amir Tibon / Apr 27, 2017
Two leading U.S. news outlets reported on Wednesday on business ties totaling tens of millions of dollars between the family of Jared Kushner, President Trump's son-in-law and senior adviser, and the Steinmetz family, one of the richest families in Israel which made most of its fortune in the diamond industry in recent decades.  According to reports published in Bloomberg and in the New York Times, the ties between the two families include high-stake real estate deals in Manhattan worth more than $150 million.
Bloomberg says at least 15 different buildings in downtown Manhattan are co-owned by Raz Steinmetz, nephew of diamond dealer Beny Steinmetz, and by Kushner family's Kushner Companies. The two also invested together in a project bearing President Trump's name in New Jersey, according to the report.
mondoweiss:  Kushner was 25 when he bought the New York Observer from investment banker/artist Arthur Carter in 2006 … 2007 Peter Kaplan closed his office door and said he was a Zionist, Kushner was a Zionist, Kempner was a Zionist, and the janitor was a Zionist, too. … My interactions with Jared were limited, but they don't give me hope about his ability to achieve peace in the Middle East. He lived in a deeply-Zionist-patriarchal mental space then; I never saw him take a step out of it. …  

Business Insider:  Jared Kushner received a top New York media company as a $10 million 'graduation present' / Veronika Bondarenko / Jun. 1, 2017
Senior White House adviser Jared Kushner purchased the New York Observer, a landmark media property, for $10 million in cash in 2006 as part of a "graduation present" from his father, Charles Kushner … who had been convicted of tax evasion, was released from prison in 2006.  …
The paper was one of the first to officially endorse Donald Trump in the Republican primary that year.  After Trump was elected, Kushner's lawyers told CNN he would transfer ownership of the Observer to a family trust.    The money to help purchase the Observer was not the first time Charles gave money that could most likely help his son. Time reported that in 1998, he gave $2.5 million to Harvard, where Jared had applied and was eventually accepted.   … his grades and test scores most likely would have not otherwise gained him admission.
NEWSWEEK:  Jared Kushner failed to disclose his role as a co-director of the Charles and Seryl Kushner Foundation from 2006 to 2015, a time when the group funded an Israeli settlement considered to be illegal under international law, on financial records he filed with the Office of Government Ethics earlier this year.  … The failure to disclose his role in the foundation—at a time when he was being tasked with serving as the president's Middle East peace envoy—follows a pattern of egregious omissions that would bar any other official from continuing to serve in the West Wing, experts and officials told Newsweek.
The first son-in-law has repeatedly amended his financial records since his initial filing in March, along with three separate revisions to his security clearance application. Despite correcting his financial history on multiple occasions, he has yet to include his role as co-director to the family foundation.
TIMES of ISRAEL:  Ten days before the official opening of the new US embassy in Jerusalem, Israeli officials still do not know if US President Donald Trump will attend.  … The ceremony will be attended by 1,000 dignitaries, 250 of them American. Treasury Secretary Steven Mnuchin is set to lead the US delegation, which will include 40 members of Congress and Trump's son-in-law Jared Kushner and daughter Ivanka Trump.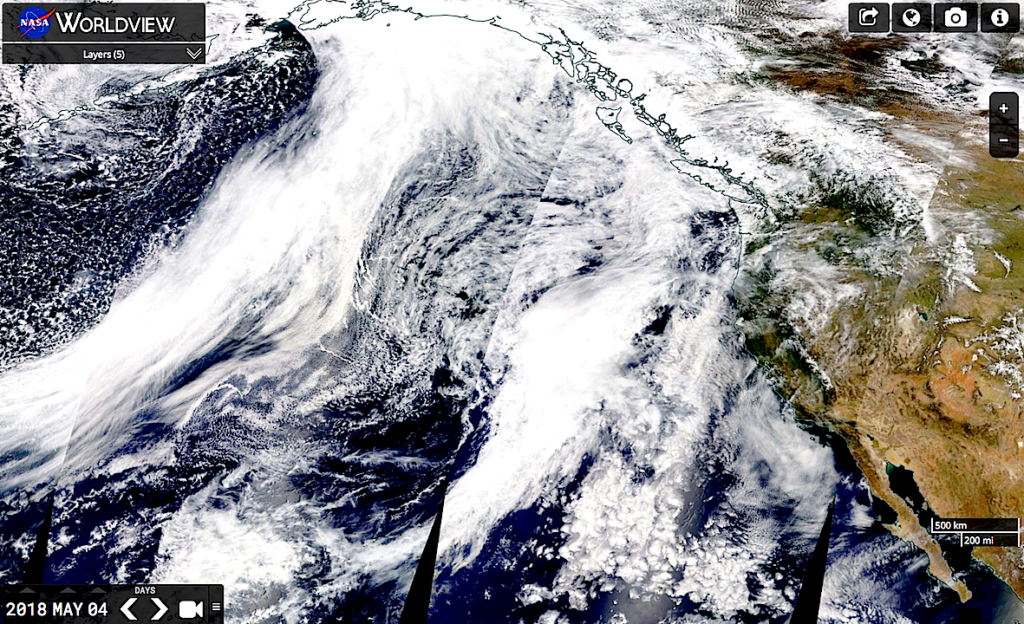 Pacific Ocean & west coast of North America (above) / May 4, 2018.  Details in the two screenshot images below.                                                                                         https://go.nasa.gov/2FL7tMm
Pacific Ocean & west coast of North America (above) / May 4, 2018.  Detail from the previous screenshot image.  I have made contrast and various adjustments.  Note the upper left corner which I show in detail below.
https://go.nasa.gov/2HPwYlr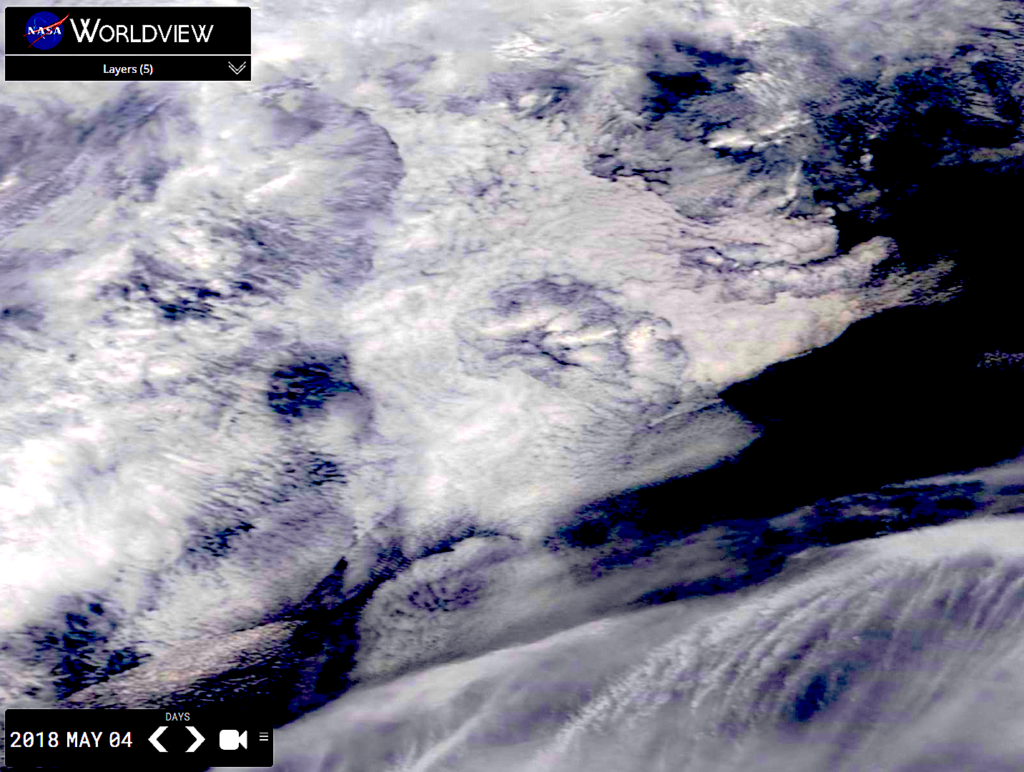 Pacific Ocean & west coast of North America (above) / May 4, 2018.  Detail from the previous screenshot image.  I have made contrast and various adjustments. Note the very 'metallic' appearance of these cloud forms. Bismuth?
https://go.nasa.gov/2HSNH7i
Artificial Intelligence AI, Archons, Reptilians and the Greys / David Icke: Like the film the Matrix, where the machines are feeding off natural energy. War and fear are essential to the survival of the Archons that need hate for its sustenance.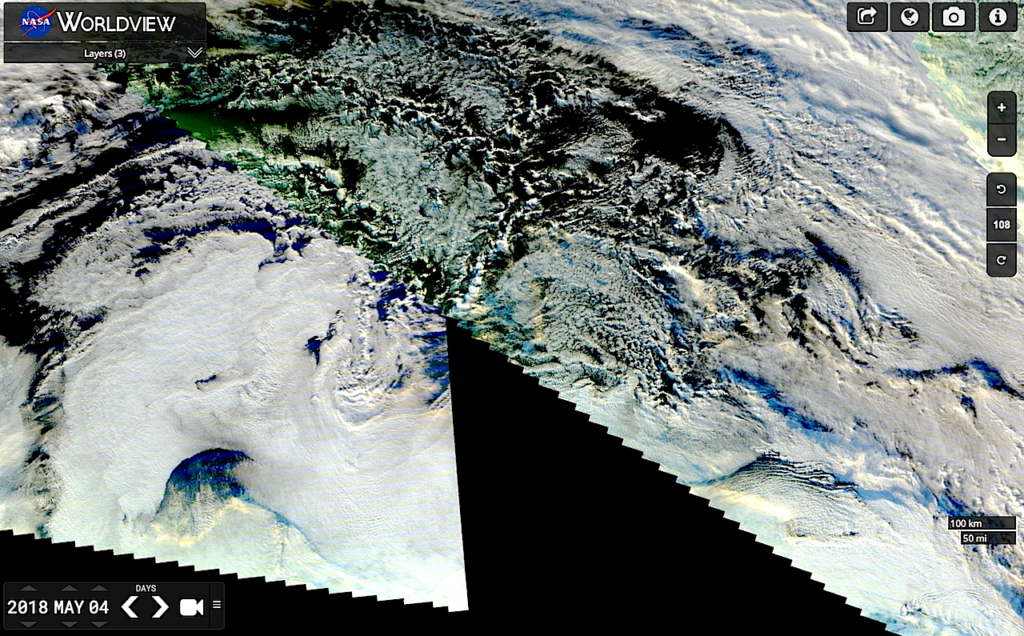 ANTARCTICA, the AMUNDSEN SEA area (above) / May 4, 2018.  The blue area on lower left shows that this region is still in meltdown even though they are moving into their winter months.                                                                                                                         https://go.nasa.gov/2FN3b6W
ANTARCTICA, the AMUNDSEN SEA area (above) / May 4, 2018.  The blue area on lower left shows that this region is still in meltdown even though they are moving into their winter months.  No enhancement.
https://go.nasa.gov/2FN3b6W
The Bering STRAIT near the ARCTIC SEA and Alaska (above) / May 4, 2018. Note the  (lavender) 'spiral-coil' shaped clouds that indicate scalar wave transmitted energies. The contrast etc. are maxed for clarity.
https://go.nasa.gov/2HPe2mU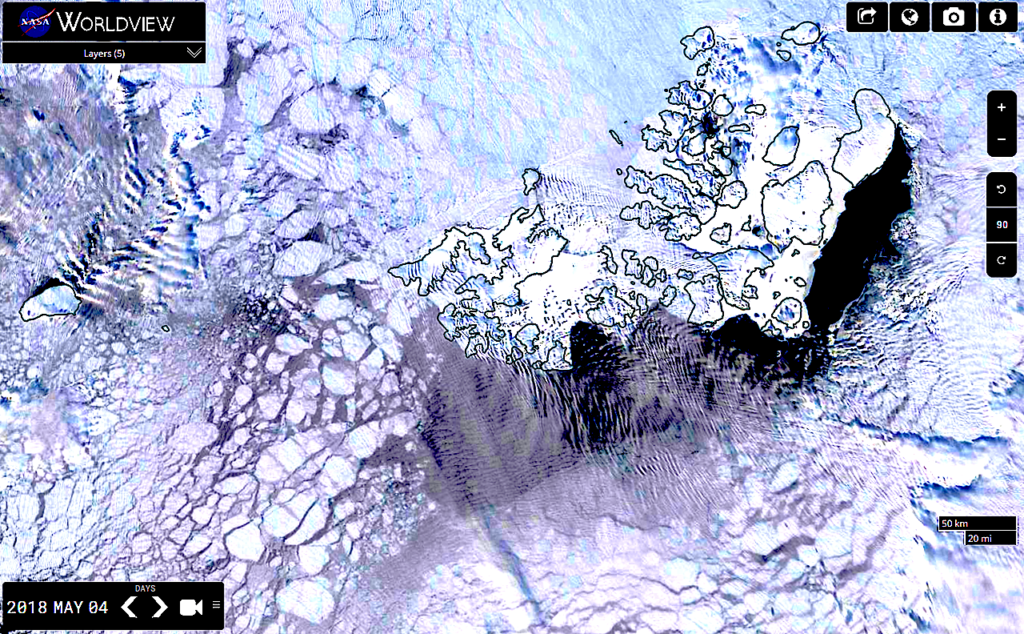 The BARENTS SEA area (above) May 4, 2018.  Note the radiation coming off island group northwest of Novaya Zemlya Russia. The contrast etc. is maxed for clarity.   https://go.nasa.gov/2HPbvsU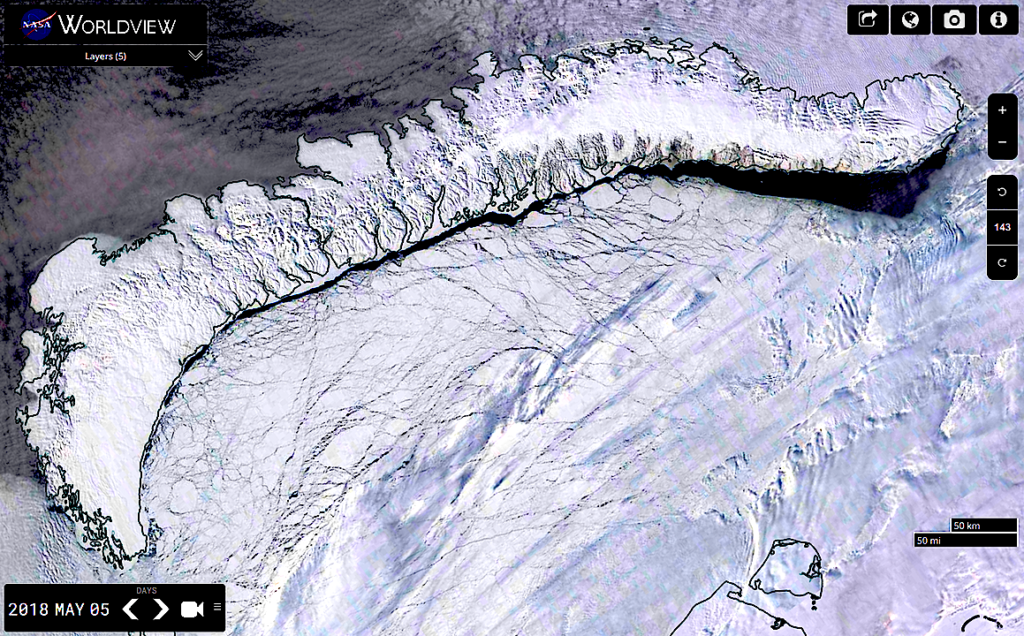 Novaya Zemlya Russia in The BARENTS & KARA SEA area (above) May 5, 2018.  Note the cracking ice and melting near this island.  The contrast etc. are again maxed.  https://go.nasa.gov/2HRtOhg