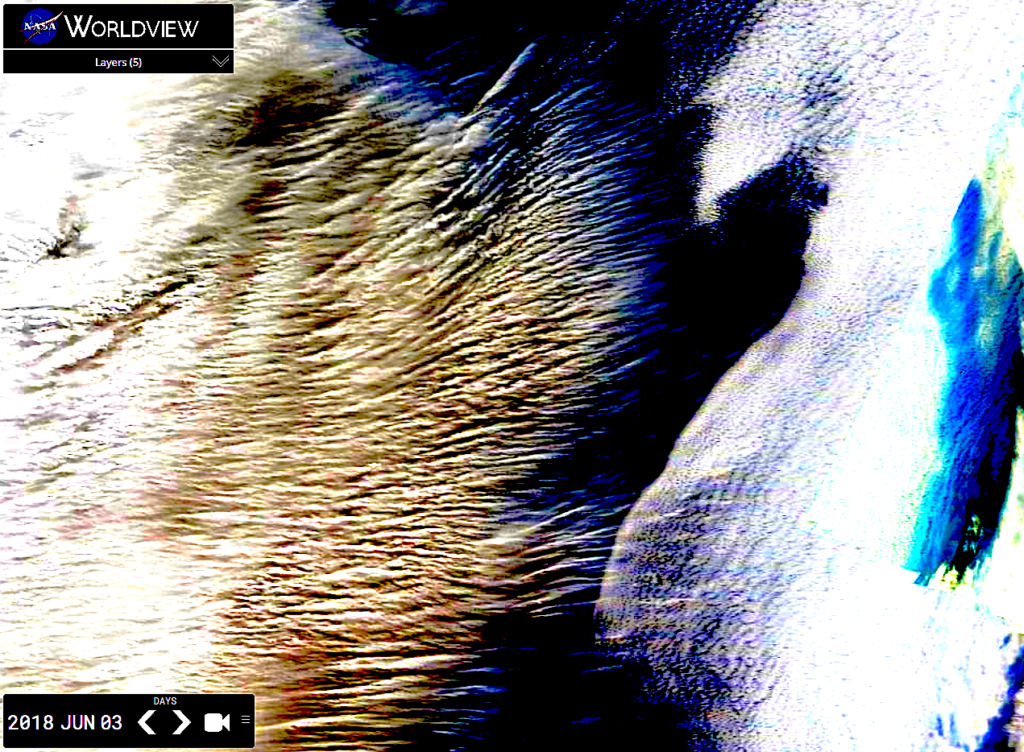 Kerguelen Islands & Antarctic Lands in the South Indian Ocean (above) / June 3, 2018.  There is an 'explosive' quality to these cloud forms, which are unique and yet similar to the 'erect tufts' (I invent all these names) which I often locate in the Antarctic area. The location above is south of Madagascar and above Antarctica. The contrast, saturation, etc. are maxed to show the clarity of form.                                                                               https://go.nasa.gov/2HhNPYU
Bhagavad Gita VI.30
He who sees Me [the One eternal God] everywhere, and sees all things in Me, I am not lost to him, and he is not lost to Me.
VSF:   The following quotations regarding weapons that use time-reversed TR electromagnetic waves are excerpts from a 1988 book, 'The Excalibur Briefing' by Lieutenant Colonel Tom Bearden. While I am convinced that Bearden as a retired army colonel was writing to gather public support, acceptance and funding for Reagan's Star Wars program, and that his information on scalar physics is incomplete and outdated, still there are basic hints here that can help us understand the technology being utilized in geoengineering the planet.  There is also an enormous amount of information here that is not only unprovable speculation, and may be considered as contrived propaganda.
I am equally certain that even though this is likely an accurate basis of the HAARP and Russian Woodpecker technology, from my own NASA Worldview screenshots, what Bearden is saying here in 1988 would have been outdated long ago.  God knows what these monsters are doing now.
From my NASA Worldview screenshots, I sense a great deal of 'experimentation' – and seriously I do not believe that these earthling technicians know or realize what they are doing. Do they have any real idea of the un-knowable consequences, the damage their 'experiments' are doing to the atmosphere, the ionosphere, and the magnetosphere.  The magnetosphere is all that stands between us and oblivion!  These fools who were so greedy for ET technology and so driven by mutually-assured-destruction MAD war-games are inviting their own catastrophic annihilation … and ours.
What kind of consciousness are they holding.  Surely this vein of thinking can only be described as demonic!  Reading all of this article by Bearden made me feel sick.  How can people think such thoughts.  Our military has truly become insane, disconnected from Truth, from Dharma, and God our Creator.  Obsessed with massively destructive technologies, they are racing into precisely the dead-end strategies the Draco Reptilian and Zeta Reticuli Grey races have intended for us, the Human Angelic Soul Group.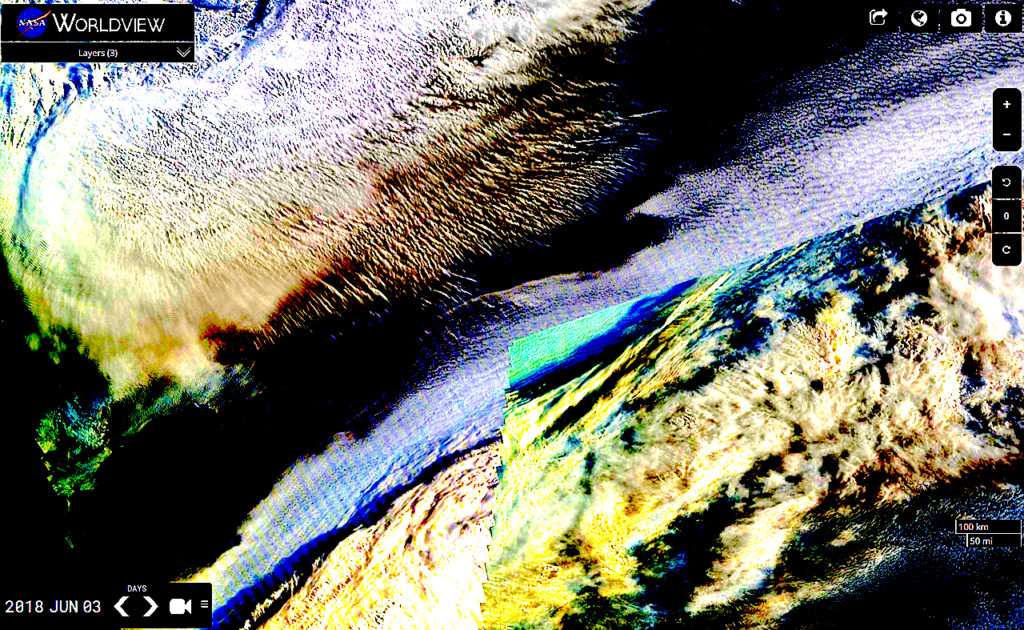 Kerguelen Islands & Antarctic Lands in the South Indian Ocean (above) / June 3, 2018.  There is an 'explosive' quality to these cloud forms, which are unique and yet similar to the 'erect tufts' (I invent all these names) which I often locate in the Antarctic area. The location above is south of Madagascar and above Antarctica. The contrast, saturation, etc. are maxed to show the clarity of form.  This is the same area as the first image posted above, but from the "Antarctic view" section. I feel the colors help to show the intensity of the scalar wave energy.                                                                                            https://go.nasa.gov/2LUT5oQ
The Tom Bearden Website
http://www.cheniere.org/books/excalibur/index.html
http://www.cheniere.org/books/excalibur/part4.htm
WEAPONS THAT USE TIME-REVERSED 
ELECTROMAGNETIC WAVES
The theory of RAM technology is precisely what is needed to develop and design phase conjugate mirrors for radar frequency bands.  Phase conjugate mirrors are capable of producing a time-reversed (TR) wave in direct response to a received ordinary wave.  The mirror may be powerfully "pumped" with energy to produce a very large amplification of the time-reversed wave.
We particularly stress that the time-reversed TR wave phenomenon is a universal phenomenon of nature, not just a fluke, and not just a "nonlinear optics" phenomenon.  It is a solution to the wave equation and, as such, it applies to every kind of wave.  Electromagnetic, sound, magnetohydrodynamic, and other radiating systems all exhibit the phenomenon under appropriate nonlinear conditions.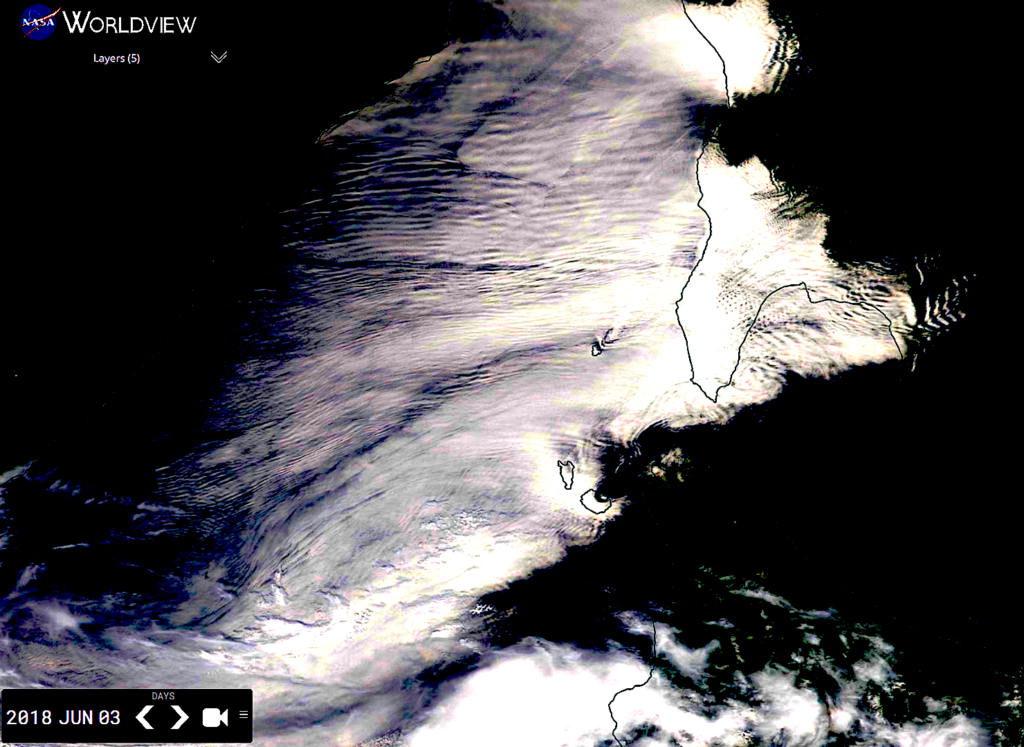 Sea of Okhotsk and Sakhalin Island, Russia (above) / June 3, 2018.  The contrast etc. is maxed to reveal the chevron-like shaped radiation on the far right.  I think the sea here is called TATARSKIY proliv (on google earth map). Note the slender parallel lines that are typically characteristic (to my knowledge) of Russian scalar wave technology. They do appear to be ahead of the west, more subtle in their applications.  The contrast etc. are maxed to reveal the radiation.                                                                                  https://go.nasa.gov/2LU8HZS
Hundreds of Western papers dealing with TR time-reversed waves are now in the open scientific literature-most of them dealing with non-linear optics.  However, the principles of the time-reversed wave are well-established, and known to apply to waves in general. 
    Compared to a normal wave, a time-reversed wave has startlingly different weapon capabilities.
Such a wave precisely retraces the path of the ordinary wave that stimulated it to be formed.   So it possesses an "invisible wire" through space, back to the original position of whatever emitted its stimulus wave. 
    Further, the time-reversed wave continually converges upon its invisible "back- tracking" path.  It does not diverge and spread its energy, in contradistinction to normal waves.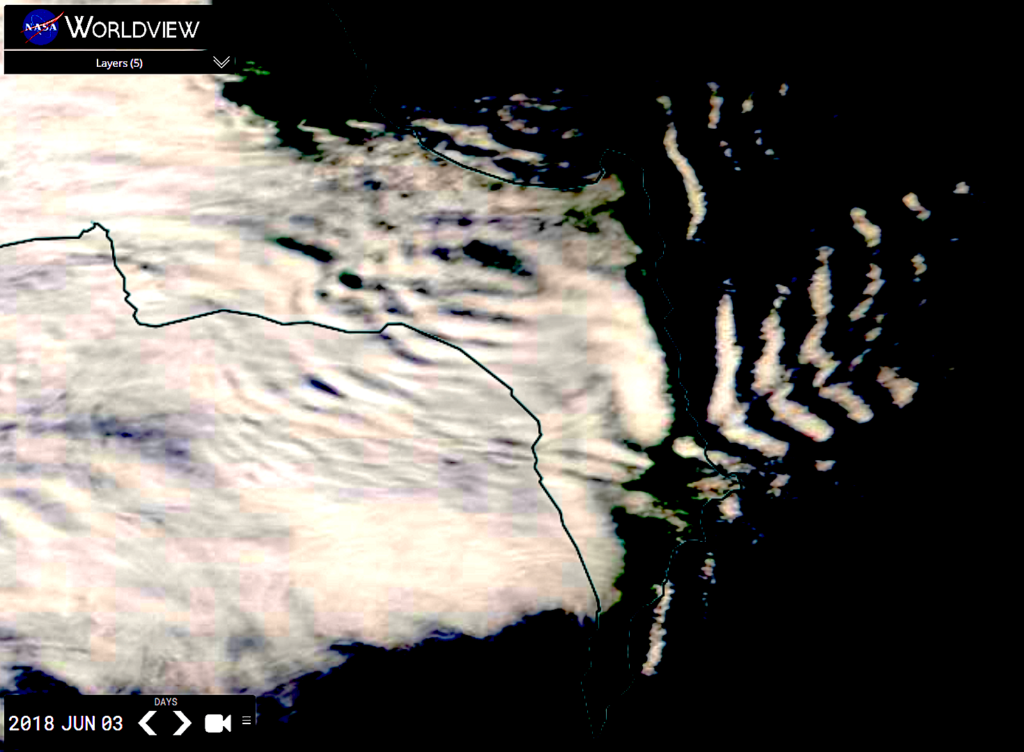 Sea of Okhotsk, Russia: The bottom tip of Sakhalin Island on the east coast (above) / June 3, 2018.  The contrast etc. is maxed to reveal the chevron-like shaped radiation. https://go.nasa.gov/2LYqZJt
Using several simple schemes (particularly pumped 4-wave mixing), extremely large amplification of the time-reversed (TR) wave can be cheaply and readily accomplished. 
A startling weapons capability therefore emerges when amplified TR waves are generated in response to received signals from a distant target:
(1) If any signal at all can be received from a distant target, a return TR signal of extreme power can be delivered directly to that target.  Almost all of the transmitted TR signal energy will arrive at and in the distant target, even through a highly nonlinear medium or under scattering conditions.  Hardly any of the energy will be lost enroute.  If the target is fast-moving, a "lead correction" signal can be calculated and added to steer the return path.
East of Hokkaido, the Japanese Kuril Islands, Shikotan, Kunashiri, Iturup, etc. (above) / June 3, 2018.  Note the slender subtle parallel lines, which are characteristic of Russian scalar wave technology, coming off these islands. I used a very slight contrast adjustment. https://go.nasa.gov/2LYMv0y
(2) Since real-time holography can readily be accomplished using TR waves – and without first making holograms, geometrical forms (balls, shapes, hemispherical shells, etc) of energy can be created readily by interferometry (crossed beam techniques). 
Since the TR wave carriers do not disperse with distance, these interference energy forms can be assembled by crossed TR wave beams at great distances-even hundreds of thousands of miles.  The energy appearing in such a distantly created energy form is limited only by the amount one cares to put in at the amplified transmitting end.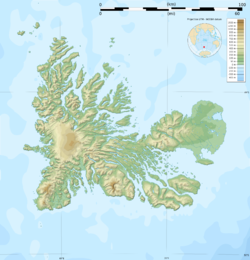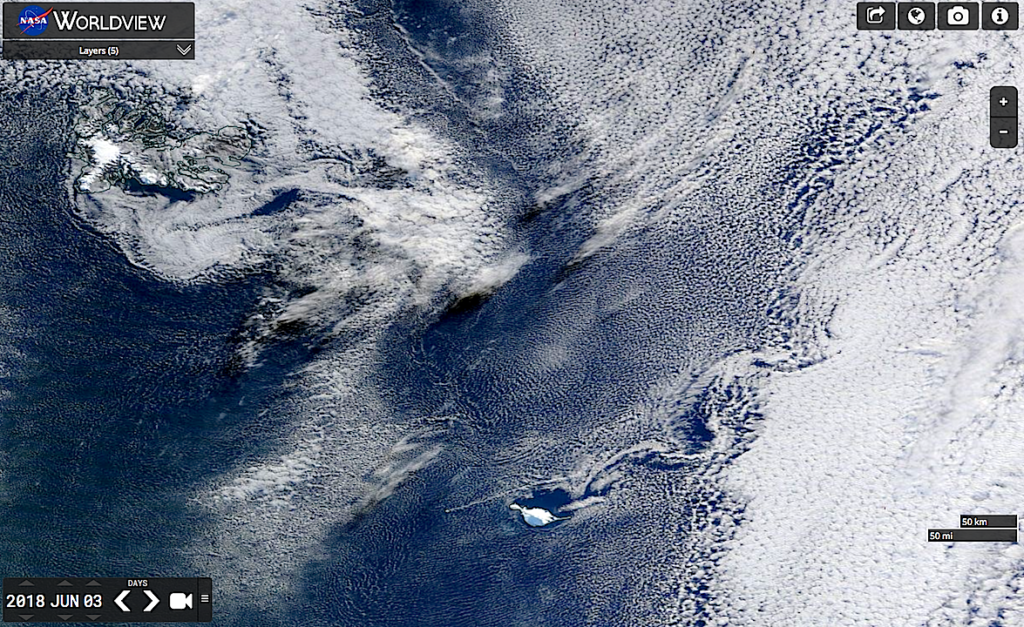 Kerguelen Islands on upper left and Heard Island & McDonald island in middle-bottom of image with clef-spirals (above) / June 3, 2018.  This screenshot is not enhanced. Over the year, this has typically been a very 'active' area, lots of radiation.                         https://go.nasa.gov/2xEsauq
Thus the radar itself now becomes a powerful, all-around weapon.  With a TR wave adjunct, once the radar receives a return signal from a target, an extremely powerful TR wave pulse can be generated, and all the energy in that pulse can be unerringly returned to the distant target from which the return was received. 
    
Even a passive (receive only) radar may be used together with a TR wave adjunct to accomplish the same directed energy destruction of the distant target emitting the signals received by the radar.
The Pacific Ocean off Southern California and Baja CA (above) / June 3, 2018. Sepia enhanced to reveal clarity in the detail.  Are there little bits of metals in the worm-like caterpillar forms?   These cloud forms bear no resemblance whatsoever to the clouds we see in art history, for example Raphael, Tintoretto, Claude Lorraine, and Constable. Are we to believe these heinous obscene creations have really always been in our skies?         https://go.nasa.gov/2LXjdj8
Radio receiver-transmitters may also employ simple TR wave adjuncts to provide a large number of communications jammers and "directed energy weapons," capable of jamming and/or destroying enemy radio transmitters at appreciable distances.
… TR [time-reversed] wave radar weapons also provide a convenient mechanism for accomplishing nuclear weapon kill.  A target struck by a powerful TR wave pulse generates a time-reversed back-pulse due to nonlinearities in the target medium.  In the nonlinear medium of the exploding or fuzing target, the two pulses (which are 180 degrees out of phase with each other) modulate each other, locking together into a scalar EM wave or pulse.  This scalar EM pulse has zero electromagnetic force field resultants, but is a violent fluctuation of the energy density of local spacetime.
Rigorously it is a local gravitational pulse wave, by definition.  Further, it is far more powerful than "normal" gravitational waves.  This scalar EM pulse does not react with the orbital electron shells of an atom, but passes directly into the nucleus and is absorbed there.  This raises the nucleus to an excited state, increasing its potential (trapped energy).  If the nucleus cannot withstand this increase in potential energy, it directly fissions.  If the nucleus withstands the increased potential, it then immediately decays from the excited state by simply emitting a time-reversed EM wave.
North America: The Gulf of St. Lawrence, Nova Scotia, Cape Breton Island, Island of Newfoundland (above) / June 3, 2018.  Note the parallel lines indicating scalar wave transmitted radiation.  The contrast etc. is slightly enhanced.                         https://go.nasa.gov/2LSwXLT
Any radioactive nucleus is already "teeter-tottering" toward nuclear decay, so to speak, and it will instantly decay radioactively when struck by a significant scalar potential pulse.  Thus a TR wave radar weapon can deliver a powerful TR pulse against a distant vehicle carrying a nuclear warhead, and the resultant EG pulse penetrating the nuclear material of the warhead will electrogravitationally explode it in a full-order nuclear detonation. 
   
Therefore, when using such weapons, extreme care must be taken to avoid inadvertently pulsing one's own nearby nuclear weapons or nuclear material.  In attacking distant ground targets, one must be careful not to detonate nearby nuclear weapons, nuclear powerplants, or stored nuclear material-even at some distance from the target.  Otherwise, large-scale nuclear fallout will be experienced over a worldwide area, and unacceptable "boomerang" self-damage to the attacker himself may be incurred.  The more powerful the TR pulse employed, the greater the safety separation between the struck target and stored nuclear materiel must be to prevent unacceptable "boomerang" large-scale fallout.
[VSF:  You see how insanely dangerous this scalar TR time-reversed weaponry is???  These people are deranged beyond comprehension, possessed by the demonic!]
North America: Cape Cod Bay (above) / June 3, 2018. Note the right-angle clouds which are completely un-natural in Nature. We only see 'square' cloud forms where there is interferometry transmitter energy. The contrast & saturation have been adjusted. https://go.nasa.gov/2HisnTL
Also, large TR wave interferometer weapons, such as the Woodpecker systems, usually first produce very powerful, scalar EM "standing wave" beams by continuously transmitting (in the beam) both a normal EM wave and its phase conjugate, modulated (locked) together to produce a "zero EM vector resultant" electrogravitational (EG) wave.  Interference of two of these scalar EM beams in the targeted area, plus internal scanning within the beam by other signals, allows EM effects – of either normal EM energy or time-reversed EM energy – to be produced and controlled at very precise locations within the broad interference area. 
    Each such huge "scalar EM standing wave" beam represents a gigantic electrogravitational standing wave, and hence a giant oscillating potential in spacetime.
This standing wave represents a sort of gigantic "capacitor", or accumulator of infolded energy.  Enormous energy may be collected in this potential, charged-up over a period of time.  "Shortout" of this giant capacitor – by transmitter failure – can result in a large flash-over discharge of the EG energy into the local earth, producing a massive EG ground wave that can be enormously destructive. 
    Thus one must carefully protect the TR wave weapon system from inadvertent discharge of large EG pulses into the earth at the local site, due to transmitter failure, shortouts, etc.  Otherwise one's own nuclear weapons or facilities may be exploded – even at some distance – by the EG pulse ground wave produced.  One's communications and electronics installations, for example, can be knocked out at an even greater distance.
Alien Invasion & The Planetary 'Reset' in the 26th century: At that time a majority of Beings existing on Third Dimensional Earth will no longer be Human Angelic in origin. / The End Of Humanity: The ruling oligarchs are planning to radically change how the human race functions.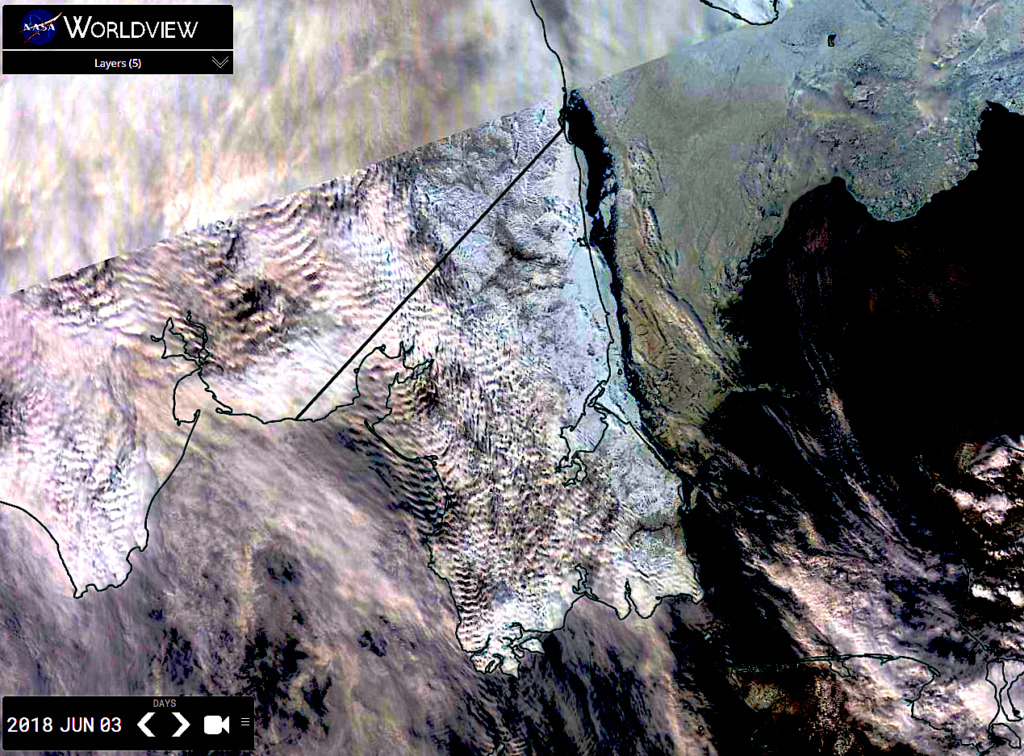 Russian mainland (above): CHUKOTA Autonomous OKRUG (left) and the CHUKCHI SEA (on the upper-right) / June 3, 2018. Note the evidence of massive scalar wave radiation over the Russian territory. The contrast etc. are again maxed to show the radiation lines more clearly. Alaska is on the right-bottom area.                                         https://go.nasa.gov/2LWnseT
… in April 1986, the explosive eruption of a reactor at Chernobyl was almost certainly caused by an accidental catastrophic failure of a large TR Woodpecker transmitter about 30 kilometers away.  The sudden failure of the East-to-West Woodpecker transmitter was positively detected by engineer Bill Bise.  All safety circuits at the site would have been instantly activated, desperately and slowly draining off the huge "standing wave" potential built up by the weapon.
The Soviets would have immediately shut down the reactors at Chernobyl as a precaution. 
   Some hours later, the transmitter safety devices finally failed, and a much smaller, though still significant, remnant EG pulse was discharged into the earth, spreading out in a ground wave.  The first radioactive material – the fuel rods in one of the hapless, shutdown Chernobyl reactors – encountered by the EG ground wave pulse received it and immediately erupted radioactively. 
     Had the full EG pulse escaped the stricken transmitter, all four reactors at Chernobyl would have violently exploded, and deadly nuclear fallout would have rained down over a wide area of the earth.  Had the reactors not been shut down and the control rods inserted "full-in" to dampen the radioactivity, a far greater radioactive eruption – probably a nuclear explosion – of the struck reactor would have occurred.
The ARCTIC: Novaya Zemlya, Franz Josef Land, Russia and the Kara Sea (above) / June 3, 2018. The contrast, saturation, etc. are maxed to reveal the shapes of the melting ice. I sincerely believe that Russia is intentionally melting the Arctic with this scalar wave 'weaponry' technology to facilitate transporting their oil & gas products to China. https://go.nasa.gov/2LTD7eK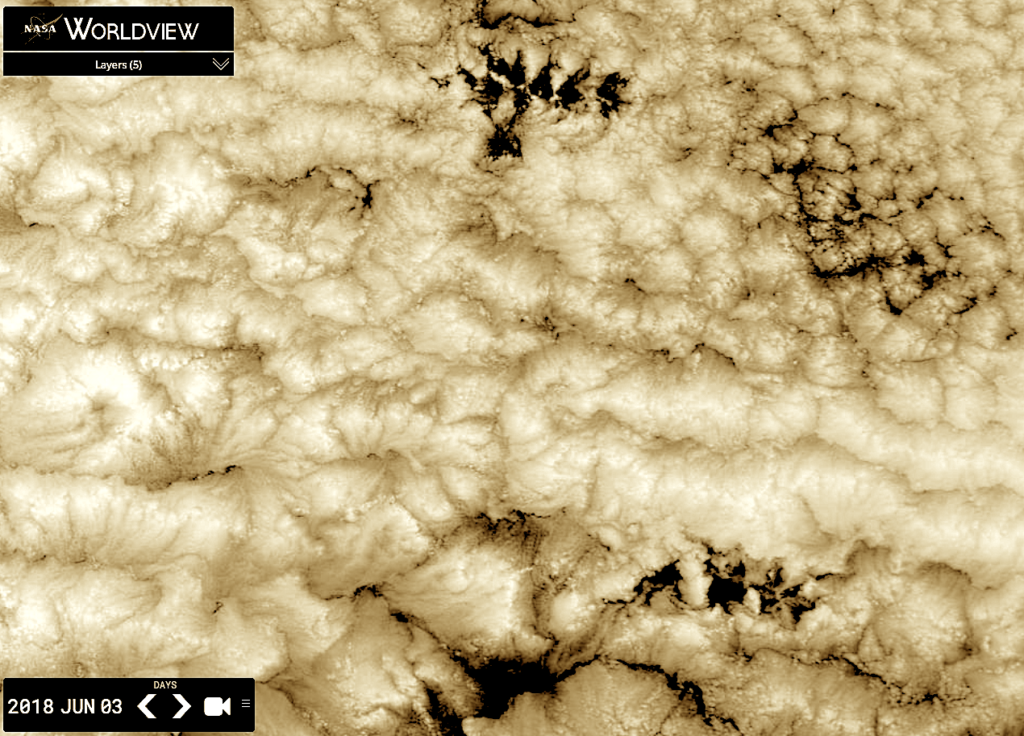 The Pacific Ocean off Southern California and Baja CA (above) / June 3, 2018. Sepia enhanced to reveal clarity in the detail.  Are there little bits of metals in the worm-like caterpillar forms?   These cloud forms bear no resemblance whatsoever to the clouds we see in art history, for example Raphael, Tintoretto, Claude Lorraine, and Constable. Are we to believe these heinous obscene creations have really always been in our skies?        https://go.nasa.gov/2xCvXIE
Thanks to Marie!