The ARCTIC: Novaya Zemlya Island, Russian Arctic (above) / Aug.23, 2018. Note the long parallel lines evidence of scalar wave frequency manipulation.   https://go.nasa.gov/2o5oHNS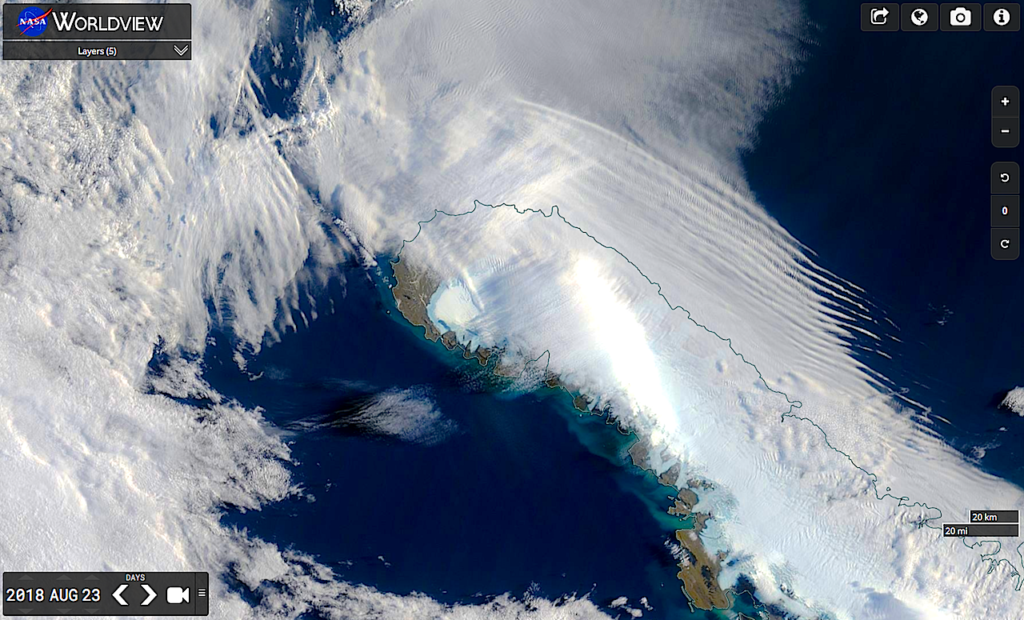 The ARCTIC: Novaya Zemlya Island, Russian Arctic (above) / Aug.23, 2018. Note the long parallel lines evidence of scalar wave frequency manipulation.                         https://go.nasa.gov/2BFR1jz
"There is no reason for any state to have a nuclear-powered missile"
Russia's missing reactor-powered cruise missile in the Barents Sea obviously causes concerns, says Norway's Environment Minister, Ola Elvestuen.
August 23, 2018
«We have to take this seriously. From an environmental point of view this obviously causes concern,» Minister Elvestuen says to the Barents Observer. Norway and Russia share the stocks of cod in the Barents Sea, a multi-billion business and important for tens of thousands of dinner-tables across Europe every day. A missing reactor-powered missile is no good news.
On Wednesday, Minister Ola Elvestuen met with the Barents Observer at the Fram Center in Tromsø, a Arctic climate and research center where also Norway's High North section of the Radiation Protection Authority opened its new offices and lab.  «A possible missing nuclear-powered missile in important fishing grounds of the Barents Sea shows the importance of having a radiation emergency preparedness unit in Tromsø,» Elvestuen says.
First made public by President Vladimir Putin in March this year, the existence of a nuclear-powered cruise-missile was shown in a defense ministry video of the test-launching. Putin told that during the flight, the missile reached its design capacity and provided necessary propulsion. That would mean a start of the reactor, although the reactor going critical is not confirmed. During initial launch, the missile lifts off with regular fuel as can be seen in the video.
In his speech, Putin said «At the end of 2017, a successful launch of the newest Russian cruise-missile with a nuclear-power plant took place at Russia's Central Range.»
The Central Range for nuclear weapons tests is located at Novaya Zemlya.
As reported by the Barents Observer earlier this week, the launch site is by Russian bloggers discovered to be at Pankovo, an old observation post some few tens of kilometers south of the nuclear weapons polygon at the Matochkin Shar on Novaya Zemlya.
From Pankovo, the missile was launched in a northern direction along the coastline towards the Barents Sea.  The American news channel CNBC has previously reported that Russia's new nuclear-powered cruise-missile has been tested four times in the Arctic in the period from November last year till February this year.
Mysterious radiation 
A source from within Russia's military industrial complex interviewed by Vedomosti assures the radiation safety during the test was ensured. However, at the time, tiny little radioactivity was measured at Svanhovd on Norway's border to Russia in the north as reported by the Barents Observer and speculations raised about possible links to testing of the reactor-powered missile. Also in January and February, small traces of radioactive iodine-131 were measured in Scandinavia and other parts of Europe.
In Tromsø, Head of the High North Section of the Radiation Protection Authority (NRPA), Inger Margrethe Eikelmann, says no radioactivity has been measured in the Barents Sea that can be linked to a crashed nuclear-powered missile.  …
Attention to possible incidents or accidents involving nuclear reactors are raising in Norway, not least because of the increasing number of nuclear powered submarines sailing in Arctic waters. Both Northern Fleet submarines from bases on the Kola Peninsula and U.S. or British submarines making port calls to Northern Norway.  For the nuclear experts at NRPA in Tromsø though, the news about testing of reactor-powered missile and crashes are worrying.  From Russia, little information about what's going on is available. The missile program is surrounded by secrecy by the military.
https://thebarentsobserver.com/en/security/2018/08/there-no-reason-any-state-have-nuclear-powered-missile
The ARCTIC (above) / Aug.23, 2018.  Evidence of meltdown.                                                https://go.nasa.gov/2o3LA4r
The ARCTIC (above) / Aug.23, 2018.                                                                    https://go.nasa.gov/2BIwKdg
According to the World Nuclear Association, some 50 nuclear power plants are now under construction, with roughly another 150 planned. Many of the world's new nuclear plants are being built on the coasts of Asian countries, which face floods, sea-level rise, and typhoons.
Are Coastal Nuclear Power Plants Ready for Sea-Level Rise?
As shorelines creep inland and storms worsen, nuclear reactors around the world face new challenges.
John Vidal / August 21, 2018
The outer defensive wall of what is expected to be the world's most expensive nuclear power station is taking shape on the shoreline of the choppy gray waters of the Bristol Channel in western England.
By the time the US $25-billion Hinkley Point C nuclear station is finished, possibly in 2028, the concrete seawall will be 12.5 meters high, 900 meters long, and durable enough, the UK regulator and French engineers say, to withstand the strongest storm surge, the greatest tsunami, and the highest sea-level rise.
But will it?  Independent nuclear consultant Pete Roche, a former adviser to the UK government and Greenpeace, points out that the tidal range along this stretch of coast is one of the highest in the world, and that erosion is heavy. Indeed, observers reported serious flooding on the site in 1981 when an earlier nuclear power station had to be shut down for a week, following a spring tide and a storm surge. However well built, says Roche, the new seawall does not adequately take into account sea-level rise due to climate change.  …
The Problem with Flooding
Flooding can be catastrophic to a nuclear power plant because it can knock out its electrical systems, disabling its cooling mechanisms and leading to overheating and possible meltdown and a dangerous release of radioactivity. Flooding at the Fukushima Daiichi plant in Japan as a result of the March 2011 tsunami caused severe damage to several of the plant's reactors and only narrowly avoided a catastrophic release of radioactivity that could have forced the evacuation of 50 million people.
INTERACTIVE MAP
The interactive map above from Carbon Brief shows the location of nuclear power plants around the world. According to maps prepared by the World Association of Nuclear Operators (WANO), around one in four of the world's 460 working commercial nuclear reactors are situated on coastlines. Many were built only 10 to 20 meters above sea level at a time when climate change was barely considered a threat.
In the United States, where nine nuclear plants are within three kilometers of the ocean and four reactors have been identified by Stanford academics as vulnerable to storm surges and sea-level rise, flooding is common, says David Lochbaum, a former nuclear engineer and director of the nuclear safety project at the Union of Concerned Scientists (UCS).
Lochbaum says over 20 flooding incidents have been recorded at US nuclear plants since the early 1980s. "The most likely [cause of flooding] is the increasing frequency of extreme events," he says.
"There was no consideration of climate change when most US plants were built," says Natalie Kopytko, a University of Leeds researcher who has studied nuclear power plant adaptations to climate change. "They used conservative models of historical reference. Also, they were largely built at a calm period, when there were not many major storms."
… The most comprehensive research yet conducted also shows sea-level rises are accelerating as ice caps melt. Such is the speed of ice melt observed since 2007 that even the 2013 IPCC estimates of sea-level rise are thought to be outdated.
"There has been a steep increase in ice losses from Antarctica during the past decade, and the continent is causing sea levels to rise faster today than at any time in the past 25 years. This has to be a concern for the governments we trust to protect our coastal cities and communities," says joint lead author Andrew Shepherd, professor of earth observation at the University of Leeds and principal scientific advisor to the European Space Agency.
…. calculated in 2015 that several US coastal plants could be inundated by storm surges. These included the St. Lucie and Turkey Point stations in Florida.
Her research, published in the Bulletin of the Atomic Scientists, supports a 2012 Stanford University study that showed that many coastal nuclear plants are more vulnerable to inundation than was Fukushima Daiichi, including the Salem and Hope Creek nuclear plants in New Jersey, the Millstone station in Connecticut, and the Seabrook reactors in New Hampshire.  …
A Look to the Future
According to the World Nuclear Association, some 50 nuclear power plants are now under construction, with roughly another 150 planned. Many of the world's new nuclear plants are being built on the coasts of Asian countries, which face floods, sea-level rise, and typhoons. At least 15 of China's 39 reactors in operation, and many of the plants it has under construction, are on the coast.
ANTARCTICA, The Weddell Sea (above) / Aug.23, 2018.  Evidence of melting ice, cracks and chunks.  The contrast etc. are maxed for clarity.                                         https://go.nasa.gov/2o4zJ5Z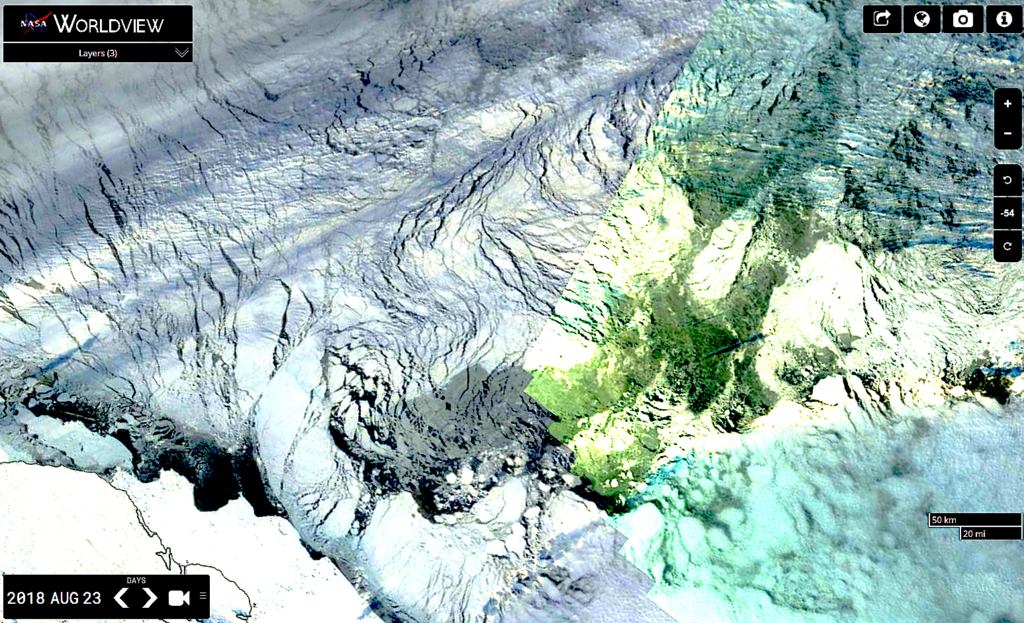 ANTARCTICA (above) / Aug.23, 2018. Melting cracking ice… Evidence of melting ice, cracks and chunks.  The contrast etc. are maxed for clarity.  The colors are false due to the enhancements.                                                  
https://go.nasa.gov/2BEIHkj
ANTARCTICA, The Weddell Sea (above) / Aug.23, 2018.  Evidence of melting ice, cracks and chunks.  The contrast etc. are maxed for clarity.  The colors are false due to the enhancements.                                                                                                             https://go.nasa.gov/2o4Cep9
How do you recycle a temporary Arctic island?
Gazprom wants to build islands on shallow Arctic waters for well drilling, but argues that it will be too difficult to do the cleanup.  
August 24, 2018
The powerful natural gas company has addressed the Russian government with a request to amend legislation on drilling in offshore waters. The changes are needed for the company to successfully operate in the shallow waters around the Yamal Peninsula, Deputy CEO Valery Golubyev makes clear in a letter, newspaper Vedomosti reports.
According to Gazprom, the waters around the Arctic peninsula are shallow to the extent that it is impossible to operate with floating offshore drilling rigs.
The company already has the government's permission to build artificial islands for the exploration drilling operations. However, the license terms also includes the removal of the islands after the well drilling. That is what Gazprom now wants to change.
«Considering the complicated hydro-geological conditions, it is technically difficult to move 650,000 cubic meters of sand from the waters and onto the shore,» Gazprom says in the letter addressed to Deputy Premier Aleksey Gordeev.  The company argues that it should be allowed to leave the sand at site of the offshore drilling.
The question raised by the state national gas company gains increasing relevance as drilling in and around the Yamal Peninsula is on a rapid increase. Gazprom will over the next few years develop at least two major fields located along the Yamal coast. The company in July informed that it in 2019 will start construction works at the Kharasavey field and that production will start in 2023. That includes the laying of a 100 km long pipeline to Bovanenkovo, the nearby field and infrastructure hub.
https://thebarentsobserver.com/en/ecology-industry-and-energy/2018/08/how-do-you-recycle-temporary-arctic-island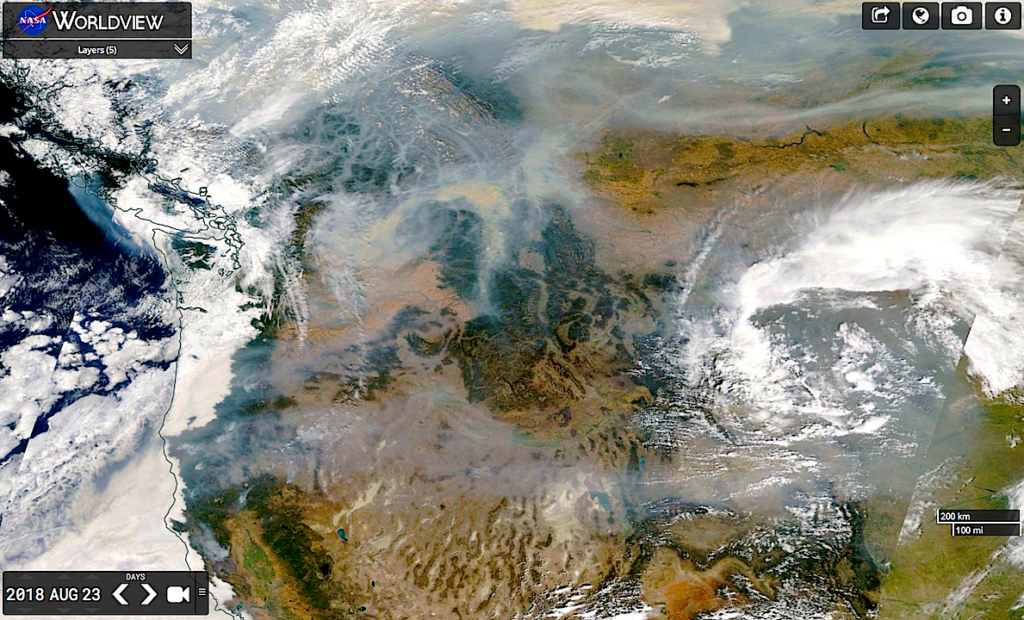 North America (above) / Aug.23, 2018.  Smoke from various fires.                              https://go.nasa.gov/2BHsXgj
North America (above) / Aug.23, 2018.  A vortex off the California coast. The contrast etc. are maxed.                                                                                                                     https://go.nasa.gov/2o43qUT
Military women after combat injury diagnosed with a mental health condition
By: Karen Jowers
More than 1,000 military women have suffered combat-related injuries in Iraq and Afghanistan, and 40 percent faced mental health conditions within a year after the injury. (Adek Berry/AFP via Getty Images)
Within a year after suffering a combat-related injury in Iraq or Afghanistan, 40 percent of military women were diagnosed with a mental health condition, according to a new study.
Of particular concern is that enlisted women were more likely to have a diagnosis of a mental health disorder and had "significantly lower quality of life" than the women officers studied, said Judy Dye, a researcher with the Naval Health Research Center, in a presentation to the Military Health System Research Symposium Tuesday.
More than 1,000 military women have experienced combat-related injuries in Iraq and Afghanistan, said Dye. Although research indicates that psychological reactions do occur after combat injuries, little research has been done on military women who have experienced these injuries, she said
https://www.militarytimes.com/pay-benefits/2018/08/23/enlisted-women-more-likely-to-suffer-adverse-mental-health-effects-after-combat-injury-study-finds/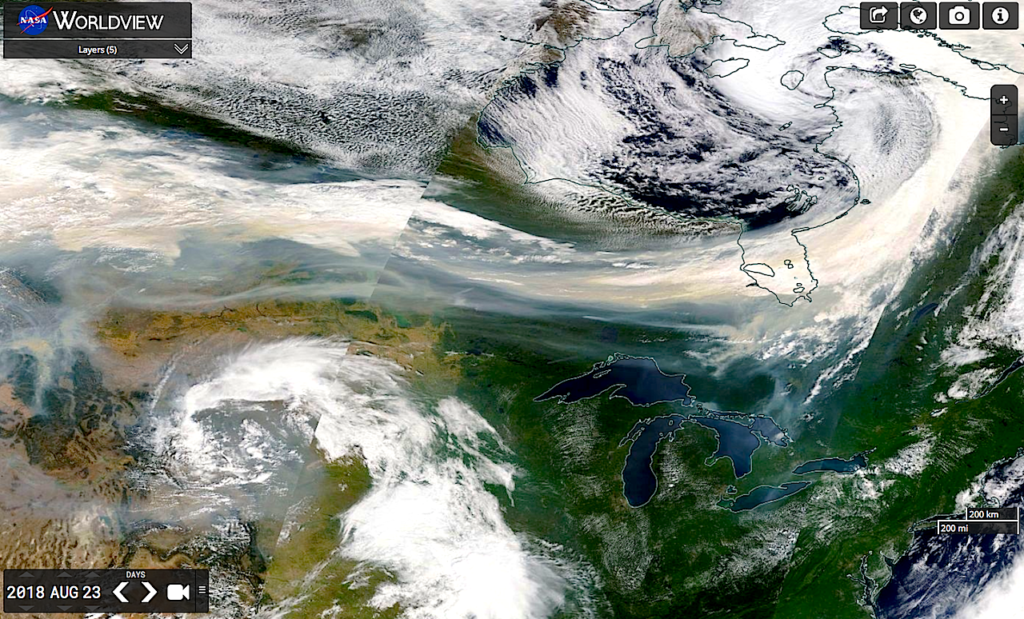 North America (above) / Aug.23.  Smoke moving across the continent.          https://go.nasa.gov/2BGrkiL
NASA is about to pummel the planet with huge space laser
Polar cap and sea height-measuring ICEsat-2 to fire 10k pulses at Earth each second
By Richard Chirgwin 23 Aug 2018
An orbital Earth sciences laser, NASA's ICEsat-2, is in the final stages of preparation ahead of next month's launch. With the bird about to fly, the space agency is touting the elevation accuracy Earth observation will get from the satellite's laser, the Advanced Topographic Laser Altimeter System (ATLAS).
Firing 10,000 pulses per second at the blue planet, ATLAS will pick up "more than 250 times as many height measurements as its predecessor" (ICEsat, which ended its mission in 2010), said NASA Goddard project manager Doug McLennan.
The orbital LIDAR (light detection and ranging) is the satellite's only instrument. Its operation is simple: to measure the round trip time of photons from the instrument to the Earth and back, with billionth-of-a-second accuracy.
The accuracy comes from ATLAS's multi-beam design. Its 532nm (visible green light) pulses are split into three pairs of beams, which at ground level will be separated by 3.3km.
https://www.theregister.co.uk/2018/08/23/nasa_space_laser_nearly_ready_to_shoot_at_earth/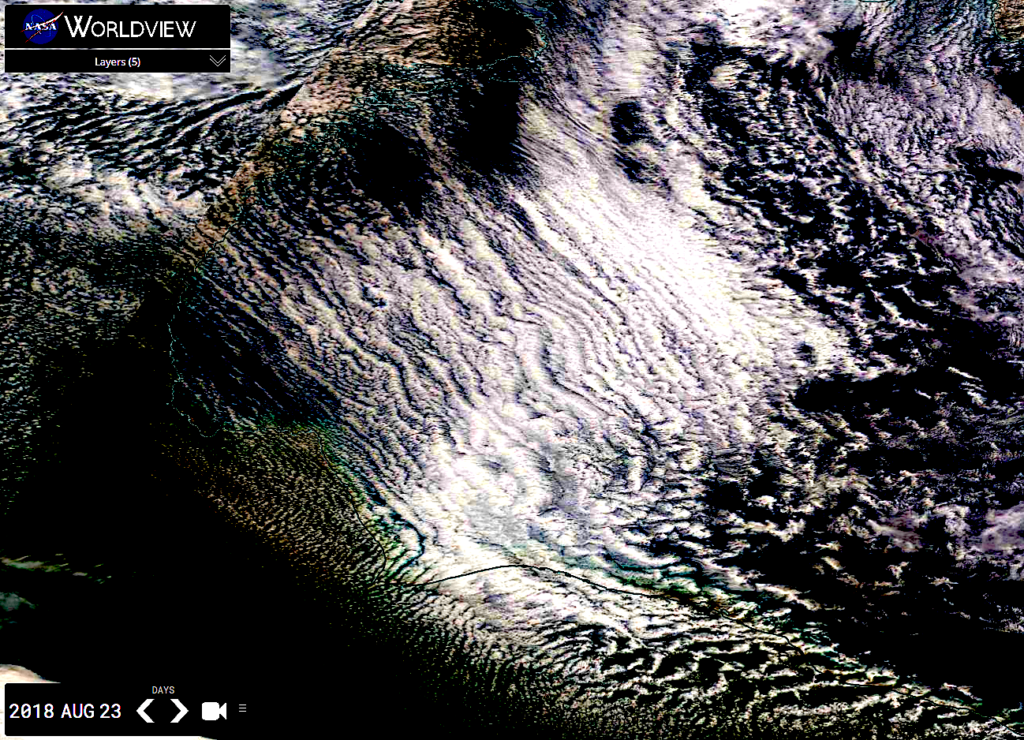 North America (above) / Aug.23, 2018.  The Hudson Bay. Bizarre cloud patterns revealed by enhancement of contrast etc.                                                                               https://go.nasa.gov/2BPhhZ8
Weather-altering technology at a major Mexican car plant
With a headline torn straight from a futurist global dysphoria movie, The FT reports that Volkswagen is reversing course on the use of controversial weather-altering technology at a major Mexican car plant after local farmers complained that the system caused drought by preventing rainfall.
Hail storms present significant problems for car manufacturers, which often have large numbers of finished vehicles parked outside at distribution centers or plants. The German carmaker had installed hail cannons, which fire shockwaves into the atmosphere, at its Puebla site to prevent the formation of ice stones that had been damaging finished vehicles parked outside its facility.
However,  as The FT reports, local farmers said the devices, which were set to fire automatically under certain weather conditions, caused a drought during the months that should have been Mexico's rainy season.  Gerardo Perez, a farmers' representative in the area, told the AFP agency that the cannons meant the "sky literally clears and it simply doesn't rain."
https://www.zerohedge.com/news/2018-08-23/volkswagen-trouble-altering-mexicos-weather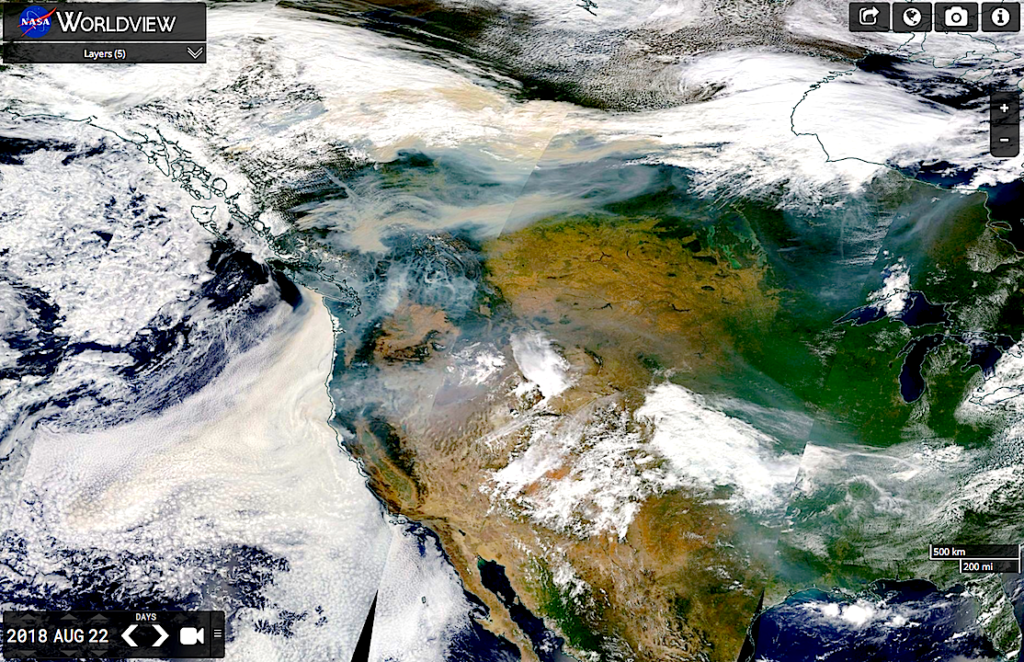 North America (above) / Aug.22, 2018.  Smoke from various fires.                      https://go.nasa.gov/2BC4Nnh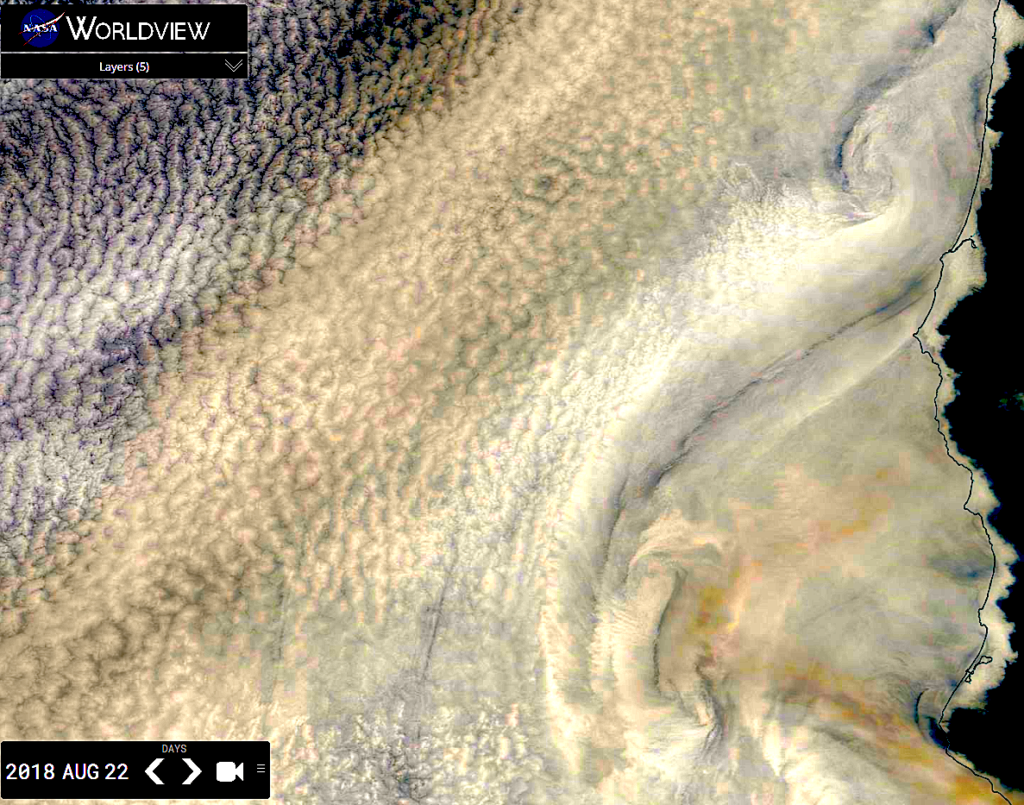 North America (above) / Aug.22, 2018. Off the coast of California. With the contrast etc. maxed, the smoke shows as brown-orange discoloration.                                 https://go.nasa.gov/2o1Ae0I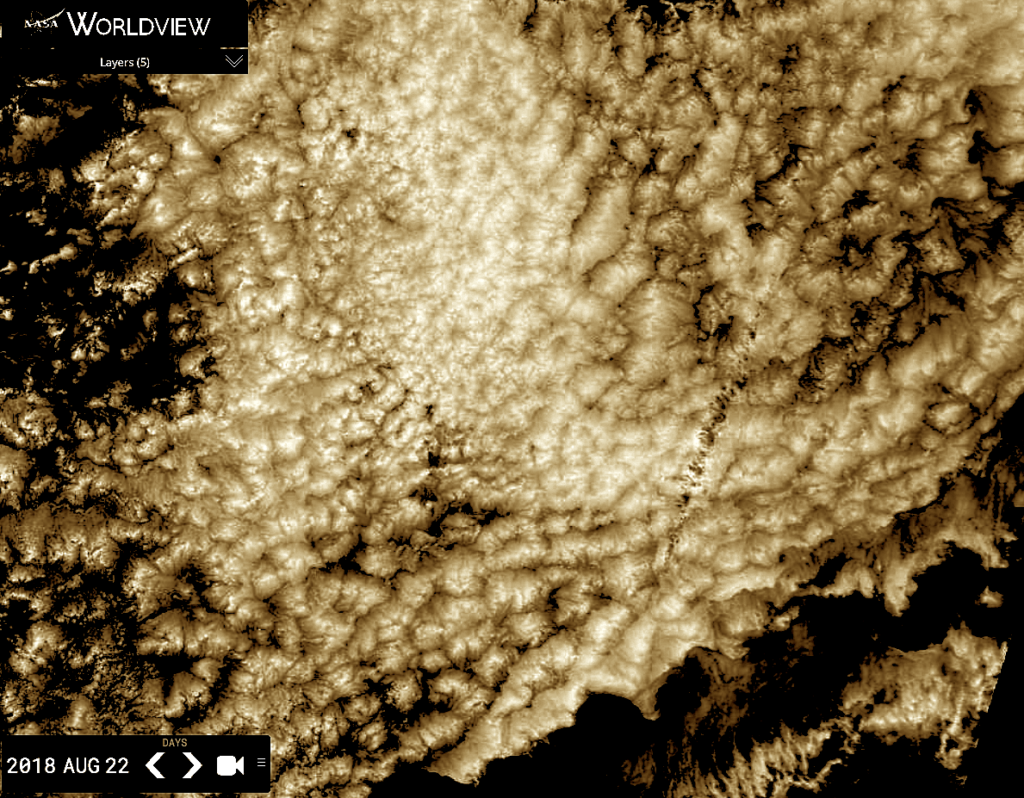 North America (above) / Aug.22, 2018.  These are the classic caterpillar 'insect' clouds off Baja CA, Mexico.  Evidence of rotational molecular charge.  Image is sepia & contrast enhanced.                                                                                                                   https://go.nasa.gov/2nZxmS7