VSF: A friend who has a background in chemical science and engineering asked me to explain what I see when I am posting the massive aerosol spraying of chemtrails out over the Pacific Ocean off the west coast of North America. This is what I sent him:
See the miles of massive aerosol trails, which they try to pass off as 'normal' coming from transport ships? This explanation makes no sense. Look at the patterns. Are the ship captains drunk or just like to waste fuel?
As another friend has said …
Well, 'vapor trails from ships' always seemed ridiculous on the face of it. Not only do they meander all over the place, they often stretch for hundreds or even thousands of miles, which would translate into many hours/days of travel by boat. An impossibly long time for a vapor cloud to hang around. An electrically conductive atmosphere opens up a lot of nefarious possibilities, and not only are the big HAARP facilities now scattered around the globe, but many of us are also walking around with a small microwave transmitter in our purse or pocket. Ionic bonding tends to naturally occur between metals (aerosolized nanoparticles) and nonmetals (our bodies), wreaking all sorts of biological havoc. The Rubicon is already way behind us.
VSF:  Raytheon, Lockheed & Boeing have neglected to reveal the exact technology to me, but there are some observations we can make about geoengineering the jet stream and the weather. The technologies that the Navy uses here on the Olympic Peninsula for their electronic warfare EW operations are very similar, if not the same as are being used in geoengineering. Electrifying and increasing the charge in plasma.
There is a gag order…
Government Implements Illegal "Gag Order" On National Weather Service And NOAA Employees
https://www.geoengineeringwatch.org/government-implements-illegal-gag-order-on-national-weather-service-and-noaa/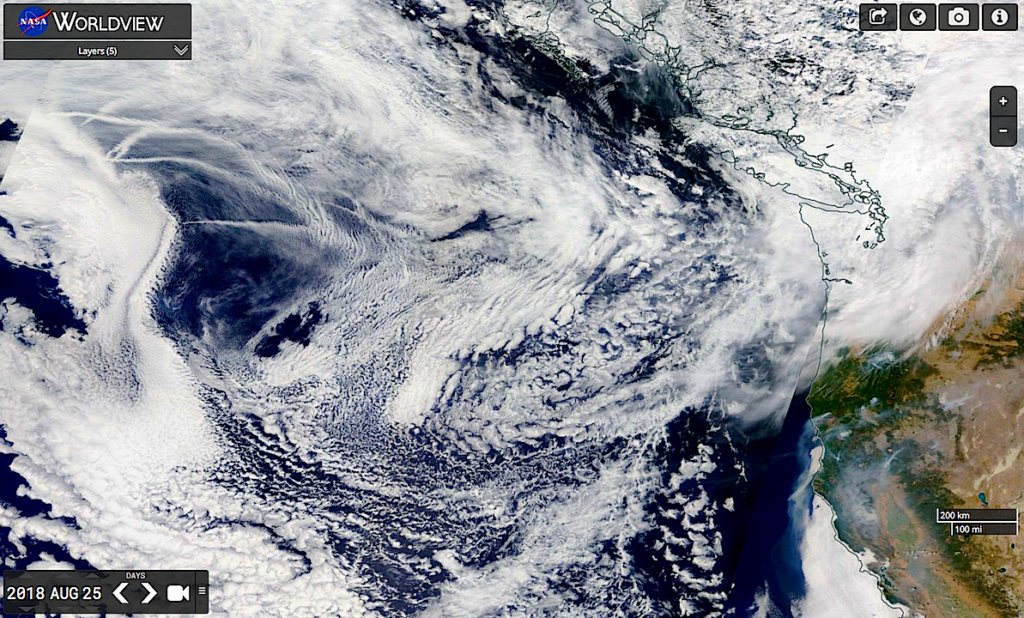 North America (above) / Aug.30, 2018. The Pacific Ocean and the Pacific Northwest west coast.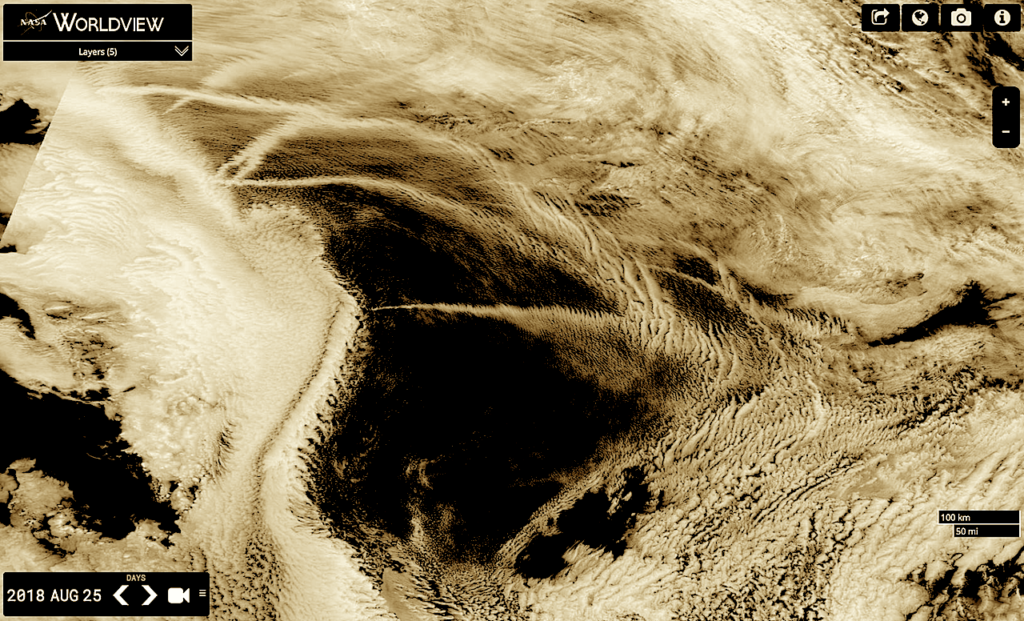 North America (above) / Aug.30, 2018. The Pacific Ocean and the Pacific Northwest west coast. Image sepia enhanced to show the aerosol spray lines and the 'erect tufts' that indicate scalar wave emissions.

On the most basic level, just imagine being out in the Pacific Ocean and looking up at the sky. Would any of these bizarre patterns seem natural to you? Would you recognize them from your life experiences maybe hiking or on a picnic? I spent much of my life as a landscape painter and studied art history, especially landscape painting all my life. I never saw, either in the sky or in paintings, any of the cloud forms that now appear on a regular basis.
The sky over the Olympic Peninsula Washington State. Photo taken by me and enhanced to show the structure of the scalar wave cloud form.
The sky over the Olympic Peninsula Washington State. Photo taken by me and contrast enhanced to show the structure of the scalar wave cloud form.
I have countless photos (like the two above) of the electri-fried sky here on the OP that the Navy has produced. Every night I head for NASA Worldview and take screen shots of the strange forms I find around the entire planet. I now have over 30,000 screenshots. Maybe one day they can be used as legal evidence.
On the technical level, which I am still working at trying to understand — there are now over 80 HAARP-like transmitters situated around the world. They use interferometry to excite plasma with various frequencies of radiation. I am working with Dane Wigington at GeoengineeringWatch.org and periodically he has 'whistle blowers' who contact him and tell him technical information. Two retired generals.
The Russians appear to be more advanced in these technologies than we are — however it is obvious that they are all cooperating in these massive covert operations. They are using the ionosphere and the atmosphere as a lab. The Russian physicist Vladimir Fortov has written a book on the physics of strongly coupled plasma and another on extreme states of matter. There are other textbooks [Springer & Wiley] that describe similar technologies, many written by Russians.
There is an obsession with the atmosphere and the ionosphere: Ionization of Excited Atoms in Thermal Collisions, Nanoaerosols in the Atmosphere, Electromagnetic Drivers in the Upper Atmosphere, Vortex Plasmoids Created in High-Frequency Discharges. I wish I had a better science background, but I plough on anyway. They talk about, for example, using laser devices in the upper atmosphere and ionosphere.
For months these geoengineering technicians have keep a high pressure system off the coast of California that keeps all the moisture off the land and CA in drought.
Of particular interest are cloud forms that make 'angles' — which real natural clouds never do. This image shows a rectangular 'hole' shape — and 'holes' themselves are said to be evidence of transmitter blasts.
More NASA Worldview images with my comments:
Killing California: NASA Worldview / "Unknown to most, it became exceedingly clear by approximately 2025 that governments had in fact reengineered [geoengineered] Earth's atmosphere, its oceans and the planet's electromagnetic grid to facilitate the use of scalar and sonic technology in such a way as was harmful and in some cases detrimental globally."
War on the West Coast of North America: A series of NASA Worldview screenshots showing the spreading smoke from the California fires and the bizarre unnatural cloud forms off the west coast.
Jana Dixon:  It appears that they ship chemtrail material (nanoparticles of aluminum, lithium, strontium, barium etc.) 500-1000 miles out into the Pacific to overseed and dry out the ocean air, so that the marine layer doesn't reach the coast like it is supposed to, this leaves a 2-300 mile hole of cloudless sky off the coast. They have been doing this since last years fires in Sonoma. This is a weather-warfare strategy to use the summer heat in the CA desert and HAARP to create a heat dome, which keeps the moisture and precipitation from coming onto the West Coast. This is an act of war against California.
North America (above) / Aug.26, 2018. This one is very strange. Note the rectangular 'hole' pattern off the coast and the strange semi-spherical shape rather like a UFO insect with legs!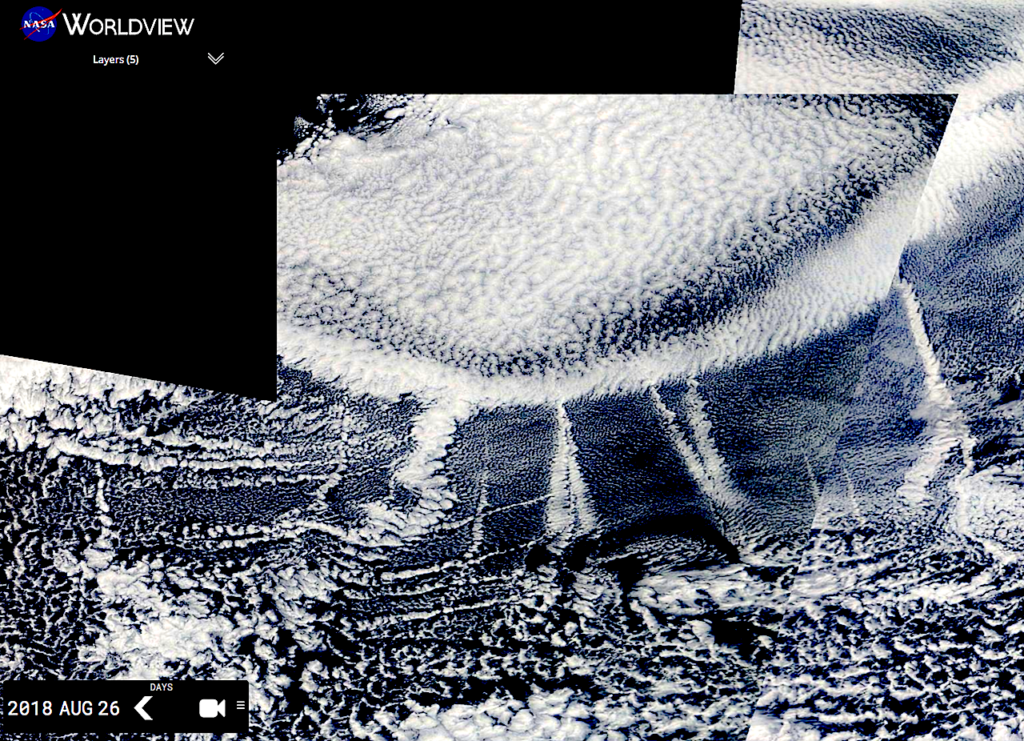 North America (above) / Aug.26, 2018. This one is very strange. Note the strange semi-spherical shape rather like a UFO insect with legs! In this enlarged detail, you can clearly make out the spiral-coil helical resonator shapes that indicate scalar wave charge. Very bizarre.

VSF: By searching further into (the alleged) use of BST Barium-Stontium-Titanate, I believe I have found THE company [privately held] that is producing the chemical mix we are seeing sprayed across our skies in the aerosols that show up all over our homes in the form of this white-grey dust that we are breathing and that is crippling our immune system.
https://www.americanelements.com/company.html
American Elements' catalog of more than 15,000 products makes it the world's largest metals and chemicals manufacturer devoted exclusively to advanced materials in industrial bulk and laboratory/research quantities. Our development programs have been a key source for academic and corporate research and new product development for over two decades.
Fundamental expertise in the properties, applications, and cost-effective manufacturing of advanced and engineered materials, including ultra high purity refining (99.999%) and nanoscale materials, allows us to meet the needs of thousands of global manufacturers (including over 30% of the Fortune 50), all U.S. national laboratories and military branches, universities throughout the world, and customers in a wide range of industry fields, such as energy, electronics, aerospace, defense, automotive, optics, green technology, and pharmaceuticals.
American Elements also produces customer proprietary formulations from our network of production facilities worldwide.
http://metaphysicalmusing.com/blog/2017/10/01/who-is-producing-the-chemicals-in-the-aerosol-spraying-chemtrails-american-elements/