The Sea of Okhotsk, Sakhalin Russia & Hokkaido Japan. Note the scalar wave parallel line radiation.                                                                                                                      https://go.nasa.gov/2GFaxf1
VSF:  The Springer text book, 'The Atmosphere & Ionosphere, Dynamics, Processing & Monitoring' written by Russians, provides detailed information on the effects of experiments by "ground-based transmitters" — the key is an "external current … perturbation of the electric current flowing in the global atmosphere-ionosphere circuit."
The Sea of Japan / March 14, 2018.  It seems that this cloud form is coming from Russia, not China? On the border, in the Peter the Great Gulf. The contrast etc. are maxed.  https://go.nasa.gov/2DrK7tW
A selection beginning with, Effects of the Ionosphere Heating by powerful HF Transmitters:
The first successful observations of the lower ionosphere heating by electromagnetic radiation from a powerful ground-based HF (3-30 MHz) transmitter were carried out [in 1972] … in Platteville Colorado. … a heater … probe signals … measuring amplitude and phase perturbations.
Later, subionospheric VLF probe waves were used to probe D-region heating [in 1985] with a steerable heater in Tromso Norway … the Omega navigation transmitter in Alda Norway … and the transmitter near Helgeland.
The heating experiment [termed in the USA 'Active Experiments in Space'] with the use of the … transmitter [HAARP] near Fairbanks Alaska, and transmitter in Oahu received at Fort Yukon Alaska has demonstrated perturbations …
Periodic heating of the ionosphere in the current region modulates the electrical conductivity of this region and consequently causes modulation of natural electric current.
This process forms giant radiating antenna at the altitudes of 60-100 km.
The generation of ULF/ELF/VLF waves be such antennas is extensively studied with the use of of special high-frequency (HF) heating facilities in Tromso Norway, Arecibo (Puerto Rico), HIPAS (High Power Auroral Stimulation), and HAARP (High-frequency Active Auroral Research Program – Alaska), and SURA Russia.
The Sea of Okhotsk, Russia / Jan.12, 2018, with slight contrast enhancement.    https://go.nasa.gov/2qW8PSo
Influence of Powerful VLF Transmitters on the Ionosphere & the Magnetosphere
Artificially Stimulated Particle Precipitation into the Ionosphere
… the powerful ground-based VLF transmitter located in Arkhangelsk region (Russia – 1975). … Direct measurements of artificially stimulated electron precipitation … carried out onboard the SR81-1 satellite … with use of USA VLF transmitters.
Effects of the Ionosphere heating by Powerful VLF Transmitters
Acceleration of Ionospheric Ions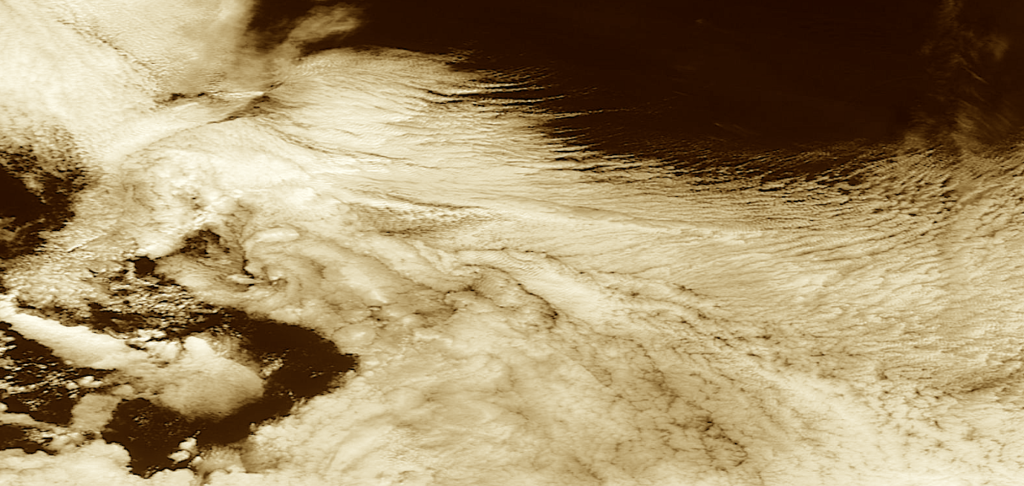 The Sea of Okhotsk west of Sakhalin & Hokkaido / Aug. 23, 2017. The Siberian Fires. Sepia enhanced detail.                                                                                                         https://go.nasa.gov/2wA02r7
The Sea of Okhotsk west of Sakhalin & Hokkaido / Aug. 23, 2017. The Siberian Fires. Sepia enhanced detail.
https://go.nasa.gov/2xurG5g
Artificial Stimulation of Geometric Pulsations
Beginning from 1975 the Institute of Terrestrial Magnetism, Ionosphere and Radio Wave Propagation of Russian Academy of Sciences (IZMIRAN) has carried out a series of active experiments on the ionosphere modifications by electromagnetic radiation from VLF transmitters … related to artificial stimulation of geomagnetic pulsations. … called 'Juliana' using the Arkhangelsk VLF transmitter …
The Atmosphere & Ionosphere, Dynamics, Processing & Monitoring; Vladimir L. Bychkov, Golubkov, Nikitin; Springer, 2010.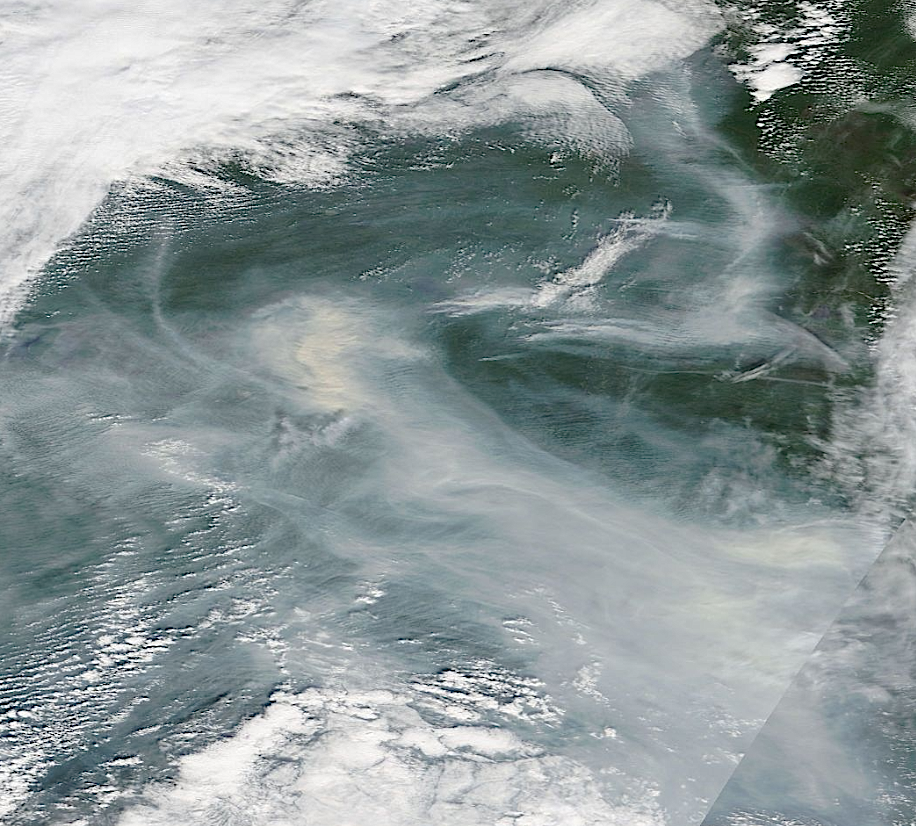 Siberian Plateau Fires: The Sea of Okhotsk west of Sakhalin & Hokkaido / Aug. 23, 2017. The Siberian Fires.                                                                                                   https://go.nasa.gov/2wAkiZM
ACTIVE EXPERIMENTS IN SPACE: "The Earth's Ionosphere, Plasma Physics & Electrodynamics" / Worldview Nov.11,2016 various