Square cloud formations off California Coast (above)   –   https://go.nasa.gov/2Uz4Qoi
VSF:  I continue to take the screenshot images from NASA Worldview to document the global geoengineering that is occurring every day. If you do not understand geoengineering yet, please do read Dane Wigington.
I want you to see from these images how the patterns of drought are again being implemented in full force on the west coast of the United States. California has been warned of more fires.
North America: The West Coast / April 23, 2019. Note the ship aerosol spray trails of toxic metals (aluminum, barium, lithium, strontium, etc.) and the big 'X'!  Desiccant materials – "hygroscopic substances that induce or sustain a state of dryness" and are keeping California in drought, vulnerable to extreme fires.                                                          https://go.nasa.gov/2USqk4r
North America: The West Coast / April 23, 2019. This is a detail of the aerosol spray trails in the image below.  The contrast etc. are maxed to reveal the structural properties of these unnatural cloud forms that have been zapped & created with radiation from interferometry transmitters.  Note the fried cloud forms with a nice 'X' on the right.      https://go.nasa.gov/2UTo118
North America: The West Coast / April 24, 2019. Pacific Northwest & California coastal bizarre drought pattern!                                                                                                                        https://go.nasa.gov/2UXUTWi
VSF: These metal oxides are not only toxic to all life, they are incendiaries (containing chemicals that produce hot fire) and facilitate fires, wildfires, and fires that are 'alleged' to be related to smart-meters and Direct Energy Weapons DEW. These Direct Energy Weapons are not some conspiracy, they are being marketed world wide as part of the global arms industry.
Visiongain Report Claims There is Huge Potential within the $5.8 Billion Directed Energy Weapons (DEW) Market 
LONDON, Feb. 20, 2019 /PRNewswire/ —
Directed Energy Weapons (DEW) Market Report 2019-2029
Forecasts by Product Type (High Powered Microwave HPM, High Powered Laser HPL). Analysis of Defensive, Offensive, C-UAV & Non-Lethal Applications for Leading Defence & Civilian Companies with DEW Technologies High Energy Laser (HEL), Airborne Laser (ABL), Chemical Oxygen Iodine Laser (COIL), Free Electron Laser (FEL), Solid-State Laser (SSL), Tactical High Energy Laser (THEL), Laser Directed Energy Weapon (LDEW), Laser Weapon System (LaWS) Plus Analysis of Defensive, Offensive, C-UAV & Non-Lethal Applications for Leading Defence Contractors & Civilian Companies
A directed-energy weapon (DEW) is the future weapon system that emits highly focused energy for target destruction. The potential applications of this advanced technology include anti-personnel weapon systems, missile defence system, and the disabling of lightly armoured vehicles. The use of DEW systems is much more cost effective than the massive cost associated with a single missile launch. With fast-track innovations in the military technology, such weapons are tools for future warfare.
The growing demand for non-lethal weapons is a primary driver of the market. Visiongain expects that countries such as Russia, the US, the UK, Israel, China, Japan, South Korea, India, and the UAE will increase their demand for these weapons, during the forecast period owing to the increasing extremist attacks and territorial disputes.
Such weapons have a number of advantages such as enhanced accuracy, reduced violence, limited damage, and multiple target attack. The integration of directed energy in chemical, biological, radiological, and nuclear (CBRN) defence helps in effective limitation of its impact on human lives and the environment by detecting the nuclear radiation through laser and high-power microwave systems. Similarly, the progressive demand for laser weapon systems that have enhanced attack capabilities such as accuracy and undetectable characteristic are key drivers of the market.
This report splits the Directed Energy Weapons (DEW) market into two product type submarket categories: high-powered microwaves and high-energy lasers. Microwaves and lasers both operate on the electromagnetic spectrum, however, laser wavelengths are about 10,000 times smaller than microwaves, which means high-energy microwaves are more suited to emitting pulses of radiation at a wide angle, while high-energy lasers direct more focused beams of lower-powered energy using one of two mechanisms: chemical fuel or electric power.
Report Scope
View detailed company profiles of key players within the market with analysis of their product portfolios and strategies.
• Azimuth Corporation
• BAE Systems plc
• Battelle
• The Boeing Company
• General Atomics
• General Dynamics Corporation
• Kratos Defense & Security Solutions
• Lockheed Martin Corporation
• MBDA
• Northrop Grumman Corporation
• Thales Group
• Raytheon Company
• Rheinmetall AG
https://www.prnewswire.com/news-releases/visiongain-report-claims-there-is-huge-potential-within-the-5-8-billion-directed-energy-weapons-dew-market-300789812.html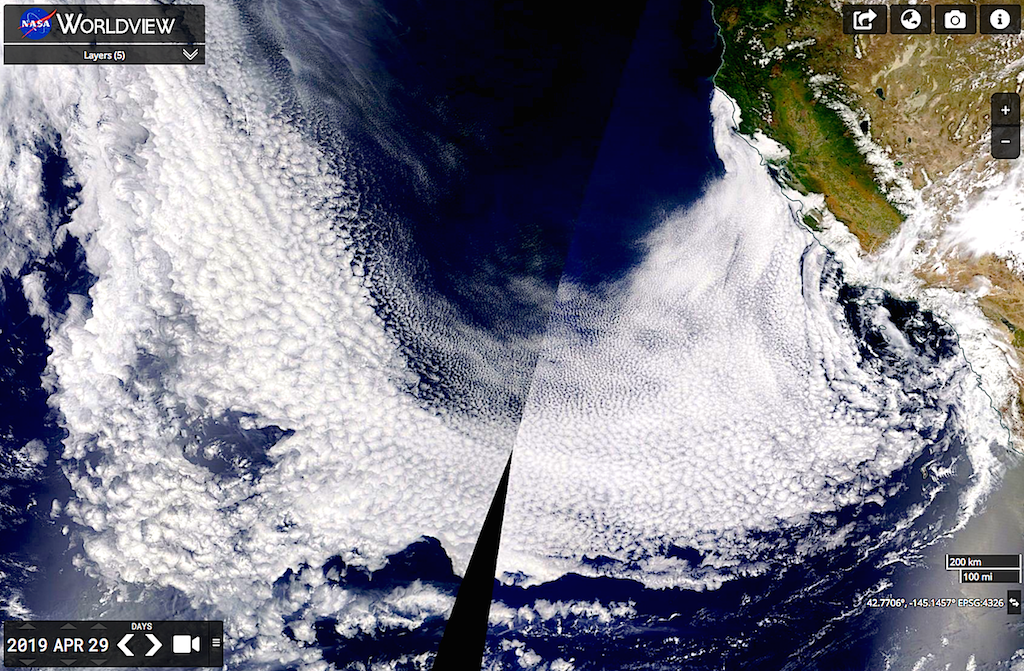 North America: The West Coast / April 29, 2019. The California coast & San Joachim Valley. Fried cloud patterns generated created with radiation from interferometry transmitters.  https://go.nasa.gov/2ULPwJQ
Paradise destroyed / National Geographic
In Paradise, some residents awoke to the sound of embers raining down on their rooftops. They drove through fire and smoke too thick to see through, colliding with other cars and driving off embankments. Survivors describe the scene of horror in biblical terms. It was as if "the gates of hell had opened up." "Black and red was all you could see." … For hours, firefighters could only try to save lives. There was nothing they could do to contain the erratic, wind-whipped blaze. …
The new abnormal
Last December, the Thomas Fire burned through 281,893 acres (440 square miles) in Santa Barbara and Ventura counties. It became the largest wildfire in California's recorded history. Firefighters said they'd never seen anything like it before.
That fire was eclipsed just eight months later by the Mendocino Complex fire, which ravaged the wine country in the middle of the state and whipped up a deadly fire tornado, baffling firefighters as well as civilian onlookers. This week, firefighters in Northern California told reporters they'd never seen a fire move so fast as the Camp Fire that destroyed Paradise.
The trend of warmer, dryer autumns precipitating faster, bigger, more dangerous fires is projected to continue indefinitely as greenhouse gases heat the planet.
In an op-ed last summer, climate scientist Daniel Swain of the University of California, Los Angeles, wrote that California's governor Jerry Brown mischaracterized the recent siege of wildfires when he said they were California's "new normal."
"It would be a mistake to assume that the region has reached any semblance of a stable plateau," Swain said. He urged California's cities and officials to plan for a future of ever-worsening mega-fires.
On Sunday Brown revised his catchphrase: "This is not the new normal," he said. "This is the new abnormal."
https://www.nationalgeographic.com/environment/2018/11/how-california-fire-catastrophe-unfolded/
Cancer-causing chemical taints water after California blaze
PARADISE, Calif. — The drinking water in Paradise, California, where 85 people died last year in the nation's worst wildfire in a century, is contaminated with the cancer-causing chemical benzene, officials said.
Officials said they believe the contamination happened after the November firestorm created a toxic combination of gases in burning homes that got sucked into the water pipes as residents and firefighters drew water heavily, the Sacramento Bee newspaper reported Thursday.
Officials say that may explain why benzene, which has been linked to anemia and leukemia, has been found in tests at various spots rather than from one source in Paradise, which was largely destroyed.
The chemical occurs naturally in fire; is part of crude oil, gasoline and cigarette smoke; and is used to make plastics, synthetic fibers and other products, according to the federal Centers for Disease Control.
Melted plastic meters and plastic pipes also may have sent benzene into the system, water officials say.
Paradise Irrigation District officials say they have taken about 500 water samples around town, and they have found benzene 30 percent of the time.
"It is jaw-dropping," said Dan Newton of the state Water Resources Control Board. "This is such a huge scale. None of us were prepared for this."
Those who have assessed the problem say the water district may be able to clean pipes to some homes later this year, but it will take two years and up to $300 million before all hillside residents can safely drink, cook or bathe in the water.
About 1,500 of the town's 27,000 residents are living in the few surviving houses. Water officials have warned them not to drink, cook, bathe or brush their teeth with tap water and to only take quick showers with warm water. Those residents are living on bottled water deliver daily and water tank deliveries.
Norman Stein, 84, drives 15 minutes each week to the water distribution center, loads his trunk with bottles and stacks them in his garage.
Cancer-causing chemical taints water after California blaze