"My stroke of Insight" is the story of neuroanatomist, Jill Bolte Taylor's experience of having a stroke and finding what she terms Nirvana — the Infinite, eternal, every expanding, immutable, imperishable One, Brahman, ParaBhairava, the Essence, our Source that pervades and permeates All.
Her telling 'performance' of her experience brought on by a stroke is compelling, riveting, emotional, amazing. She touches the Heart. Her conclusion is that each and everyone of us has the capacity to experience this.
This is exactly what the Ribhu Gita is teaching. The Ribhu Gita reveals that when we understand that our human bicameral brain, which is continually receiving patterns of information through five-sense perception and the three GUNAS (rajas-sattva-tamas), is part of the illusory holographic appearances we are creating — then we acquire the ability to know that we are not the mechanism, the apparatus of mind & five-sense perception.
The wondrous experiential Realization of Jill Bolte Taylor truly inspiring and uplifting. It will remind you that all of us can access our essence, Spirit, our Source and Origin. We are That! TAT TVAM ASI,
If you choose to keep 'playing' in the temporal illusory holographic realms you yourself are generating — that is fine. Go on playing. Be a warrior, a lover, an activist, a scientist, an artist, a billionaire, or whatever your own GUNAS (rajas-sattva-tamas) draw you to.
And when you are ready to come Home, the God-within you will lift you out of the Ocean of Transmigration, endless death and birth, and bring you Home — back into Eternal Bliss, God-Consciousness.
"This whole universe has come into existence just to carry you to God consciousness."   – Swami Lakshmanjoo, The Shiva Sutras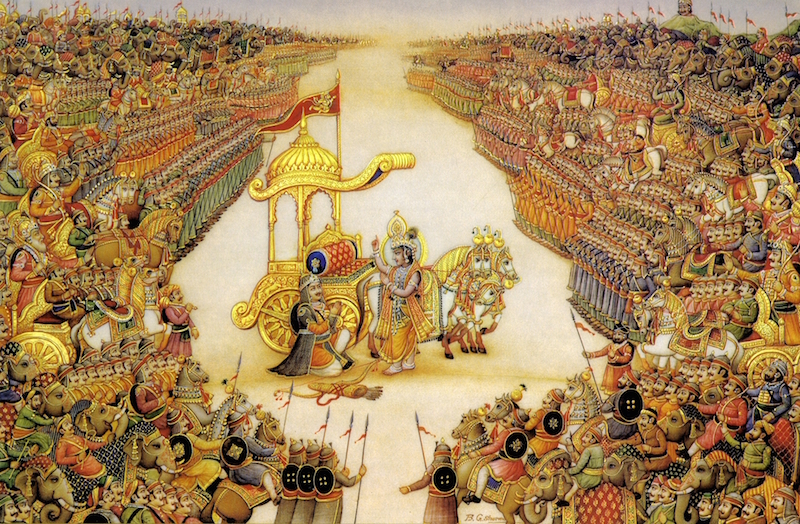 Krishna promises to lift up out of eternal transmigration – the ocean of birth and death – the one who thinks of God, whose mind is absorbed in and whose thoughts have entered into the Supreme Self (XII.7).

तेषामहं समुद्धर्ता मृत्युसंसारसागरात् . भवामि नचिरात्पार्थ मय्यावेशितचेतसाम् .. १२- ७..
teṣāṃ ahaṃ samuddhartā mṛtyusaṃsārasāgarātbhavāmi na cirāt pārtha mayy āveśitacetasām 12.7

The object of leaving the small ego-self behind, with all its endless guna-maya compulsions, and fixing the mind on the God-within is to lift your consciousness to a similitude (sadharmya) of frequency with the Supreme Self (Paramatman). You become immersed in the One, your own Self and Home.